Installing and running Linux on Windows 10, also called Linux Subsystem on Windows (WSL), is old news. You can already install distros like Ubuntu, SUSE Enterprise Linux, and openSUSE from Windows Store.
While we continue to wait for Fedora to arrive on Microsoft Store as promised, another favorite distro–Kali Linux–has already made itself available. This news was first announced a couple of weeks ago when the company was testing Xfce desktop for WSL.
As you might be already knowing, Kali Linux is a renowned open source Linux distro widely used for penetration testing purposes. It's also listed on our list of overall top Linux distros.
Please note that you'll get a bare-bones Kali Linux installation with no penetration testing tools; so, one will need to install them manually.
How to install Kali Linux on Windows 10 (WSL)?
Before going ahead and trying to install Kali on Windows 10, make sure that you've turned 'ON' WSL in Windows Features. To do so, search Windows Features in the search box and open it. Now, check the box in front of Windows Subsystem for Linux and select Ok.
Once you're done, visit this link on your Windows 10 PC and download the distro with one click. After the download completes, the 'Get' button on Store will change to 'Launch'. You need to click on it for the installation process.
Lastly, create your UNIX username and password as prompted on the console windows and you're done. To launch Kali Linux again, just type kali on command prompt or click Kali tile in Start Menu.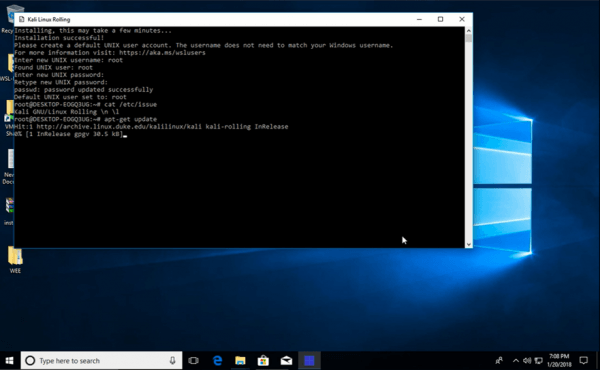 If Kali isn't your cup of tea, you can also read our guide to install openSUSE, SEL, and Ubuntu on Windows 10 (WSL).
Did you find this article helpful? Share your views in the comments section below and keep reading Fossbytes.