Apple's iMessage is an instant messaging service that is available to only those who are in the Apple ecosystem. But this could soon change owing to a third-party client that would allow Windows 10 and Linux users to use iMessage.
The third-party solution called Zen has been developed by a company called Amnesia Software that plans to bring a similar iMessage solution for mobile versions too.
iMessage has been around for nine years now and is supported by the Messages application in versions above iOS 5 and OS X Mountain Lion.
There are several users who love the service and the way it handles messaging, so there have been previous attempts at bringing iMessage to Windows. But these attempts are either in the form of browser extensions that access web services or emulators. So it goes without saying that they come with their share of limitations.
Zen: An iMessage client for Windows and Linux
Zen is the first cross-platform and secure iMessage client and server that will soon be made available for Windows and Linux users.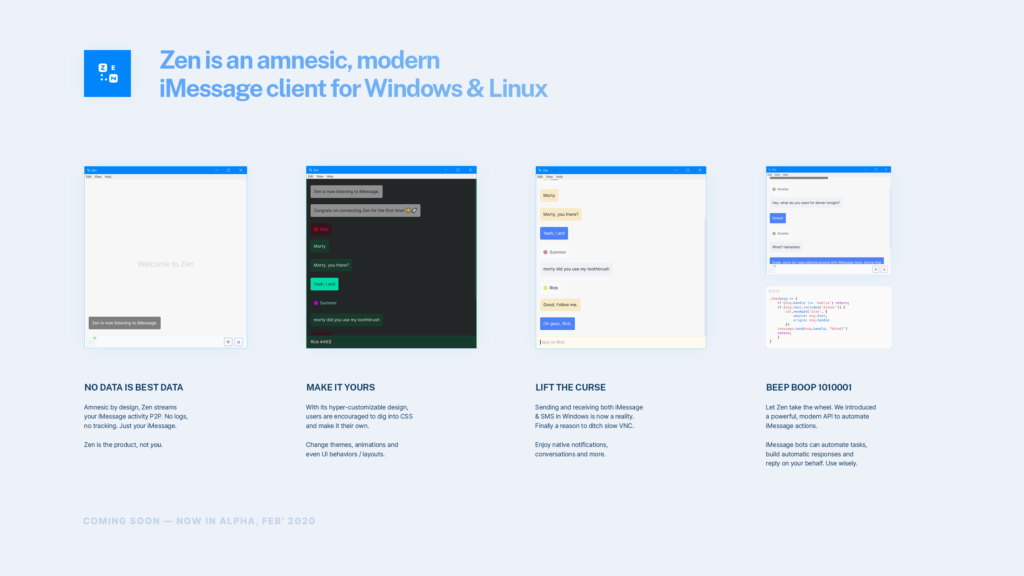 According to one of the developers on the team, "[…]the server, Zen Bridge, runs perfectly on old, outdated Apple laptops and Mac Minis collecting dust."
For a more 'cloud' approach, they have had "success with visualized Macs running on genuine Apple servers (which would not break Apple's TOS, your iCloud will happily sign into it)."
They also added that "some VPS providers offer this for as low as $12 a month."
No data logs or tracking
The makers of Zen have addressed the most essential requirement: data privacy and customization. To that end, Zen only streams your iMessage activity P2P. It does not create any logs on the server or track your conversation.
Apart from that, the developers describe it as a "hyper-customizable design" where users can tweak the CSS to change themes, modify the UI and the layout, and build new animations.
Pricing and availability of Zen
Amnesia Labs is actively working on Zen and plans on releasing it to the general public around March 2020.
The company will launch it as a subscription-based model where users would have to pay a sum between $3 to $5. They might also offer a lifetime purchase for about $10 to $15.
As you can see, the service comes at a low cost and allows you to run it on old hardware too. However, not everyone is as enthusiastic, as several Reddit users think that Apple will soon shut down the product. That's because Apple has a history of shutting down any project that seems to emulate Apple's propriety work.
Nevertheless, you can check out Zen here and also sign up for beta testing.