T
aking a screenshot on your Android device is pretty simple. For instance, on my Asus Zenfone, I can take a snap just by pressing and holding the Recent Apps button for a couple of seconds.
On other devices, the option to take screenshots is present in the Notifications bar, or the same can be done by pressing a combination of buttons simultaneously. A similar process is in the case of Apple devices running iOS.
One thing that has caused problems for me is that the inbuilt screenshot tool in Android and iOS only covers the things that are displayed on the screen. What if someone wants to take a long screenshot of a web page in a single image which requires the page to be scrolled down. But sadly, the screenshot tool's capabilities fall short here.
Still, the road to finding something that can help us take a scrolling screenshot isn't stretched out far and hard to traverse. So, is there any app that can help us capture scrolling screenshot on iOS or Android? The answer is Yes. There are a couple of ways you can cover the undisplayed area of the screen.
How do I take scrolling screenshot on iOS and Android? – Long Screenshot
Take the long road
One of the easiest but tedious ways to take a scrolling screenshot on your iPhone or Android device is to capture multiple screenshots and combine them using some image editing tool on your PC.
I did the same a couple of times in the past on my PC as it was the quickest and only way I could think of when I didn't have some app at hand. In fact, not even a smartphone.
But now, you can feel relaxed because there apps that can handle the job for you and snap a long screenshot on your iPhone and Android.
Stich & Share: big screenshot
Platform: Android (4.1 and up)
Nowadays, most of the screenshot work is done on smartphones powered by Android and iOS operating systems. And there are apps available which can help users overcome the shortcomings of the inbuilt screenshot tool on their devices.
Stitch & Share is also an app which you can use to take a scrolling screenshot on your Android device for free. Installing the app is quite easy; all you need is to visit Google Play.
During the initial days, you may not find the app a little uncomfortable to use. But being patient for a while would improve your precision when taking those long screenshots.
What the app basically does is it automatically takes screenshots as you scroll down and stitches them together. Stitch & Share can combine the screenshots you have manually taken. However, while taking screenshots, you would have to make sure that the two consecutive shots overlap to some extent to make things easier for the app.
One of the downsides of this app, and for others on the list, is you can't take horizontal screenshots. For instance, if you want to cover your entire home screen or Menu in one image, scrolling sideways would add the image at the bottom.
Download Stich & Share
Stich It! – Screenshot Editor
Platform: Android (4.1 and up), iOS (iOS 8.0 and up)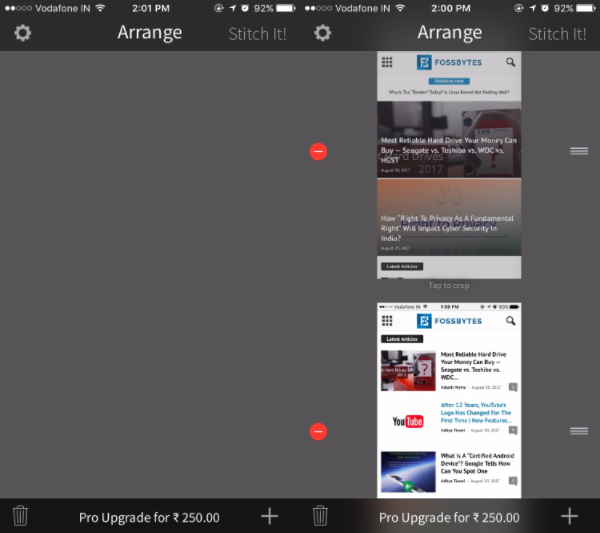 Although Stitch & Share is not available for iOS, App Store is not a barren land when it comes to apps for scrolling screenshots. The best thing about Stich It! is its availability for both Android and iOS operating systems.
Stich It! offers a simple-to-use interface for the screenshots you have taken regularly, using the inbuilt tool, and attach them. You can align the screenshots by cropping them accordingly.
It comes in both paid ($2.99) and free options. One of the drawbacks of the free version is you can only combine three images when making your scrolling screenshots.
Stich It! For Android
Stich It! For iOS
Tailor – Automatic Screeshot Stiching
Platform: iOS (9.0 and up)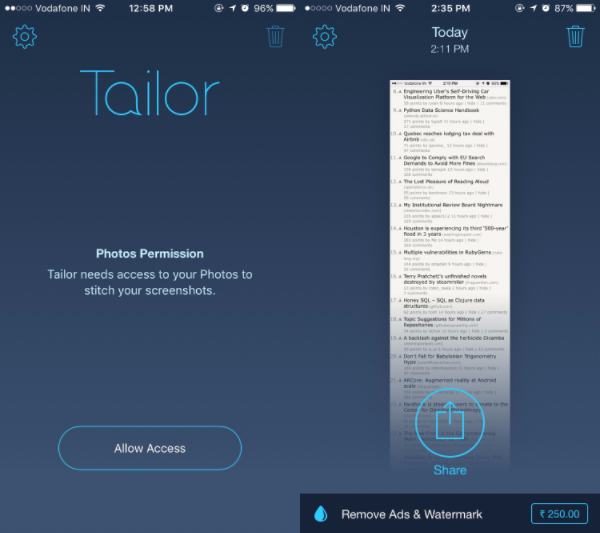 For the lazy ones wanting to automate everything, Tailor is the app you can use for long screenshot your iPhone or iPad. You need to do nothing except capturing the screenshots like you normally do. Open the Tailor app afterward, and your long screenshot would be waiting for you.
Despite the ease offered by the app, I didn't find it efficient enough. As it failed to include some of my screenshots when joining the images. Still, it's fine.
The app being all automatic has a couple of downsides. It fetches the screenshots on its own. So, you can't edit the order of images when the scrolling screenshot is created. Another thing is if you delete an automatically created scrolling shot, the app won't generate it again.
One possible workaround for these shortcomings is to delete the original images and capture them again.
People who are allergic to adverts can buy the paid version for $2.99. Else, you can use Tailor for free.
Download Tailor
So, these were some of the apps you can use to capture continuous long screenshots on iOS and Android devices. I hope I could extend this list with more names in the future.
If you have something to add, drop your thoughts and feedback.