A few weeks back, OnePlus launched the Cyperpunk 2077 edition of its OnePlus 8T. Under the hood, it has the same specs as the OnePlus 8T that was first unveiled back in October.
However, there are some big changes in the device's design, such as the rear end of the device features a large camera glass module that covers one-third of the back. Meanwhile, the mid part uses anti-glare glass that gives a gray color finish. Let's not forget the Cyberpunk 2077 yellow-colored branding.
For the time being, the OnePlus 8T Cyberpunk 2077 edition is only available in China. But if you belong to the millions of gamers who have been waiting for Cyberpunk 2077, you are in for a treat.
XDA member linuxct has managed to port the OnePlus 8T Cyberpunk 2077 edition's live wallpapers, which can be applied on any Android device.
How to apply OnePlus 8T Cyberpunk 2077 live Wallpapers on any Android device?
In this port, you will find a total of ten Cyberpunk 2077 live wallpapers for Android. It is important to note that the device should offer a good OpenGL performance for live wallpapers to operate smoothly.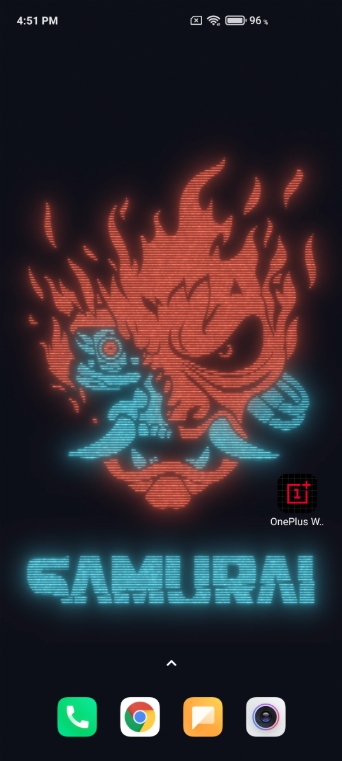 Download and install the OnePlus 8T/OxygenOS 11 Live Wallpapers APK as well as the OnePlus Wallpaper Resources APK.
Open the OnePlus Wallpaper Resources app.
Choose the Cyberpunk 2077 Android live wallpaper as per your preference.
Set the live wallpaper for your home screen.
You can also apply the OnePlus 8T Cyberpunk 2077 edition's boot animation, icon pack, fingerprint scanner animation on any Android device with a Magisk Module made by XDA member AndroPlus. Of course, Magisk needs to be installed on the device for the trick to work, which requires installing a custom recovery.
If that's too much, you can at least get the OnePlus 8T Cyberpunk 2077 edition's sounds (alarm, notification, ringtone, UI) and static wallpapers in this ZIP file.
The Cyberpunk 2027 game is arriving on December 10th and will be available on PS5, Xbox Series X and Series S, Google Stadia, Xbox One, and Microsoft Windows.