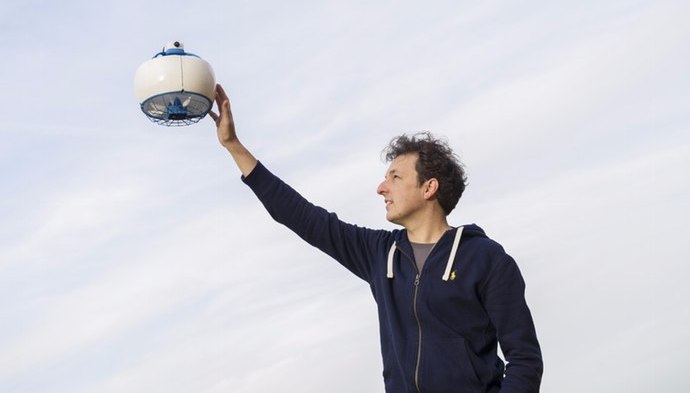 Short Bytes: Here is the world's safest drone – Fleye. It is as small as a soccer ball and equipped with everything you need in a perfect companion to help you with your daily tasks.
W
ith the growing realm of robots in our day-to-day life, it's time to say hello to the future of autonomous flying robots with Fleye. Fleye is a startup that made its appearance on
Kickstarter
. It has been described as a whole new kind of drone which is – safe, fun, autonomous, easier to use, open and programmable, and a result of 18 months of research and development.
Fleye was founded by two engineers who shared a common passion for robotics and other flying machines, namely, Laurent and Dimitri.
What is Fleye?
Fleye is a unique drone with all its moving parts shielded, thus, making it safer and robust in case it hits something or someone, kudos to the "ducted fan UAV" concept, which used in larger industrial/defense drones. It is exactly the same size and weight as a soccer ball. It is easily controllable via a smartphone and is compatible with iOS and Android. It comes with options of flying camera mode or in case you prefer manual control, you can go for using a virtual touch- gamepad or Bluetooth game controller.
It is far superior to devices like Google Glass and the Quadcopter as it's a superior combination of both.
Features of Fleye:
Noticeably, it has a mini-computer much similar to one like smartphones on-board and comes with easy to swap batteries which can power ten-minutes of flight time. It is a dual-core ARM A9, two GPUs supporting OpenGL and OpenCL, 512 MB of RAM and runs on Linux. To maximize the power, it offers a special Developer Edition reward that bestows a Quad-core computer and 1GB RAM. Furthermore, it also supports Computer Vision Library OpenCV which makes it programmable to execute missions autonomously and enables it to react likewise it observes in its environment.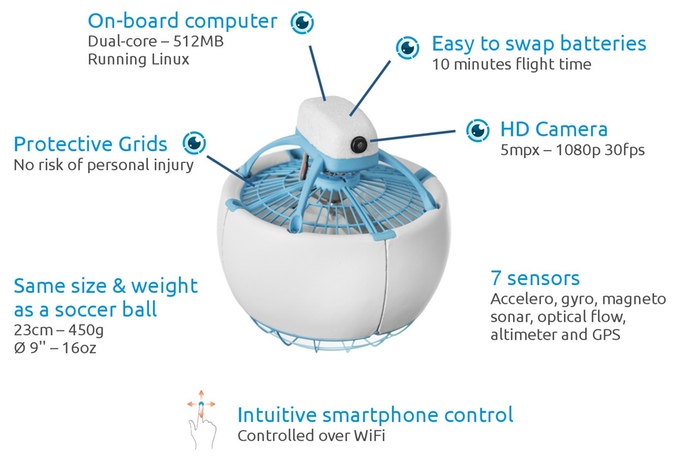 Fleye can also be controlled via wifi using a JSON-over_UDP API. In fact, anything that can command Fleye can be used as a controller. It also provides connectivity options through a USB and Serial extension port and also has inbuilt 7 sensors including its own GPS system.
The fist production run is planned to start from June 2016 and shipping from September 2016.
Undoubtedly, Fleye is a fascinating dream come true flying bot, but did this project impress you?? Tell us through your comments below.
Get the best deals on drones at fossbytes store.