The advent of the Internet has opened up new avenues of information. Kids nowadays rely on the web to gather educational resources and conduct activities like project submission or online classes. But along with the good side of the Internet, they are also exposed to the dark side which leaves them vulnerable to cyberbullying, watching aggressive or offensive content, or meeting potentially harmful strangers.
And it wouldn't be a good idea to isolate them from the internet by simply quoting these possibilities. I certainly won't recommend it as it can potentially limit their growth and learning abilities. Instead, one can opt for a parental control app that allows kids to browse the Internet for useful tasks but also lets parents keep an eye on their activities. There are several parental control apps available but the Famisafe app is a complete package that offers a plethora of options.
FamiSafe: A Parental Control App For Android, iOS, And Desktop
FamiSafe app gives parents/guardians full control over a kid's smartphone and how they use it. Using this parental control app, you can track their location and get notifications on the entry and exit timings of a particular place like home or school. The app also lets you restrict their phone usage. For instance, you can bar its usage during study time or prevent them from using certain apps and viewing specific types of content on the internet.
The best part is that you can do all of this remotely from an easy to use dashboard on your smartphone or desktop.
Simple And Clean UI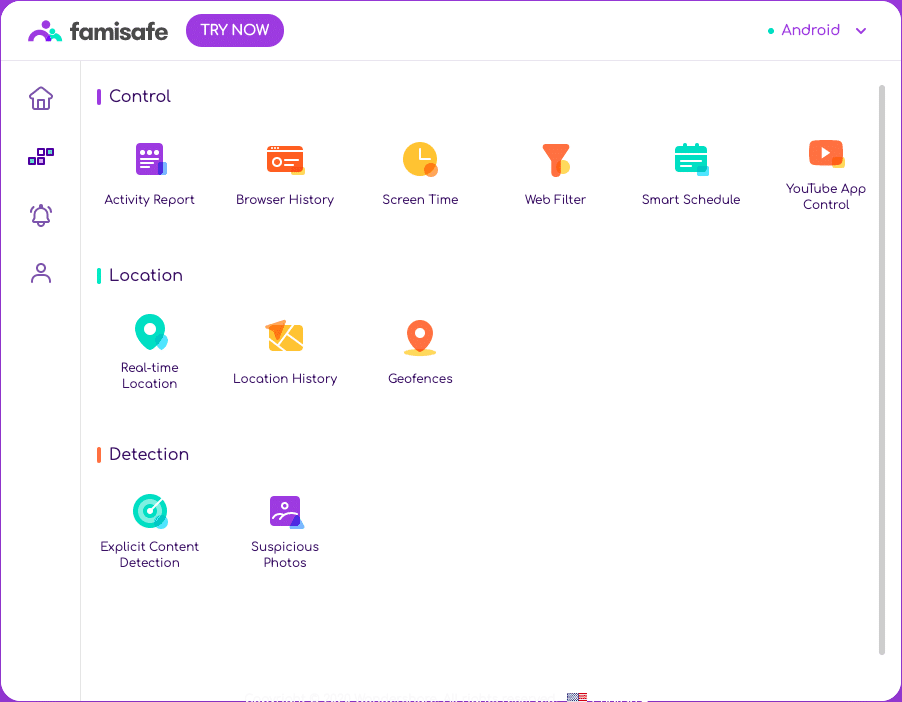 The user interface of Famisafe is pretty clean and easy to use. There are 4 major sections in it left sidebar. Firstly, there is the Home icon which lists down the most important features right on top, that is, Screen Time, Geofence, and Smart Schedule.
Below the Home icon, you'd find the S-shaped Tetris icon which contains all the features in one place (refer to the below section for a detailed explanation of all the features). The third and the fourth icon opens up the Notification and Settings section respectively.
Features Of Famisafe App
Now let's take a closer look at the major sections and their features in Famisafe app:
Control
The following are the Control features that lets you define how and when the kids can use their smartphone:
Activity Report
Lets you track daily activities on your kids' devices
Informs which apps are newly installed or deleted
Lists usage of each app with date and duration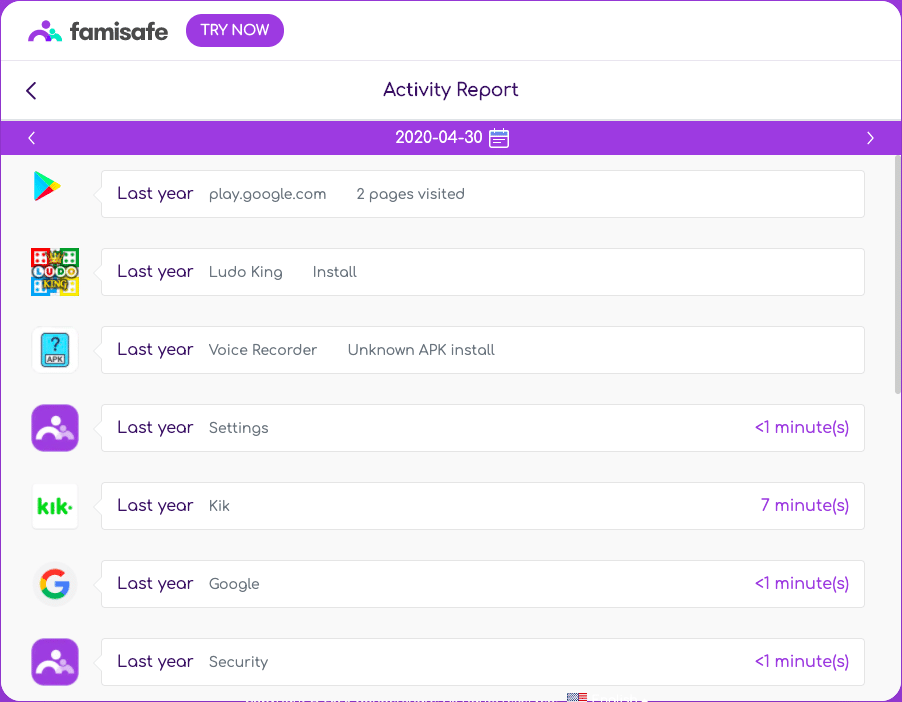 Browser History
It shows the browsing history
Screen Time
It displays charts based on the current day's total phone usage in hours
You can also view the previous 7, 15, and 30 days usage
Below this chart, there is "App Usage & Blocker" section from where you can view usage data for individual apps and even disable any app you don't want them to use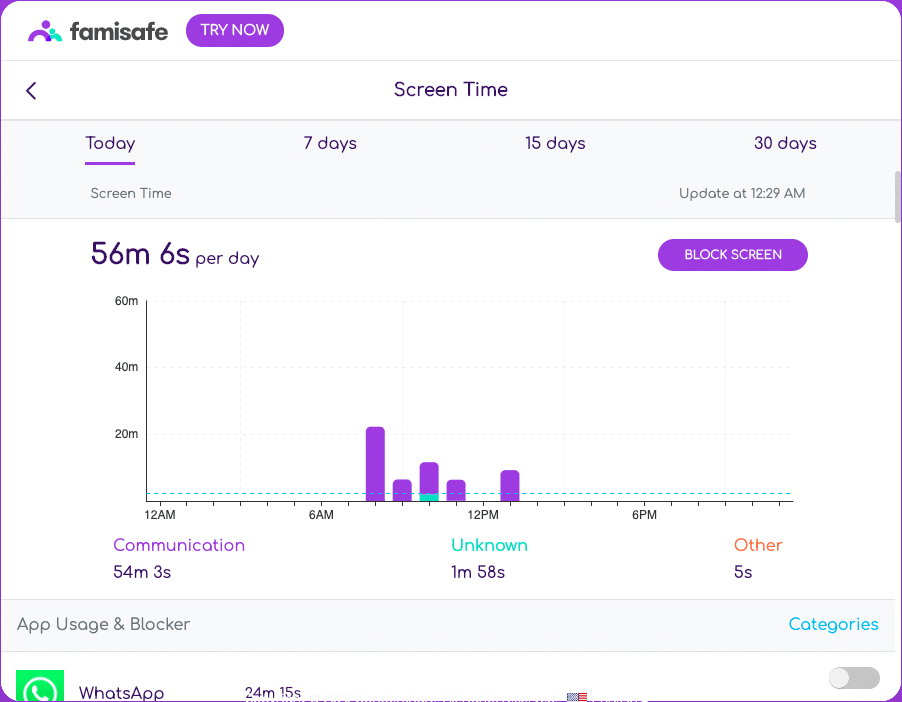 Web Filter
This section lets you decide what sort of content you want the kids to view
It lets you block websites by categories
You can also rule out exceptions here for the categories you have blocked
Smart Schedule
It lets you decide when and where to block your kid's device (for instance during study hours)
YouTube App Control
Here you can see what sort of YouTube content your kid is viewing
If you don't like any particular content, you can block either that particular video or the entire YouTube channel
Location
This section gathers GPS data of the device.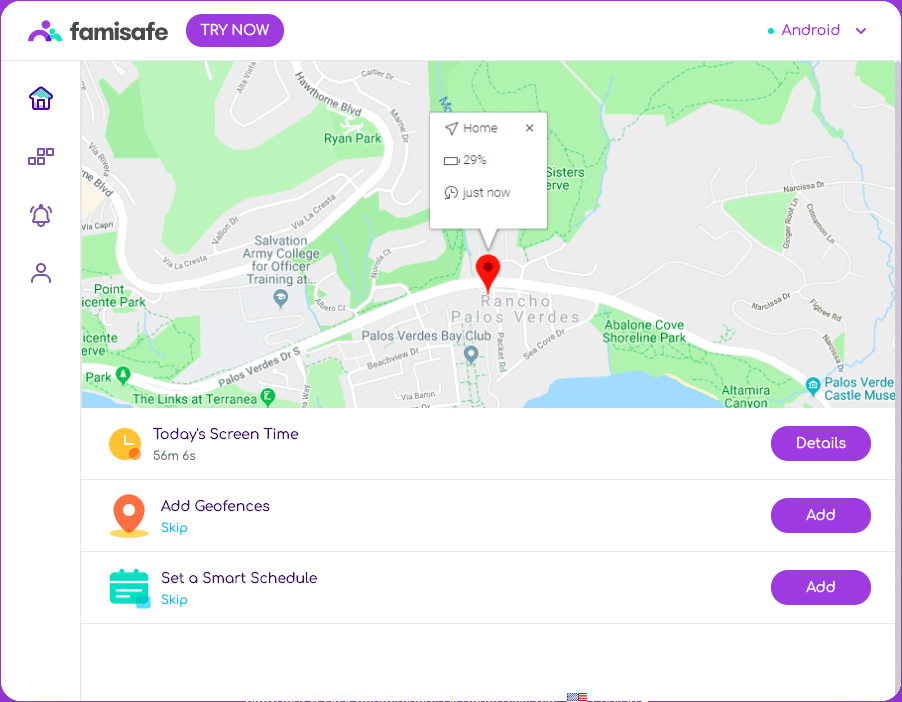 Real-time Location
As the name suggests, this option lets you track the real-time location of the device
You can trace the entire travel route and pinpoint their exact location using it
Location History
This option simply lists down the places your kid has visited either day or month-wise
Geofences
It lets you add an alert for whenever your kids enter or leave a place (for instance school  or music class)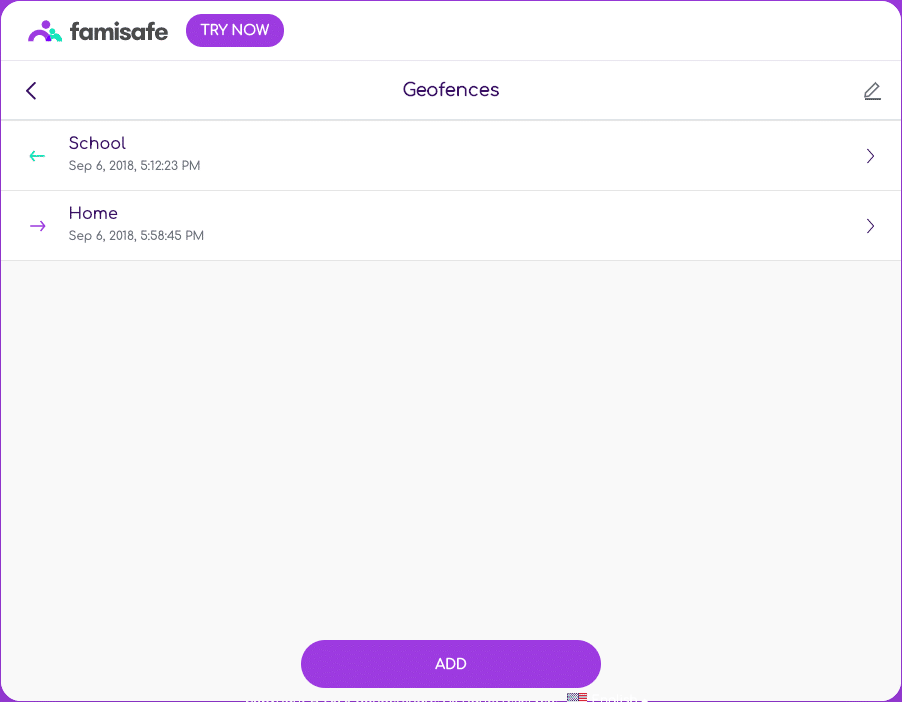 Detection
This section gives instant alerts on suspicious content. Famisafe can detect disturbing content on social media apps as well
Explicit Content Detection
Here you can find all the explicit texts sent to your kid's account on different texting apps and social media platforms like WhatsApp, Messenger, Instagram, Facebook, Twitter and YouTube.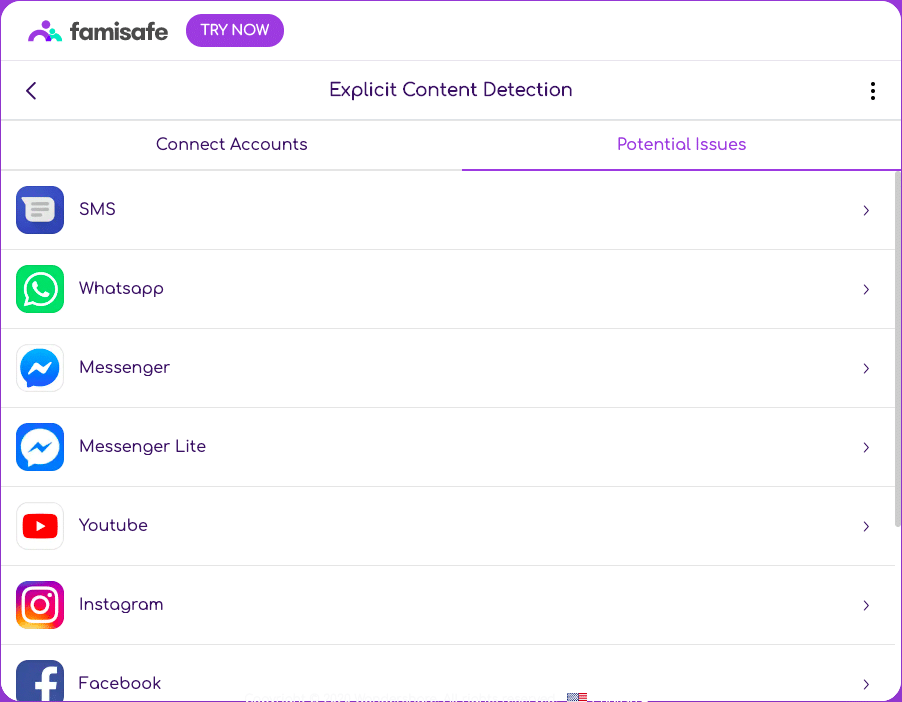 Suspicious Photos
On being enabled, it detects all suspicious photos on the device whether it's taken from camera or received through a messaging app or a social media platform
Pricing And Availability
Famisafe offers all the features in each of its premium plans. There are three different plans based on the number of month and devices you are subscribing for:
1-month plan: Protects up to 5 devices, priced at $9.99
3-month plan: Protects up to 10 devices, priced at $19.99 (costs $6.66/mo)
1-year plan: Protects up to 30 devices, priced at $59.99 (costs $4.99/mo)
Famisafe app is available on both iOS and Android as well as desktop.
Keep Your Kids Safe With Famisafe!
Famisafe parental control app has the potential to ensure child safety, especially for working parents who can't always be around. The most useful features are app blocking, web monitoring, and geolocation which can give you an insight on what your kid is facing every day. Here, Famisafe helps you understand and help them in a better way and it's worth investing in this app.