The rise of blockchain and various cryptocurrencies in recent years has led to a significant rise in cryptocurrency jobs.
According to a study by job site Indeed.com, the share of cryptocurrency jobs per million has risen 1,457% over the past four years.
In spite of the drastic price fluctuations of cryptocurrency, and many companies citing regulatory uncertainty as a major obstacle in blockchain adoption — employers have decided to go ahead and invest in blockchain tech and talent.
Even though searches related to Bitcoin, blockchain, and cryptocurrency roles have decreased, jobs for such roles have increased manifold.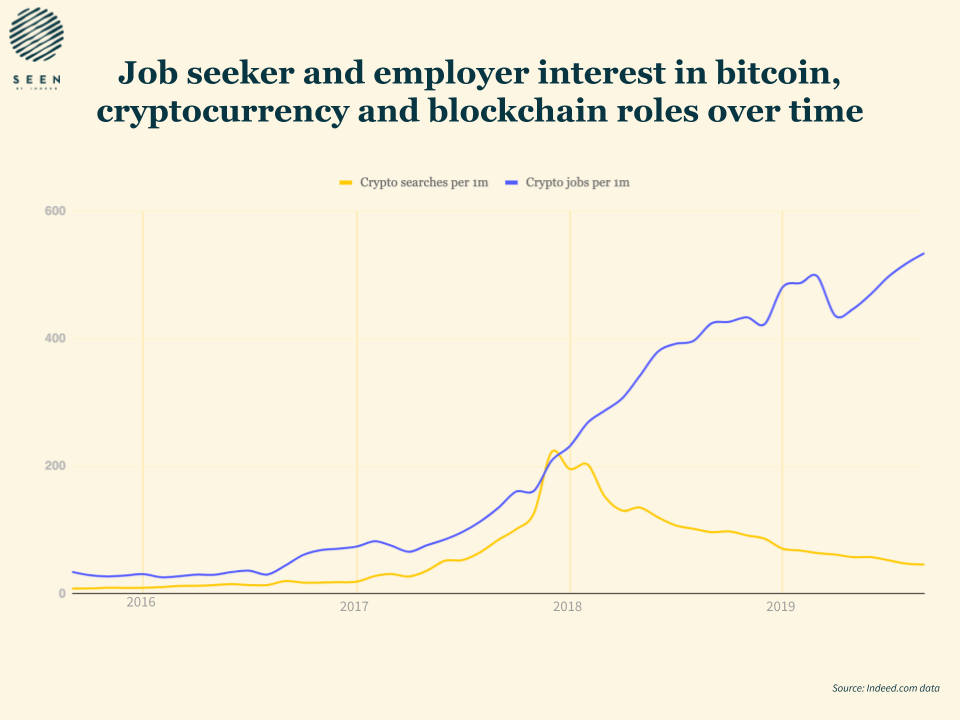 Indeed says that between September 2015 and September 2019, the share of these jobs per million grew by 1,457% and the share of searches per million increased by 469%.
Last year, the share of cryptocurrency job postings per million on Indeed.com has increased by 26%. However, the share of cryptocurrency job postings per million on Indeed.com has increased by 26%.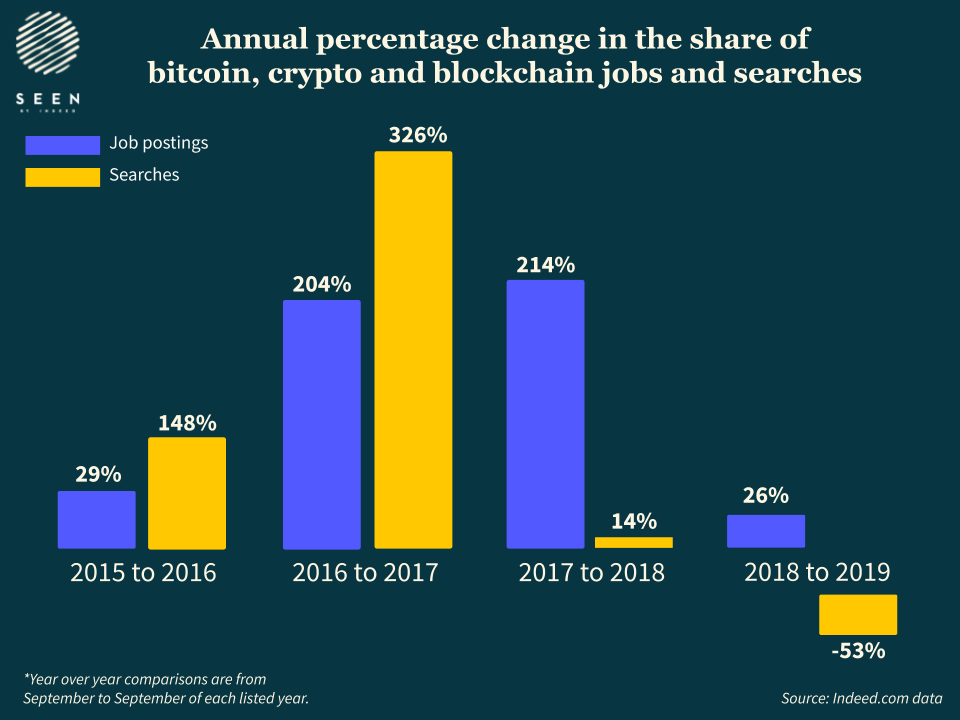 A major reason behind the decline in job seeker interest in Bitcoin's volatility. The change in Bitcoin price this year also contributed to this.
But, tech companies are doubling down on the technology using decentralized ledgers for more secure and transparent transactions.
Top 5 cryptocurrency jobs
Now that we know that companies are hiring more blockchain and cryptocurrency-related roles — but what are those jobs?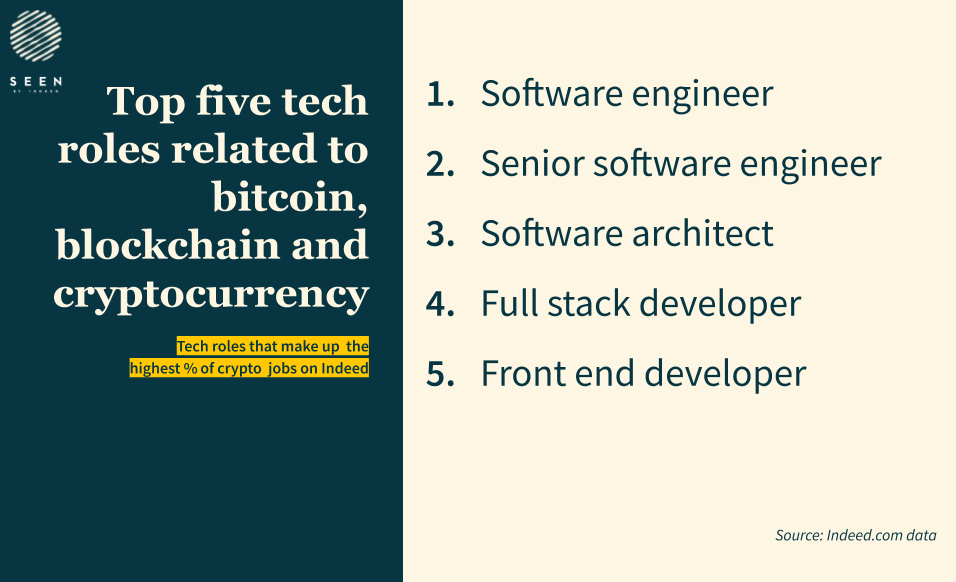 From programming smart contracts to designing UIs for cryptocurrency apps to building decentralized apps (dApps), there are several jobs in the cryptocurrency field right now.
Those who are looking for a job in this field should familiarize themselves with basic cryptography, P2P networks, and languages such as Python, Java, C++, JavaScript along with other crypto skills.
To further increase your chances of getting selected in blockchain development profiles, one should have knowledge of Bitcoin Script, Hyperledger, Ethereum's Solidity, the Ripple protocol, or other languages that are currently used in development such as Rholang.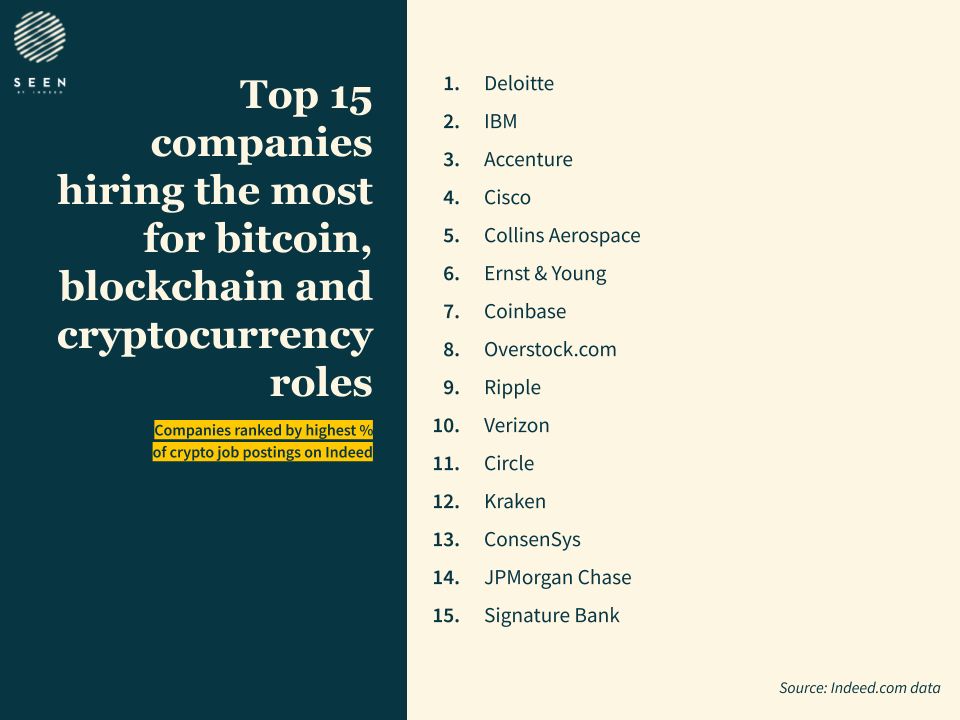 Are Bitcoin jobs as volatile as the cryptocurrency?
Tech companies of all sizes and across industries have increased cryptocurrency hiring over the last year. And this trend is likely to continue in 2020, despite the price volatility and regulatory uncertainty around cryptocurrency.
Overall, the blockchain tech is here to stay, according to Indeed.