N
etflix, Amazon Prime, Hulu and other streaming services are the reasons why people are ditching their capable operators. Provided the ability to watch their favorite content whenever they want without waiting for the airtime, it is hardly surprising that even the introduction of recording features by cable networks has failed to make any dent in the popularity of these streaming services.
People might be assuming that the rise of streaming services might bring an end to the existence of television. The proliferating number of smartphone, tablets, and laptops also fuel this belief. But, in reality, TVs might live quite longer than you would have anticipated.
According to the Comparable Metrics Report published by Neilson, around 92% of the adults in the US, aged 18 and above, still prefer the television more than other devices.
Nowadays, the term television is only a metaphor to describe a large screen. During their analysis, the researchers took into consideration the total gross minutes of consumer viewing TVs and TV-connected devices, along with smartphones, tablets, and PCs. The data was collected in Q4 2016.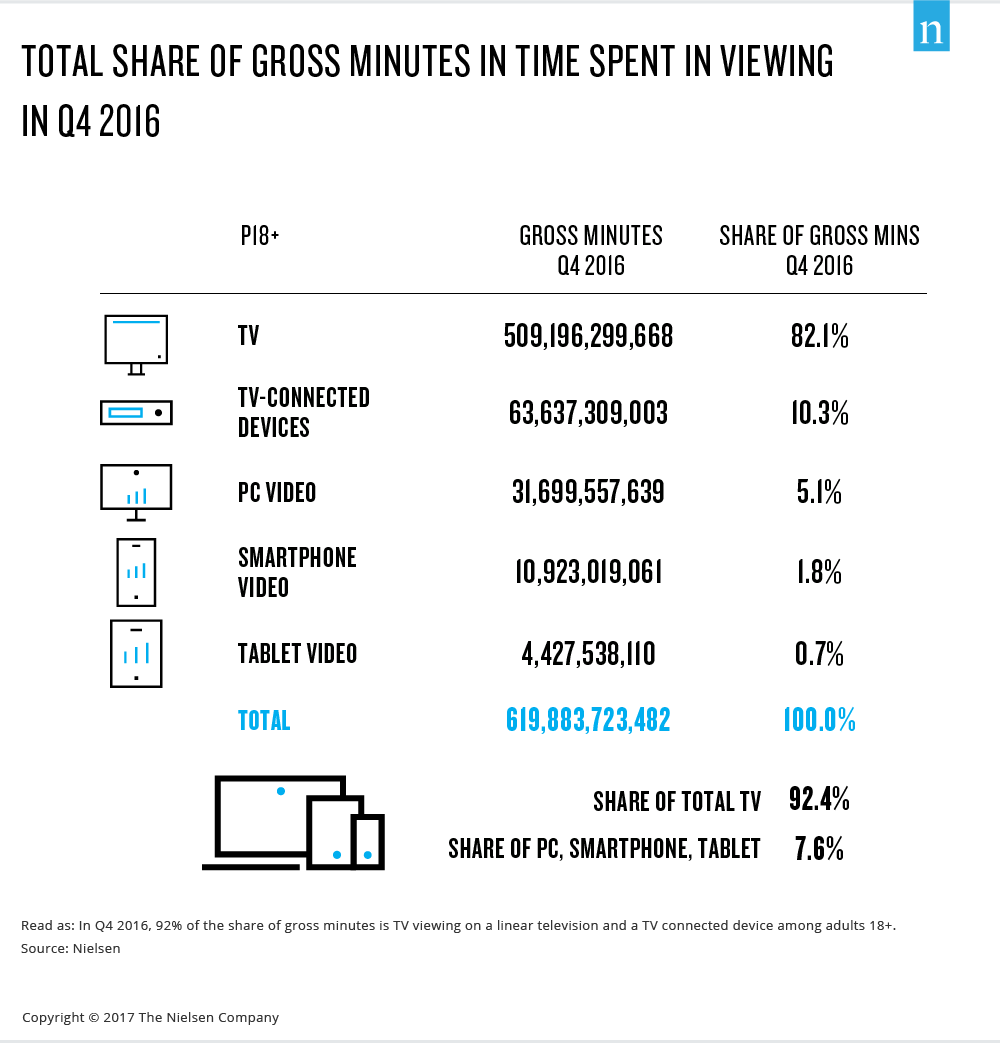 It's surprising that smartphones and tablets only account for around 2% of the total share, that too combined. These numbers are despite the outburst of such devices in the recent years.
According to the SVP Research at AMC Networks, Tom Ziangas: "The fact of the matter is that viewers use the TV screen for the bulk of their viewing and spend more time doing so than all the other platforms combined."
"Sure, viewers have more options today, but when looking at platforms in a comparative fashion, it's clear that consumers choose the television as the primary vehicle for content," Ziangas added.
It's good that the viewers have a choice of viewing platforms. But watching movies and TV shows on television is far more comfortable than cramped in front of your laptop screen, or the worst, your smartphone.
One considerable reason that TVs still have a dedicated place in our homes is the constant development in technology. Now, we have smart TVs capable of sucking 4K videos from the internet. And streaming service providers have spent no time writing apps for TV platforms. And then, there are devices like Chromecast or Apple TV which come to rescue when our TV isn't that smart.
If you have something to add, drop your thoughts and feedback.