S
ince the last year, we have heard that Andy Rubin, widely known as the co-founder of Android, is baking
a new smartphone
.
Rubin has just announced his Essential Phone, and it runs stock Android. It also comes with Moto Z-style modes that magnetically attach on the backside. But Rubin's company Essential has something more to offer, a smart speaker called Essential Home with a custom operating system called Ambient OS.
In the very first appearance, Essential Home, featuring a round display, looks like a blown up smartwatch. Currently, there is no word on the specifications, availability and the pricing of the device.
Essential says they wanted to build a home assistant which you can proudly flaunt in front of your friends. And it should be without any boxes, tubes, or strange lights. Essential Home can be activated using your voice, tap, or by a glance.
The smart speaker can do all the basic tasks you can expect from a voice assistant, like settings up reminders, answering questions, controlling devices.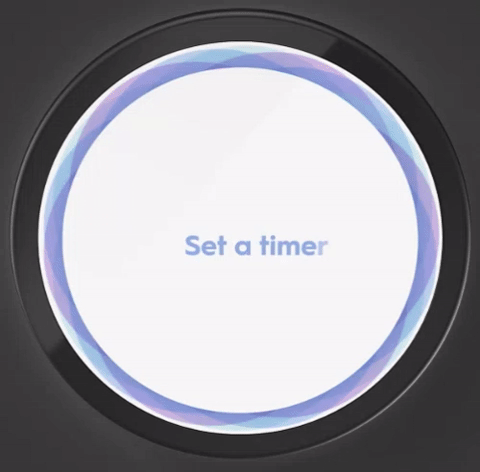 So, what's new?
Ambient OS is the driving force behind Essential Home, in fact, its selling point. The makers say that it's an "API to your home" and helps to interconnect various services and devices by knowing the physical layout of you home and the people living in it. For instance, flashing room light when a timer goes off. If not the best experience, it can sometimes be haunting.
"With the Ambient OS API, developers have access to available devices, services, and home information and can use these resources as the building blocks of their applications," wrote Manuel Roman, Head of Engineering at Essential.
Essential Home is different from other smart speakers in the way it processes the information. Its makers have included contextual and artificial intelligence into the device so it can digest a user query, or some other task, locally on the device in most cases, instead of relying on a cloud backend.
"Essential Home will directly talk to your devices over your in-home network whenever possible to limit sending data to the cloud," writes Essential's Business Unit Lead.
Also, Essential says their smart speaker "does not try to make your home smart by anticipating what you need." It learns from users behaviors and suggests the things that it can do. Ultimately, the human has the full control and authority to make the final decision.
For now, we only have the graphic imagery showing how Essential Home looks. It's unclear when the actual product will arrive in the market.
But looking at the current set of information, Essential Home might end up being a different kind of assistant trying to create a homogenous home automation ecosystem by moving backward when the world wants everything on the cloud.
If you have something to add, drop your thoughts and feedback.