Of late, the use of devices (mostly smartphones) has become bothersome; we tend to use them a lot. As we adults can go haywire with its usage (we all know how Snapchat, Instagram, and WhatsApp have become really dear to us), children ought to follow in our footsteps too. That's when we need parental control apps to monitor kids' phone usage. 
Therefore, I am back with another app list wherein I will list down the best cell phone monitoring apps for parents in 2020 — so that they keep an eye on how their kids use the smartphone.
How to monitor your kid's phone?
Keeping an eye on your kid's smartphone can be done in two ways; the first method is the traditional one wherein you go through the child's device and try to figure out how they are using it. However, it has downsides such as (a) it's a hassle, (b) it's not accurate, and (c) you might not get to know the truth as there is an option called delete.
The second and smart way is to use a parental control app, and the following list will help you pick out one. Hence, read on to find out more:
9 Best Parental Control Apps In 2020 — Android and iOS
| Best Parental Control Apps | Platform |
| --- | --- |
| Norton Family parental control | Android, iOS |
| Kaspersky SafeKids | Android, iOS |
| Qustodio | Android, iOS |
| Google Family Link | Android, iOS |
| MMGuardian | Android, iOS |
| Safe Browser Parental Control | Android, iOS |
| Screen Time | Android, iOS |
| ESET Parental Control | Android |
| FamilyTime | Android, iOS |
1. Norton Family Parental Control
Norton offers one of the best parental control app for Android that can be used to monitor kids' phones. The app requires you to sign up first (on both your and your child's smartphone) and accept a couple of terms and conditions before you start.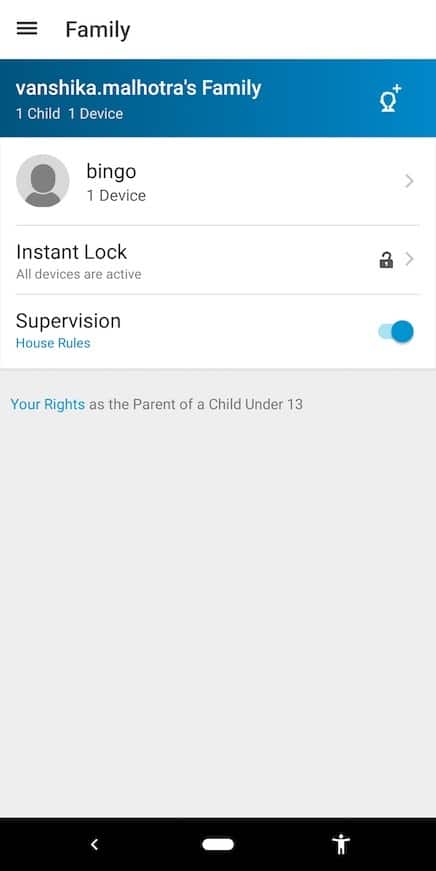 When setting up, you have to select the level of surveillance, which is different for different age groups. You can set up accounts for each of your children and both the accounts remain separate so that monitoring becomes easy.
Selecting any of the accounts will display three sections, namely Alerts, Activity (location, time on the smartphone, social media, video, apps, and more), and Rules. You can enable or disable the various rules set for phone monitoring. Additionally, the app allows you to lock your child's devices if a need arises to do so. 
2. Parental Controls and Kids GPS: Kaspersky SafeKids
The best phone monitoring app by Kaspersky has a familiar process of commencing; you are required to create an account and accept the various terms and conditions. Following this, you have to install the app on both your and your kid's smartphone, so that it gets easier to keep a close eye on the child's activities.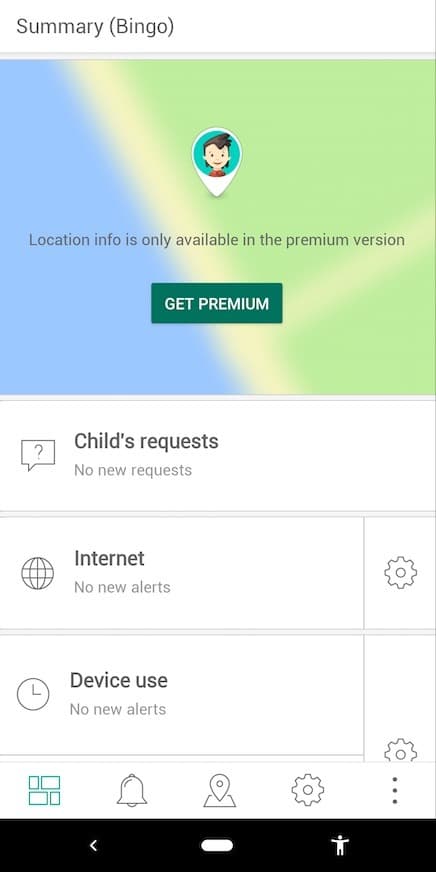 The app has four sections: Summary, Alerts, Activities, Settings, and Additional for easy access to various options on the app. The free parental control app to monitor kid's phone lets you track your child's location, internet usage, app usage, and more; you can enable these customizations as per your choice. 
In addition to this, you can set a pin or fingerprint authentication so that your app usage remains safe. You can even lock the app on your child's device so that they don't uninstall the app. Furthermore, the app can be upgraded to several plans to access new and enhanced features.
3. Qustodio
Qustodio is a parental monitoring app that allows parents to know about their child's smartphone usage and even limit it. While keeping a close eye on your kid's activities, you can use parental controls such as limiting the web, games, and apps' usage. You can also block calls and messages, and track the kid's social lifestyle and location. Additionally, you can set up a panic button in case of emergencies.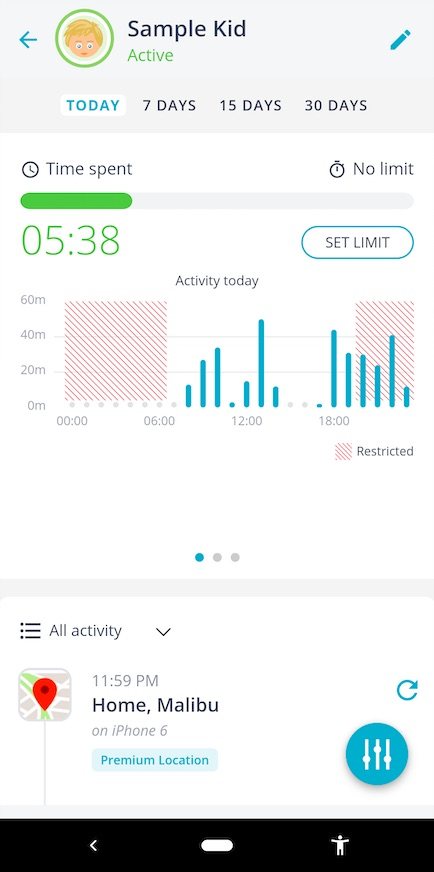 To start, you have to accept the terms and conditions and sign in. Once you are done with this, you will be given an overview of the app for a better understanding. The app also provides you with a sample child so that you can get a gist of how it will work, which is why it can become the best free parental control app.
The app lists down all the activities of the child, the screen time, and usage of each app, judging from which you allow or deny access to the apps. Additionally, the app can be upgraded to its premium version (which will be paid) for more features.
4. Google Family Link
Apart from building the Digital Wellbeing tool for Android smartphones, Google also has a parental control app for child phone monitoring.
The Google Family Link app allows you to set screen limits, set day or night usage restrictions, and allow or block apps as per your choice. The app, much like various apps to monitor kids phone, requires you to agree to the terms and conditions, set up an account, and install the Google Family Link for children and teens app on your child's device.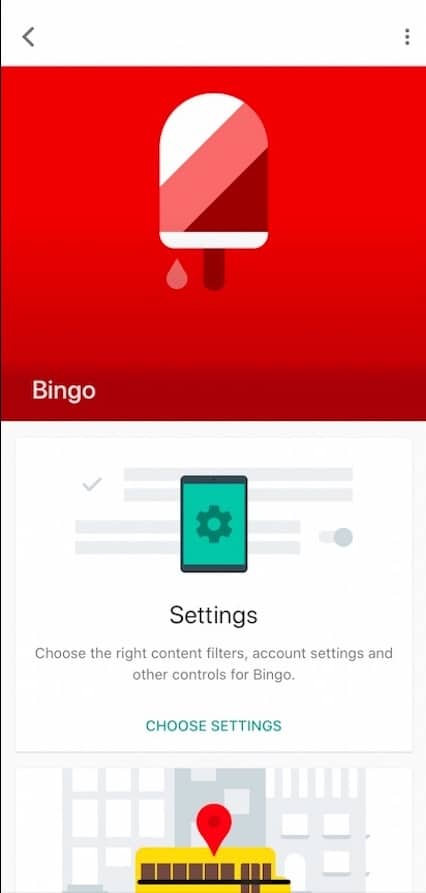 Additionally, the app allows you to customize the parental controls. While the app is easy to use and there isn't much you have to do in order to use the parental controls, setting up the accounts can be a hassle as it took me a while to set it up and finally use it.
5. MMGuardian
MMGuardian is another parental control app, which comes with a slew of features for cell phone monitoring for parents. This includes limiting app usage, blocking calls and messages, much like the Google Family Link app.
There's also an option to filter out web content for the children. One interesting feature is the alerts feature, which will allow you to know if a new app is downloaded in the child's device. This intriguing feature is the reason this app is on my best parental control apps list.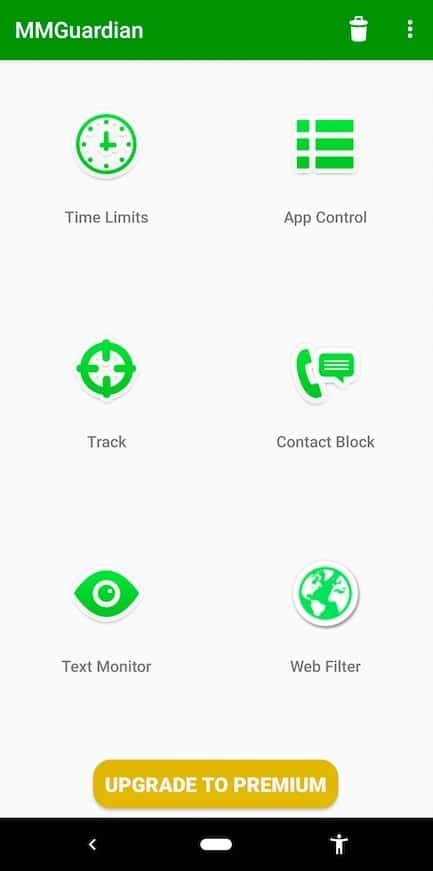 Additionally, the app has a feature that detects any inappropriate media is present on the device. To select any of its features, you just have to select the options present on the app and you are good to use them. However, there are some features that will only be enabled if you upgrade to the premium version of the app, by paying money.
6. Safe Browser Parental Control
The Safe Browser Parental Control app provides you with parental controls on Android as well as iOS that primarily allows the tracking of adult or porn websites.
Hence, the app caters to one aspect of the smartphone usage, which is, the usage of websites. It helps you block porn or adult websites and lets you filter out websites by creating whitelists and blacklists of websites.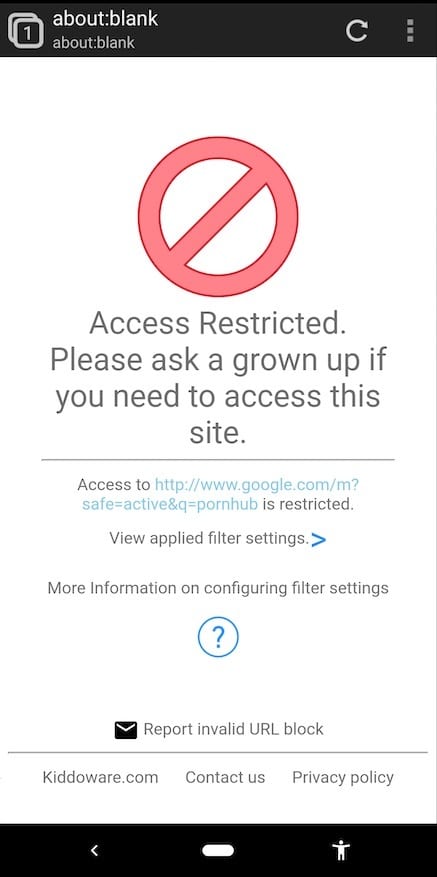 Furthermore, the app has a Child Lock feature, which lets you lock apps on your child's device so that you can restrict the app's usage. However, it requires you to download the Kids Place app on your child's device. The app allows for cloud-based management for convenience of usage and enables voice-navigation, which is an easy way of using the app. Additionally, much like various other parental control apps, the app has a subscription option for added features.
7. Screen Time
The app lets you limit screen time, apart from providing a couple of Android and iPhone parental controls. The app follows the usual process of setting up; you have to sign in, download the app's kid version on your child's device and enter the provided pin to start using it.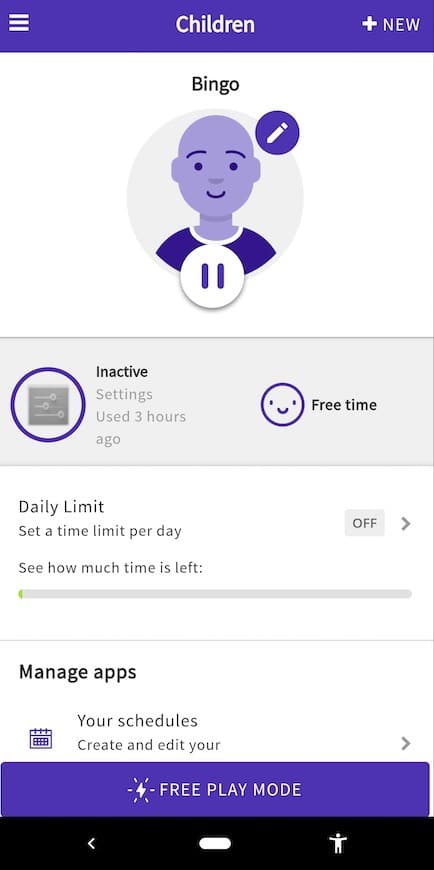 The app lets you keep track of your child's smartphone usage and limit it accordingly. But the feature that sets it apart from other parental control apps is that it allows you to provide your child with tasks. If they perform the tasks well, they can get extra screen time to use apps. The tasks could include the homework or any chores you want them to do. This will eventually lead to a win-win situation for both you and the child.
Additionally, the app allows you to set pins, track the child's location, upgrade to the paid version of the app and has a Free Play mode that allows the kid to use the device normally, without any restrictions.
8. ESET Parental Control
This is one of the best parental control app for Android in this list. The app is meant to see how your child uses the web and sets limitations on usage if you find something fishy.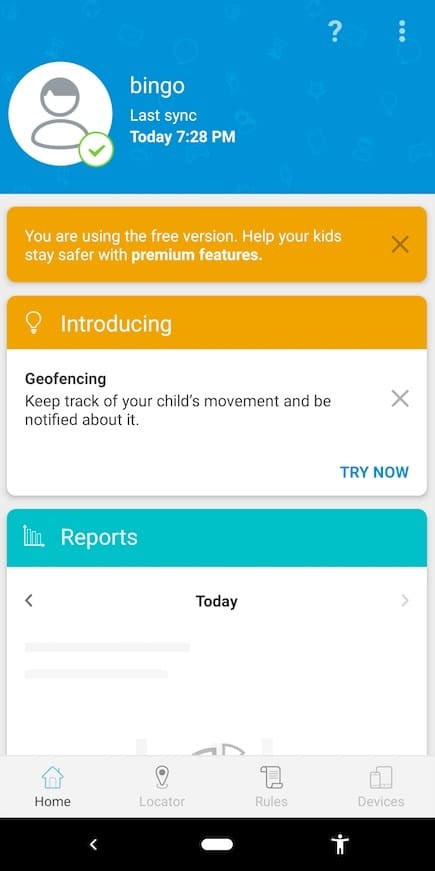 Much like the various apps for parental control, ESET requires you to create your profile and download the app on your kid's device so that tracking is easy. The app is divided into four main sections: Home, Locator, Rules, and Devices.
Upon conducting the whole setup process, you can track your child's activities and restrict usage accordingly. From the Locator section, you can go for location tracking. Additionally, the app has a premium version to enable features such as web tracking and reports that summarize the child's activities in a month.
9. FamilyTime
FamilyTime is another app to monitor your child's smartphone usage and provides you with a couple of features to do so. This is the reason it can be considered the best free parental control app for iPhone and Android.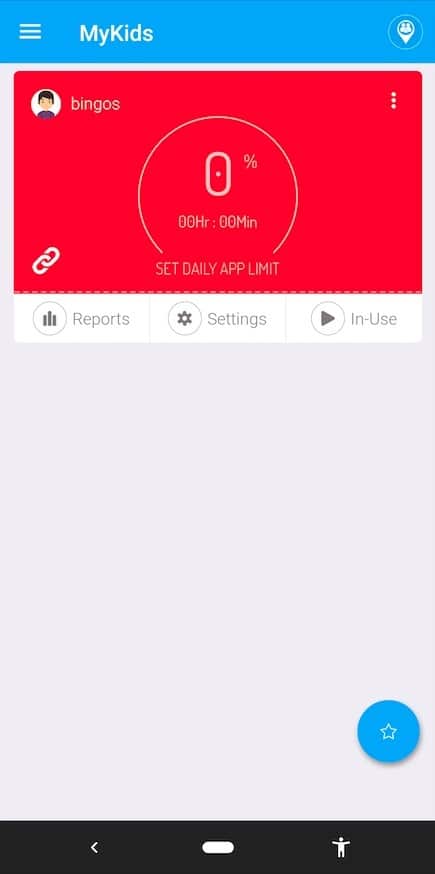 After following the usual process of signing up, you just have to add your child to the app and start monitoring their activities. The app also requires you to download the kids' version on your child's device. You can view the summary of the device usage, go to settings to change them, and even set a pin for your child's device.
Apart from tracking and setting screen time limits, you can even talk to the support to get some help from the experts. Additionally, you can track the location of your child which makes it one of the best phone monitoring app.
How to choose the best parental control app for kids?
The minimum criteria for the best parental control apps are website filter, screen-time limits, location tracking, and an app blocker. Other useful extra features include geofencing, which notifies whenever your child's device leaves a designated "safe" area like school or home. Some of these apps even let you block calls, view call logs, as well as texts your child sends and receives, but only on Android.
But you also need to decide how much content you need to filter out based on the age of your kids. If your child is under 12 years of age, you definitely want to be able to block objectionable websites through a cell phone monitoring app. but you might also consider an app that's available on Amazon Fire tablets.
If you are a parent of a teenager, you might be okay with them looking up for objectionable things (up to a certain extent) online, but in a way that you are aware of it. Some parents prefer to know whom their teens are talking to in messenger apps and to see they are up to on a late Friday night. In such cases, you should go for a service that monitors your kids' Windows or Mac devices along with their smartphones.
FAQs for Parental Control Apps
Is there a Parental Control software too?
Yes, in addition to the aforementioned list of best free parental control app for Android and iPhone, there is parental control software as well. It comes from the Norton family, Qustodio, Kaspersky, and more. If the software is your deal, you can head to the company's respective website and download one to yourself for your child's phone monitoring. A couple even let you read a child's text messages, but none lets you listen in on call, because that's illegal. And most let you monitor your child's phone from a desktop computer web interface as well as your own smartphone.
How can I monitor my child's text messages for free on iPhone?
To monitor your child's iMessages on iPhone, sync it to iCloud: Open your child's iPhone>>Settings>>Tap on username>>Select iCloud>>Turn ON messages tab. This will start uploading all the messages on your child's iPhone to the selected iCloud. After this, you'd need another Apple device, like a spare iPad or iPhone to view the messages. Sign in with the same iCloud account and wait till the sync is complete.
How can I monitor my child's text messages for free on iPhone?
You cannot read your child's text messages on Android devices unless you use parental control apps for Android which are usually paid software. You can refer to the above list for such software.
How to put parental controls on Android phone?
On the device you want parental controls on, open the Play Store app. In the top left corner, tap Menu>>Settings>>Parental controls. Now turn on Parental controls and create a PIN. Tap the type of content you want to filter. Finally, choose how to filter or restrict access.
How to protect my child on the internet?
To protect your child from online abuse and exposure to age-inappropriate content on the internet, you can try some of the best parent control apps for Android and iPhone I have mentioned in the list above.
Best free parental control app for Android and iOS in 2020
Since it's important to know how your child uses the smartphone (you need to protect them from cybercrime and more), I hope my list of best parental control apps is able to help you keep a close eye on your child.
As a reminder, there are various such apps on the app stores and my list of top parental control apps includes the popular ones with good ratings.
Do let me know which is the best parental control app for you and if you have any suggestions to make, please comment below!