What happens when your car breaks down? You go to a nearby shop. Same applies to your Mac devices as well. If your Mac is running slow because of the build-up junk then you might need to catch up with a Mac cleaner, that can optimize your device for the highest performance.
Just like you have numerous places that offer to fix your car, there are plenty of Mac cleaners out there, however, not all of them are legitimate. Dr. Cleaner is one such prominent software that was caught stealing and uploading personal data of users.
Therefore, I have curated a list of best and safe cleaners for macOS that you can install on your device right now —
Best Mac Cleaners in 2022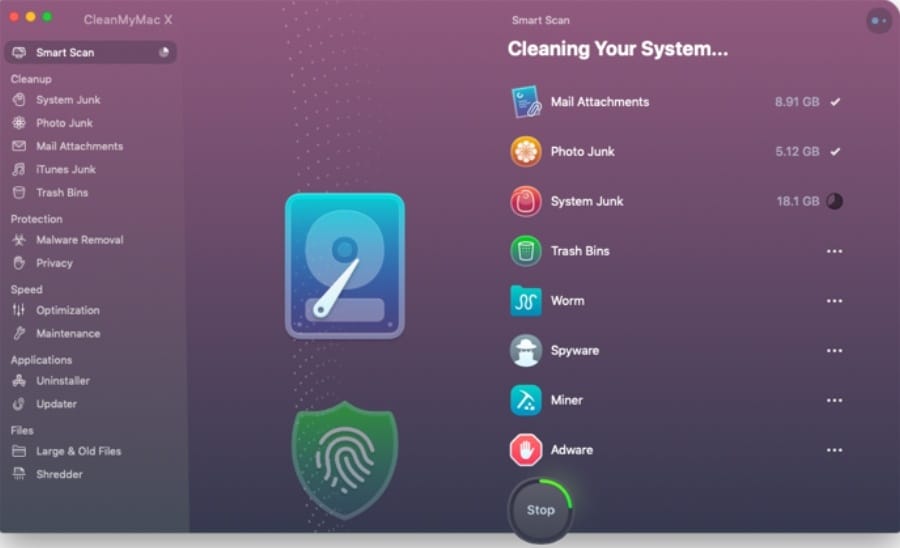 Many users have a tendency to connate generic titled software with deception. However, CleanMyMacX is nothing like it. In fact, Clean My Mac is one of the best mac cleaners in 2022. One reason is that the software is laced with some amazing features.
You can start with a unified 'Smart Scan' that looks out potential security threats and performance issues, other than a detailed junk scan. Alternatively, you can start with specific cleanup sections as well such as Photo Junk, Mail attachments, Malware Removal, and more.
CleanMyMacX offers a stunning shiny gradient user interface that is easy-to-navigate at the same time. You will notice this best in the 'Space Lens' section where large files are mapped in small bubbles and you can remove them right there. The Mac cleaner also features an app 'Uninstaller,' and 'Shredder' that leaves no trace of deleted files. The free trial allows you to remove a maximum of 500 MB of files.
Why use CleanMyMacX?
Amazing easy-to-use interface
Abundance of features
Malware Remover
Price – Free trial/ $34.95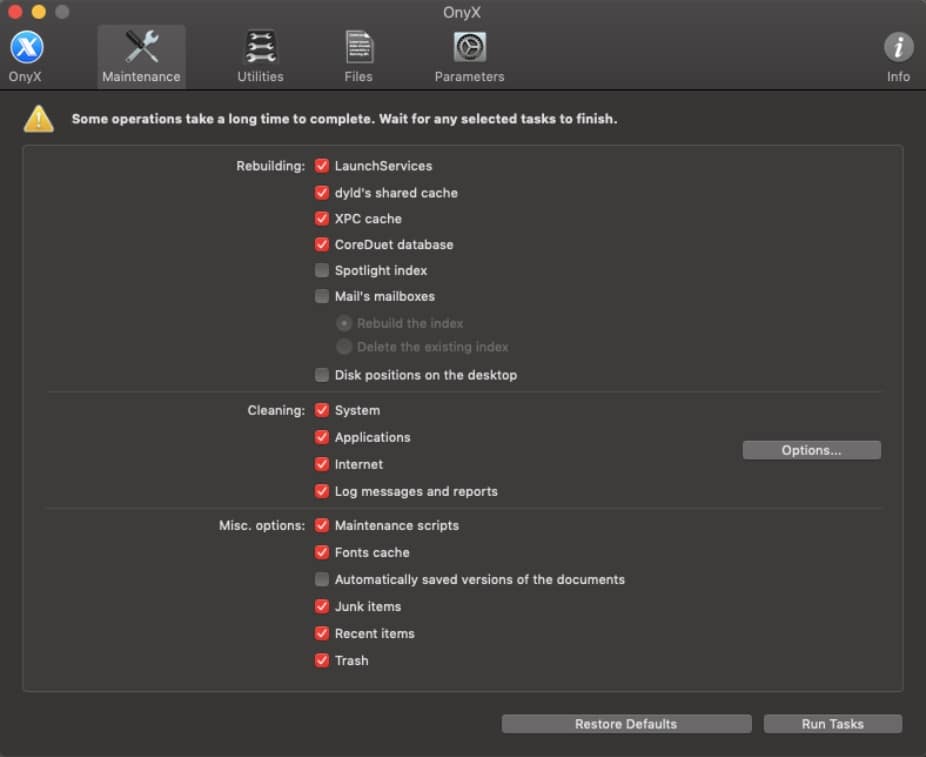 OnyX from Titanium is the only free Mac Cleaner software that comes extremely close and even overpowers few best Mac cleaners in this article. On your first look, OxyX might feel overwhelming with its rich selection of tools and commands, and the unfriendly user interface, but it gets pretty useful once you start exploring it.
Users who actually care about keeping their Mac clean will have to understand how OnyX works. Sure, it will be a time-taking process but the hard work will definitely pay off. Apart from maintenance and cleaning task, OnyX includes utility tools for building databases and indexes.
It also bundles a bunch of macOS utilities such as storage management, screen sharing, network diagnosis and more. The Parameter sections offer many hidden Mac settings that usually require the Terminal to access.
Often users complain that OnyX features are not unique and all can be accessed even without the app. I agree, but that is true will all the Mac cleaners. Confused? Head over to "Do you need a Mac cleaner" at the end of the article.
Why use OnyX?
In-depth maintenance tools
Hidden settings
Price – Free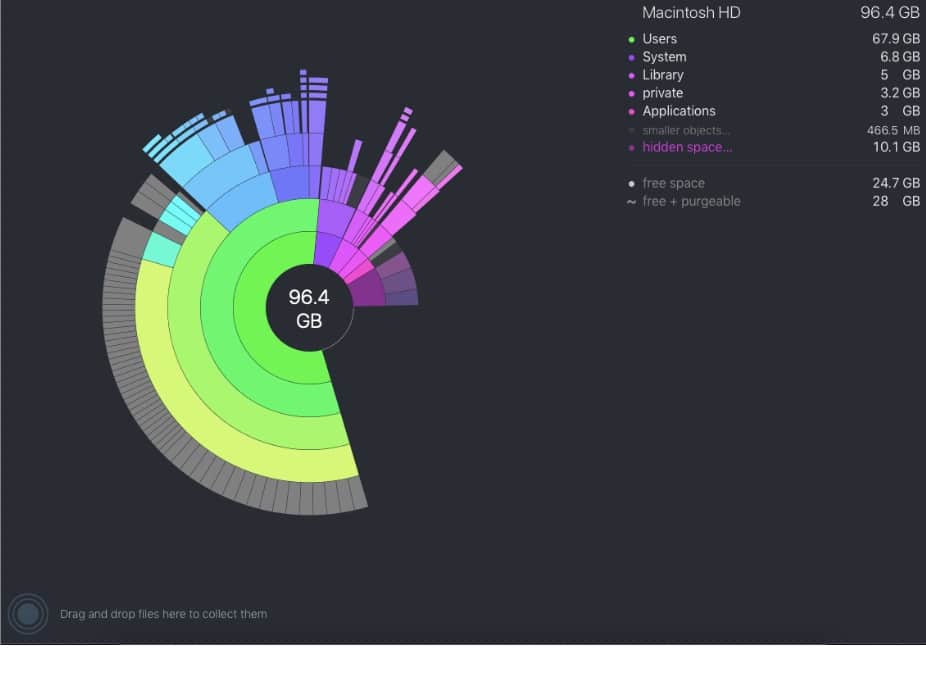 DaisyDisk crucial feature is the colorful and visually appealing circular layout of files and folders accumulated on the basis of size.
All files are grouped in different colors on a visual interactive map. Clicking on a file element, you are forwarded to another interactive circular breakdown of files. You can just drag and drop files to the lower end corner and delete them.
The interactive circle makes it ridiculously easy to free up space on Mac. However, I would have appreciated if the Mac cleaner app provided more features as we see in other best Mac cleaners.
A major turn off factor of DaisyDisk is that the trial version doesn't let you delete files at all. You will have to buy the paid version. Alternatively, you can still use DaisyDisk as a free Mac Cleaner app if you don't plan on buying the full version — Use the visual interactive map to find large-sized files and delete them manually.
Why use DaisyDisk?
Aesthetic circular breakdown of disk storage
Price – Free trial/ $9.99

As the name paints the picture, AppCleaner is a free Mac utility for uninstalling unwanted apps from your Mac. There are three reasons why you need this app — First, it's trustworthy. Second, most Mac cleaners only offer a free trial. Lastly, the lightweight Mac software thoroughly uninstalls applications.
But since it lacks a disk storage cleaner, it is best to combine the software with OnyX or other free Mac cleaning software. AppCleaner is quite useful for Mac users who have used up all of their storage because of unwanted apps.
Other than uninstalling an application, the Mac cleaner also clears out files and folders that an application may have distributed during its initial installation.
Why use AppCleaner?
Through application uninstallations
Price – Free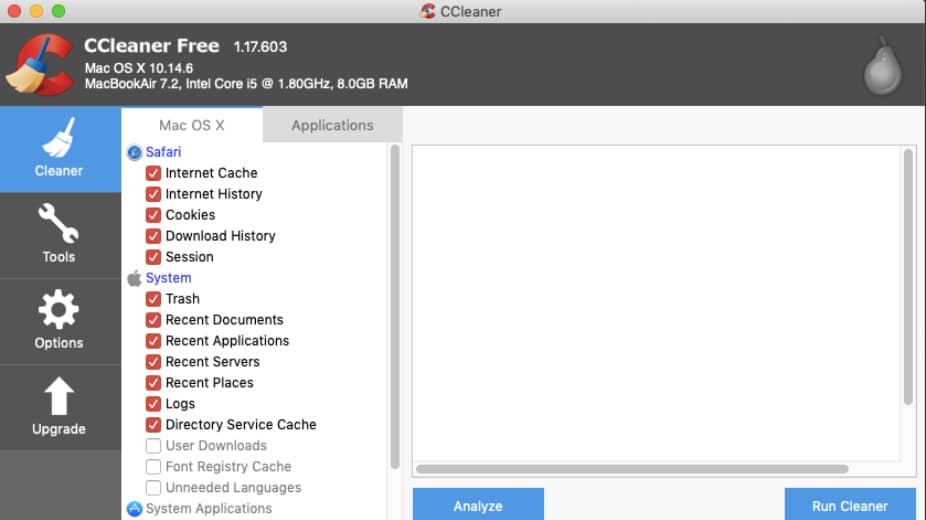 CCleaner is one of the most popular free junk cleaning software, not only on Mac but also on Windows. The optimization software for Mac is lightweight and offers an uncomplicated user interface with big sized options.
The best part about CCleaner is the fact that this Mac cleaner is completely free. Although, there is a pro version of the software, the free version doesn't compromise on the major features.
With CCleaner, you can clean useless data from the system as well as the applications installed. The software also includes many other system optimization tools such as an application uninstaller and a large files finder. You can also find and stop several startup programs, within the app, which might help in making your mac run faster.
Although I have listed CCleaner as one of the best free cleaners for Mac, it is important to know that the software has a history. From once spreading malware to infringing permissions with its obsolete Active Monitoring feature, the software has gained quite an amount of disrespect. Although the app is currently free from the shady behaviors, I thought this is something you should know.
Why use CCleaner?
Free and popular Mac cleaner
Allows halting startup programs in the app
Price – Free/ $12.49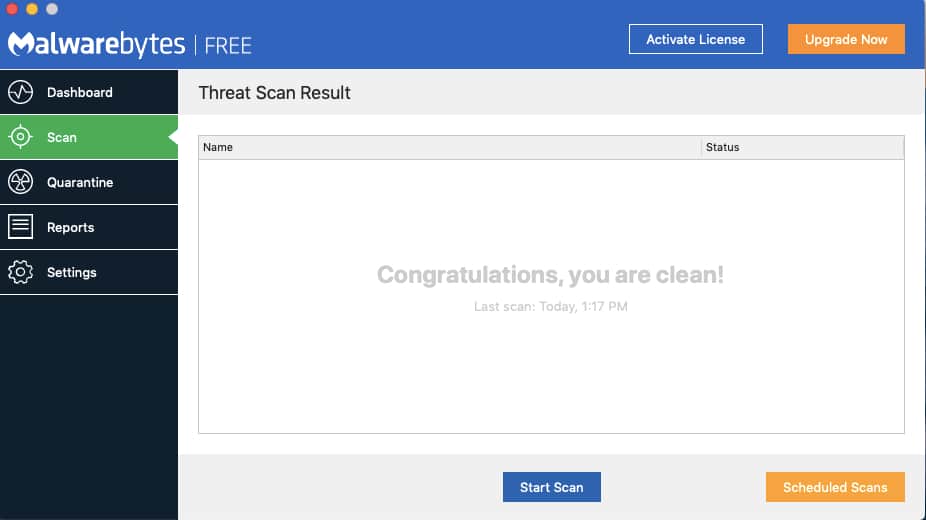 Malware and trojans could be one reason why your Mac is running slow. Therefore, here is another best free mac cleaner for you. Malwarebytes is the best of the best malware cleaner to get rid of viruses, ransomware, and trojans from your Mac.
Although real-time monitoring is only available to premium users, you can still do a full scan for free. The app also offers scheduled scans. Malwarebytes is always a better choice than traditional antivirus since it remains updated with the latest malware breakout.
Overall, Malwarebytes is one of the best Mac utilities that one should have, regardless there is Mac slowdown situation or not.
Why use Malwarebytes?
Keep itself updated with the latest malware
Price – Free/ $39.99
Are Mac Cleaners safe?
At this point, no Mac software is entirely safe. Regardless of the nature of the software, a junk clearer for Mac requires access to your disk storage in order to work properly. While the developers might have policies regarding the privacy of the user, a consumer can never know what's going behind the doors.
The alternative is to see what tech experts and people have to say about a particular software. On that basis, we can give it the benefit of doubt.
Few Mac utilities also send usage reports to their servers to "increase the efficiency of the software". The companies can move ahead with the process with or without the user's consent, depending upon the terms and conditions. If you are also concerned about a Mac utility that might be chasing up data, Little Snitch, a software that monitors other applications, might come in handy.
Do you need a Mac cleaner?
That will be a straight-up no. While CleanMyMac and others are pretty good at what they do, you don't exactly need them. That's because removing "unwanted" data from the disk won't necessarily help you boost the performance of your Mac.
In fact, it has been noted that in many instances Mac cleaners actually harm your Mac. That's because the cache files and database logs are important for programs to run smoothly. Moreover, deleting them will only result in Mac recreating the files.
As for any other applications and personal files, you can clean it up manually without any software. If it's a lazy day, just club Daisy Disk with AppCleaner to quickly to remove files and applications with high disk usage.