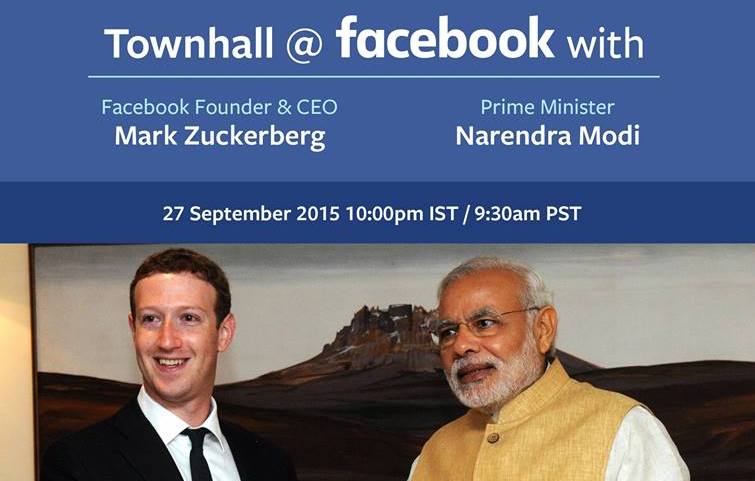 Short Bytes: Indian Prime Minister Narendra Modi will be joining Facebook CEO Mark Zuckerberg in Facebook's next public Q&A session. They are hoping to interact cover a wide range of issues social and economic challenges.
O
n Sunday, Facebook CEO Mark Zuckerberg announced that he will be joined by Indian Prime Minister Narendra Modi in the next question-answer session to be held at Facebook's headquarter in California. During his visit, PM Narendra Modi will discuss how communities can work together to solve the social and economic challenge.
Via a post on his Facebook profile, CEO Zuckerberg said, "I'm excited to announce that Prime Minister Narendra Modi of India will be visiting Facebook HQ later this month for a Townhall Q&A." He further added, "Prime Minister Modi and I will discuss how communities can work together to address social and economic challenges."
This public Townhall Q&A program was started by the social networking company in last November, where people share their questions on Facebook, and Zuckerberg addresses them in a live video. This year, he'll be joined by Indian PM Narendra Modi as a special guest. He writes, "I had the chance to visit Prime Minister Modi in India last year and it's an honor to have the chance to host him here at Facebook."
Also read: Surprising Facebook Facts That You Didn't Know
See his Facebook post below:
It should be noted that India is the second Facebook user base outside the US and out of the total 1.44 global users, 125 million users belong to India. In the recent past, Facebook has faced flak over the Net Neutrality issue in India and Mark Zuckerberg is struggling to create a consensus in the country over Internet.org.
Here's what PM Narendra Modi had to say regarding the invitation: "I thank Mr. Mark Zuckerberg for the invite to visit the Facebook HQ. I look forward to the Townhall Q&A on Sunday 27th September at 10 PM IST (9:30 AM Pacific time)."
Are you going to take part in the Facebook Q&A session? Tell us your views in comments.