Short Bytes: Wondershare MobileTrans is a useful utility for Windows and Mac systems that can be used to transfer data from one smartphone to other. It supports a broad range of mobile brands and models. Apart from a few little shortcomings, it manages to perform satisfactorily. MobileTrans also has a handy option of creating and restoring phone backups.
E
very year we witness the arrival of many new smartphones in the market. Apart from flagships from giants like Apple, Samsung, and Google, there are plenty of other competing companies in the market. The lucrative features and affordable contract offers allow people to buy new phones as soon as they hit the market. I know that some of you love to grab the latest releases, just as the way I described.
But, what do you do to move all your data from one smartphone to other? How do you copy contacts, text messages, pictures, documents, videos, etc., to a new phone? If you're performing a move from Android-to-Android, some things like contacts, calendar, Google Photos, etc. get transferred easily. But, there might be some complications involved.
Let's suppose you need to move all your data from an iPhone to Android, or vice-versa? To help you out in such situations, Wondershare has created a software named MobileTrans to transfer all your information from one device to another. Just in case you aren't aware of MobileTrans, read this complete review and get to know about this productive tool.
Wondershare MobileTrans review
Before going ahead and telling you all the details of MobileTrans, let me inform you that it's a desktop application that you can install on your Windows PC or Mac. Talking about the support for different smartphone brands, Wondershare MobileTrans works just fine with the likes of Apple, Samsung, HTC, LG, Sony, Google, HUAWEI, Motorola and other smartphones and tablets.
Just in case you're wondering what kind of data I can transfer from one phone to another, take a look at this compatibility chart: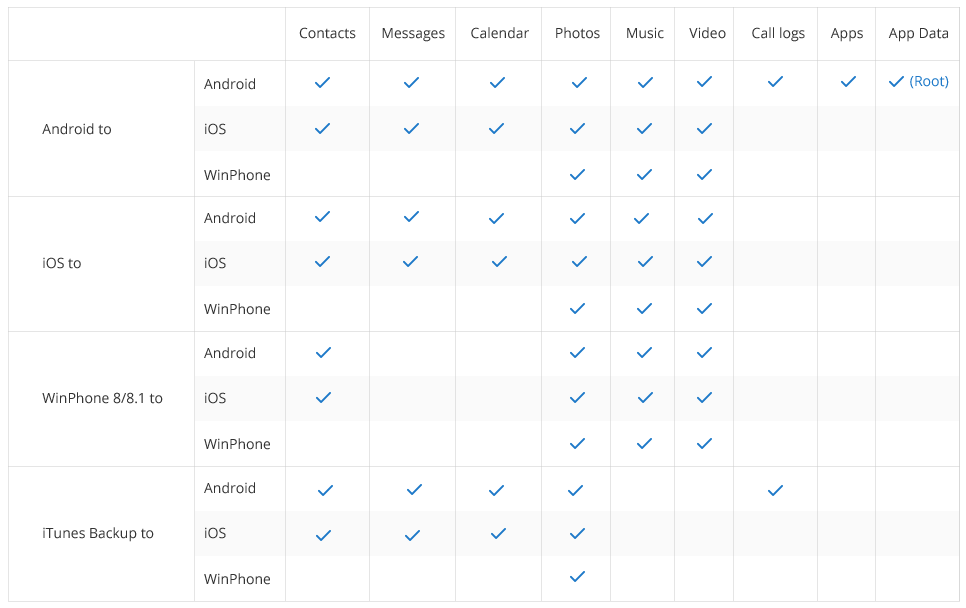 I guess now you're having a basic idea of the capabilities of Wondershare's MobileTrans software. Having said that, let's tell you about my personal experiences while transferring some data from one phone to another and how you can do the same. For this review, I'm going to move data from a Micromax A311 running Android 4.4 to Moto G4 Plus running Android 7.0. I'll be testing the software on an Intel Core i3-powered HP laptop running Windows 10.
Transfer data from one phone to another using MobileTrans
Download and installation
As you visit the MobileTrans website, you'll see the options of trying out or buying. You can choose the desired option and complete the download process. As the setup file isn't very large, the download won't take much time. After this, you need to install the software just like any other application. My personal installation experience was smooth, and I didn't face any problem in the process.
User Interface and first impressions
MobileTrans follows the design philosophy of other Wondershare software. It greeted me with a clean interface with four big buttons on the home screen. These buttons are different options for tasks that you can perform with the help of MobileTrans. Nothing is confusing here about the user interface. In the toolbar on the top, there are options for account information, online help, etc.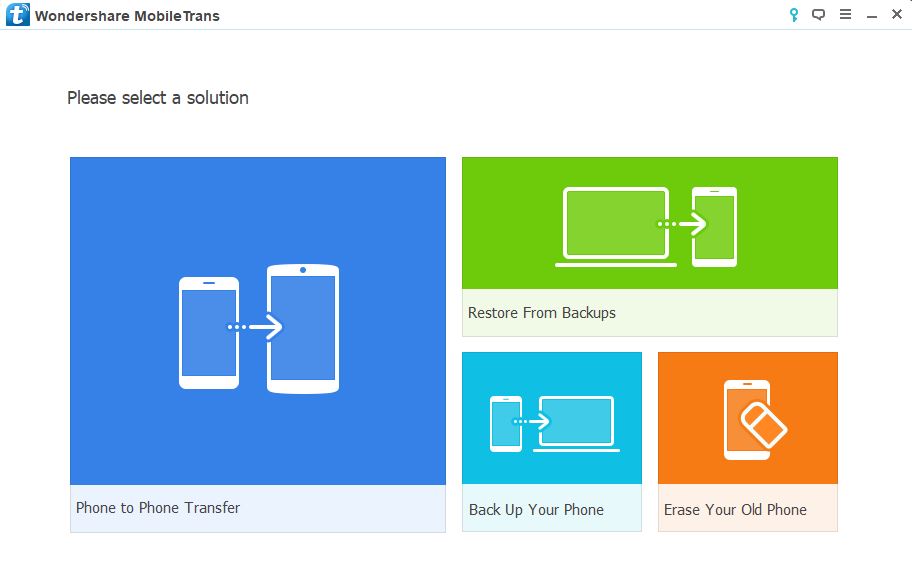 These four options shown to you are —
Phone to Phone Transfer
Restore From Backups
Back Up Your Phone
Erase Your Old Phone (it's basically a link to another Wondershare application)
In this review, I'll be chiefly focussing on the Phone to Phone Transfer, so let's explore this option.
Phone to Phone Transfer
As I clicked the Phone to Phone Transfer button, a new window opened. There, I was asked to connect the source and destination phone via USB cable. As I connected the phone, I was prompted to enable USB debugging on my Moto G4 Plus. After enabling the option, MobileTrans installed a MobileGoConnector app on my phone. It might look fishy to some, but it is required for the data transfer between the devices. I was able to uninstall the app easily later, so it's fine.
After the first phone, I connected the other device. The same MobileGoConnector app was also installed on Micromax A311. With a simple flip button in MobileTrans, you can swap the source and destination phones. This option can reverse the process, so make sure that your source phone and destination phone are at correct places. Till now, everything was smooth and described in a step-by-step manner.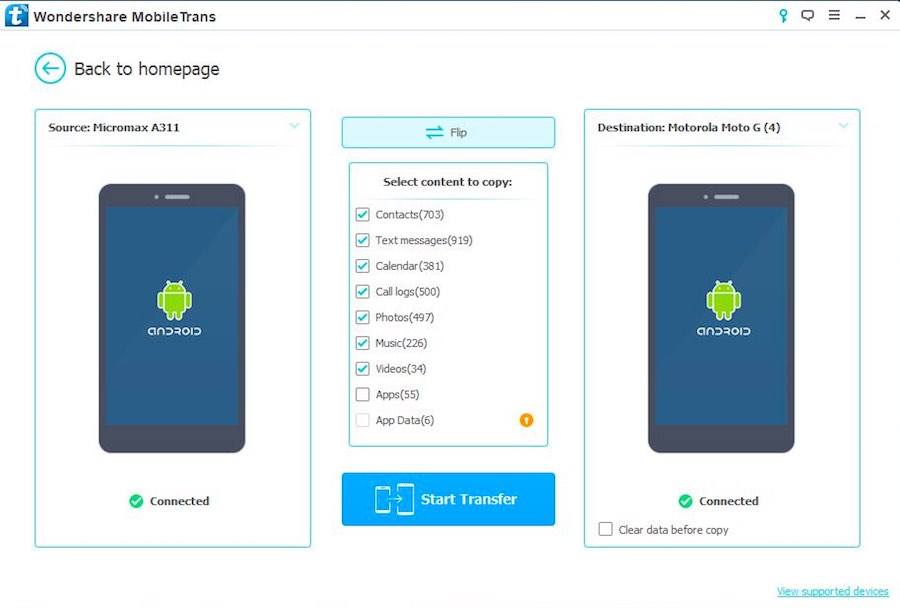 After choosing the required content that needed to be copied and hitting the Start Transfer button, the data transfer began. It took few minutes to complete the process without any error.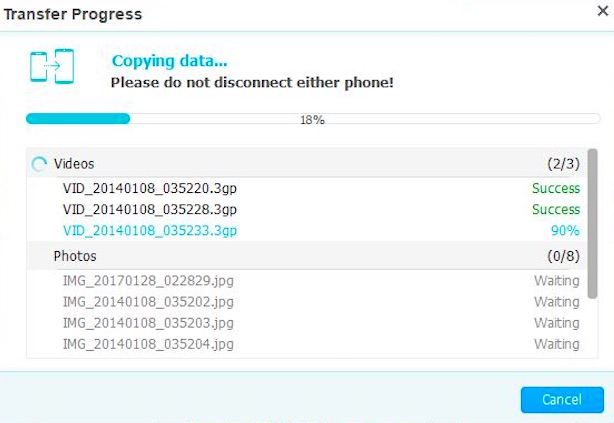 A couple of cons
There was one shortcoming with MobileTrans that I noticed. I wasn't able to select the particular file inside a category. I had to move the entire photos folder to get some particular pictures. I faced another issue while running a few transferred apps on the other phone. But, it's understandable given the fact that both the phones were running two very different versions of the Android operating system.
Overall, using MobileTrans phone to phone data transfer was a pleasant experience, and it did what I was expecting.
Create backups and restore them
MobileTrans also acts as a utility for creating and restoring backups of your phone. As my phone was already connected, I quickly performed a backup and restored the data. These processes completed without any hassle. In the backup recovery option, there were six different backup file options — MobileTrans, iCloud, iTunes, Kies, BlackBerry, and OneDrive.
Final Conclusion
As advertised, Wondershare MobileTrans works nicely and transfers your data quickly from one device to another. I tested 3 different pairs of devices, and it was able to recognize them easily. Keeping aside a missing feature I mentioned above, MobileTrans looks like a great phone to phone transfer utility. It also comes with a handy option to create and restore backups that work just fine.
You can download MobileTrans by visiting this link.