As Russia's invasion of Ukraine goes on, things are getting intense for the citizens of both countries. According to many VPN providers, the demand for VPNs in the county grew after Russia put new restrictions and censorship on the country's internet services. These restrictions resulted in Russian citizens going for VPN services.
Meanwhile, as Ukraine continues to display firm resistance to the Russian invasion and the war aggravates, media outlets around the world are bound to cover the country's ground reality. At the same time, the Russian administration is trying all it can to block its citizens from western media coverage. Along with this, from social media platforms like Facebook and Twitter. Meanwhile, both Facebook and Twitter are now banned by the Russian administration. Apparently, both social media platforms were previously 'restricted,' preventing certain images and info from being viewed.
Russia's internet restrictions and VPN
During the past few days, the Russian administration has continued to block worldwide media outlets. Moreover, the country has passed a law criminalizing anyone referring to the "conflict" in Ukraine as war. Meanwhile, the situation got worse when Cognet Communications announced that it was terminating its services in Russia. In case you don't know, Cognet Communications is responsible for 25% of the world's internet traffic.
Now, all this is sure to drive the Russian citizens to resort to VPN services in the face of adamant restricting and blocking of information. Furthermore, many mainstream VPN providers have confirmed a surge in VPN downloads in Russia. While the Russian citizens' demand for VPN has been growing, there was a sudden surge in the downloads post the Facebook and Twitter ban. To help us measure the demand for VPN services in Russia, the team over at safetydetectives.com contacted us with a report that showed the data before, around, and after the ban.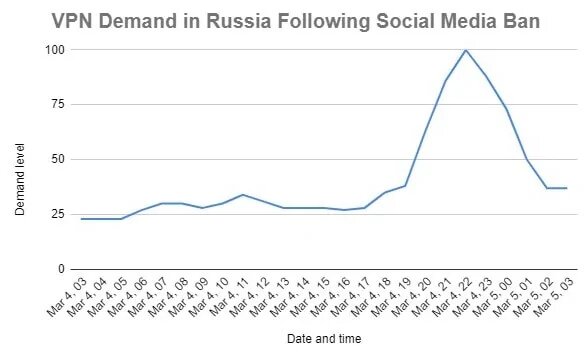 On the flip side, while the Russian administration is chocking the flow of information in the country, blocking social media platforms and news outlets, many tech giants are walking away from the Russian market. Recently, Apple announced that the company was banning sales of its products in the country. Moreover, also de-platforming the Russian state-sponsored news outlets Sputnik and Russia Today. At the same time, many tech giants, including Google, Microsoft, Samsung, have jumped on the bandwagon with the same measures.
In case you're wondering which VPN service to try, here is a list of the best VPNs to try out from. However, if you do not wish to find out yourself, we recommend using ExpressVPN.