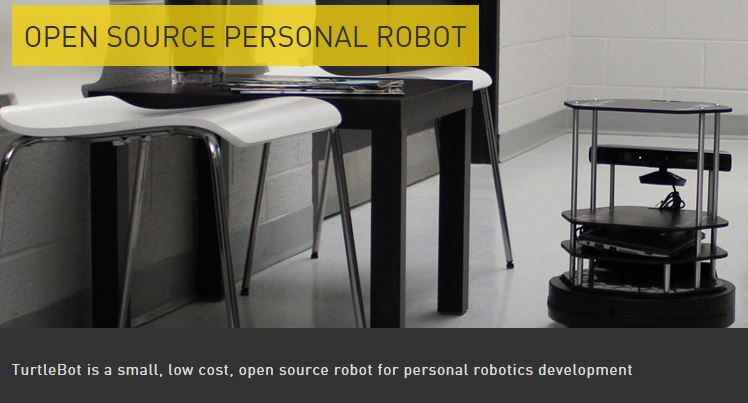 Do you want to learn robotics and you are running short on cash? Do want to know a way to do so anytime you want and at any place you want? If your answer is yes, keep reading ahead.
I'm talking about a brand-new initiative from an open-source development kit made for rolling robot applications – Turtlebot. With Tutlebot, any person can learn robotics for free. Turtlebot helps you to build your own robot that can roam around your house, will be powerful enough to make exciting application and, can see in 3D.
The company has recently announced that it has compiled a free 30 session long online tutorial. This tutorial aims at teaching people how to use the Robot Operating System (ROS), which is a leading open-source programming system for robots, to make a Turtlebot run.
Get the tutorial from here: Free 30 sessions tutorial
Do you want to try out ROS on an advanced and official Willow Garage product and you don't have $400,000? You can use the above tutorial links to do the same on a low-cost robotics kit Turtlebot 2. You can build your own Turtlebot from the scratch or if you are ready to spend more money, you can buy a fully built Turtlebot for about $1,000.
Build Turtlebot from scratch: Build a Turtlebot
Buy a fully built Turtlebot: Buy a Turtlebot

The company says that the tutorials were designed thinking of a high-school level and it'd take four to five days to complete. It says:
"By the series end, developers will be able to direct their TurtleBot to bring them coffee to their desk."
TurtleBot is an open source hardware project as described by the Open Source Hardware Statement of Principles and Definition v1.0. Turtlebot aims to make robotics a more approachable commodity and build the next generation of robotics programmers.
Are you interested in robotics? Tell us in comments below!
Stay tuned for latest technology news from Fossbytes.