Firefox recently updated its UI design with the new "Proton" update. It's been a while since we have seen a new visual design update for the search engine, with the last one being back in 2017. The new Firefox 89 update brings some subtle changes to the search engine's tabs, menus, and privacy options.
The new Firefox 89 update features fewer changes as compared to previous UI overhauls, Australis and Photon. This may mean less negative feedback, but that remains to be seen. There are also changes made to make the search engine more accessible. Changes such as a button for Pocket (news aggregator app), fewer icons in the address bar, and hamburger menu, all of which make work much easier for users.
4 Firefox features in version 89
New Tab and Menu Design
The first thing is to be noticed the detached tabs bar. With multiple tabs being what most people focus on when they work, Firefox did a great job of changing its visual design by making them clearer and more approachable.
Menus have also been reworked to look bigger and have more relevant options available. In a blog post, the company shared its reasoning behind changing to the new design.
"We redesigned these tabs so that they floated neatly, and we added the visual indicators, like blocking autoplay videos until you're ready to visit that tab. We detached the tab from the browser to invite you to move, rearrange and pull out tabs into a new window to suit your flow, and organize them, so they're easier for you to find."
Accessibility
The new update has also tried to make things much easier for users by adding subtle quality of life changes. They intended to make it easier for people to focus on the frequently used items in this area they needed to go easily.
Navigation – back, forward, and refresh.
Address Bar – privacy shield (so you know your ambient information is always protected), security lock, and where to type in your URL.
Frequently Used Settings – reader mode, zoom level, and bookmark.
Streamlined clutter-free menus.
Shushed repeated notifications.
Privacy
Another thing to note in this update is the changes to the privacy options available. They have made this privacy menu more accessible to the users with Total Cookie Protection and SmartBlock. However, they have also removed various options and settings. In February, they rolled out Total Cookie Protection in ETP (Enhanced Tracking Protection) strict mode.
This privacy protection stops cookies from tracking you around the web by creating a separate cookie jar for every website. Total Cookie Protection is now available in Private Browsing mode. Now users can rest easy knowing cookies aren't tracking them across the web as the browser creates a separate cookie jar for each website they visit.
Mac/iOS Support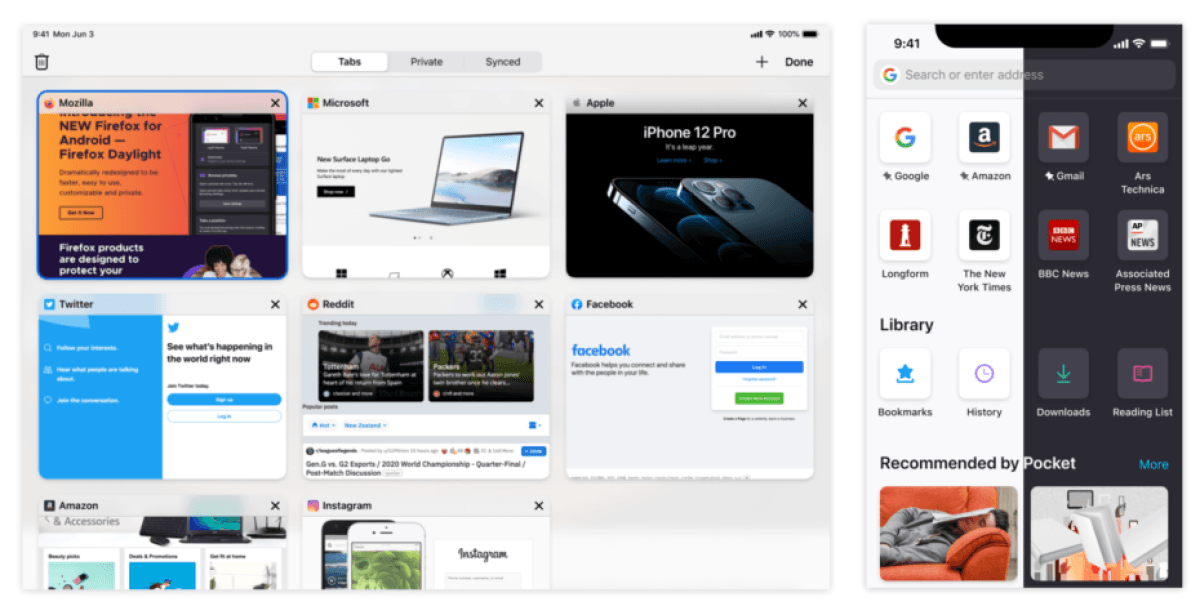 It seems that Firefox has paid more attention to Apple devices this time for key touches. They have improved the iPhone and iPad experience to be more modernized, optimized, along with a differentiated Firefox user interface.
Reduced the steps to search in a new tab by automatically popping up the keyboard.
Emphasizing the ability to do quick searches with the search engine logo and adding the append feature.
Improved navigation around the app with new tab views
Moved the synced tabs into the tab tray for better discoverability on any device.
That was all about the update; please comment on the feature you liked the most and share your feedback.