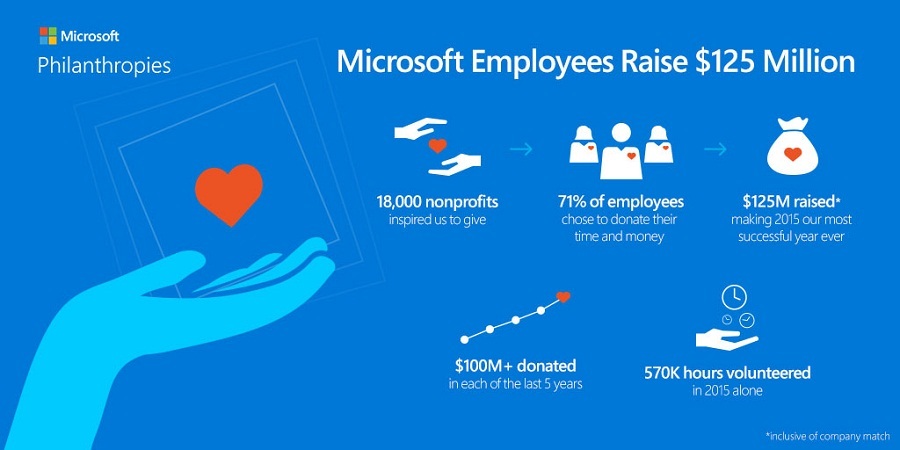 Short Bytes: Microsoft Employee Program focuses on helping non-profit organisations in order to enhance their working efficiency and equipping them with financial and other aids as per their requirements. This involves collaborative financial contribution by interested Microsoft employees who will also volunteer to assist these non-profits.
M
icrosoft has been
criticized
for the spying they've been doing since the launch of their newest Windows 10. They might have the guts to monitor how you use the internet, name your files or which movie you watch, but they also have a helping heart when it comes to doing something better for the community. Be it financial, technological or something else, the people at Microsoft have invested their efforts to help and enhance the community.
In her recent blog post, Microsoft's Corporate VP Mary Snapp informed about the company's continual efforts for helping non-profit organisations and educational institutions through their Employee Giving program. The program's focal points are fundraising through financial contributions by Microsoft employees and their participation in volunteer activities to help 18,000 non-profit organisations.
These organisations are the ones who have worked for war affected people around the world, along with providing  shelter to the people affected by forest fires in United Sates last year. Their work is commendable, and Snapp thanked  all such organisations who have shown their unintentional dedication to help their human brethren.
The collaborative efforts of these determined and hard working Microsoft employees have helped in raising funds worth $125 million in the year 2015 alone. They have stolen 570,000 volunteer hours from their busy schedules and utilised them for the improvement of non-profits via activities like designing courses, and fundraising for deadly diseases like cancer.
Snapp commended the spirit shown by the volunteers and that their contributions have surpassed the previous year's fund collection by a whopping $8 million. She was also delighted by the fact that the employee participation reached an all-time high of 71% in 2015.
Our employees' volunteer work makes me especially proud. In addition to dedicating a portion of each paycheck to a favorite charity, many employees integrate volunteering into their daily lives.  Each volunteer works out what works best for them at various stages in their lives.
— wrote Snapp.
Microsoft's charity ambitions can be assumed as the legacy the company has inherited from its co-founder and ex-CEO Bill Gates, the man who topped the list of Forbes Richest People 16 times and co-founded the Bill and Melinda Gates Foundation with his wife. The foundation has been working for the upliftment of poor countries and for eradication of deadly diseases.
The company wants to follow Gates' footsteps which could be understood from the creation of a new organisation Microsoft Philanthropies. It will act as company's charity wing for the corporate world. "As a first step in the work of Microsoft Philanthropies, we recently committed to donate $1 billion in Microsoft cloud services over the next three years to non-profits and university researchers, to ensure these organizations have the technology to advance the public good." – Snapp said in the post. Mary Snapp also works as the head of Microsoft Philanthropies which is currently exploring possibilities within Microsoft's Cloud Computing platform to use it for the development of the community.
Recommended: 10 Tech Billionaires Who Won't Leave Their Entire Money For Kids
In another blog post, CEO Satya Nadella emphasized on the creation of a Public Cloud which will serve as the privacy protected data storage warehouse. He quoted the example of Nepal earthquake disaster and explained, how "disaster relief workers from the United Nations used the public cloud to collect and analyse massive amounts of data about schools, hospitals and homes to speed up access to compensatory entitlements, relief packages and other assistance."
It is a great attempt from the Redmond, to use their technology and talented workforce to create something for the betterment of the society. In the past we told you about Intel's Diversity Initiative which is a realization of Intel's dream to represent a completely diverse workforce by the year 2020. As per my opinion, these technology companies have this great "opportunity" or I should say, the "convenience" to make an impact in the society. This is because people who are connected to their products have simplified their lives. People respect their efforts.
Also Read: This YouTuber Created His Own Version Of Goku's Flying Nimbus
Participate in the discussion by expressing your views in the comments section below.