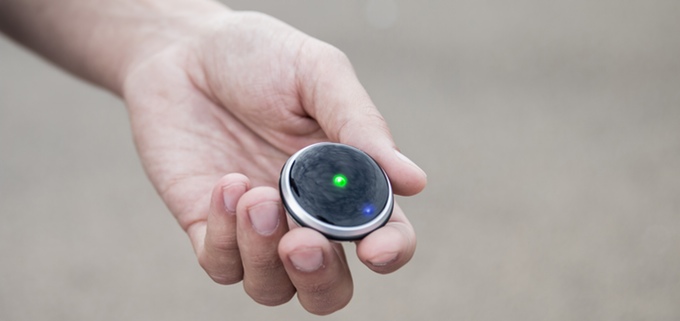 Short Bytes: HAIZE is a compass based navigation system designed for bicycle riders, allows them to freely roam around the city or the wild forests, if you have the guts, and reach their destination without any hassle. Created by Onomo, it scheduled to be delivered by June 2016.
T
his time it is HAIZE by Onomo, another kickstarter project pledged to change the world by what we can call, transforming the way how we use our bicycles. HAIZE is a navigation system based on a compass and an app along with it, allows you to explore the city at your will and helps you reach your destination in spite of wherever you've been roaming around.
With visual resemblance similar to some out of the world gadget, HAIZE comfortably adapts the shape and size of your bicycle handle, thanks to the rubber band strap it features. After connecting successfully with the companion app on your Android or iOS, HAIZE is fully determined with its job and helps you zig-zag through the city streets or wherever you like.
HAIZE is fabricated with anodized aluminium providing it a sleek and sturdy build accompanied by a set of 23 LEDs appointed to safely transport you and your bike to any destination you like. In the technical bundle, it has a magnetometer sensor to track direction along with an accelerometer and a gyroscope sensor which helps HAIZE know its position.
Also read: Bolt is Tesla of Electric Motorbikes, Comes with USB and Bluetooth
It also power-packs a 300mAh battery which lasts for around 2 weeks of normal usage. HAIZE also features a Bluetooth 4.0 radio, so it can befriend your smartphone and synchronize your trip data.
HAIZE has two working modes:
Compass Mode: In this mode, you only have to feed your destination in the companion app and HIAZE is fully prepared to keep an eye on you, no matter wherever you're, in some busy street or somewhere exploring the nature's beauty or even if you are outside a lion's cave with goose bumps all over body. The LEDs always point in the direction of your destination, so you are not stranded in some unknown street while you are on your voyage.
Navigation Mode: This mode is meant to assist you with turn by turn navigation as soon as you type your destination in the app. In this mode, HAIZE doesn't let you do what you want, but keeps you on the right track every time, so you can speed towards your destination without any disturbance.
Additionally, the app keeps the track of your past trips and other technical details which shouldn't bother about. You only have to just type the location and put the phone in your pocket, HAIZE will take on the task thereon.
It all started with a quest,
How can we re-invent the compass to give us a better navigation experience?
And after six prototypes and a lot of hard work, the creators do have an idea about how to proceed with their quest. As of now, they just want to say:
We are almost ready to get HAIZE out on the road.
The creators have managed to collect £20,071 out of the £50,000 pledged amount, and they've plans to deliver HAIZE by June 2016.
Also Read: Yamaha Builds A Robot That Drives Motorcycles and Challenges World Champion Rossi
Watch this video about HAIZE:
https://www.youtube.com/watch?v=6ZtMH_6vq-4
Write your thoughts about HAIZE in the comments section below, and do write them, because its not possible you haven't thought about getting a hands-on of this cool gadget even once while reading this article.
Via: Kickstarter