Google has announced that Gmail for web interface is about to get a much-needed makeover in the coming weeks. In an email sent out to G Suite administrators, Google has confirmed that the new Gmail design will bring "several new features" for all regular accounts.
The specifics of the new features haven't been outlined as of now, but the company plans to first roll out the features on to G Suite through an early adopter program. Personal accounts of other Gmail users will be receiving the updates at a later date.
We can expect a "fresh, clean look for Gmail on the web," along with a host of key features that will let you:
Snooze emails and choose when they show up again in your inbox
Respond through Smart Reply on the web, which already exists on Gmail's mobile version
Easily access G Suite apps like Google Calendar through Gmail
A new way to store your emails on your computer through an offline email storage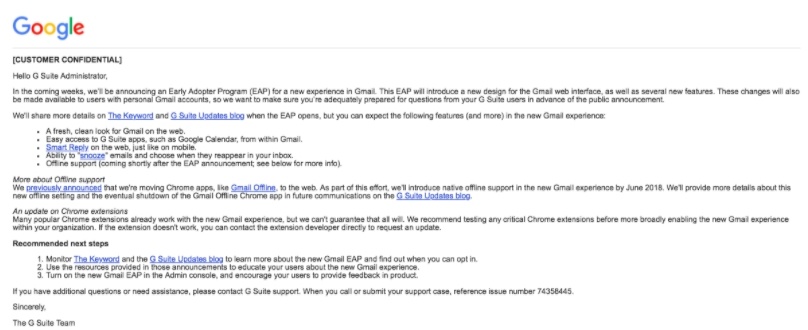 Google has also warned users that the new Gmail updates could break some of the Chrome extensions installed by them.
Hence, G Suite customers have been requested to test those extensions on the renewed Gmail account before distributing the updated email application in their organizations.