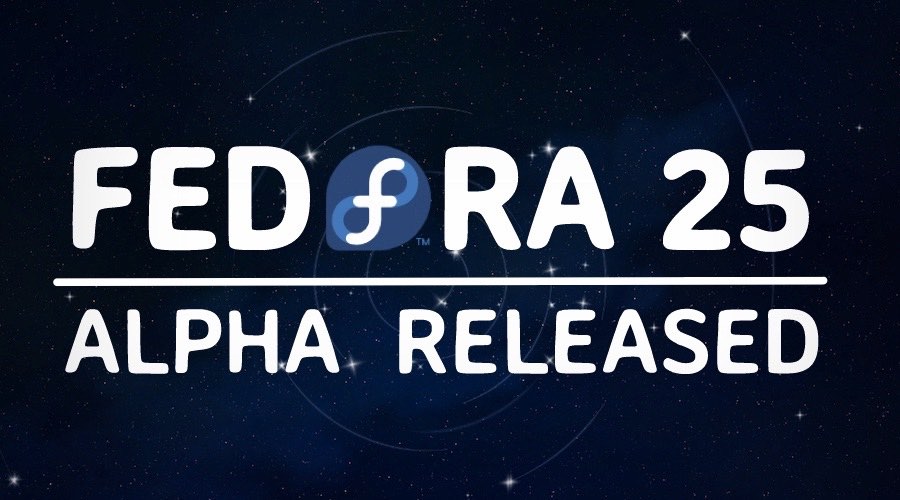 Short Bytes: The Fedora Project has made the first and only Alpha Release of Fedora 25 available for download. This release ships with the next-gen display server technology Wayland. Based on Linux kernel 4.7, Fedora 25 Alpha comes with tons of updated software packages. As it's a pre-beta release, the readers are advised to install the build only on VM on test machines.
B
ack in June, the Fedora Project launched
Fedora 24
with tons of new features, including the addition of FreeIPA 4.3 and OpenShift Origin. Now, the project has made the first and only alpha of Fedora 25 available for testing.
In its announcement post, the Fedora team writes that Fedora's Alpha release is guided by Fedora QA team and helps them target and locate bugs. The upcoming Beta release is code-complete and features more similarity with the later releases.
Before this release, the open source enthusiasts were skeptical as there were rumors that Wayland, the next-generation display server, may not be shipped with Fedora 25. Thankfully, Wayland is running by default in Fedora 25 Alpha Workstation. If you're stuck with unsupported hardware, Xorg is there for you as an option.
The other features coming to Fedora 25 are:
Unicode 9.0 and Emoji Typing support
Replacement of UDisks2 with Storaged
systemd kills all process when logging out
Better switchable graphics support
Automatic language detection by input
Upgrades: Glibc 2.24, Perl 5.24 Ruby on Rails 5.0, PHP 7.0. GNOME 3.21.4, Linux kernel 4.8.0, GCC 6.1.1, LibreOffice 5.5.0.4
For more information, you can read our dedicated article on new features coming to Fedora 25.
If we take a look at the current schedule, we can expect a Beta Release on October 11 and Final Release on November 15.
While this build, being pre-beta, is not recommended for daily use, it's a great opportunity for Fedora enthusiasts and early testers to try out the new features and report bugs. There are some scary bugs already listed, including the likes of issues related to Windows and OS X dual-booting. So, if you don't have a spare testing machine, I'll advise you to only install it on a VM.
You can download the different versions of Fedora 24 Alpha by clicking on the links below.
Are you planning to test Fedora 24 Alpha? Don't forget to drop your feedback and experiences in the comments section below.
Also Read: New Features In Fedora 25 Linux, Releasing On November 15