Among the various games we have played, puzzle games have been a part of our childhood, and we all have loved the way such games acted as brain teasers and helped stimulate our nervous system.
As we grow up, we need such mind-teasing games for the healthy working of our brain cells. And as most of our time is spent online, why not make room for online puzzles and keep our brains refreshed? Therefore, my new list will include the best puzzle games you should consider downloading on your device for all the perplexity you need.
15 Best Puzzle Games For Android and iOS
Hocus
Hocus is a mind-bending perspective puzzle game. It is currently one of the top-rated puzzle games on the Play Store right now. In this game, your goal is to get a cube to the red finish marker as fast and efficiently as possible. It might look easy to play but can be pretty challenging.
One of the most incredible things about this game is that it lets you create and play other user-created puzzles. With over 100 puzzles, you can easily play this game for a few hours whenever you are bored.
Threes
Amid all the available puzzle games online, Threes has a similar concept of sliding tiles to form a particular number, in this case, three and its multiples. When you start playing the game, it will give you a walk-through on how to play it so that it gets easier for you.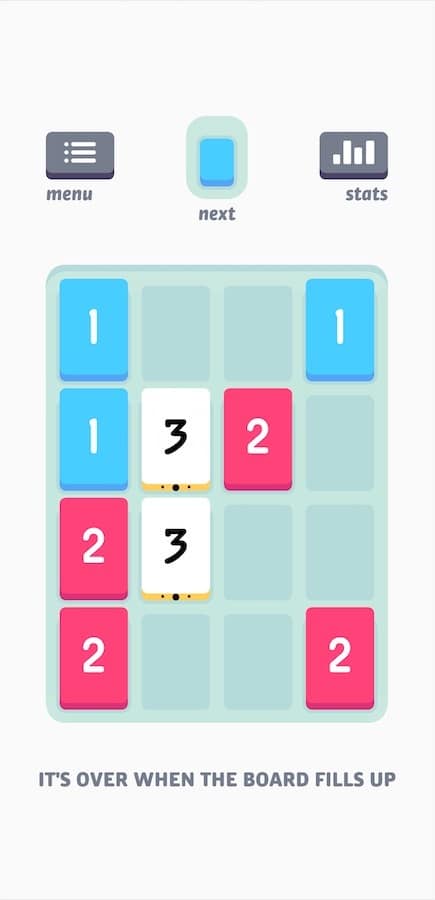 It follows a simple drill of sliding the tiles and joining them to add the two titles. Even though it is an easy process, it will still take a while to join the tiles. It starts with making a three, followed by other multiples of three. Each step expects you to make one, and you have to use your brain while sliding to form the desired number.
The game has ease of flow, and once you start playing it often, you will enjoy it, and sliding tiles to form numbers will be your everyday goal.
Mekorama
Mekorama is an adorable 3D puzzle game just like Treasure Tracker and Monument Valley. In this game, you control a cute little robot and navigate it through different puzzle rooms, each with different mechanics. Due to the variety in obstacles, the game keeps being fresh.
Whenever you finish a level, you unlock five more. So you won't ever feel stuck, and the progression will be pretty open-ended. With over 50 levels to unlock, the game is quite a delight for those who like a challenge but want a laid-back experience.
Pros: Looks quite good considering its a mobile game
Cons: Might not run properly on older phones
Chess light – Puzzle Game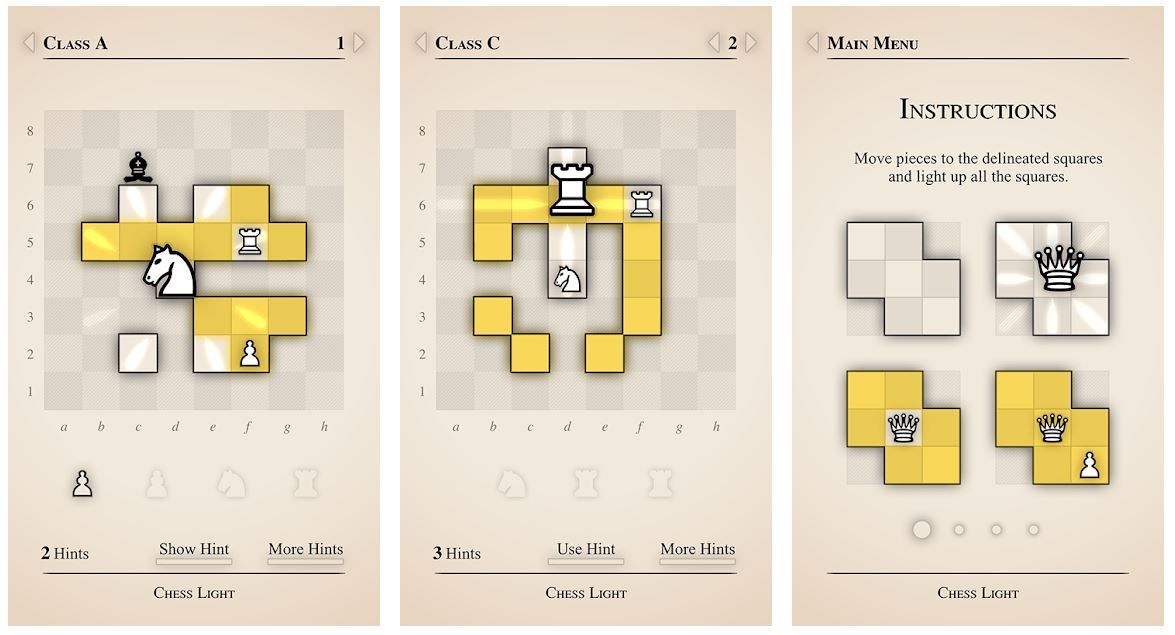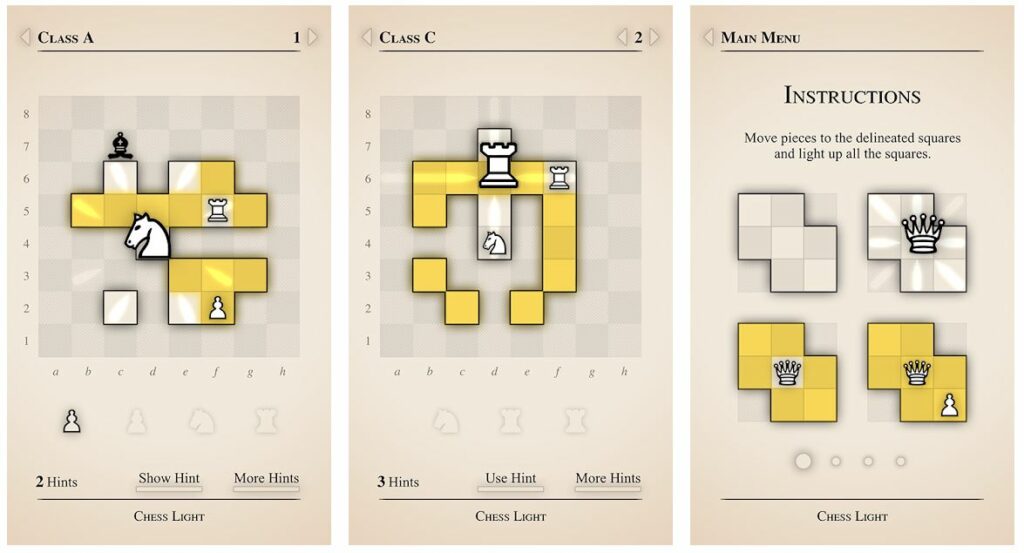 Chess light is a puzzle game based on, you guessed it, "Chess!". The game puts you in over 180 different chess scenarios where you have to find a way to win. The game is free and comes with no ads, which is rare for games these days.
There are even six different difficulty options if you find the game is hard or too easy. You can even receive a hint if you feel like you are stuck. Fans of chess will definitely want to check this game out.
Pros: Huge variety of puzzle combinations
Cons: Have to know the basic rules of chess
Brain It On
Brain It On is an apt puzzle app to use when you want to challenge your brain. When I used the app, I could not help but scratch my head into how exactly can I play the simplest-looking game. The game works in a horizontal format and has a number of levels to reach.
You have to begin playing without doing much; open up the app, and select the first level (the first few levels are unlocked while others are locked), and start puzzling. Before you start, you have to make any shape of your choice on a plain canvas, beginning the main way of playing the game.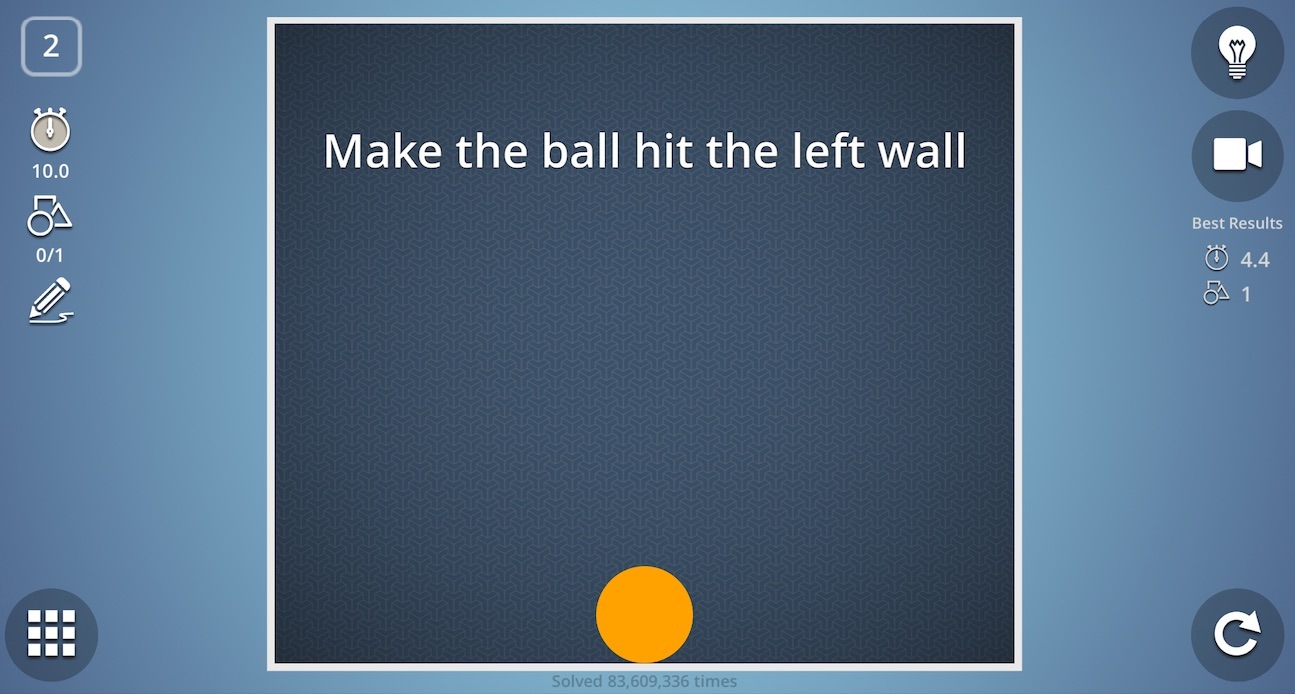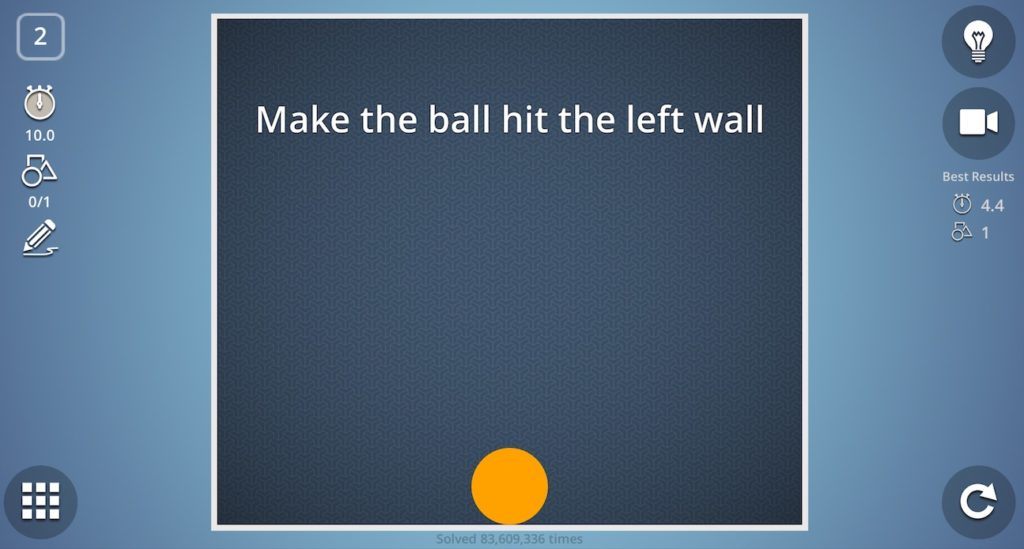 This means that the app needs you to do something on the canvas to execute a particular task. For instance, there will be a situation wherein you have to make something so that a glass kept on the canvas falls on the ground.
As the levels increase, the difficulty of the puzzle increases, which makes Brain It On one of the best Android puzzle games as well as on iOS. Furthermore, you can upgrade the app to get rid of ads.
Monuments Valley
Monuments Valley is a puzzle video game wherein you are required to use your brain and help the character reach the destination. Anyone talking about puzzle games ought to mention Monument Valley. Hence, it had to make an entry on my list of best puzzle games.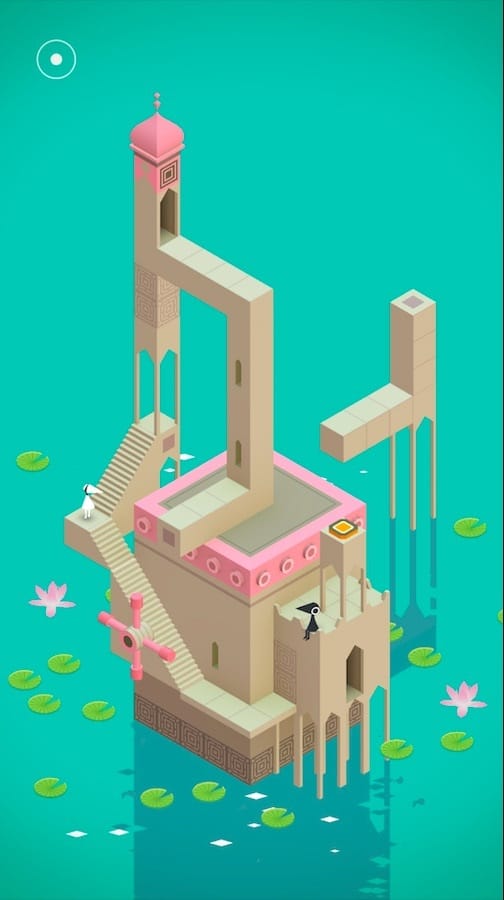 While in the game, you have to play to puzzle to start playing the actual. The game is interesting as it has a 3D setting, and it is pretty fun to play.
The only drawback of the game is that it is a paid app, which slightly gets disappointing. Nonetheless, if spending money on apps is not a problem for you, Monuments Valley 1 and 2 are must-have puzzle games.
Empty.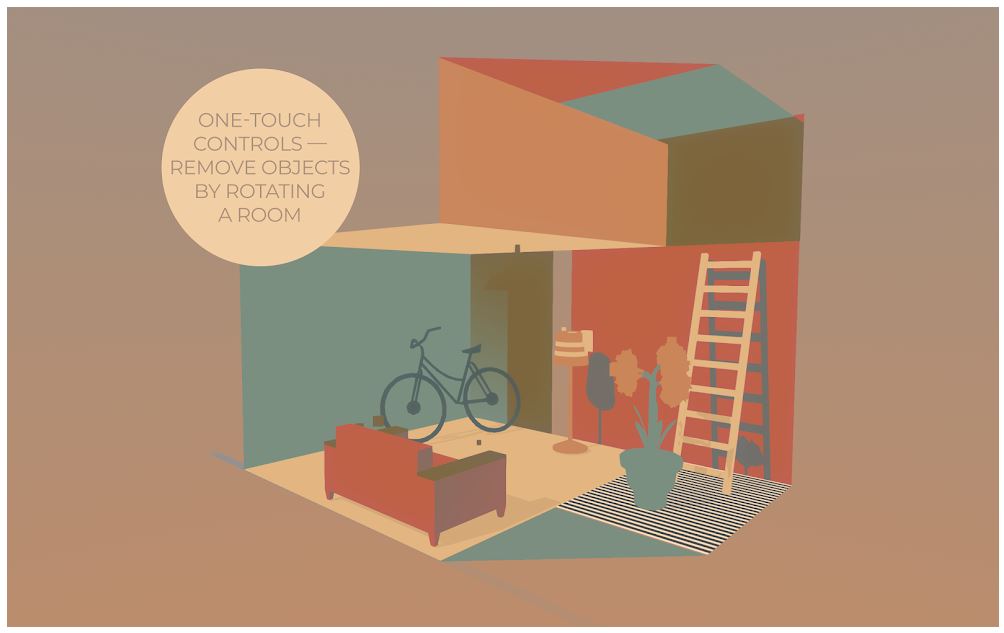 Empty is a puzzle game similar to Monuments Valley, at least in terms of its artistic design. It's a very zen-like puzzle game with a laid-back approach. Meaning you can play the game and not feel frustrated but rather healed.
The gameplay is quite simple, where you have to clear the room by rotating it. The game aims to teach us the value of simplicity in life with each level. It is entirely free and comes without any ads, which is quite rare for a game nowadays.
Two Dots
The Two Dots Puzzle game moves around the two dots present on the app. You have to connect the dots in a way they meet each other, and a connection between the two is formed.
When you open up the app, the app will give a gist of how to play the game by letting you connect the two dots available on the screen. Once the process gets completed, you can start with the first level of the game, which will eventually take you up the hill of the more and more levels (with new ways of playing).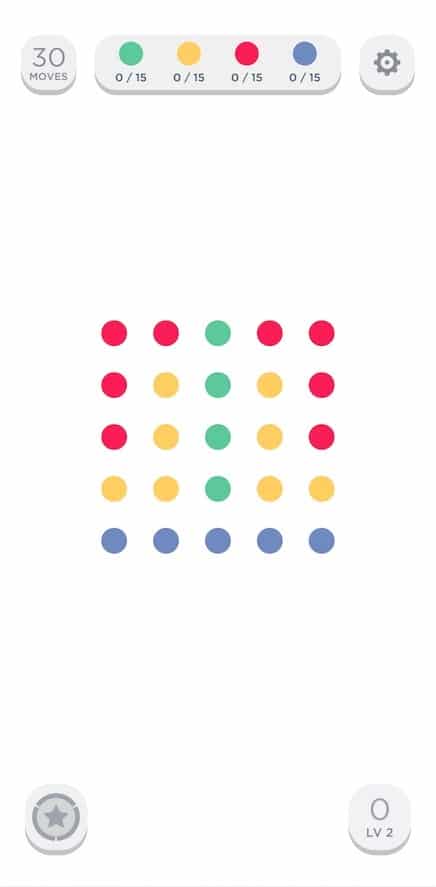 Keep in mind that you can connect the dots horizontally, vertically, or form a right-angle but can't connect them diagonally. Additionally, you get limited moves, so you have to hurry up and use your brain before you make a move.
When you are at a particular level, you will be given some targets to make you cross the level. The initial levels are pretty straightforward, and you will feel like a pro until you reach more levels and realize it's not as easy as it appeared.
Escape Puzzle Game
Escape Room is one of the puzzle types wherein you have to look for objects smartly. The game has a storyline where a girl introduces you to the game's concept, following which you can start playing.
With a medieval backdrop, the game also provides you with a limited number of hints so that you move ahead with ease in situations when you get stuck.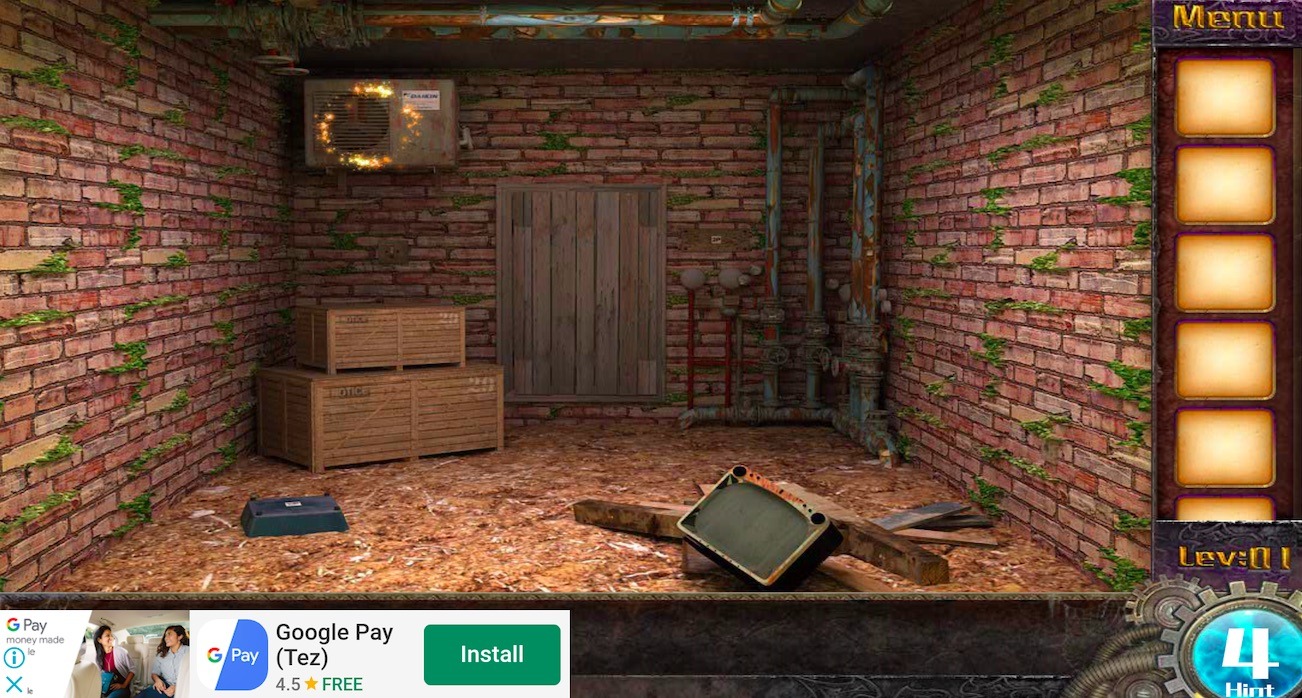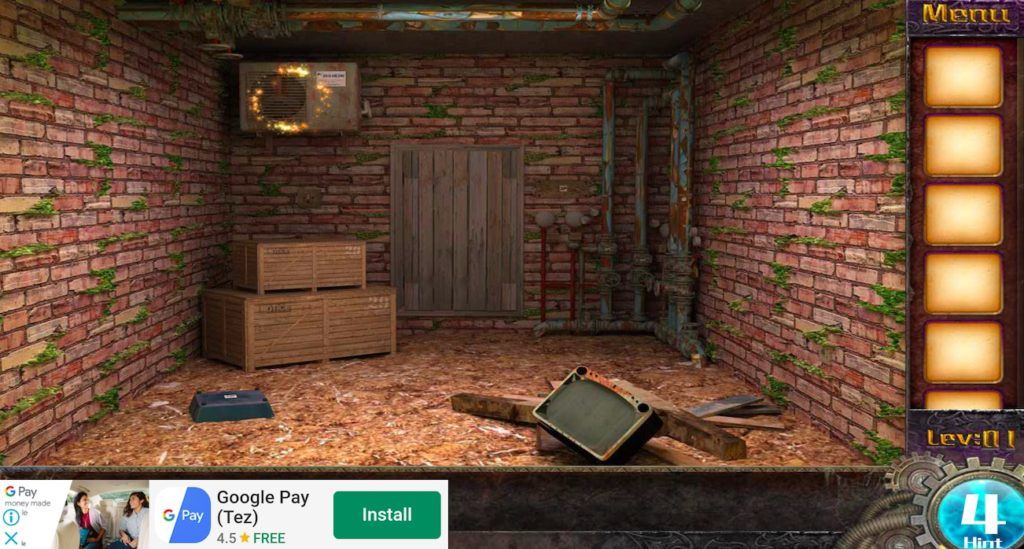 The game begins with the first level (and moves up more levels), wherein you have to find a given number of objects and use them in the scene itself. You will have to tap on the various things placed and find the hidden things or combine two things to repair an item — the possibilities of proceeding ahead are many.
While the Escape Room is intriguing, the difficulty level makes it one of the well-suited puzzles for adults. However, kids can also play it to sharpen their brains.
Pros: Story format
Cons: Adverts
Availability: Android
Move The Block
Move The Block is one of the classic sliding puzzles (among free puzzles) where you are required to slide the objects (in this case, blocks) to win the puzzle. The puzzle game has a number of levels under Basic, Premium, and Old categories (eight to be precise), with each level coming with sub-levels.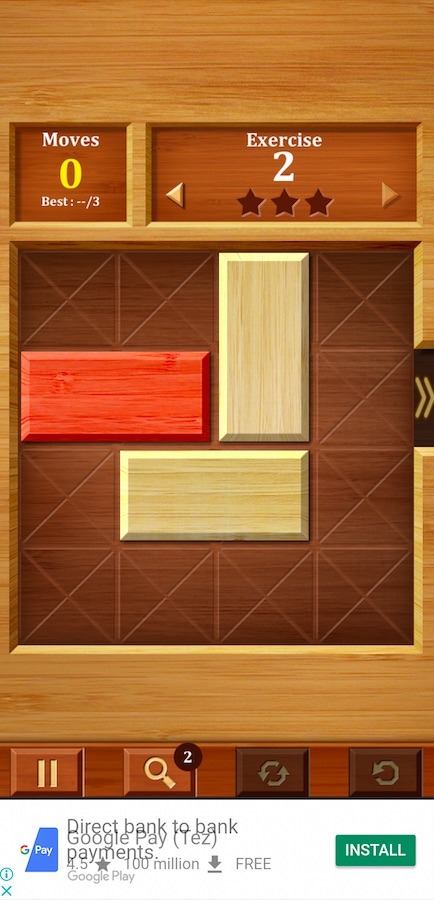 When you start with the first level, you will be guided around the game and the options available for you to use and play with ease. The game is an interesting one, and as you move forward, you won't even realize how addictive the game will get, and you will end up playing it more than the allotted time period.
Of course, as you move up the levels, the levels will get difficult, and you might need the help of the hints available at your disposal. This is where the game's drawback appears; to get each clue, you have to watch an ad video that makes it annoying.
Jigsaw Puzzles Real
If you haven't played a jigsaw puzzle, have you ever played a puzzle at all? One of the classic puzzle games of all time, the game's name is enough to be one of the best free online jigsaw puzzles.
The game follows the simple process of joining the puzzle pieces and forming a single picture. The app provides you with various options to choose from: be it pictures related to nature, animals, aerial, and many more, and you can pick the ones you like and arrange the jigsaw puzzle.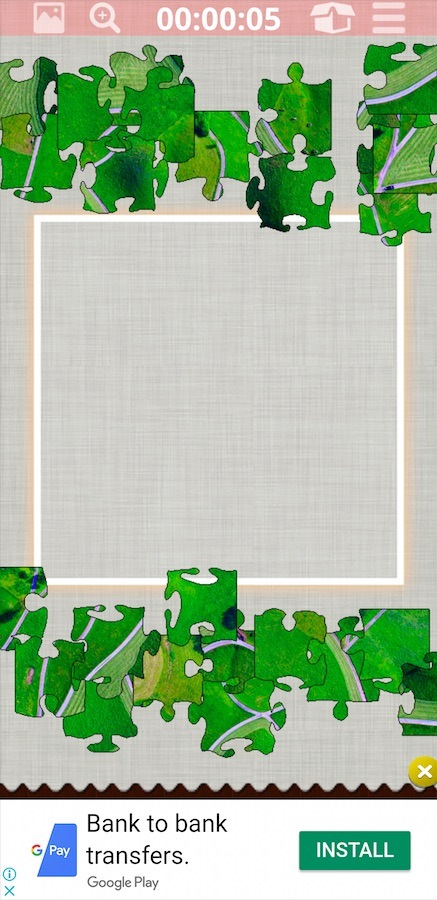 Before the pieces are spread around, you will be given a small glimpse of the whole picture to start playing. You can further view the image again and again to get a better idea.
The game makes sure it twists your brain and acts as an element of nostalgia when jigsaw puzzles are actual board games.
Skillz
Skillz is one of the mobile puzzle games that tease your brain and puts your brain to some good use.
The app lets you decide if you want to play as a single-player or play a multi-player game. Upon choosing, there will be a number of levels, and you will be taken to the first level. As a reminder, other levels will be locked until you pass the initial ones. Hence, skipping levels is not an option. In addition to this, there is an option to replay the game if you weren't satisfied with your previous performance.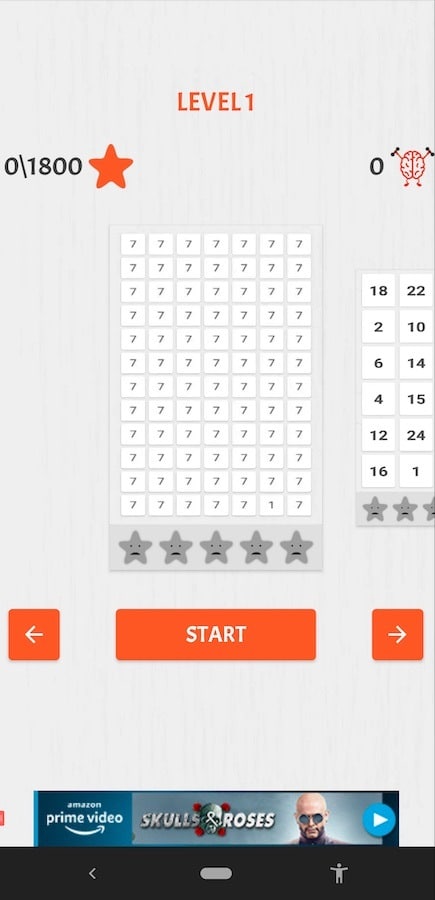 The levels include searching for a particular number or letter among the same numbers or letters, thus testing your brainpower and speed. The game proves pretty addictive as the urge to cross all the levels takes over once you start playing it. However, the presence of ads is a problem.
Smart: Brain Games and Logic Puzzles
Among the various puzzle game apps, Smart is a game that includes several brain teasers and logic puzzles, giving us an opportunity to play free puzzles.
The game has various color-coded levels (Blue, Violet, Gold) and other levels (Left & Right, Block Game, and Pipeline), each level coming with loads of sub-levels for you to enjoy the puzzle maker.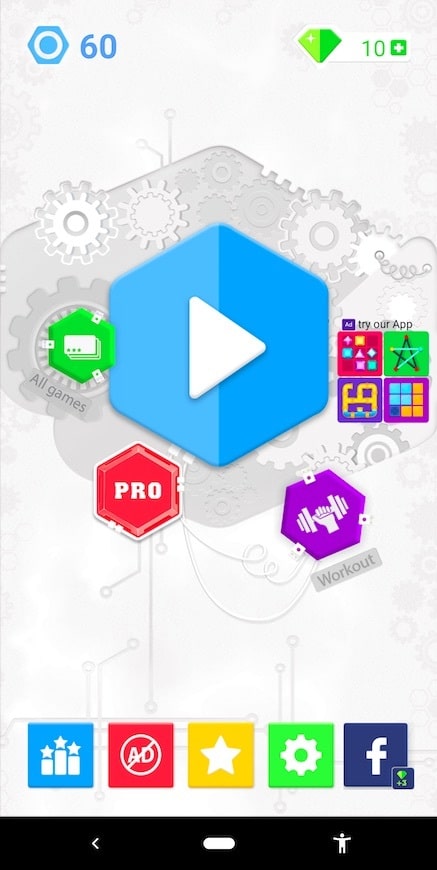 Selecting the levels and then the sub-levels will let you into your puzzles with tutorials so that you can get the hang of the game before starting. There are various puzzle options, which will ensure you don't get bored with the game. While the gameplay is as smooth as butter initially, the more levels you reach, the more difficult it gets.
Overall, Smart is a fun game to play and rates you in areas such as memory, imagination, problem-solving, flexibility, speed, and attention so that you eventually improve in the areas. Additionally, you earn points and diamonds each time you cross a level.
Pros: Loads of game options
Cons: Slightly confusing app
Availability: Android
Sudoku – Puzzle Game
Sudoku is another puzzle that is a classic and one of the best mobile puzzle games. Bringing the daily newspaper puzzle game to your smartphones, Sudoku is all about arranging numbers both vertically and horizontally.
The number count is from 1 to 9 in a 9×9 grid (also a standard format). You have to ensure that each grid doesn't have the same number to make the perfect Sudoku. The game allows you to get hints, undo a particular entry, erase it or pencil it off.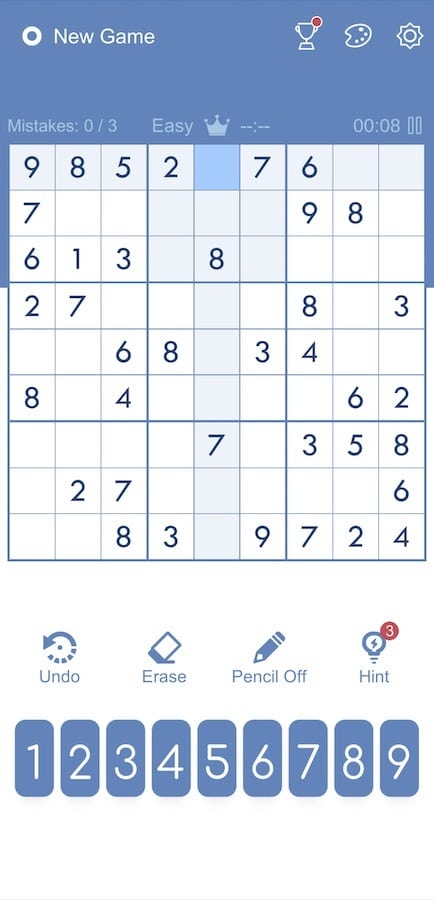 Additionally, Sudoku gives you daily challenges for further brain stimulation, lets you change the game's theme, and lets you remove ads by making purchases.
While the game appears difficult when you start playing it, it eventually gets fun to play and easier once you get the hang of it. Being one of the vintage free puzzle games, it reminded me of the days when I used to play Sudoku from a newspaper back in school.
Pros: Great brain teaser
Cons: Takes a while to launch
Availability: Android
2048 Original
2048 is one of the types of puzzles we have heard of before. It is a sliding puzzle requiring us to slide the blocks and eventually arrange four blocks in the '2048' manner. While there are many apps with the 2048 moniker, it is present on my list of best puzzle games due to the high ratings and downloads.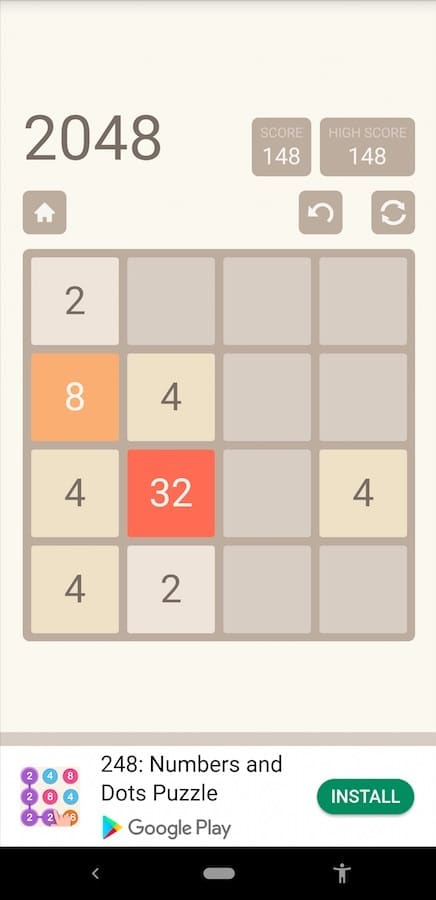 When you open up the app, you are asked to select the grids (4×4, 5×5, 6×6, 8×8, 3×5, 4×6, 5×8, 6×9) you want to play the game on. Once you select the grid of your choice, you can start playing the game. Remember, grid sizes mean that the difficulty is more with an increase in grid size.
2048 Original is one of the best puzzle apps, given that it activates the brain cells so badly, fulfilling the purpose of a puzzle game. If you want to tease your brain hard, you need 2048 on your smartphone.
Pros: Simple UI
Cons: Frequent ads
Availability: Android
Types Of Puzzles
For those who think that puzzles are all about finding the puzzle pieces and completing a jigsaw, you need to know that there are many kinds of puzzles available for us to play with. These include riddles, trivia puzzles, math puzzles, pattern guessing, logic puzzles, and many more. This list contains puzzles such as trivia, sliding, logic, paper-and-pencil puzzles, among its various types. Hence, read on for more:
Frequently Asked Questions
Are puzzle games good for you?
Online puzzle games keep your mind sharp. Just as we need a physical workout to maintain our fitness, we need mind exercises (in the form of puzzles and more) for brain fitness. I hope my list of best free Android puzzle games (iOS too) acts as a helping tool to keep you busy in something productive other than just social media.
Do puzzle games help with problem solving?
It's a well-known fact that video games improve problem-solving skills. One research even says that children's creativity is enhanced by playing any kind of video game, including violent games. However, that's not the case when the children use other forms of technology, such as a computer or cell phone.
Do let me know which games from our best puzzle games list you liked the most. If you have more suggestions to make, I will take them and add the best ones to my list.
Until then, keep on puzzling your brain and make it fitter and better!