News aggregators have dramatically reshaped how we stay informed with the latest news. Newspapers, tabloids, and even broadcast have become a thing of the past. We've moved ahead in a world where news outlets don't need to rely on advertisers' consent to deliver unbiased, and unflinching news.
On average, 62% population of first-world nations said that they use the smartphone for news, weekly. But at the same time, 54% strongly agreed that they are concerned about fake news scattered over the internet, especially on social media. In fact, we all are aware of the misdeeds that took place amid the 2016 presidential election.
Henceforth, the primary reason why people are inclining towards options like Android news apps is the different news angles and timeliness offered by these applications. Besides, they save us from the tedious task of tracking tons of news sources, compiling our favorites under one roof.
Best News Apps for Android You Can Use in 2018
1. Google News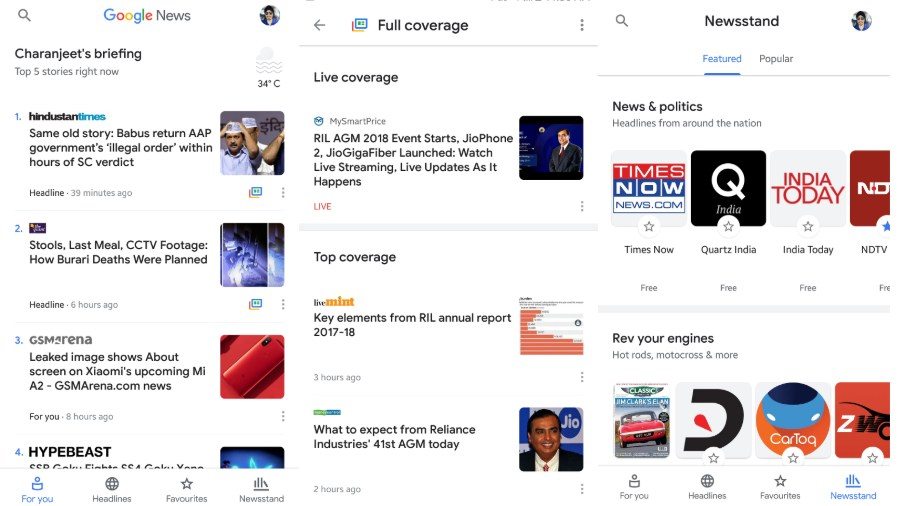 Google News app (earlier known as Play Newsstand) is known for delivering most relevant news in the news feed by using A.I techniques.
The "For you" tab shows top headlines and news developments which are important and at the same time relevant (the personalized news list is based on your activity on Google platforms).
Tapping on "Full coverage" in this Android news app will showcase the same news story reported by different publishers, highlighting all the perspectives. Google intuitive approach of delivering news sometimes make it impossible for users to unfollow specific news sources.
Why use Google News?
A. I powered android news app
"Full coverage" of every story
Personalized content
Download Google News for Android from here 
2. Flipboard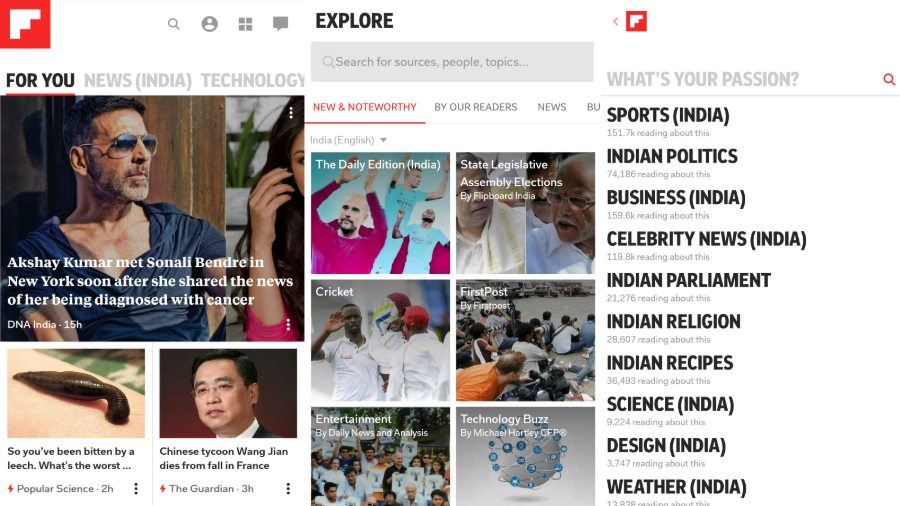 No free Android news app can beat Flipboard news aggregator when it comes to style and aesthetic look. The print-style page layout makes it easy to navigate. This app analyzes the news you often visit and offer similar stories.
If you don't have time at the moment, you can add news articles to the custom-made magazine on Flipboard. Other added features include "See less new stories like this" and "Mute Site" to see fewer stories from a news source.
One of the major drawbacks of Flipboard's news app is that you cannot get rid of similar news stories in the news feed.
Why use Flipboard?
An elegant magazine-like interface
Follow friends activity
Newsfeed customized according to your interests
Download Flipboard for Android from here 
3. Microsoft News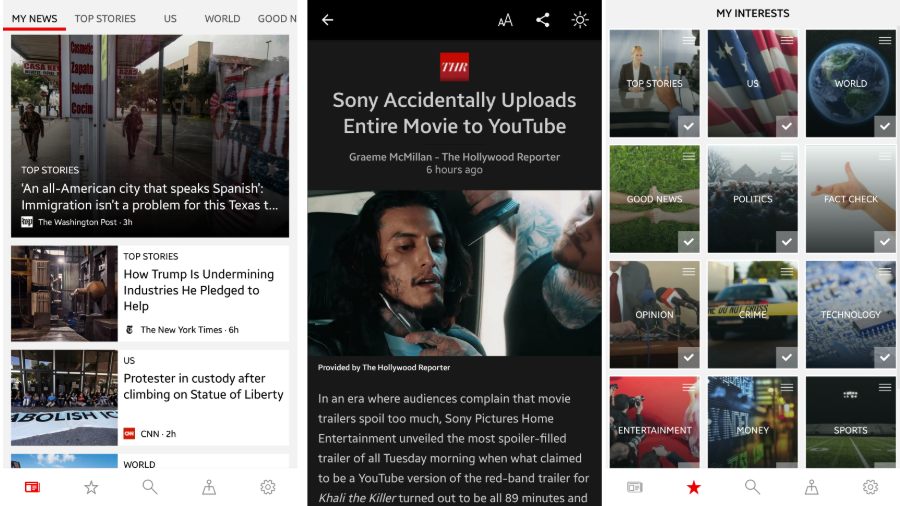 Formerly known as MSN news, the Microsoft news app for Android offers a smooth experience, and its structured design helps in efficiently navigate through the app.
Signing up with a Microsoft account put forward personalized news, synced over its other platforms — MSN.com, and Internet Edge news feed.
Under the setting tab, you have the option to choose from different countries news edition. Just keep watch of sponsored ads since the layout makes it very difficult to differentiate between an organic news article and a sponsored one.
Why use Microsoft?
Tailed interests over all platforms (Microsoft edge and MSN.com)
Night mode
Smooth and seamless transitions.
Download Microsoft News for Android from here 
4. BBC News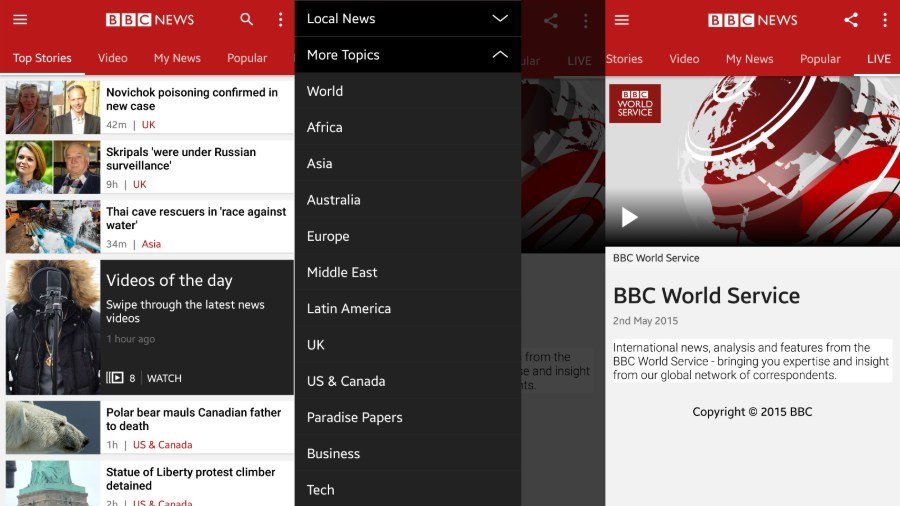 BBC news is the most renowned news provider in the world. It is known for presenting unbiased and non-sensational news. And the BCC Android news app completely justifies their vision.
The app shows news from every country at one tap. The news feed section comes in different layout options and even extends a live- streaming news channel within the app itself. You can also change notification settings and turn background syncing off.
This is one of the few news apps which provide control over shared data, i.e., you can turn "sharing stats" off if you don't want personalized results
Why use BBC news?
Respected News Agency all over the world
Different layout settings
Permission for using data
Download BBC News for Android from here 
5. Reddit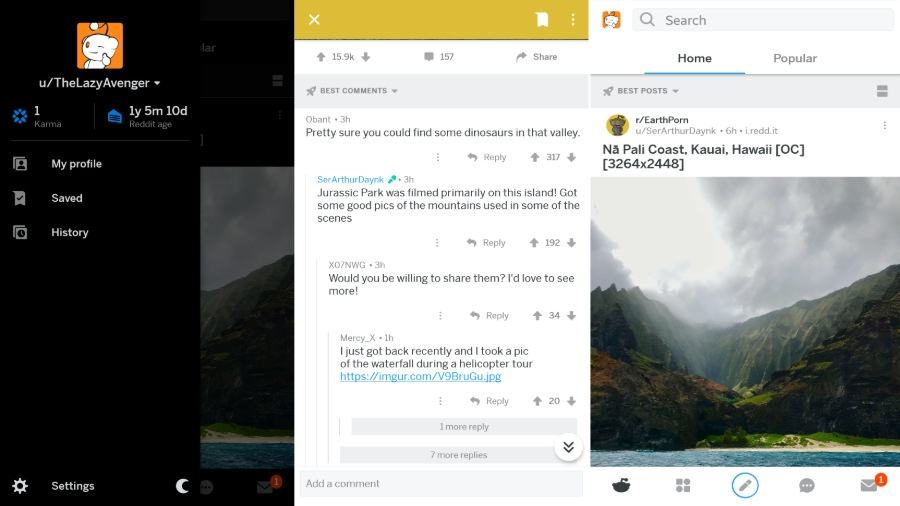 If you are looking for a blend of hardcore news and entertainment, Reddit Android app might be for you. Reddit is a combination of social media, news aggregator, and message boards creating a unique and fun experience for users.
The Android news app offers millions of topics, called subreddits (/r), to choose from, and users can sort out content based on popularity, freshness, controversial, etc.
Reddit is famous for having the most engaged community and even features a chat option.  Its layout is not precisely what news lookers would expect from news application. But the app does offer different themes and a night mode option
Why use Reddit?
Trending content ranging from news headlines to funny memes
Post, share, vote, and discuss
Create your own feed by subscribing to subreddits.
Download Reddit for Android from here
6. Smart News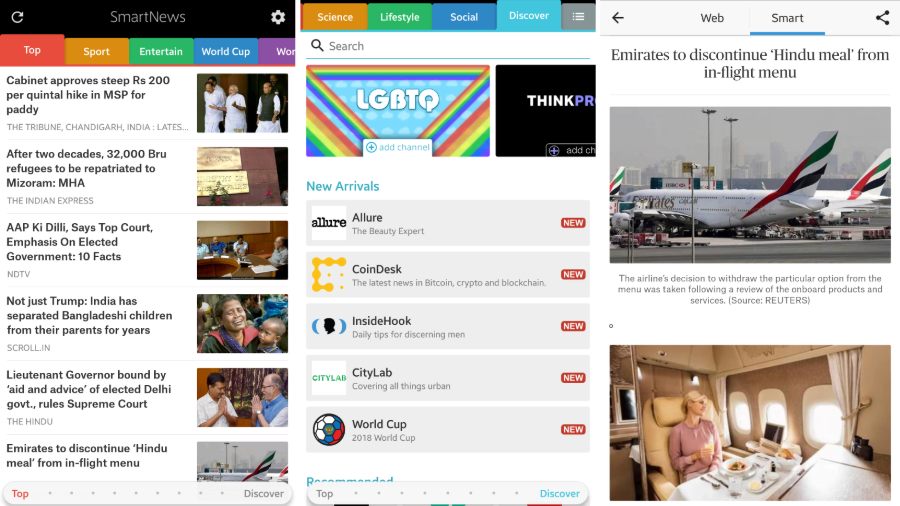 Smart news has recently become users' favorite Android news app. The app analyzes millions of news article each second and effectively place them under each topic. If you like headline reports at frequent intervals, you can customize delivery time (four slots) in the notification settings.
The "smart news mode" shows news articles with minimal graphics helping you maintain seamless experience even with a slow network. Moreover, the app provides the function of offline reading.
Although, you get a handful of publishers to follow, nevertheless, all primary news sources show up as part of your feed.
Why use Smart News?
Analyzes millions of news articles
Headline reports
Smart news mode
Download SmartNews for Android from here 
7. AOL – News, Mail & Video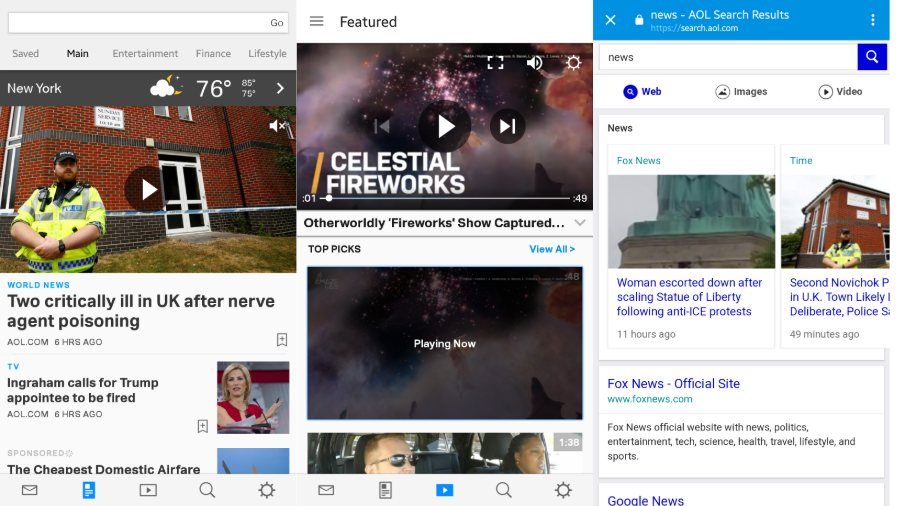 AOL is probably in the Android news app segment for the longest time. Yet it's still giving a good competition to other news aggregators. The AOL news app has its own search powered by Bing. It gives hourly and daily forecast report for your location.
The video section shows trending clips and allows us to choose videos from different topics like Epic fails, Good new, Weird news, etc. The only drawback is the AOL email section that doesn't let users have multiple e-mail accounts.
Why use AOL – News, Mail, and Video?
Incorporates different tabs for E-mail and Videos
Daily forecast
Synced across iOS and Web
Download AOL for Android from here 
8. Feedly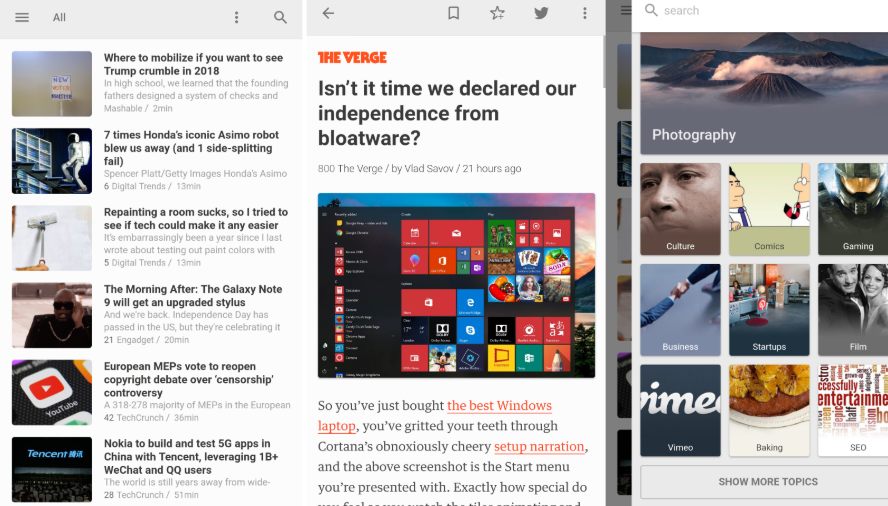 Feedly is believed to be the successor of Google Reader. The RSS app is appropriate for people who trust only particular news sources and dislike bombarded with news form cosmetic brands.
The Feedly Android app is super-fast in updating content. You can fine-tune the application based on your idea of the best news aggregator. Just search for any news source or copy the link to subscribe to it.
Although, Feedly offers a few suggestions but doesn't center around it. However, if you fill it will your favorite news sources, the app won't let you down
Why use Feedly?
Make your own news feed from the scratch
Rapid refresh and multiple layouts
Support RSS links
Download Feedly for Android from here 
9. InShorts – 60 words news summary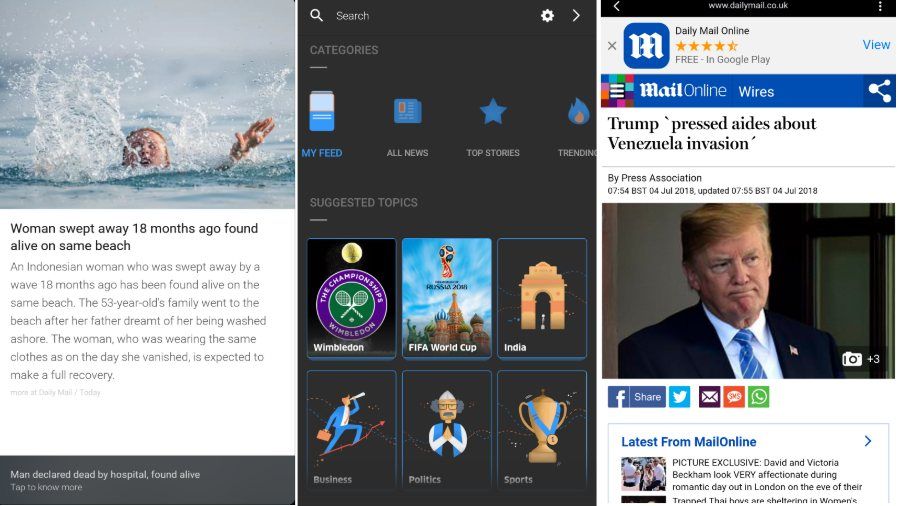 InShorts is an Indian start-up that is gradually leveling with other top Android news apps because of its unique concept of delivering the news. The app summarizes news in less than 60 words while keeping it objective and non-sensationalized.
It has a "MyFeed" tab which shows news based on your preferences. The app layout is similar to "one flashcard at a time"; the entire article can be accessed by swiping left.
In between ads are bit annoying, but the overall experience is quite amazing.
Why use InShorts?
News in 60 words
Focus on Indian audience
The layout offers one story at a time
Small size application
Download Inshorts for Android from here 
10. News Break: Local and Breaking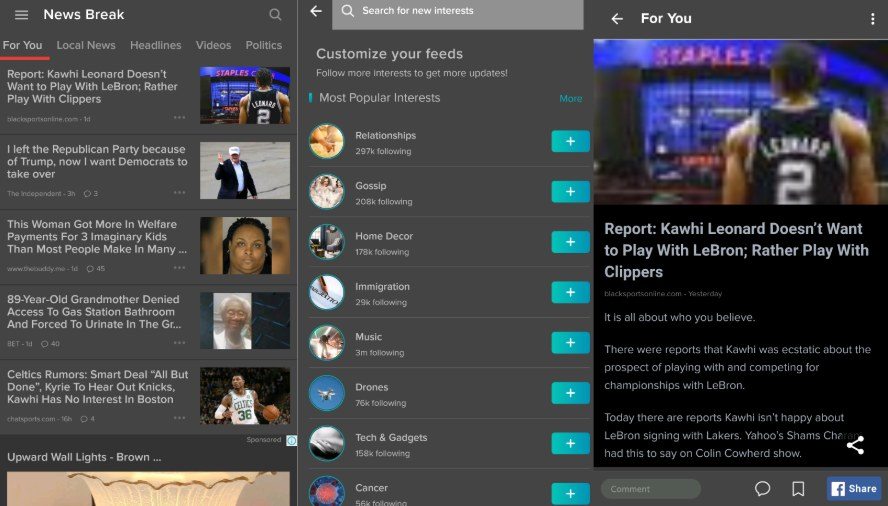 News Break is one of the most popular news apps for Android on the Play Store. Its entire focus revolves around your interests. It features a "Following" tab as well as "For You" tab, both delivering personalized news for you. Other attributes include "Quick view" and "Night mode" option.
News Break's simple interface makes it easy to share content on social media platforms. Its "Instant news" feature presents small bytes of the news feature on your lock screen. However,, the application global reach is limited, thus missing out on certain country-specific news brands
Why use News Break?
Instant news on lock screen
Night mode
Well-organized
Download News Break for Android from here
So these were the top Android news apps of 2018. Try different apps on your Android phone and choose whatever feels right for you (yeah what feels right) because nearly every news app for Android uses different techniques to bring the best content at the top.
Now Watch: