News aggregator apps on Android have dramatically reshaped how we stay informed with the latest news. Newspapers, tabloids, and even broadcasts have become a thing of the past.
We've moved ahead in a world where news outlets don't need to rely on advertisers' consent to deliver unbiased, and unflinching news.
Why use the best free news apps?
People prefer the best Android news apps because of the different news angles and timeliness offered by these apps. Besides, they save us from the tedious task of tracking tons of news sources, compiling all our favorites under one roof.
Before we start with the news apps, do check out our other useful Android lists:
12 Best News Apps For Android 2020 —
| App Name | Play Store Rating | App Downloads |
| --- | --- | --- |
| Google News | 4.4 | More than 1 billion |
| Microsoft News | 4.4 | More than 1 million |
| BBC News | 4.5 | More than 10 million |
| Reddit | 4.5 | More than 10 million |
| Smart News | 4.3 | More than 10 million |
| Inoreader | 4.2 | More than 1 hundred thousand |
| InShorts | 4.6 | More than 10 million |
| News Break | 4.3 | More than 10 million |
| Knappily | 4.6 | More than 500 thousand |
| Feedly | 4.2 | More than 5 million |
| Flipboard | 4.2 | More than 500 million |
| Scribd | 4.5 | More than 10 million |
1. Google News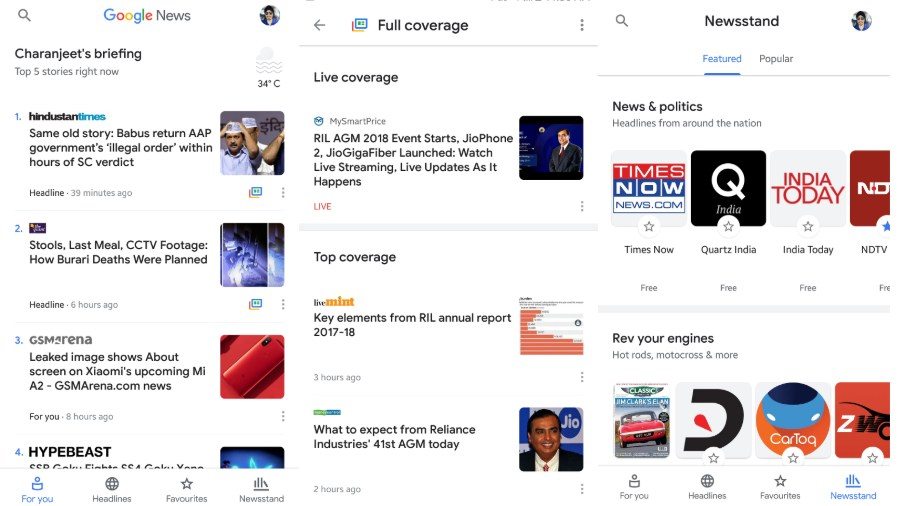 The Google News app (formerly known as Play Newsstand) is known for delivering relevant content to the news feed using A.I. techniques.
The "For you" tab shows top headlines and news developments that are important as well as relevant. The personalized news list is based on your interests and your activity on Google platforms.
"Full coverage" in this smart Android news app showcases the same news story reported by different publishers, highlighting all the perspectives. However, Google's intuitive approach to delivering breaking news sometimes makes it nearly impossible for users to unfollow certain news sources.
Why use Google News?
A.I.-powered smart Android news app
"Full coverage" of every story
Personalized content
Ad-free news app for Android
2. Microsoft News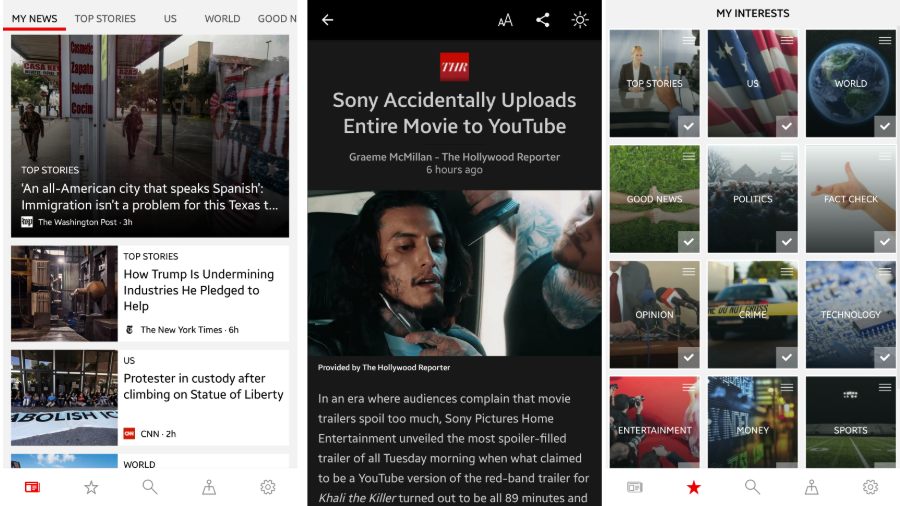 Formerly known as MSN news, Microsoft News is another one of the best Android news apps. It offers a smooth experience, and its tabloid layout helps you efficiently navigate through the app.
Signing up with a Microsoft account puts forward personalized news that is automatically synced to its other news platforms such as MSN.com, and the Internet Edge news feed section.
Under the Settings tab, you have the option to choose from a different country's news edition. Just keep watch of sponsored ads since the layout makes it very difficult to differentiate between an organic news article and sponsored ones.
Why use Microsoft?
Tailed interest across all platforms (Microsoft edge and MSN.com)
Night mode
Smooth and seamless transitions
3. BBC News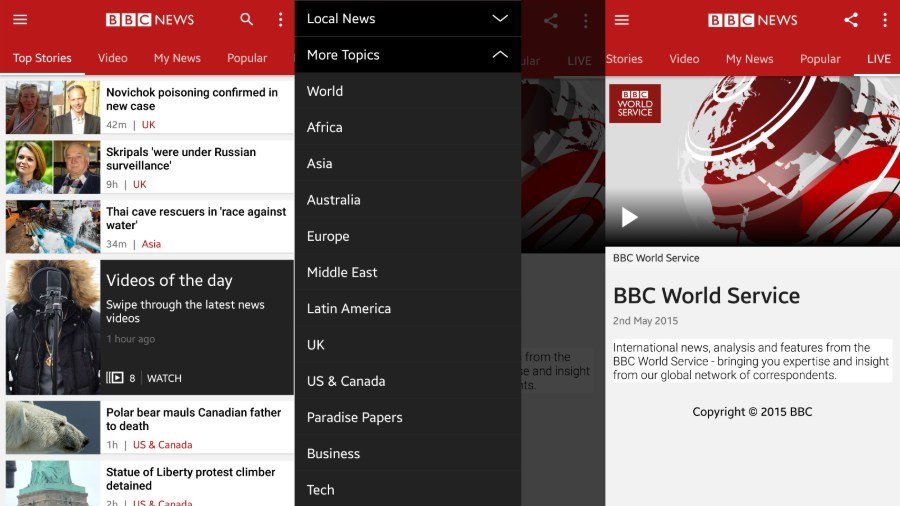 The BBC news channel is known for presenting unbiased and non-sensational news, which is why the BBC app is the best unbiased news app for the Android platform.
The Android news app shows the latest reports from every country on one tap. The News Feed section comes in different layout options and even offers a live-streaming news channel within the app itself. You can also change notification settings and turn background syncing off.
It's one of the few Android news apps that provides control over data shared by the app. You can turn "sharing stats" off if you don't want personalized results. The only con is the UX design which lacks smooth animations and interactivity.
Why use BBC news?
Best unbiased news app in the entire store
Different layout settings
Permissions to use your data
4. Reddit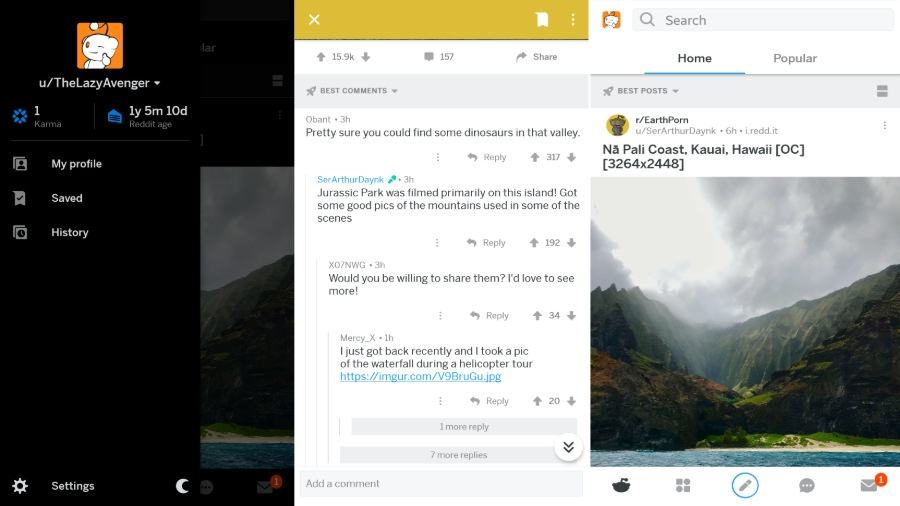 If you are looking for a blend of interesting news and entertainment, Reddit is the best news aggregator that you have on your smartphone. For those who don't know, Reddit is a combination of social media, news aggregators, and message boards that creates a unique and fun experience for readers.
You can subscribe to specific Reddit topics, make subreddits, and sort out content based on popularity, freshness, controversial, etc. Avid news readers can join new communities like TechNews, World News, etc.
Reddit is famous for having the most engaged community and even features a chat option. However, its structure and functionality are not what you'd expect from a newspaper app. However, it does present some of the best content available on the Internet. The free news app even offers different themes and a night mode option.
Why use Reddit?
Trending content ranging from news headlines to funny memes
Post, share, vote, and discuss
Create your own feed by subscribing to subreddits.
5. Smart News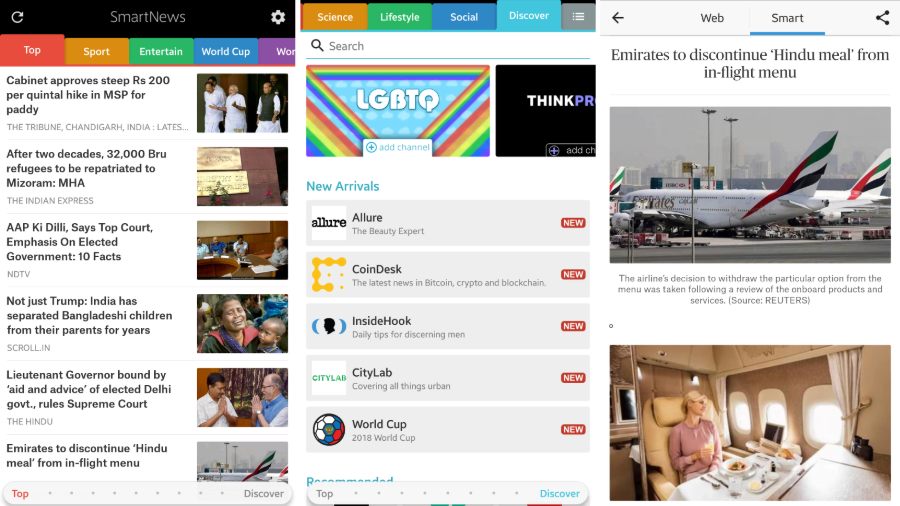 Smart news has recently managed to put its mark on the best news apps for Android. The app analyzes millions of news articles each second and effectively places them under each topic. If you like to receive headline reports at frequent intervals, you can customize delivery time (four slots) in the notification settings.
Its "smart news mode" shows news articles with minimal graphics helping you maintain seamless experience even with a slow network. Moreover, the Android news app includes offline reading mode as well.
Although you only get a handful of publishers to follow, nevertheless, all primary news sources show up as part of your feed.
Why use Smart News?
Analyzes millions of news articles
Headline reports
Smart news mode
6. Inoreader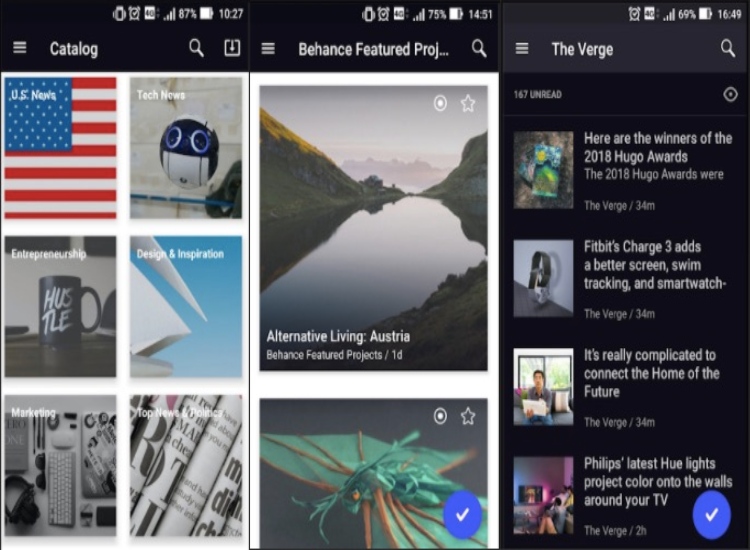 Inoreder is one of the most underrated news aggregator apps on the Google Play Store. It features a similar layout to Flipboard, only it appears less visually cluttered.
The best part about the free news app is that you can put feeds into separate thematic folders. This way, you can build your own news feed. The app offers night mode and an option to save webpages for viewing later.
There is also a pro version that unlocks offline reading, push notifications, article translations, and more. Searching for a particular article outside of your subscription also comes under the pro plan, but we think it should be under the Inoreader free news app.
Why use Inoreader?
Minimalistic design
Adding feeds in separate folders
7. InShorts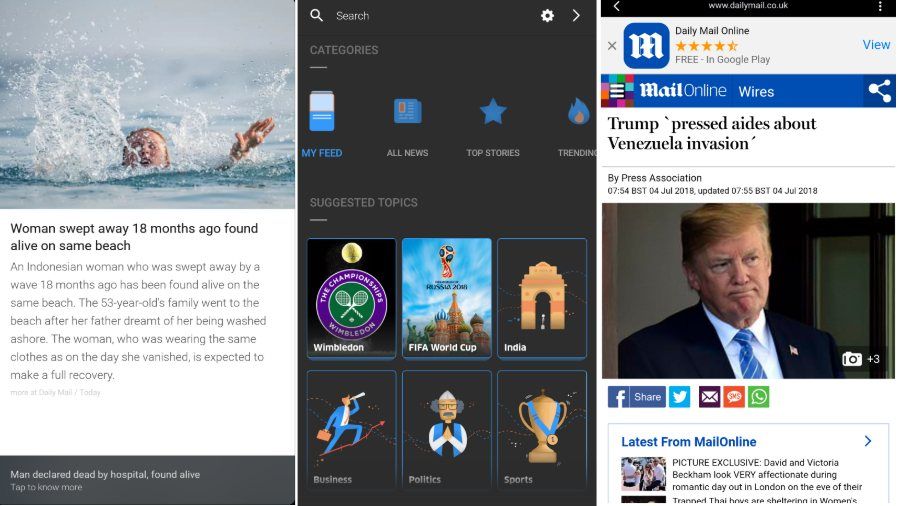 InShorts is an Indian start-up that is gradually leveling with other top Android news apps because of its unique concept of delivering the news. The app summarizes news in less than 60 words while keeping it objective and non-sensationalized.
It has a "MyFeed" tab which shows news based on your preferences. The app follows a "one flashcard at a time" layout and the original article can be accessed by swiping left on the card.
However, the best Android news app in India is gradually becoming a tool for bombarding ads and sponsored content.
Why use InShorts?
News in 60 words
Focus on Indian audience
The layout offers one story at a time
Small size application
8. News Break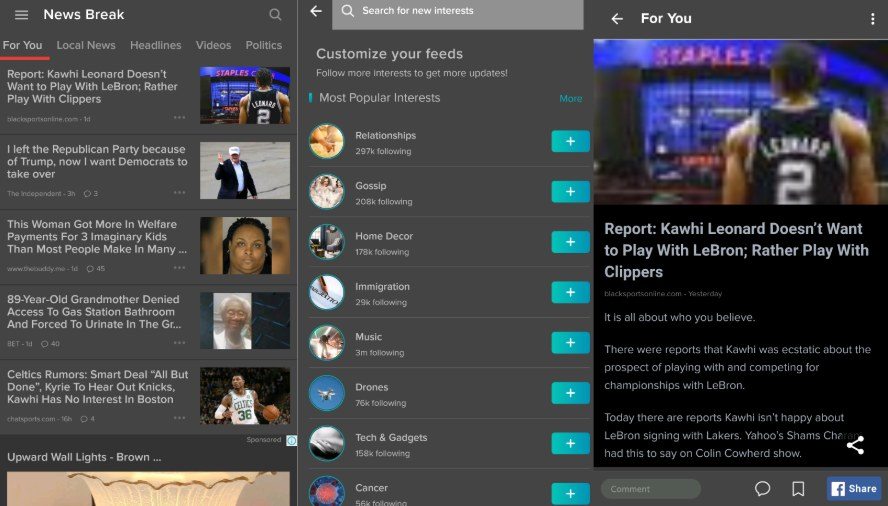 News Break is one of the most popular news apps for Android on the Play Store. Its entire news feed revolves around your interests. The Android app features a "Following" tab as well as a "For You" tab, both delivering personalized news for you. Other attributes include a "Quick view" and a "Night mode" option.
News Break's simple interface makes it easier to share content on social media platforms. It also has an "Instant News" feature that presents small bytes of news on your lock screen. The only catch with the best breaking news app is its global reach, which seemingly is quite limited. Thus, the app misses out on many country-specific news brands
Why use News Break?
Instant news on lock screen
Night mode
Well-organized
9. Knappily
Knappily is another one of the best free news apps for Android users in India. The app has a Google Play Store rating of 4.6 and has been awarded the must-have title by Google.
The app's popularity can be credited to its unique way of presenting stories. It features articles in 5W1H (What, Why, When, Where, Who, How) framework. With each swipe on the left, the user gets the story in the form of answers and questions.
It mainly targets users who have recently started to learn English or have difficulty comprehending long articles. Apart from that, you can bookmark articles, copy text, and share them on social media. There is also a night mode.
Why use Knappily?
Unique news presentation framework
Best for English learners
Offline mode to read stories without Internet
10. Feedly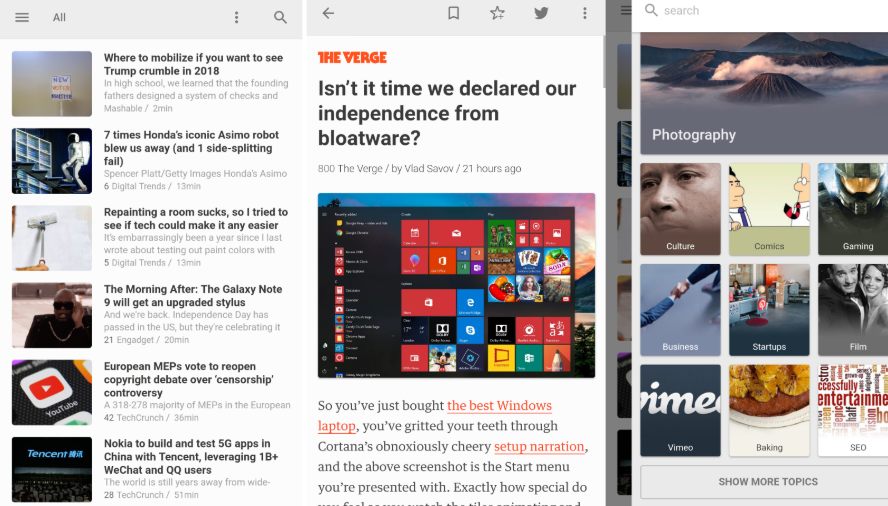 Feedly is often considered the unofficial successor to Google Reader. The RSS news feed app is appropriate for people who trust only particular news sources and dislike being bombarded with news from shallow brands.
The Feedly Android app is super-fast in updating content. You can fine-tune the application based on your idea of the best news site. Just search for any news source or copy the link to subscribe to it.
While Feedly does suggest some new sources, it leaves all the hard work for the readers. However, if you fill it will your favorite news sources, the app won't let you down.
Why use Feedly?
Make your own news feed from the scratch
Rapid refresh and multiple layouts
Support RSS links
11. Flipboard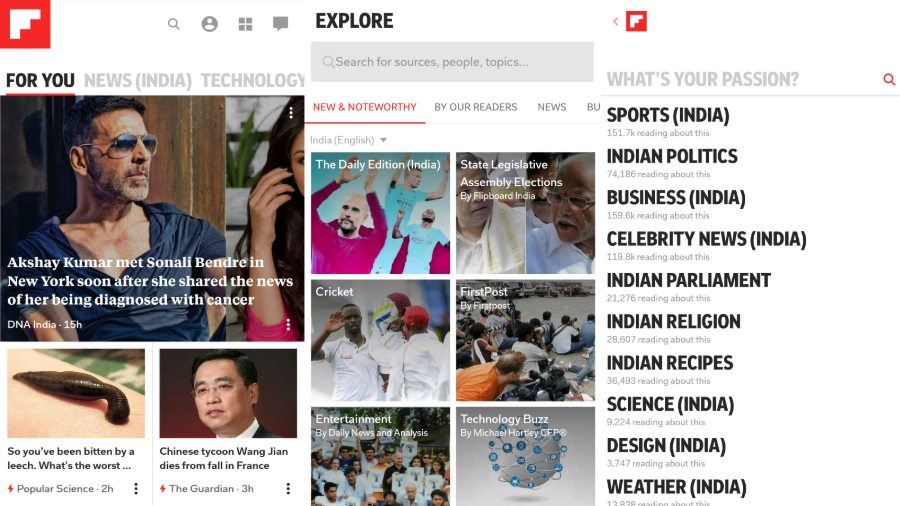 Flipboard reamains unbeaten in the best Android news apps when it comes to style and aesthetic looks. The print-style page layout makes news reading interesting, and makes it easy to navigate. This app analyzes the news you often visit and offers similar stories.
If you don't have time at the moment, you can add news articles to the custom-made magazine on Flipboard. Additional features include "See less new stories like this" and "Mute Site" to see fewer stories from a news source.
One of the major drawbacks of Flipboard's news app is that you cannot get rid of similar news stories in the news feed.
Why use Flipboard?
An elegant magazine-like interface
Follow friends activity
Newsfeed customized according to your interests
12. Scribd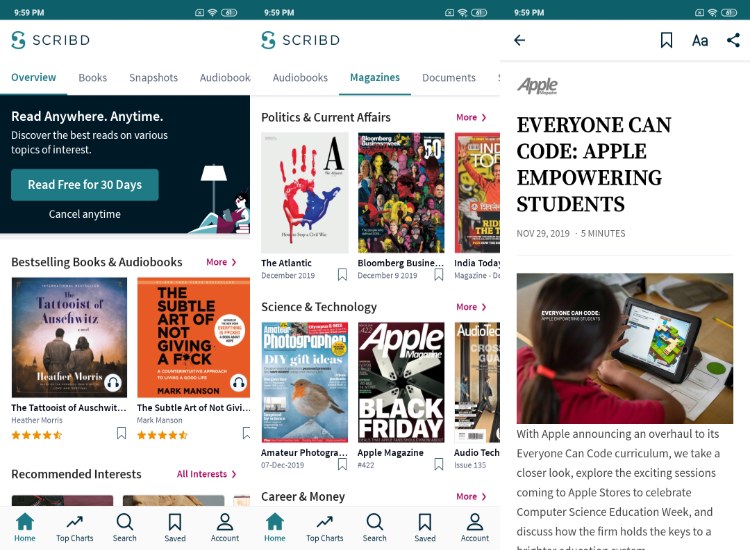 Scribd is an e-book service that has been expanding into delivering news articles through the latest magazines. The news articles may not be fresh, but they will surely pique your interest. However, users will need to pay a minimal subscription fee.
Apart from that, Scribd has an amazing collection of e-books and audiobooks that precedes its reputation. Overall, Scribd is an amazing information portal that frequently informs you about the latest trends.
Why use Scribd?
Curates interesting news and trends
Prominent e-books and audiobook source
News Apps For Android From Specific News Outlets
Apart from the above news apps, there are a few which offer content from a specific news source. For instance, there is the Times Of India App which is often regarded as the best news app in India and has a massive amount of readership.
Other few examples of such news apps are Fox News, CNN Breaking News, Reuters, etc. If you prefer a specific news outlet over others, downloading their stand-alone app would be a better option.