AMD Ryzen Powered laptops are extremely versatile. I have the experience of using an Intel-powered older Zenbook, so I knew what I was getting into. What I wasn't expecting was how much difference an AMD APU makes on a laptop.
My day to day usage involves playing Warcraft 3, Age of Mythology: Titans Expansion on my office desktop and writing articles using WordPress, all the while using Google and Youtube for research.
Therefore, I will be covering the performance of the AMD Powered ASUS Zenbook in all these areas. Usually, I use my Desktop which runs an AMD Ryzen 1700, Nvidia GTX 1080 Ti and 16 GB of DDR4 RAM for office use.
And I also have an Apple Macbook air that I use whenever I have to work from outside. So I have analyzed how much the performance of these two machines can the AMD powered ASUS Zenbook deliver. Here's my review.
AMD Ryzen Powered Laptops: ASUS Zenbook Review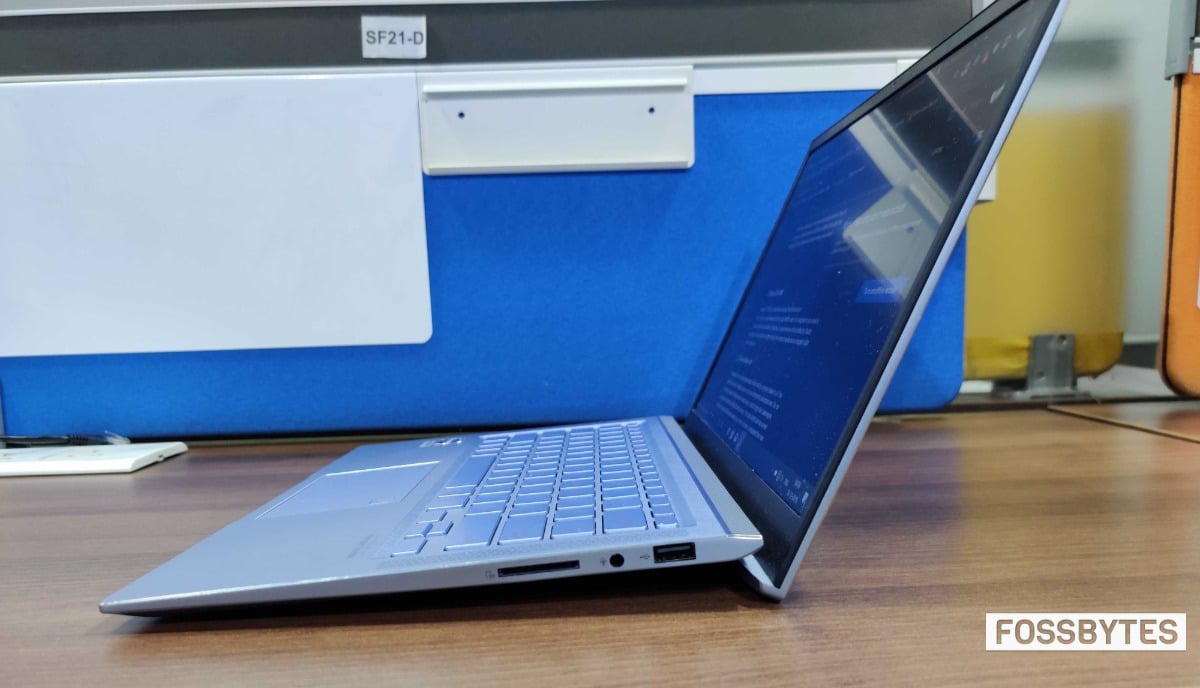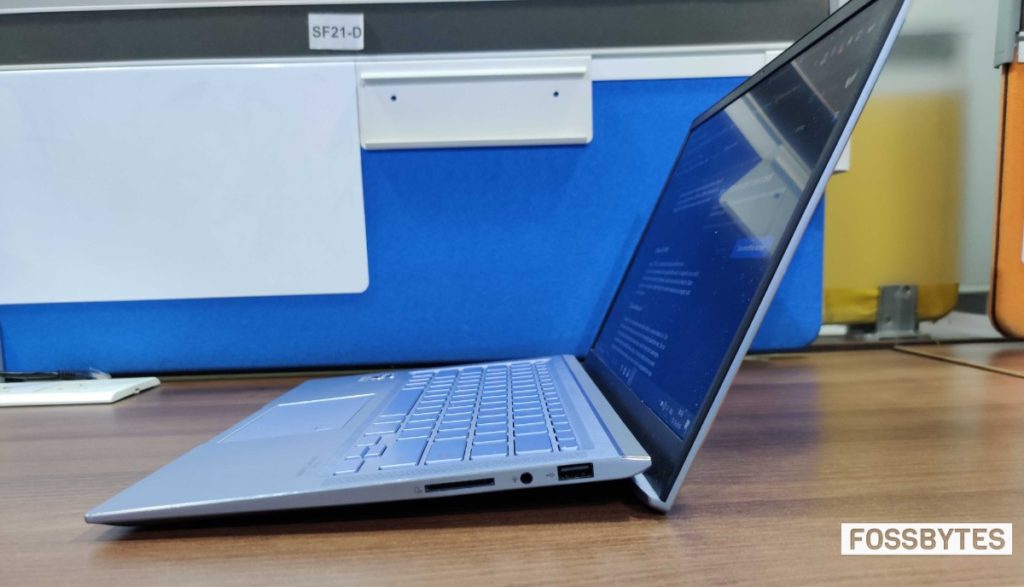 I usually start writing my morning news while traveling on the bus from Greater Noida to Noida. The Ergonomics of the Zenbook is designed in such a way that typing on it while keeping it on my lap is fairly easy, even on a moving bus. The keyboard is also backlit, in case you wanted to know.
The uplift from the base of the laptop allows the laptop to maintain proper thermals and keep functioning properly. This was a problem with the earlier Zenbook. The downward located vents used to get blocked whenever I placed the laptop on my lap, but now that is no longer the case.
The hinge is sturdy enough, so the potholes don't shake up the screen as much. It is also very bright with great color accuracy so I can view it from every angle, something I can't do on my old Macbook Air, due to poor viewing angles.
In terms of design, the Zenbook has a sturdy metallic body. The screen has absolutely no flex, the typing experience is solid with absolutely perfect key spacing and the touch bar is also really great. It is not as great as a Macbook but it gets the job done and then some more.
If we talk about performance, then I'd like to give the AMD Ryzen 5 3500U a solid recommendation. Not only can it handle almost every computing task with ease, but it also provides enough graphics performance to allow me to play my favorite games.
For the uninitiated, the AMD Ryzen 5 is an APU which stands for Accelerated Processing Unit. It is different from a CPU in the fact that it also incorporates a low powered GPU along with a CPU.
The Vega 8 inbuilt GPU offers a performance equivalent to an entry-level desktop GPU. It can play games like DOOM, Outerworlds, and Assassins Creed Unity in low settings while maintaining 30-40 FPS.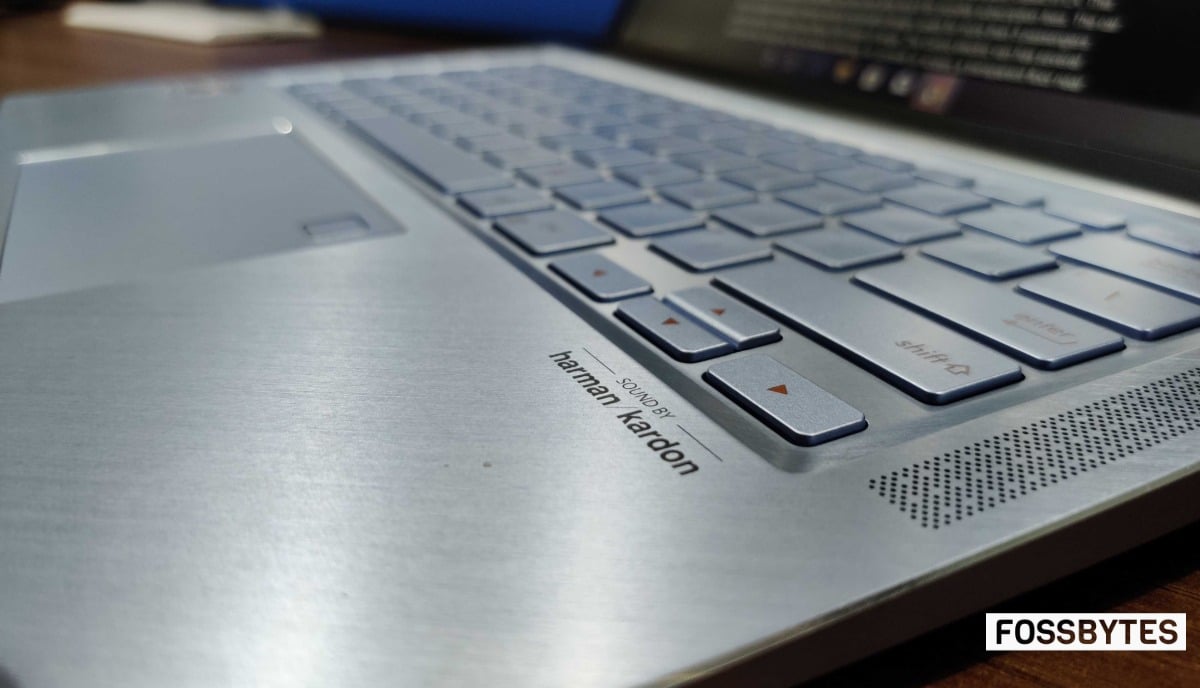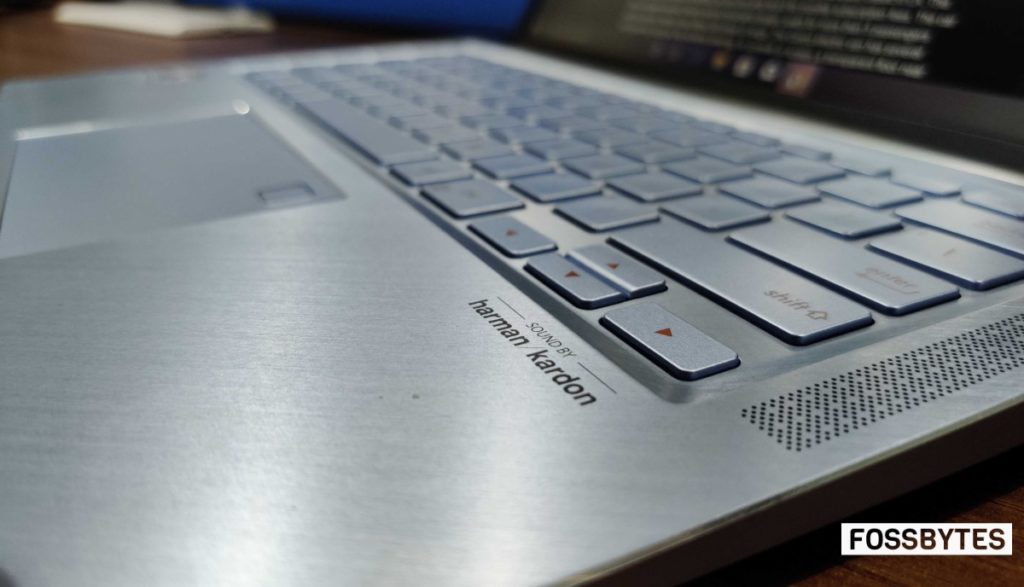 The 8 GB of RAM in the ASUS Zenbook was enough and nowhere in my review or during heavy multitasking, did the laptop lag. The 512 GB SSD performs really great as well. Most of the games l play are open-world action-adventure RPGs, with huge digital worlds to explore. SSD made the in-game loading seamlessly fast and made my overall gaming experience quite great.
Due to the AMD Ryzen APU, I often started carrying my PS4 controller with me and utilizing the return trip home from the office by playing video games.
I always kept my brightness high and my power settings at 'performance' therefore I managed to get around 4 hours of battery life from this machine, which is really great. Speaking of the screen, its slim-bezel nano edge display has 86% screen to body ratio and I am in love with it. The color reproduction is so good that at times, my office desktop feels bland in comparison to the ASUS Zenbook.
It also made the gaming experience a delight, even though I was playing at the lowest settings. Furthermore, the Harman Kardon speakers on this device deliver excellent sound quality. It doesn't get too loud which helps in keeping the audio from tearing up but the quality of the base is really great as well.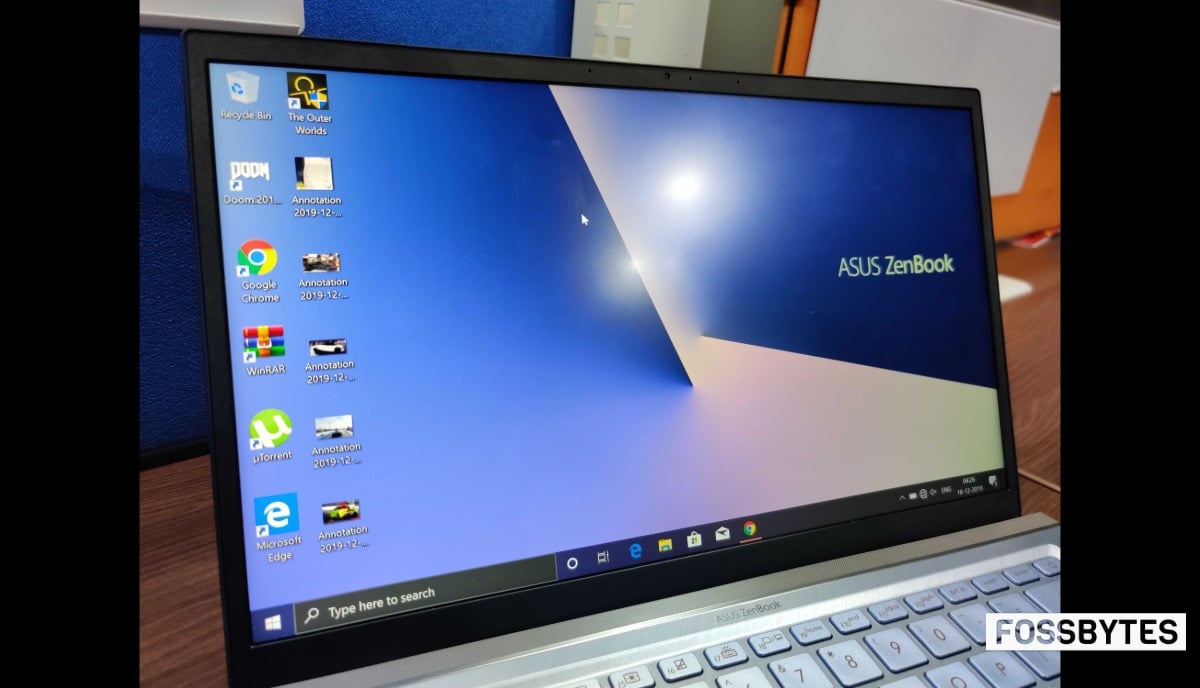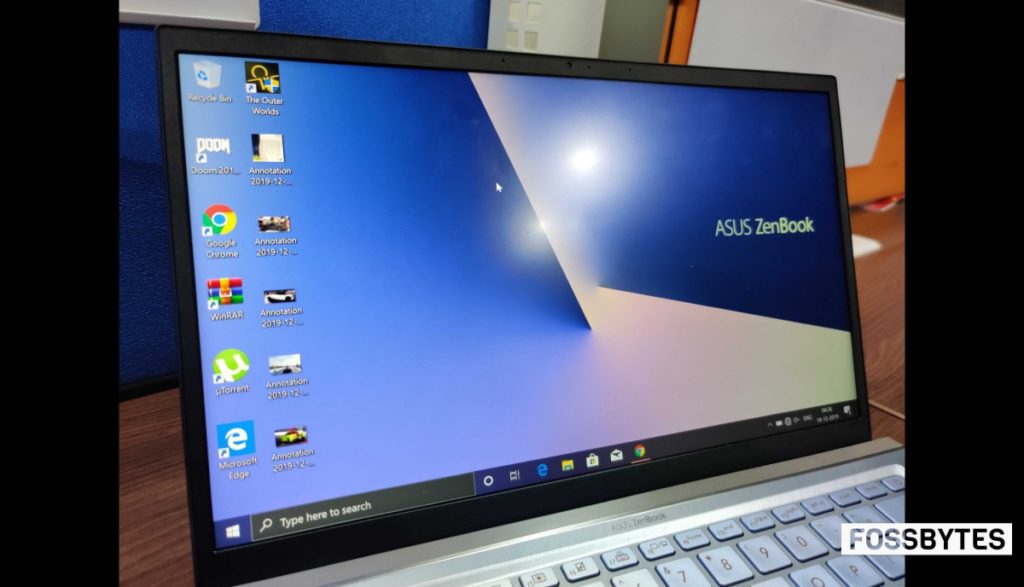 In terms of productivity, I used Filmora to edit small videos and Google docs to write 2,500-word articles. I was seamlessly able to do all that with 15 Chrome tabs open in the background. So overall, I faced no performance issues in productivity and the hinge design keeps the internals down a notch to deliver a consistent experience throughout.
The I/O port selection is decent enough with 2 X USB port, 1 X USB-C port, an SD card slot, and a headphone jack.
I love the fact that it has a fingerprint reader but its placement really disappoints me. The fingerprint sensor is placed on a touchpad which is the last place you want it to be. In addition to eating up my scrolling space, oftentimes I found myself scrolling on it, which made me get irritated and just attach a mouse.
Speaking of things that are bad, the 720p webcam is just not acceptable in 2019. It is not at all suitable for any kind of video call. Such a low-quality camera should not be there on this expensive laptop.
After quite a while I became used to it, but I'd still prefer an unobstructed touchpad space. The Zenbook also comes with Face login and it works just as well you think. 9/10 times I logged in without any trouble.
Should You Buy The AMD Ryzen Powered Zenbook?
So who is this laptop for? The ASUS Zenbook with AMD Ryzen APU is for those people who wanted a portable, durable and powerful machine but were disappointed due to the lack of options.
Entry-level gaming laptops are too big and 'plasticky' while thin and light performance gaming laptops cost around $1,000. The AMD Zenbook offers a metallic body, which is sophisticated enough for any business meeting and powerful enough for almost every productivity task and some light gaming.
I highly recommend this laptop for everyone who wears business casuals to the office.
Apart from the obstructing fingerprint sensor and a low quality integrated webcam, the AMD Ryzen powered Zenbook is a great laptop for the price of Rs. 64,990 for your every work and light gaming needs.