Google is known for hiding easter eggs, and secret features buried deep in its Android OS. However, a weird glitch has appeared on Android which honestly seems more like a bug than an easter egg.
The glitch shows your text messages in search results by using the Google cards assistant feature. It was reported in a Reddit post which says that typing "the1975..com" into the Google search bar will display all your text messages on the screen.
Soon other users joined in claiming the same glitch can occur if you type "vizela viagens" or "zela viagens" on the search bar.
Even though the original post talks about this issue on a Pixel device but I tried the same on other Android phones like OnePlus and typing "the1975..com" or "sell viagens" showed the same results.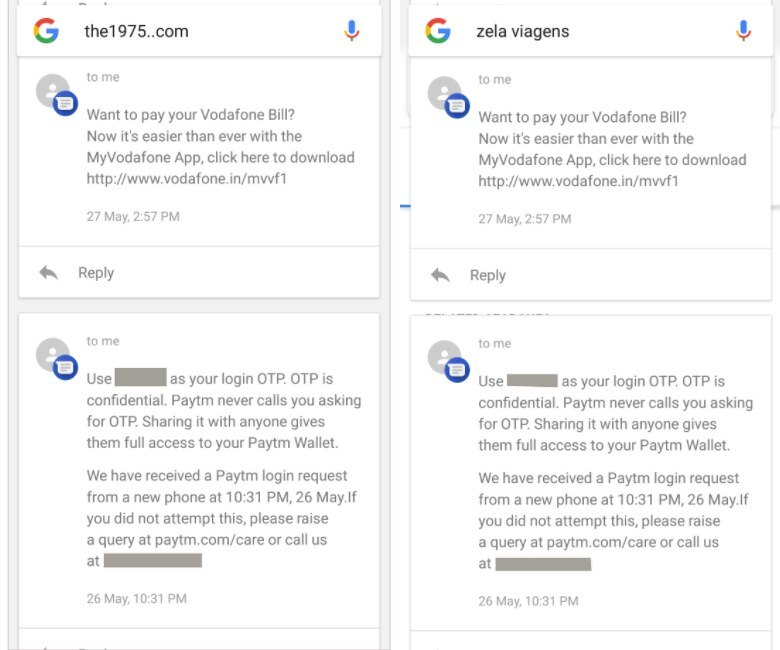 As you can see in the image, these activation terms work exactly like a "show me my text messages" command. Typing these string of letters on Google Assistant app also has the same effect.
The concerning part is for users who activate voice commands for Google Assistant in locked mode – whether this bug can be accessed when the phone is locked. If yes, the sensitive data like OTP which is received via text messages, face a risk of exposure.
If you try to replicate the glitch in iPhone through the search bar, the browser displays normal web search results (which should have been displayed in Android as well). But typing those terms in Assistant on iPhone fetches a response "I can't read text messages yet."
Google hasn't commented anything on this issue, so we aren't sure if this a deliberate action by Google or a bug.
However, if this makes you worried, you can fix the issue by heading to your Settings>Apps>Apps Permission>SMS permission. There you can turn off the SMS permissions of Google app, and it will prevent Google from accessing your messages.