It's not new for Xiaomi to de-stabilize Samsung smartphone market share in India. But maintaining the first position for the last fourth quarters, now that is some achievement!
The Q3 2018 Indian market analysis published by Canalys states that Xiaomi has shipped more than 18 million devices, alone in the single quarter. This also means a 32% jump in sales from the Q3 of 2017. This makes Xiaomi number one smartphone seller in the Indian market for four consecutive quarters.
Samsung, which is having difficulty in regaining the first position, sold only 9.3 million smartphones in Q3, managing to grab 23% of the market share. Moreover, the data also states that Samsung's annual growth dropped 2% from the Q3 of last year.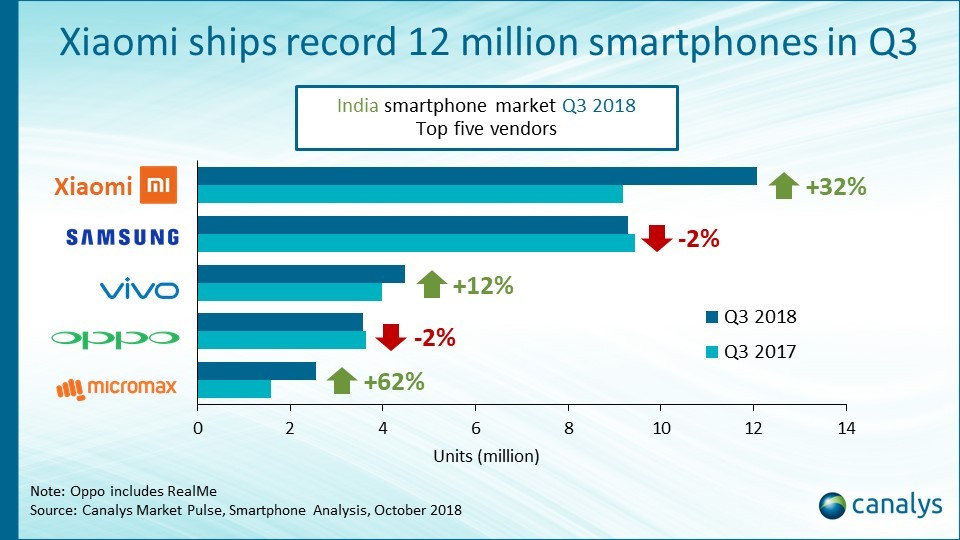 Apart from Samsung and Xioami, Micromax has surprisingly managed to re-enter the top five smartphone selling companies in India. The long-lost company has shipped 2.6 million devices in Q3 2018 — a five hold increase in its sales from the last year's quarter.
According to the report, Micromax's incredible 62% annual growth can be the result of Micromax and Jio's Rs 1,500-crore deal with the Indian government for distributing 50 lakh smartphones to women and students in the state of Chhattisgarh.
Vivo has also made huge gains this year. The report states that the company has made an annual growth of 12% and managed to sell over 4.5 million products. Oppo, on the other hand, took only 3.6 million devices to the shore. It seems like the little brother is desperately trying to outperform the elder one.