Short Bytes: iSkysoft Toolbox for Android is a great piece of software designed to address various needs like data recovery, data backup, recovering data from corrupted Android phones, erasing Android devices completely, removal of the password-protected lock screen, removing sim lock, etc. It is available for MacOS and Microsoft Windows operating systems.
T
here are times when we lose precious data stored on our Android device. There can be various reasons. For instance, we might forget to backup our data while resetting the device to factory settings or our device got corrupted due to some unknown reason. The SD card installed on the Android device can also run into problems.
There are many data recovery tools out there in the wild which can easily save in the times of such dilemma. One such Android data recovery tool is a part of the iSkysoft Toolbox for Android. Today, I would like to give you an idea about this software.
How to install iSkysoft Toolbox for Android?
There is one thing I always expect from such utility tools; they must be small in size. It makes them easy to download and install even on slow networks. In the case of iSkysoft Toolbox for Android, the setup size is less than 1 megabyte, and it takes around two mouse clicks to install the software.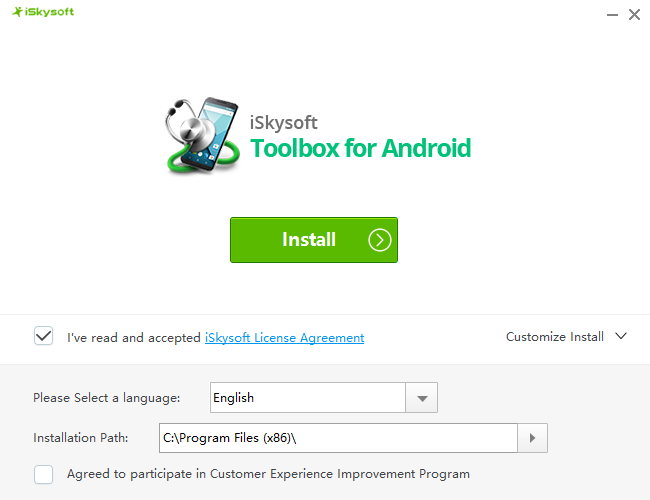 In the Customize Install drop-down, you have the freedom to choose the desired language, installation path, and the option to opt-out of the customer experience program.
iSkysoft Toolbox for Android – Appearance & Features
The software displays almost every option it has to offer on the first screen itself. So, there isn't much confusion about the features and options. Also, the UI is quite neat and clean. Hovering on specific tools shows a small description about them.
After connecting your phone to your computer, you can take advantage of following features in the iSkysoft toolbox:
Note: The software doesn't mention this but you need to enable USB debugging mode on your device. It can be done by visiting the developer options section on your phone.
Also, make sure your phone's device drivers are installed on your computer.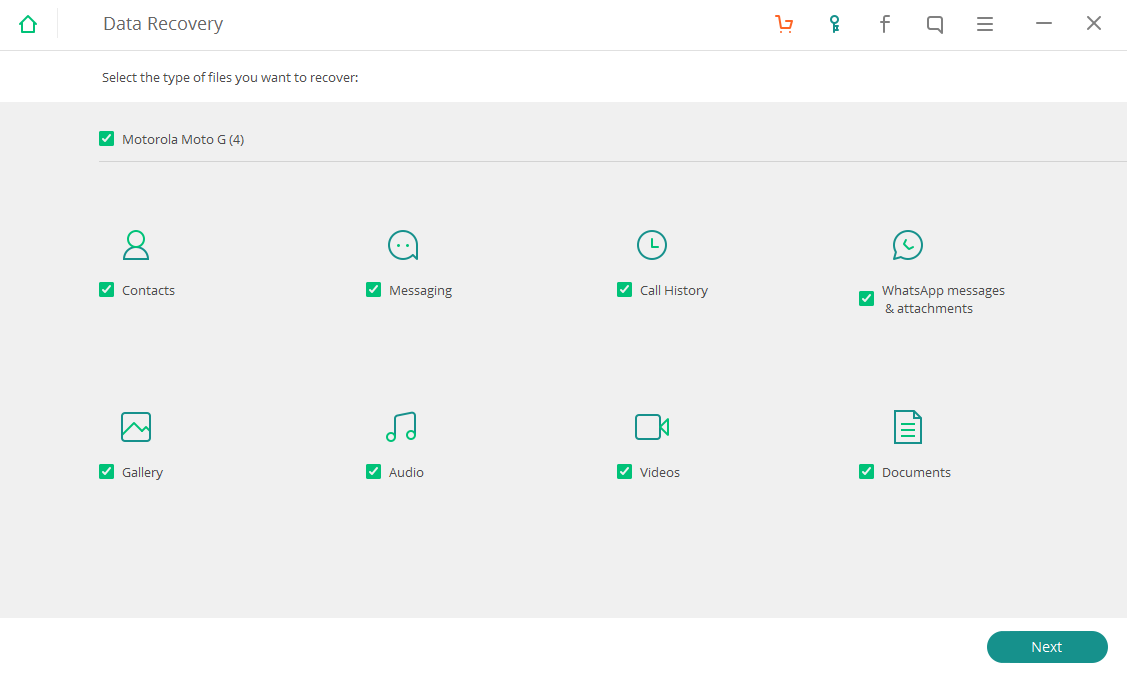 The data recovery tool is used to retrieve data from internal Android storage and external SD card.
When you click on the data recovery option, it'll try to install the MobileGo app on your phone. This is necessary for the software to work.
Data Recovery option shows different categories of information including Documents, Music, Videos, etc. You can tick the ones you want to recover or select all of them.
It can scan for files using a normal mode and deep scan mode. It says the normal mode takes less time. I selected the Audio category and chose the normal mode. It took somewhat more than 30 mins including a few device restarts for the scan process to complete.
One important thing to note that the tool roots and unroots your device during the data recovery process which allows it to use extra permissions. However, this doesn't void the warranty. And it's quite normal in the case of data recovery tools.
Data Backup & Restore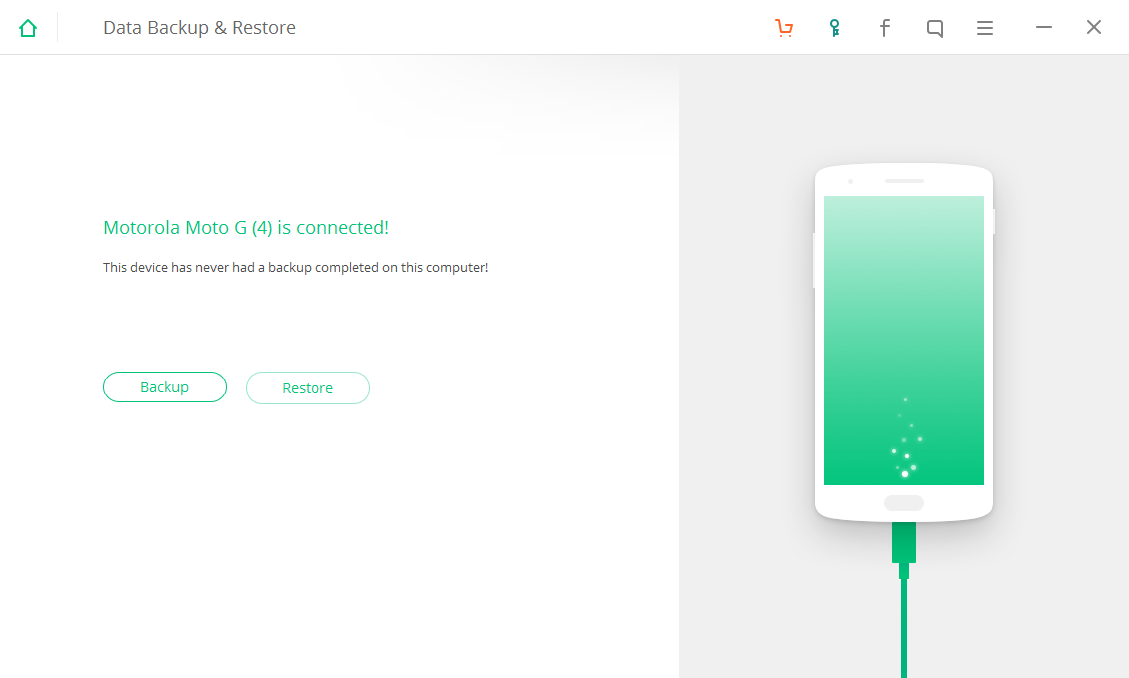 You can use the iSkysoft Toolbox for Android as a regular backup tool to store your phone's data on your computer.
It also includes the functionality to backup different file types individually. However, for backing up Android apps, it requires root permission.
Data Extraction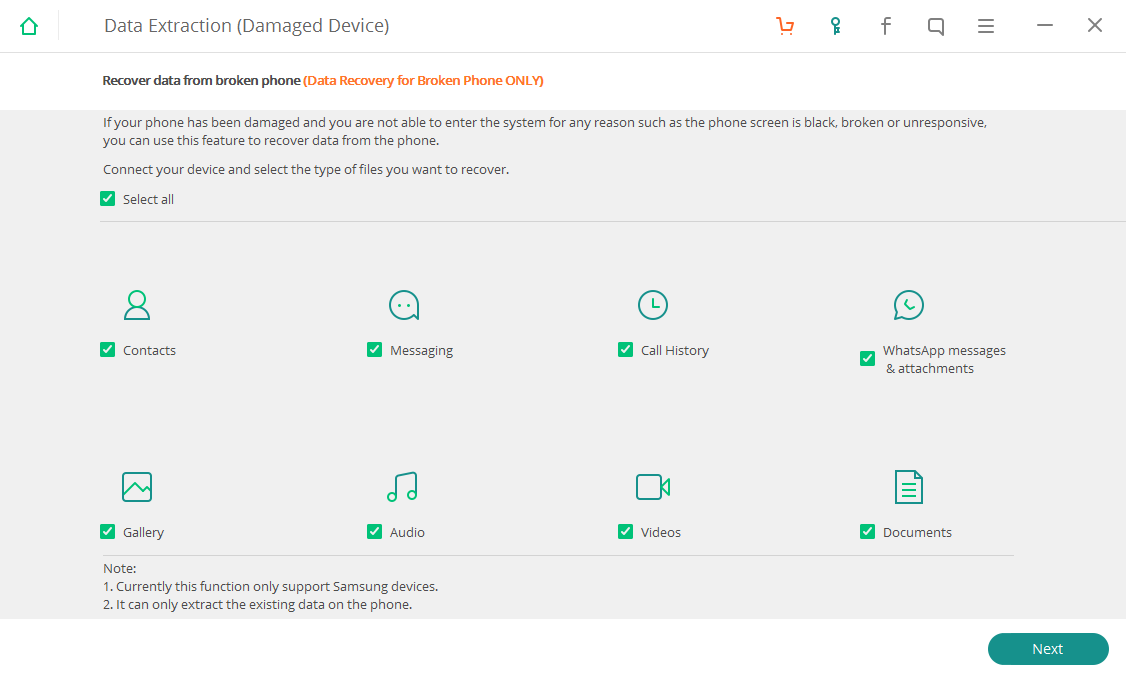 The data extraction tool helps you recover your valuable data when your Android device gets corrupt and unusable. You should use this tool if your device is in working condition, the tool warns.
Screen Recorder
This is a handy feature which could be used to cast your Android phone's screen on your computer and record it.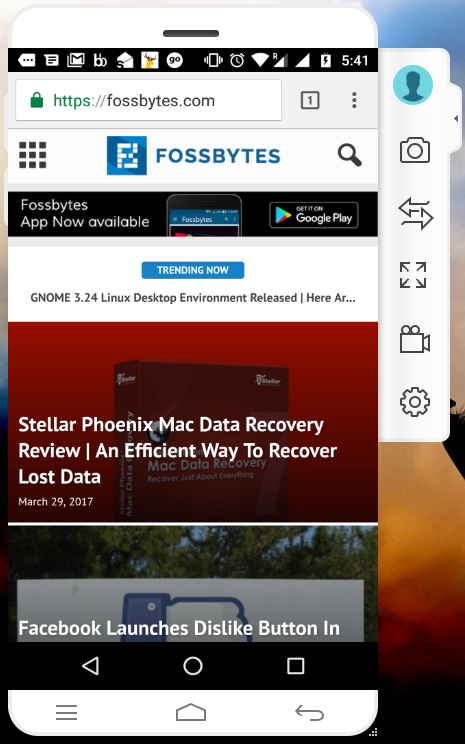 You can choose from a couple of quality options for the video feed. A lower quality means it won't lag even if you operate your device swiftly.
Using the screen recorder tool, you can control your Android device from your PC using your mouse, type using the keyboard, take screenshots and record the screen. It also includes the functionality to transfer files to and from the device. It also works if you change the orientation of the device from portrait to landscape mode.
Lock Screen Removal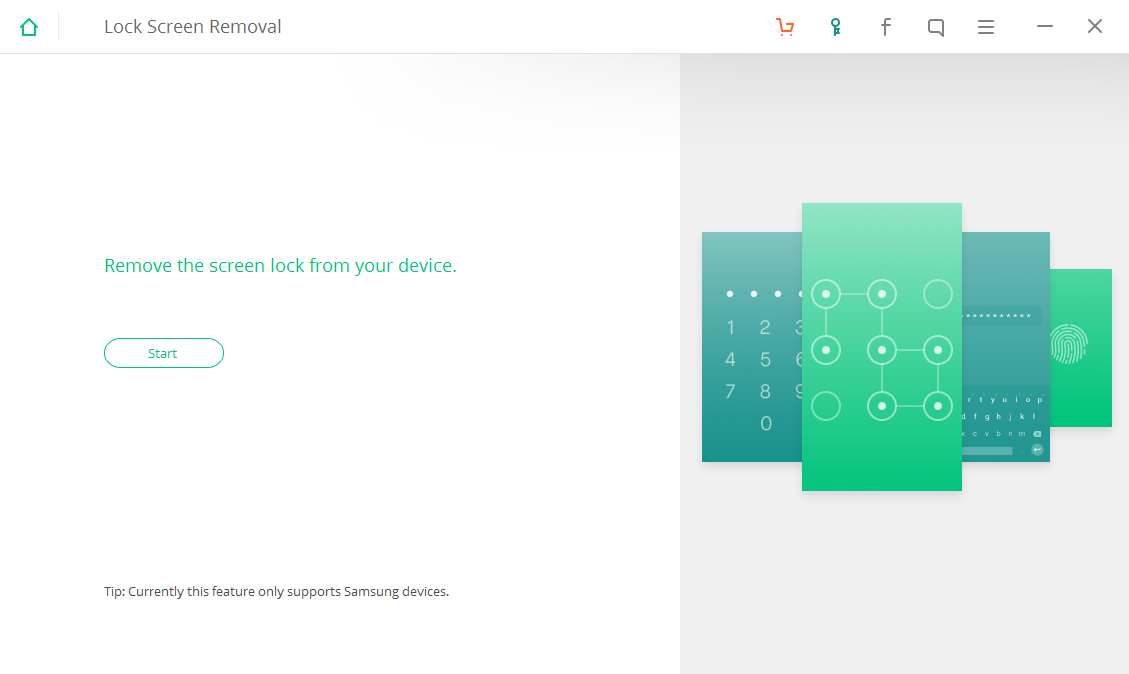 Although hard to digest, but the software can remove the Android lock screen, protected using a password, pattern, or pin.
Root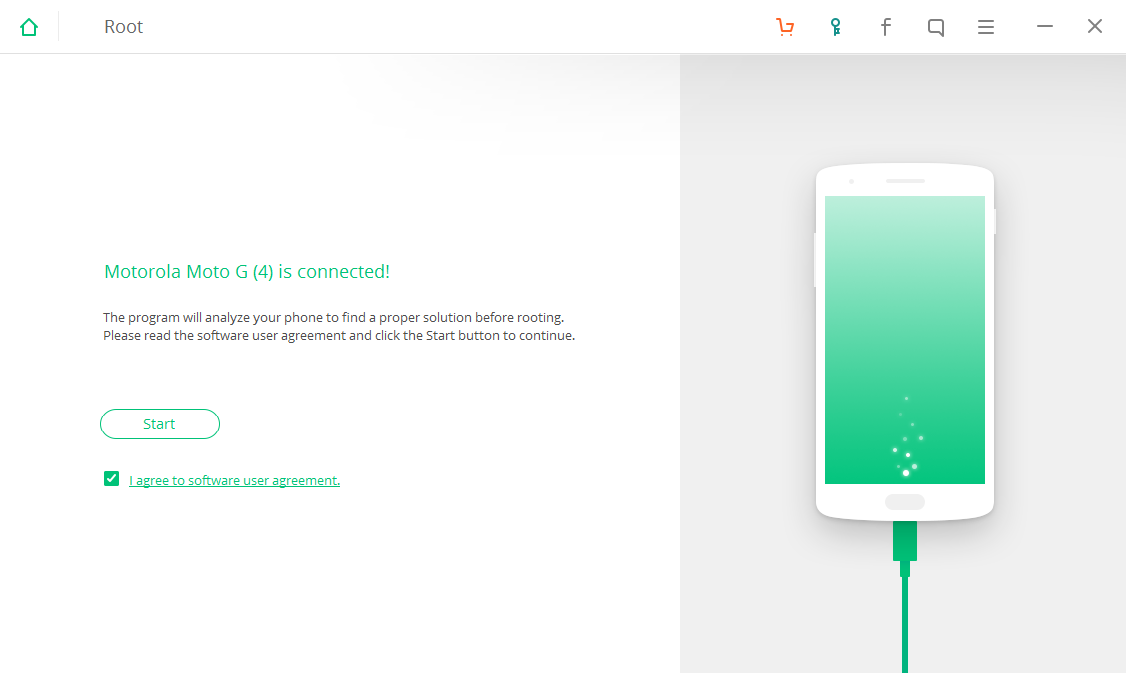 Over the years, the process to root Android devices has become simpler. A significant contribution is given by software like iSkysoft Toolbox for Android which offers a 1-click-root option to the users. You might be aware of the pros and cons of the rooting process.
SIM Unlock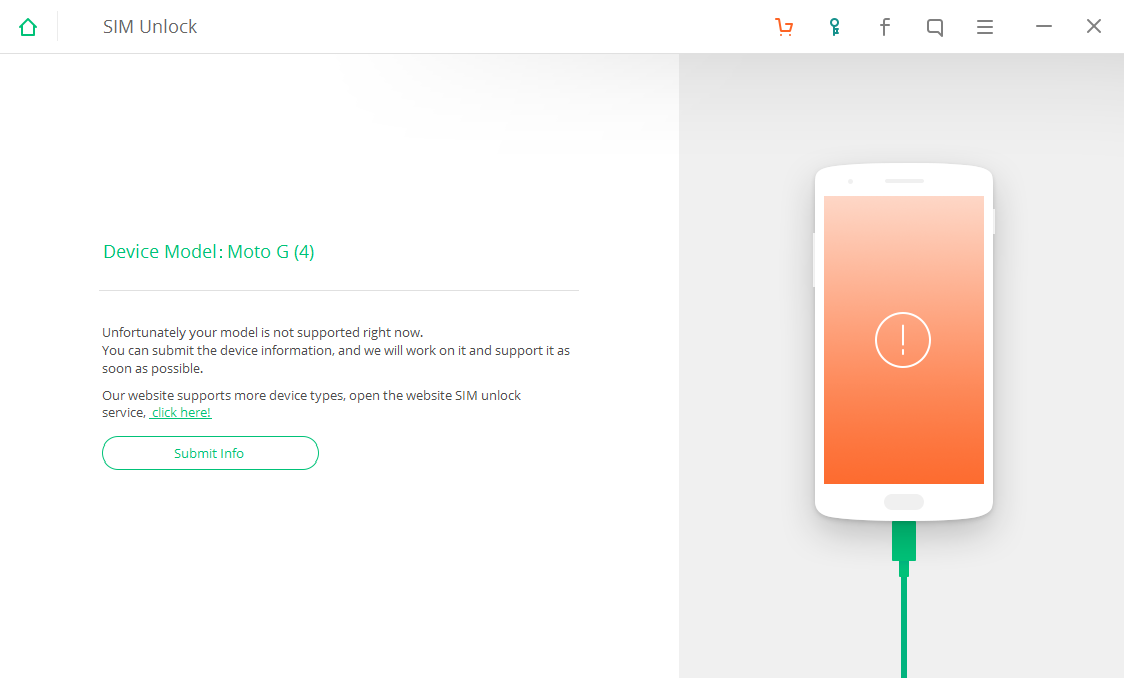 The SIM cards also come equipped with a locking functionality, protected using a numeric password, known PUK (Pin Unlock Key). The software claims that it can remove the lock protection from a SIM card.
Data Eraser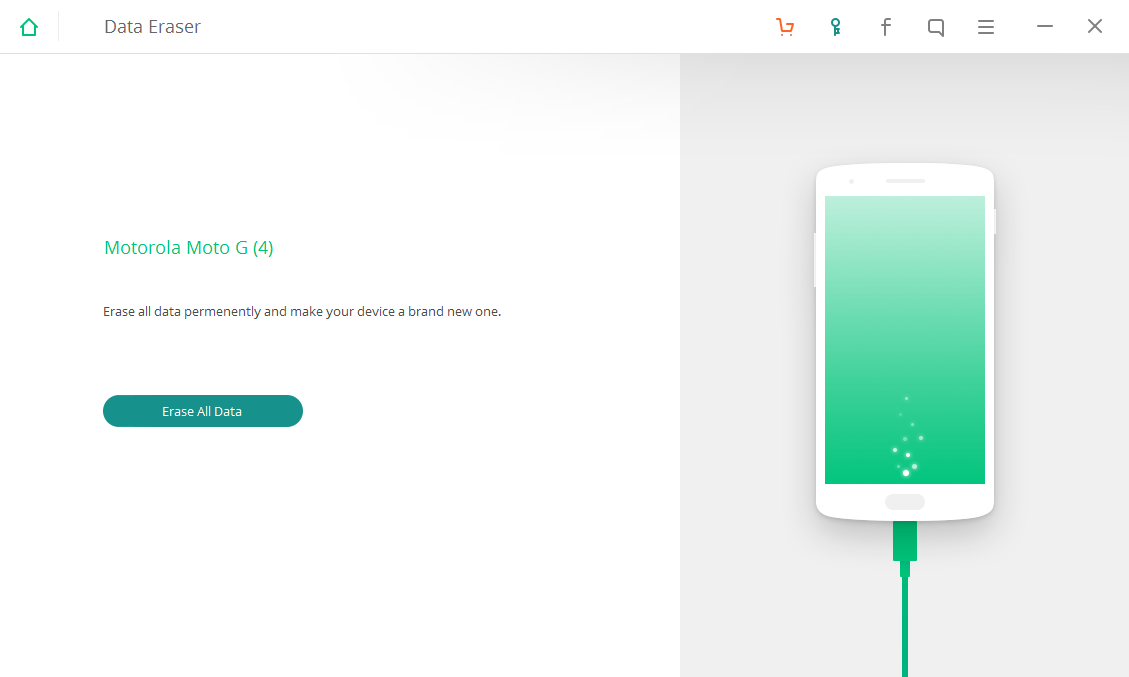 The data eraser feature can be useful when you're planning to sell your Android device or giving it to some other person. It's wise to remove even the smallest trace of your personal data on the phone.
iSkysoft Toolbox for Android – Pros
The screen recorder feature is a steal.
The interface is quite easy to use.
The size of the setup file is very small.
The products that are a part of the toolbox can be purchased individually.
Available for Windows and MacOS.
iSkysoft Toolbox for Android – Cons
The SIM unlock tool doesn't support all Android devices.
The Lock Removal tool is only compatible with Samsung devices.
It requires root permission to backup Android apps.
Winding Up
In a nutshell, one can give a try to the iSkysoft Toolbox for Android devices. Other than various data backup, recovery, and eraser tools, it helps its users with other handy utilities like Screen Recorder, SIM lock removal tool, etc. The rooting tool allows users to gain elevated privileges on the device which allows them to remove bloatware and install custom ROMs. It might have a few cons, but it efficiently does the job it's assigned to do, i.e. recovering data from Android devices.
You can buy iSkysoft Toolbox for Android at the cost of $119 using this link. It comes with a lifetime license for up to 5 Android devices. You also buy individual tools as per your requirement.
Disclaimer: This post is sponsored by iSkysoft.
Did you find this helpful? Drop your thoughts and feedback.