If you want to organize your digital life in a better way, using Tab Groups in Google Chrome could be a part of your checklist.
Many of us have the habit of shuffling through hundreds of tabs almost every day. But with time, it starts to take a toll on our computing resources.
Even if you have an extremely powerful machine, dealing with so many tabs is a tedious task in itself. We even try sorting them across different browser windows but the clutter only increases as we visit more and more websites.
Anyway, if you want to try out the new Chrome tab manager feature, here's how you can do it.
How to use Tab Groups in Google Chrome?
As the Tab Groups feature for Chrome is currently under development, it can be turned on by enabling a Chrome flag.
Here, you should download the Chrome Canary on your computer as this Chrome tab manager feature works more efficiently on it. You can enable it on the regular Chrome as well but it lacks features and doesn't work fine.
If you don't know what's Chrome Canary, you can read the difference here.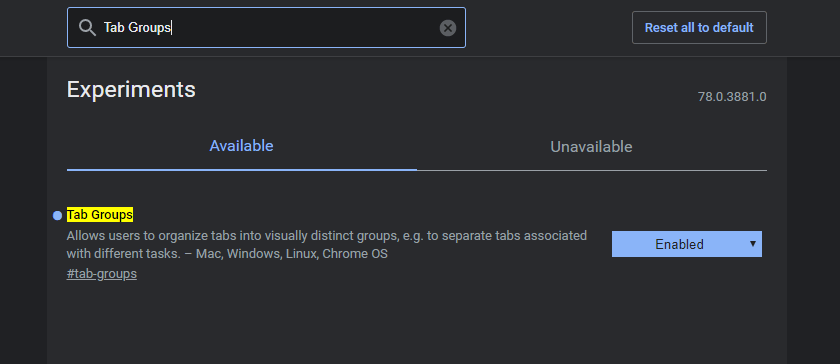 So, on your Chrome Canary browser, go to Chrome://flags > Search for Tab Groups > Enable the flag named "Tab Groups" and relaunch Google Chrome.

After that, right-click any tab in your browser and click on "Add to new group". You can keep adding more tabs to the same group if you want or create a new one.
You can also click on the Tab Groups option to change its name or color to your liking. For example, you can assign different colors for different category of websites, like red for social media.

One interesting thing I found is when you open link in a new tab on a website, it automatically creates a new group for those tabs.
Still, this tab management feature needs a lot of improvement. It can't resume the tab groups in case you close the browser and open it again after some time.
I couldn't find a way to close a tab group at once. Also, I wasn't able to merge multiple tabs into one which reduces the overall clutter in the browser window.
Other Chrome tab manager extensions
If you can't wait until Google makes the tab grouping feature stable, there are some great third-party extensions available which can group tabs in your browser.
For example, you can try out OneTab which groups multiple tabs and saves them for later use. And if you want a good looking Chrome tab manager then Toby for Chrome is a good choice that you can consider.