If we talk about the streaming services market in India, the last couple of years have witnessed a massive explosion in the number of video streaming services, both domestic and from overseas.
Earlier, YouTube was the only name Indians could think when they wanted to watch videos online. Otherwise, users would visit torrent sites mostly to watch pirated movies, TV shows, etc. Other than the content being available for free, another reason why people consume copyrighted content is its unavailability in their region.
Over time, dedicated players came in but failed to mark their presence. The arrival of video streaming behemoths like Netflix and Amazon Prime Video in the Indian market was the real game changer.
These streaming services introduced a new hobby into the lives of the television-inclined Indian audience: binge watching. Now, people can be seen glued to their smartphones and other devices, determined to finish their favorite movies series or TV show season as fast as they can.
So, in the best interest of Indian cord cutters, I'd like to tell you about some of the best streaming sites currently available in India.
Best Streaming Services In India – 8 Choices To Consider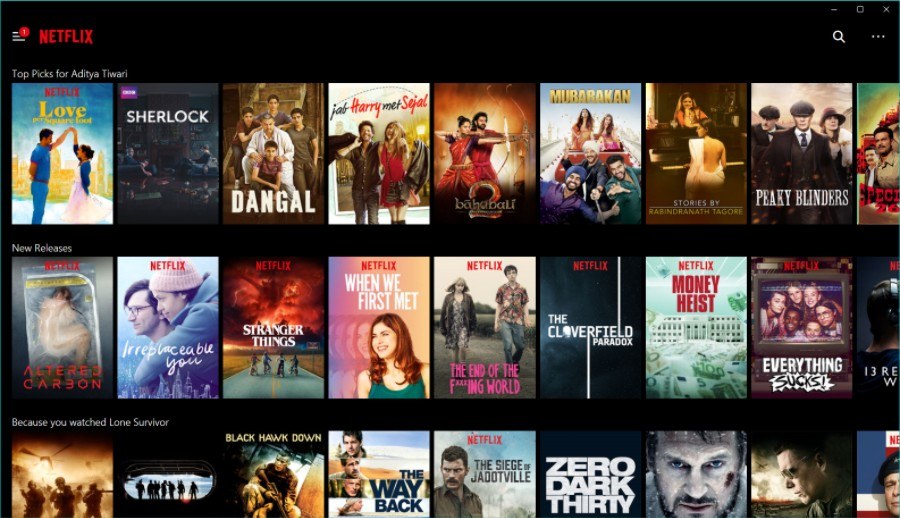 Platforms: Web, Windows 10 (UWP), Android, iOS, Xbox, PlayStation, etc.
Ideal for: Streaming TV shows and Netflix Originals (of course).
Netflix initially started out as a DVD rental service in the US and became the number one player in the digital video streaming space. It is undeniably a strong contender for the title of the best streaming service in India if the content is taken into consideration.
The USP of Netflix is the abundance and quality of original TV shows that have helped it jump in the success charts. Netflix Originals are well-liked by people. It was the first video streaming service which started uploading all the episodes in one go, eliminating the wait time that many users may not want to waste. Also, Netflix provides excellent cross-device experience. You pause a title on one device and continue it on other without any hassle.
Netflix has different subscription plans that differ in video streaming quality and the number of simultaneous screens allowed. It also comes with many categories and content filters that help users quickly narrow down their search results. Its extensive catalog is complemented by the likes of 4K video streaming and HDR support that the streaming giant has recently introduced for devices.
One thing that might annoy users is that the video streaming quality can't be changed from the video player itself. The option is buried deep in the account settings. Netflix is quite good at optimizing quality. It also allows users to make the titles offline for later viewing and pump videos to big screens via Chromecast.
It's no doubt that the streaming service is costlier than all of its competitors. What Netflix offers in India is a lot less than their catalog served in the US, UK, etc. Also, it needs to provides more India-oriented content. But personally speaking, what it offers can easily satisfy users.
Pricing:
Basic: INR 500/mo (1 device, SD available)
Standard: INR 650/mo (2 devices, HD available)
Premium: INR 800/mo (4 devices, 4K UHD available)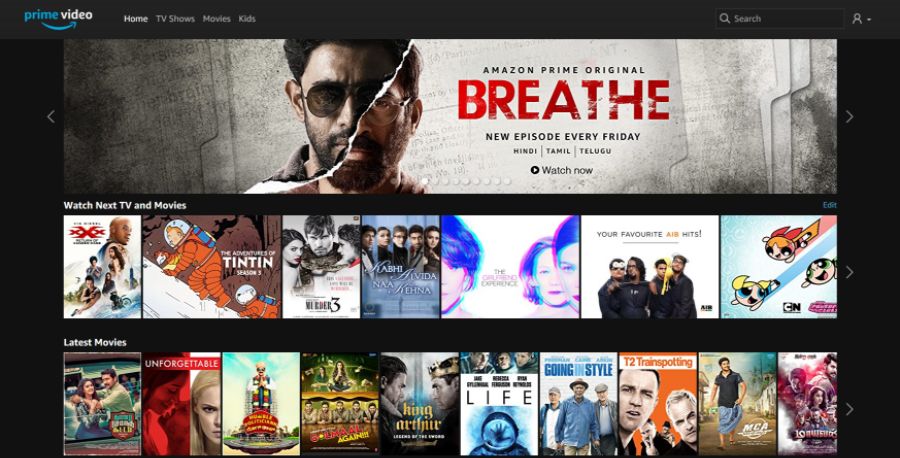 Platforms: Web, Android, iOS, Xbox, PlayStation, Fire TV, etc.
Ideal for: Streaming movies and Indian stand-up shows.
Prime Video, the streaming service by the e-commerce giant Amazon is another talked about name among people who want Netflix alternatives in India. Apart from its content, the reason why users should go for Prime Video is its price. It's not even a bit surprising that Prime Video has surpassed Netflix in the number of subscribers, making it a true Netflix rival.
The service is bundled with the Prime subscription which also provides free one-day and two-day delivery options for orders from Amazon.
The nature of the content on Prime Video is quite diverse with movies and TV shows in English as well as in different regional Indian languages. Since the last year, more and more India-based content has started to populate, with some movies ending up on Prime Video almost two to three weeks after their release.
X-ray is a great feature that many Prime Video subscribers would enjoy. While a title is playing, it shows information such as the name of the actors or song featured in a particular scene.
However, one of the things that annoyed me is the sorting and filtering options provided by the streaming service. Unless you know the exact name of the title, it's pretty hard to find a particular one. Because they can't be arranged in the order of release date. However, a good thing is Prime Video separates regional Indian in different language categories. The same is a no-show on Netflix.
Prime Video lets user's download movies and TV shows for offline, and offers 4K UHD and HDR content on some devices. The lack of Chromecast support on Android and iOS apps could be a downside for some. Anyway, there are workarounds available. To watch titles on big screens, users can go for Amazon Fire TV, use Chromecast on a desktop, or mirror your Android phone. Don't forget to read some interesting Chromecast tricks.
Pricing: INR 999/year (Included with Prime)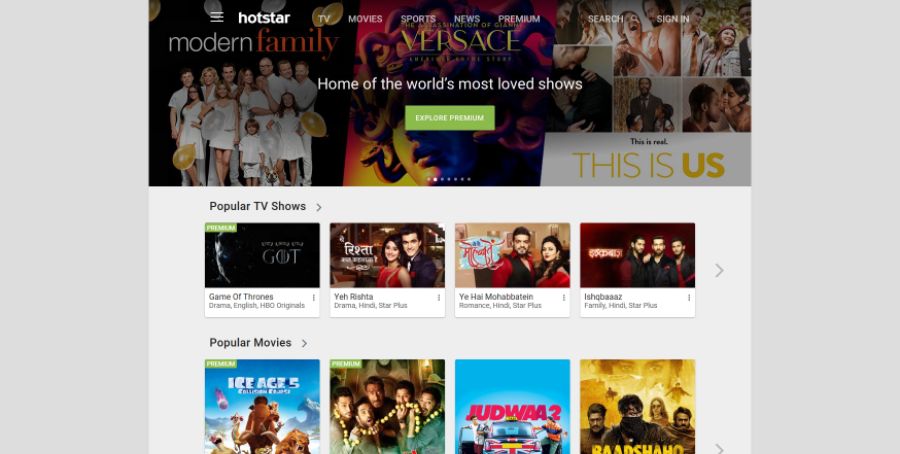 Platforms: Web, Android, iOS, etc.
Ideal for: Game of Thrones, streaming cricket matches, watch movies online, Indian daily soaps.
Owned by Star India, Hotstar is one of the best streaming sites in India that primarily features Bollywood movies and TV shows. But people also visit Hotstar to watch cricket matches online as the sports has wide-spread reach across the country.
If the number of active users is concerned, Hostar is biggest streaming service in India that has surpassed both Netflix and Prime Video. According to the figures released by Counterpoint in December 2017, Hotstar had around 75 million active users while Netflix bagged 5 million and Prime Video had 11 million users.
The video streaming service offers something for users loving International content. Hotstar includes great titles from HBO, Showtime, ABC, etc. and also streams live sports and news channels.
It's frequented by many people because an enormous load of content is available for free without the users being forced to create an account. But be prepared to get bombarded with advertisements in the middle of shows. Also, the fact that Hotstar's web player is based on Adobe Flash might spark security concerns among some users.
Hotstar's premium subscription acts as a low-cost wall behind most of the international content and various movies.
Pricing:
Free: Most of the international content not included.
Premium: 199/mo, First month free.
Offer: INR 1200 (for 12 months)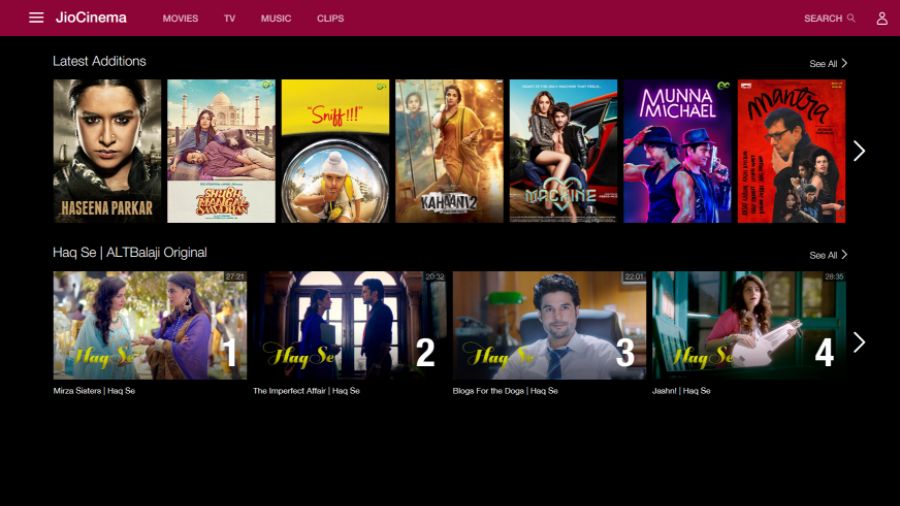 Platforms: Web, Android, iOS, etc.
Ideal for: Streaming movies and music videos.
As you might have already guessed, JioCinema is a streaming service run by the young mobile carrier Jio which revolutionized the entire nation's internet in just one year.
Jio Cinema was first introduced as a smartphone-only video streaming app for Android and iOS. Later, it was brought to desktops via web browsers. It can be used by Jio subscribers without paying any additional cost.
The content offered by the streaming service is mostly intended for the Indian audience but also includes English-language movies and TV shows. An advantage is the presence of separate sections of high-quality music videos and clips.
The video quality of the content is optimized according to the network speed, but it would have been better if a dedicated option was present. On mobile devices, user's can make the movies offline to avoid network-related irruptions.
Pricing: Free (included with Jio mobile plan)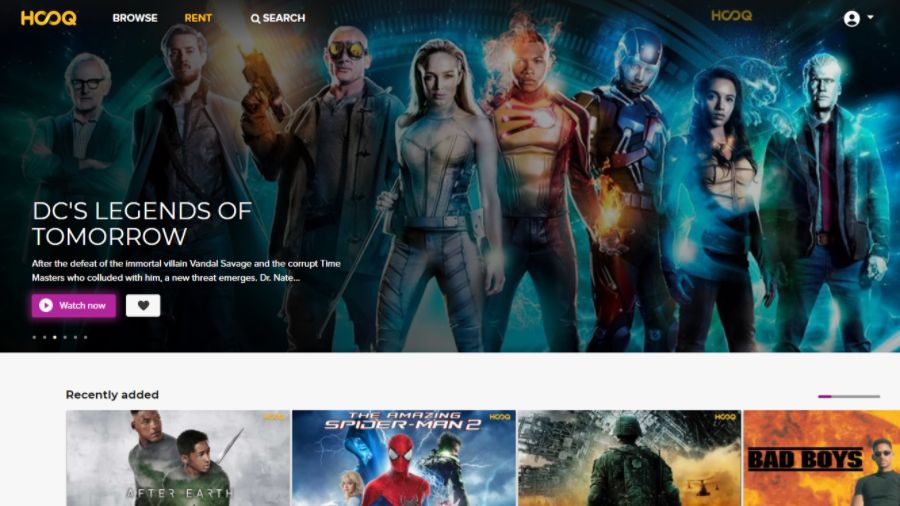 Platforms: Web, Android, iOS
Ideal for: Streaming Hollywood movies, DC Shows, movie rentals.
A lesser-known competitor in the race for the best streaming services is Hooq. In fact, it arrived in India somewhat earlier but couldn't land on the devices of the audience. Costly and limited internet in earlier times could be one of the prime reasons.
With a decent user interface, the tv show & movie streaming site provides access to over 10,000 titles. Hooq can be used on up to five devices with support for offline download.
If you move outside the world of Netflix and Amazon Prime Video, you'd realize other streaming services also pack some exclusive content that users crave. In the case of Hooq, there are renowned DC superhero TV shows like Arrow, The Flash, Legend's of Tomorrow, Supergirl, etc.
Apart from their regular subscription model, Hooq also offers a movie rental option for users to watch the titles they want. But it goes without saying that the latter is a costlier investment and requires an active subscription.
Pricing: INR 89/mo (Offer: INR 89 for first 3 months), INR 59 (Rental)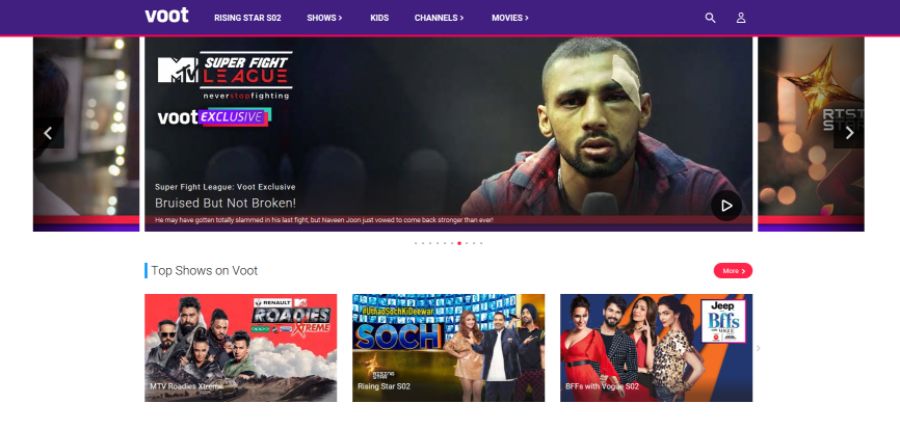 Platforms: Web, Android, iOS
Ideal for: Streaming Indian TV shows.
The streaming service owned by Viacom 18 provides online access to shows aired on their TV channels including Colors, MTV, Nickelodeon, etc. The catalog further expands to include numerous Indian movies. Voot has a dedicated kids section where it tries to maintain an air of nostalgia by offering shows like Powerpuff Girls, Mr. Bean, Pokemon, etc. It also provides its own set of web series under the brand name Voot Originals.
All the streaming content on Voot is available for free. Similar to Hotstar, it doesn't ask users to create an account to watch videos. However, a user account is required for a few things such as favorites, etc.
Overall, Voot provides a pretty decent video streaming experience for the Indian population speaking different languages. The service offers Chromecast support and multi-lingual audio where available but lacks subtitle support.
Pricing: Free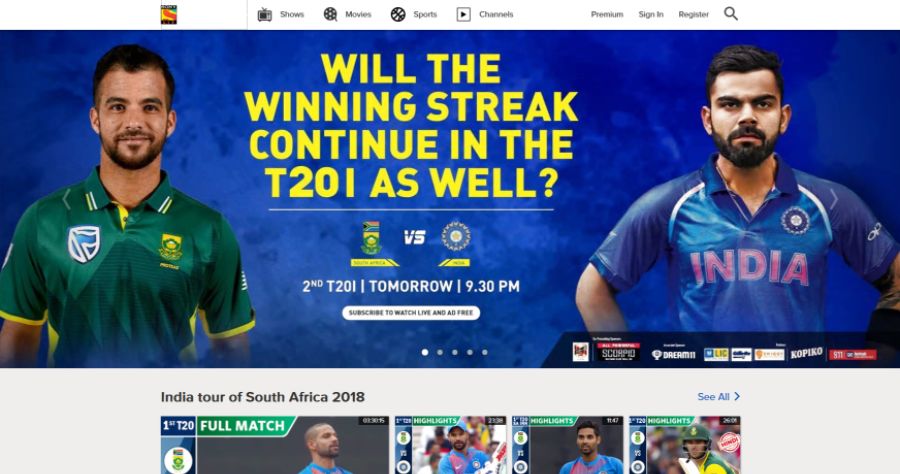 Platform: Web, Android, iOS
Ideal for: Streaming free movies and TV shows, streaming live cricket matches.
The TV shows aired on various channels run by Sony Pictures Networks India find a place on the streaming service known as SonyLiv. It also features sports content, many Indian-language movies, and international movies in the streaming catalog.
However, access to most of the Hindi and English-language movies is protected by Sony Liv's premium subscription that makes the service ad-free. The subscription also provides access to live TV streaming of channels that are part of Sony's network.
Regarding user experience, the service doesn't stand in front of big names like Netflix, but it's a good deal if one wants to stick to the free content offered by a particular network.
Pricing: Free, INR 120 for 3 months, INR 399 for 1 year.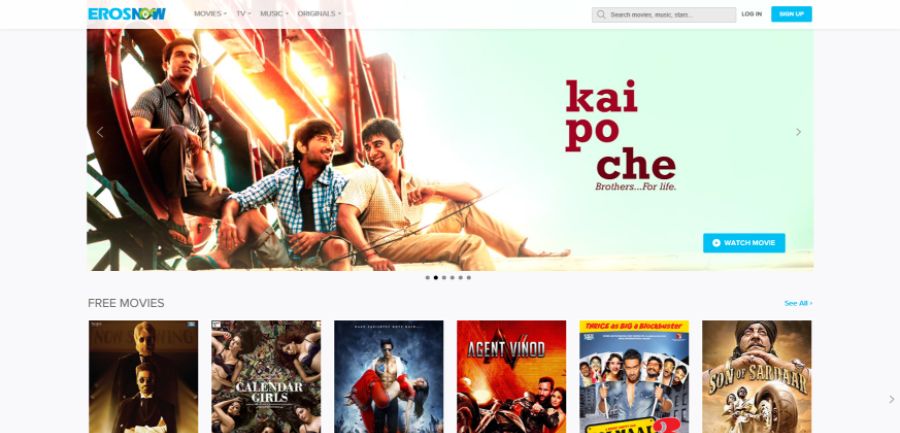 Platforms: Web, Android, iOS
Ideal for: Streaming movies and music videos.
Started in 2004, probably, it is the oldest on-demand video streaming service that exists in India. Eros Now opens the door to a number of movies for which it's parent Eros International owns the rights.
Its catalog provides free access to tons of songs, music videos, and Eros Now original shows. The movie section offers many free movies but viewing them requires a user account which comes at no cost but many features and content is behind a paywall as well.
Just like other India-based video streaming services, Eros Now's web player enables users to enjoy a good viewing experience if not the best. It can adjust the video quality automatically but gives users multiple options as well.
Pricing:
Free: Unlimited songs & music videos.
Eros Now Plus: INR 49/mo (includes unlimited movie streaming)
Eros Now Premium: INR 99/mo (includes offline playback of content)
The best streaming service in India – What should you choose?
The video streaming service market in India is still maturing. It won't be a wise decision to call out a specific service as the best streaming service. Mostly, because, each one of them has its own pros and cons.
Netflix takes a clear lead with their quality content catalog and top-of-the-line user experience. But in reality, Prime Video has managed to steal the show with their growing catalog of India content and highly competitive pricing.
In the future, it may compel Netflix to bring down their plans to what many can afford. Becuase being an Indian viewer with a TV service already subscribed, it's pretty hard to give 500 bucks to a streaming service every month.
But competitive pricing doesn't appear to be the exclusive recipe for success here. Otherwise, Hooq with its superhero power would have made it a lot further.
Hotstar seems to be a considerable choice among the list because of the content it offers at affordable prices. Its a must have for GOT fans living in India as the service provides a legal means to watch the latest episodes.
For users on Jio's telecom network, it's like a no-brainer to go for Jio Cinema if one doesn't want to spend cash on a streaming service.
Talking about other India-based streaming services, there isn't much to think as they already offer access to most of their walled garden catalog for free. So, users can take it or leave it anytime they want to watch movies online or stream live TV channels.