Nothing can replicate the touch of paintbrushes on canvas, but we cannot deny that we live in an era where digital art is highly valued. As evident from the popularity of posters and infographics, digital art is in demand these days. Apart from being a work of art, they also help in acquiring information visually. There are many drawing apps for Android that can help you sketch your ideas and boost your creativity.
If you own a widescreen Android device with stylus support (your fingers will also do OK), then these apps can prove to be a lot more powerful. Whether you are a professional or budding artist, take a look at this list of best Android art apps and choose the one you find best.
Note: This list isn't in order of preference. You are advised to choose any of these that suit your needs.
8 Best Android Drawing Apps List (2022)
Each app on this list is very different, whether in terms of useability or features. So based on your needs, choose the best drawing app for Android from this list. These apps are best used on a tablet with a stylus. If you don't have one, you can easily buy one online at a low price. Look at the end of the list to see our other recommendations.
1. Adobe Illustrator Draw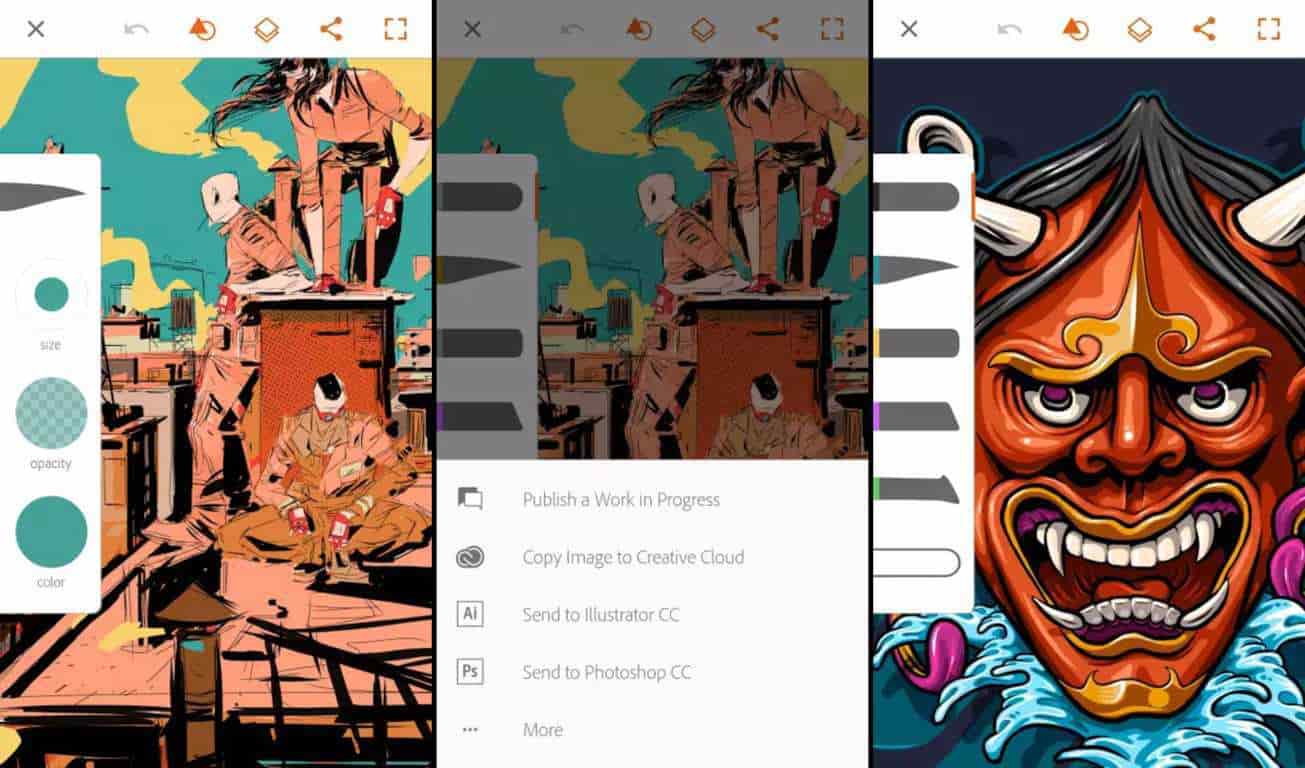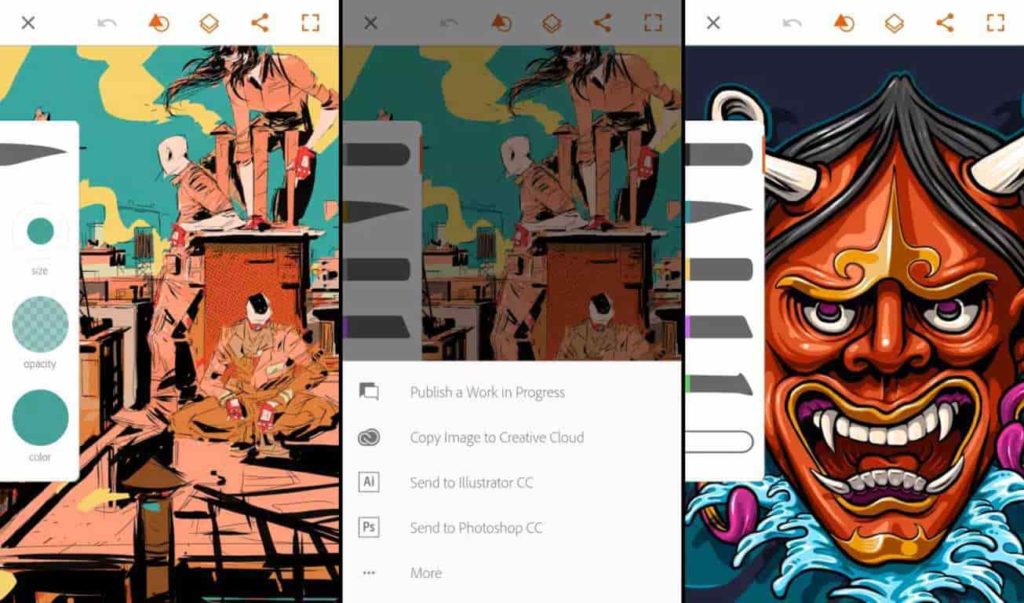 Price: Free / Up to $53.99 per month
Adobe Illustrator Draw is an award-winning drawing app for Android from Adobe. It provides a variety of drawing features along with a wide range of necessary tools. You can get several customizable brushes, five different pen tips, multiple images, drawing layers, undo/redo buttons, etc.
When you're done, you can post your work on social networks and get feedback from other app users. You can also import designs from Adobe Capture CC or export your drawings to Illustrator CC on the desktop.
The app is free and contains no ads, making it a worthy contender for the best drawing apps for Android. You can get an optional Cloud subscription for additional features.
2. SketchBook by Autodesk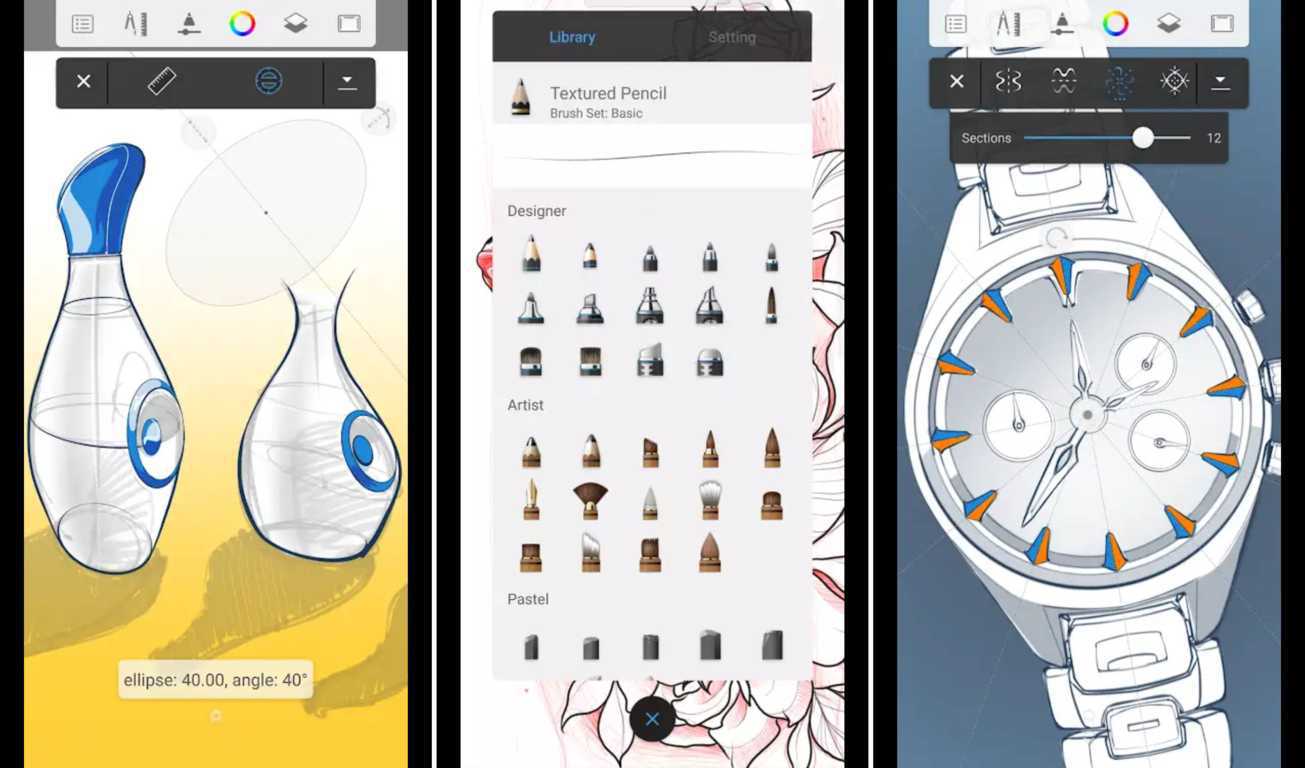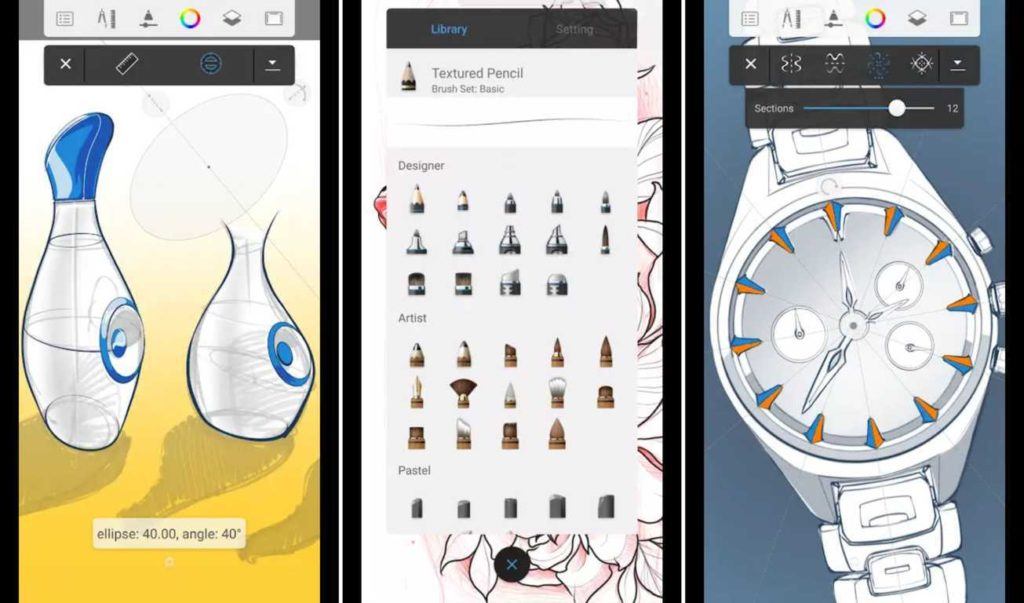 Price: Free
SketchBook is an award-winning Android drawing app that is relevant to both the newbies and creative professionals. It comes with ten customizable brushes along with six blending modes and up to three different layers.
You can also open and export PSD files while retaining layers and blending modes. You also get the option for infinite undo. The free version is ad-supported and covers all the essential features.
There is a pro version as well that is available as an in-app purchase and offers over 160 customizable brushes with dozens of other advanced features. Moreover, by upgrading to the pro version, you get a professional-level digital sketching tool perfect for serious artists.
3. ibis Paint X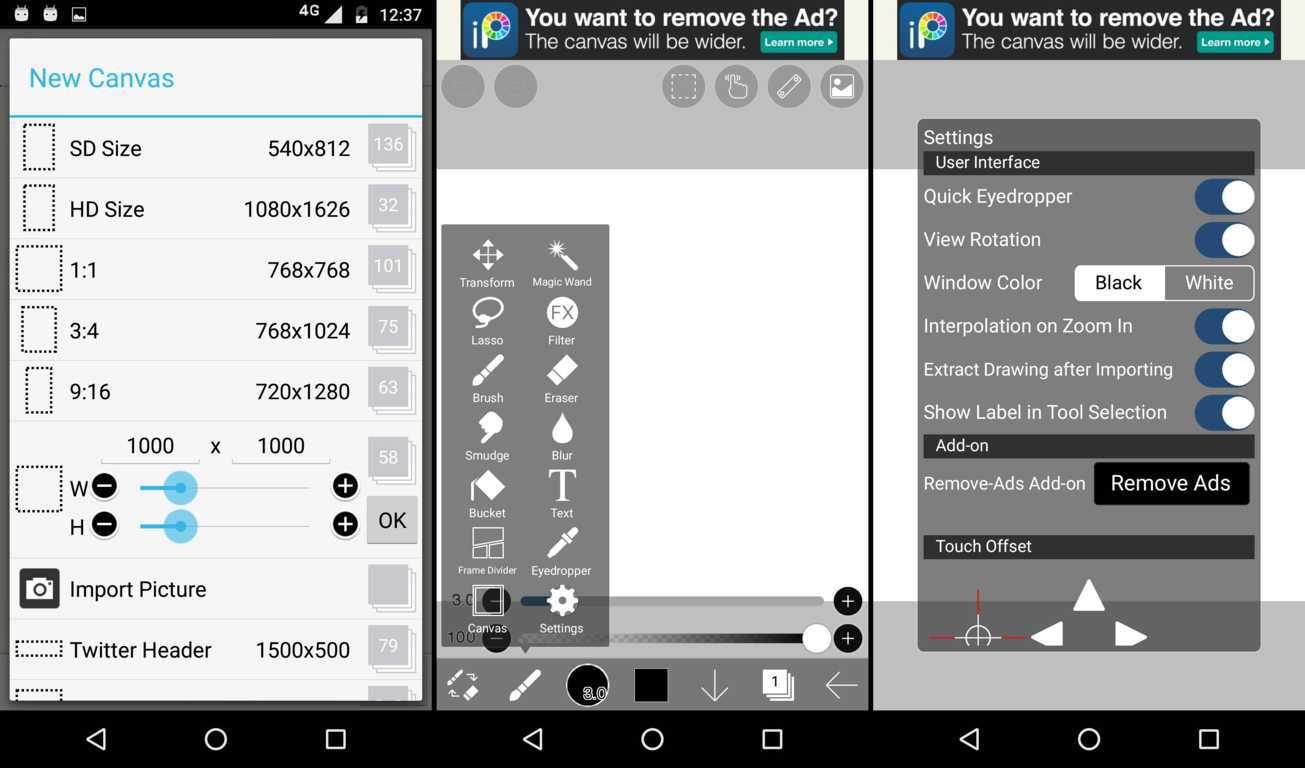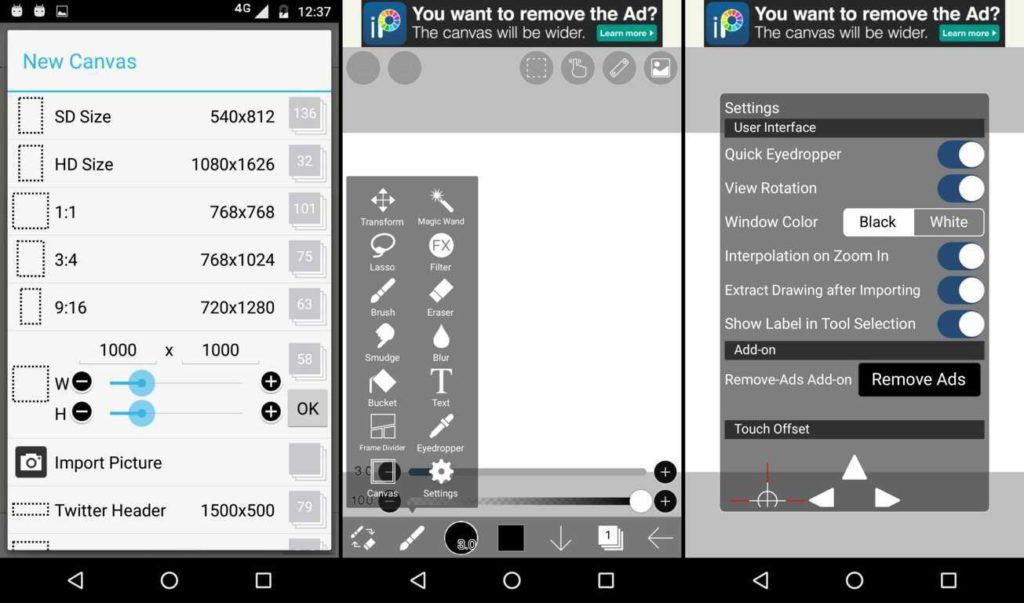 Price: Free / $4.99
Ibis Paint comes with a lot of fun features. One of its distinctive features is that it gives you the ability to record your screen while drawing, and you can also publish the drawing process.
Besides, it covers 142 different brushes, including dip pens, felt tip pens, digital pens, airbrushes, etc. Also, you can set various brush parameters, layer functions, area selection functions, etc.
The free version of this art app is available in the Play Store and contains ads. It also has a paid version that is available as an in-app purchase.
4. PaperColor (Formerly PaperDraw)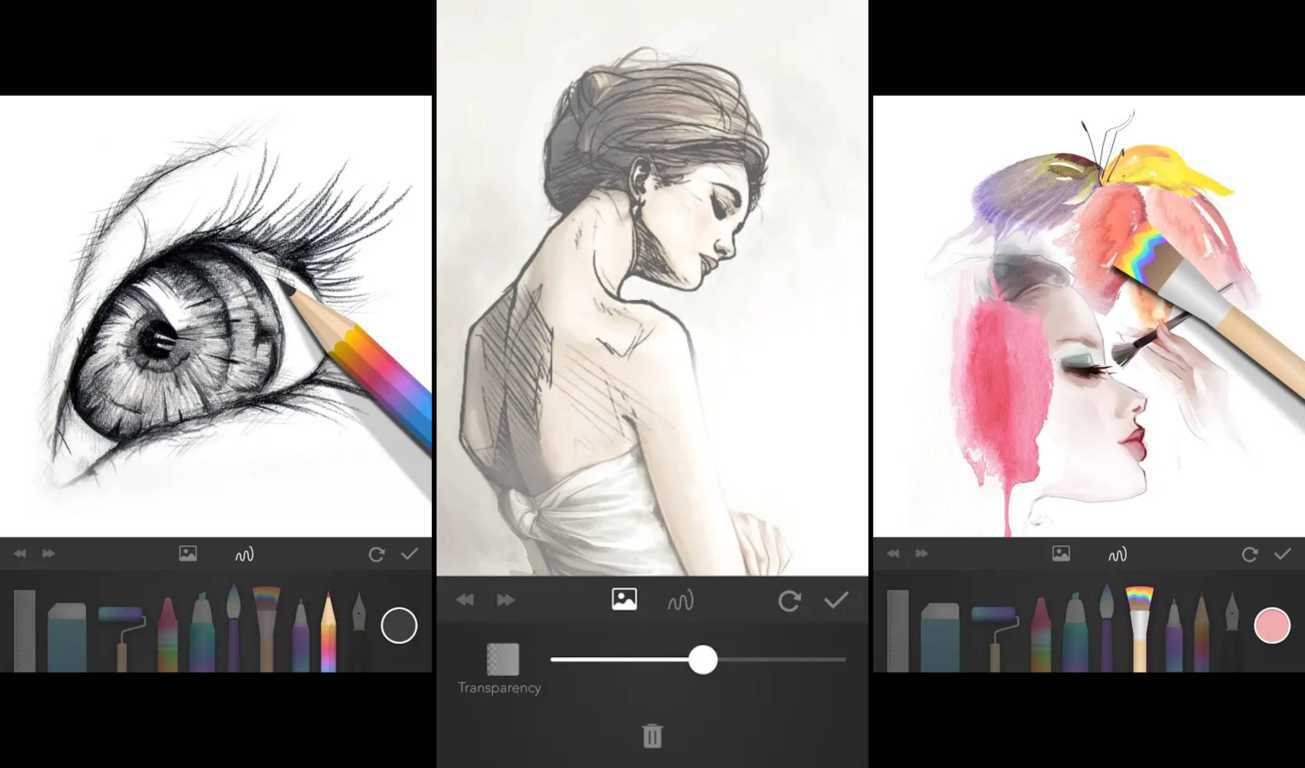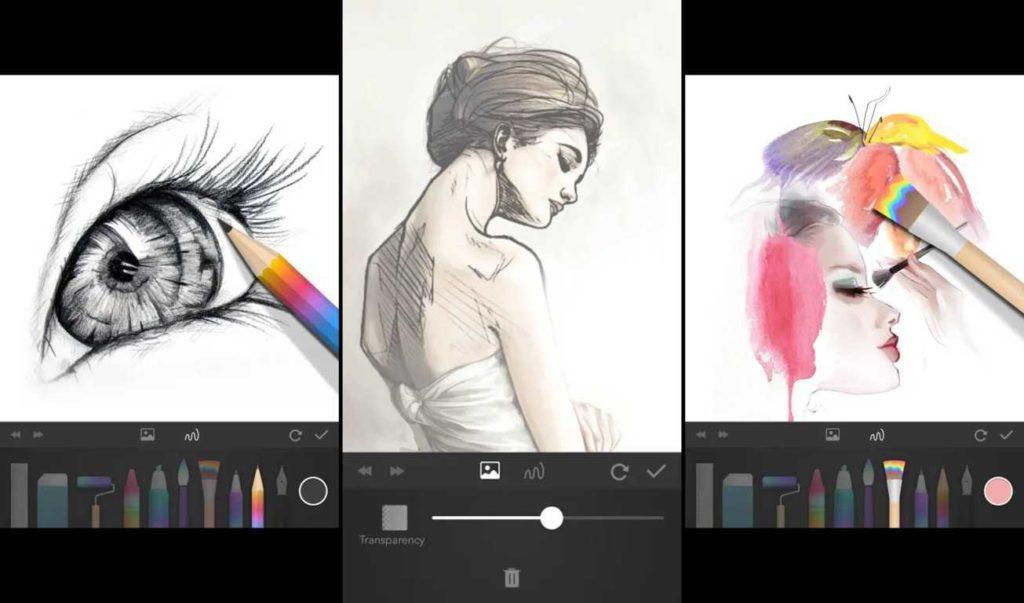 Price: Free / $4.99
PaperColor aims to imitate real-life drawing experience as closely as it can. It offers the necessary features that include different brush types, rulers, erasers, etc.
It allows you to import a picture as the base map and set it to transparent mode. Then you can trace the original image and draw above it. A base map helps you to learn drawing in a straightaway.
Moreover, other features include the ability to add text, custom cover, graphics tools, etc. It is one of the best Android art apps that are worth trying for budding artists.
The app is free with no ads and has some in-app purchases.
5. MediBang Paint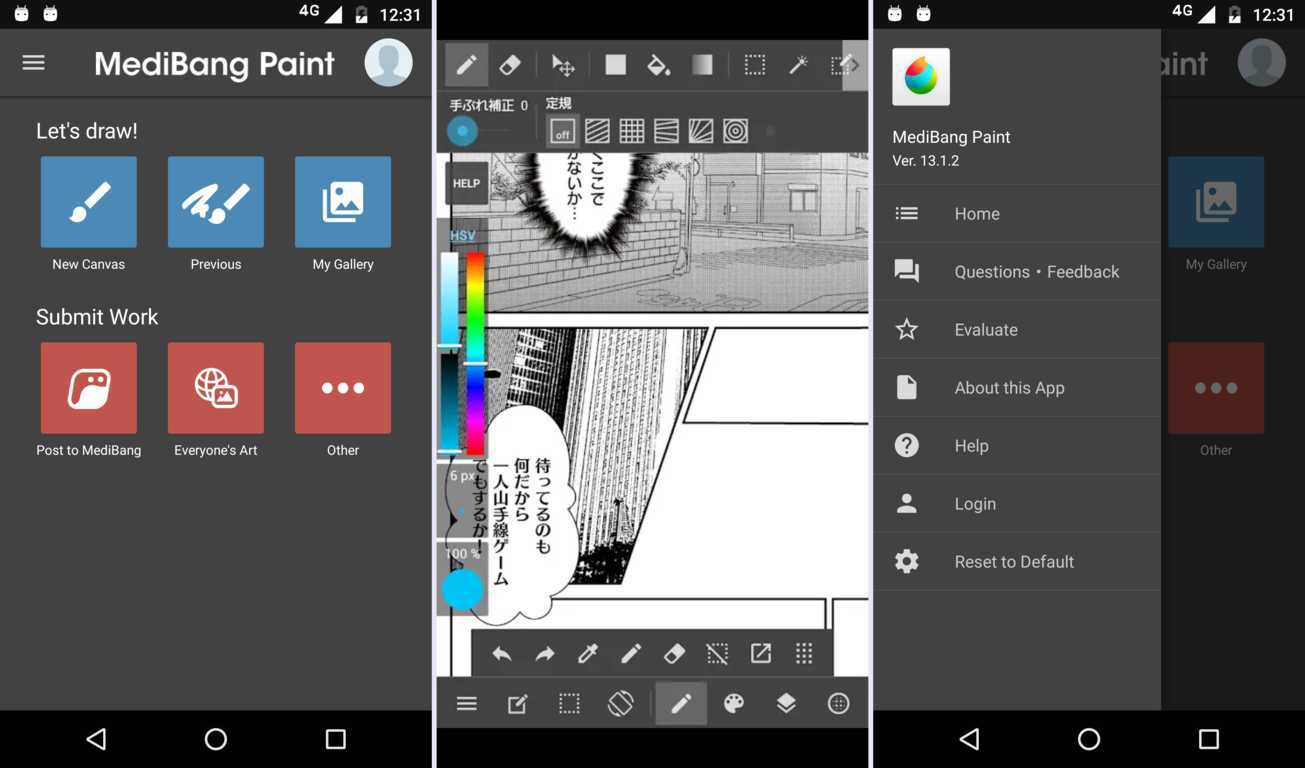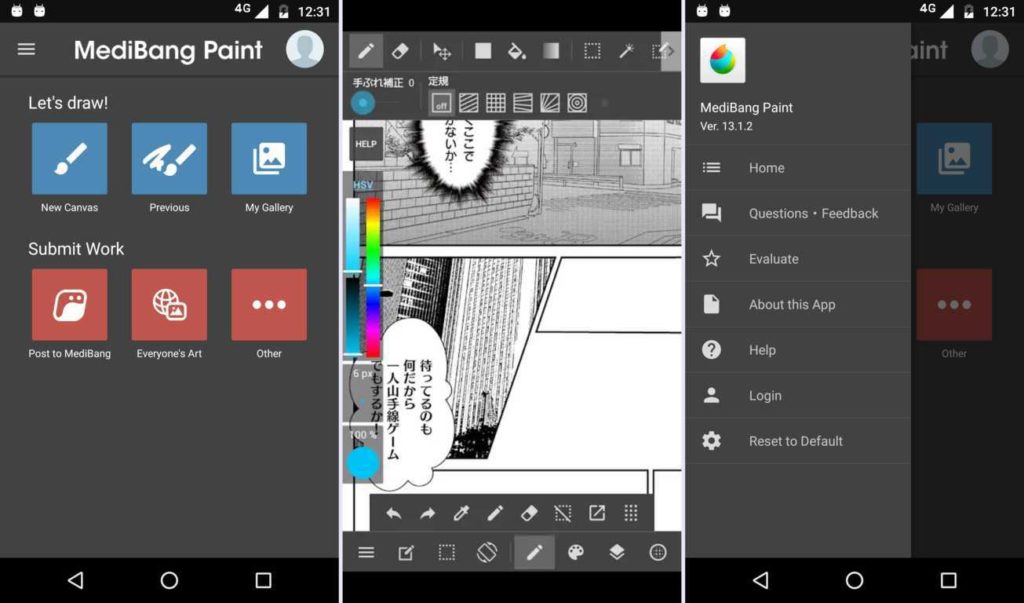 Price: Free
MadiBang Paint is a lightweight digital painting and comic creation application that is excellent for comic book artists. It has cross-platform support and is available for mobile, Mac, and Windows.
It includes over 100 free brushes, various tones, textures, backgrounds, and comic creation tools. You can get access to cloud storage and efficiently manage, backup, and share your work.
All the features of the app are available for free with no in-app purchases. It is free to download and contains ads.
6. ArtFlow – Android Drawing App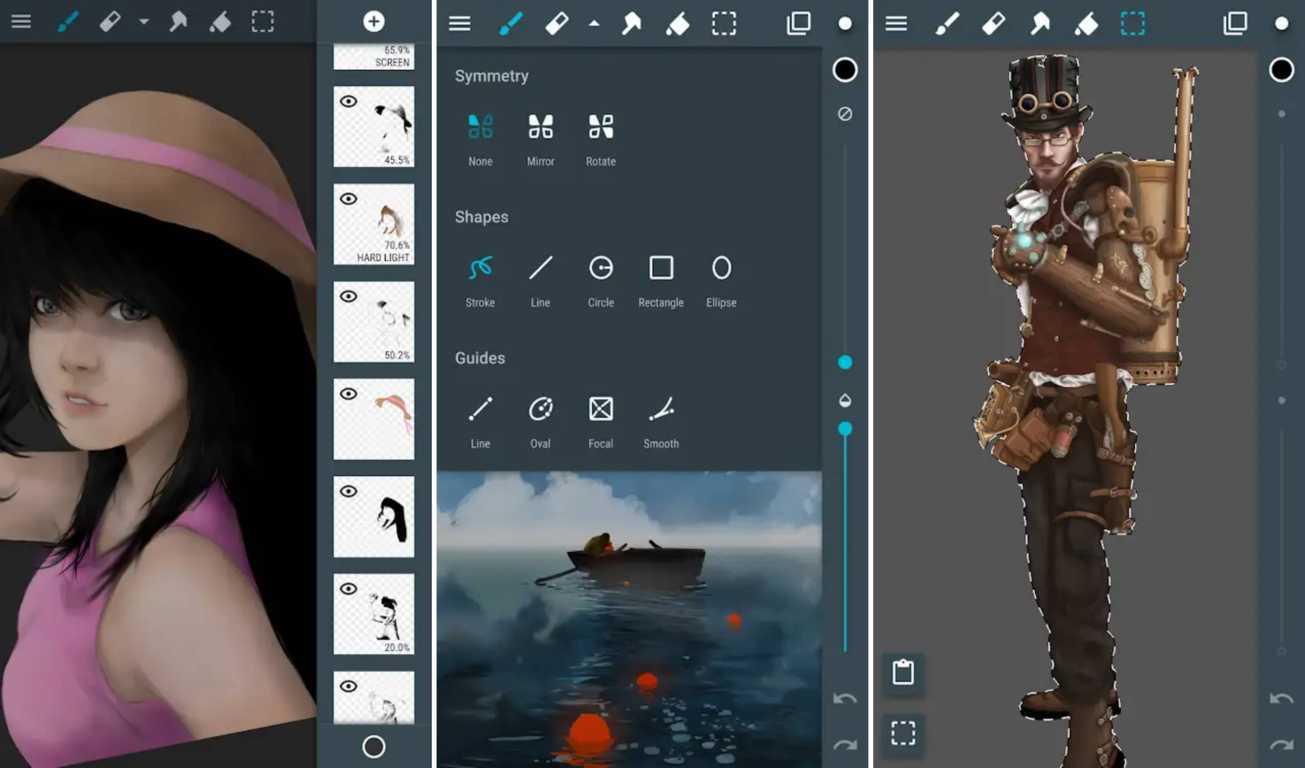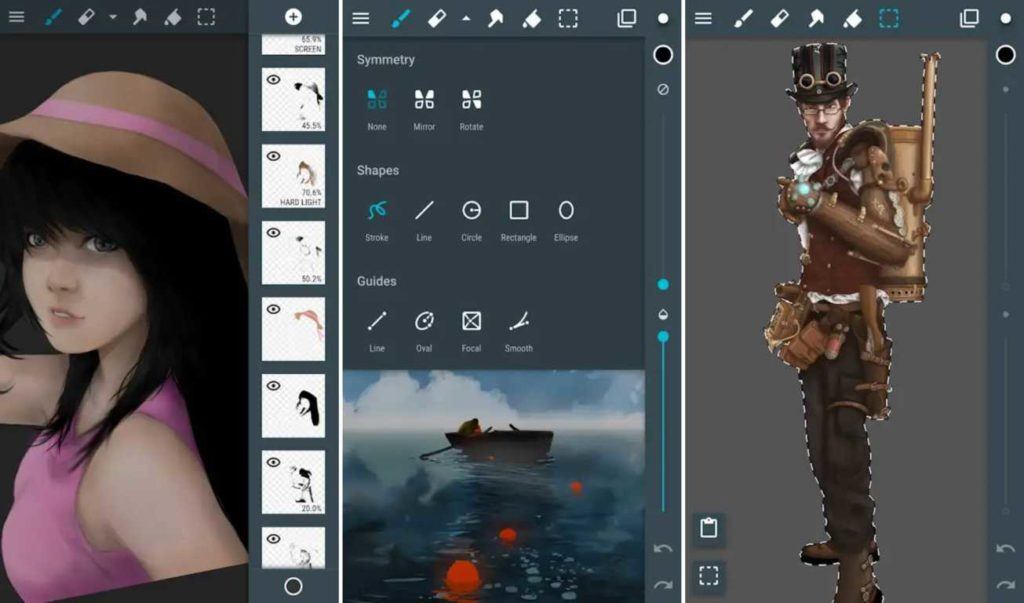 Price: Free / $2.99-$4.99
ArtFlow is an excellent Android drawing app that is suitable for both kids and adults. It comes with more than 70 brushes and tools, includes color adjustments, undo and redo buttons, etc. Also, this android drawing app offers up to 16 layers with 11 different blending modes.
You can import images from the gallery or a camera and export your drawings to PSD, PNG, or JPEG files. It has an intuitive and user-friendly interface. The app aims to replace your physical sketchpad and become a universal Android sketch app.
7. Infinite Painter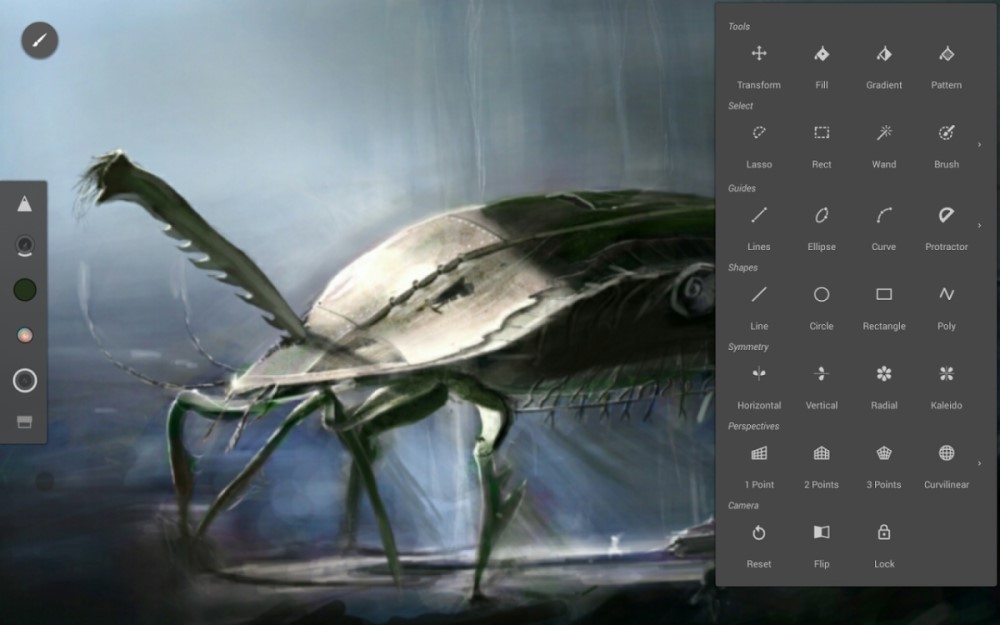 Price: Free / $1.99 – $9.99
Infinite Painter might not be as famous as the other entries on this list, but it is not a pushover either. It features over 160-plus brushes, unlimited layer support, paper textures, various transformation tools, perspective aids, color blending, pattern and gradient tools, and more.
Users can even make their custom brushes if they want. The app can save your work in many different formats, including PSD, PNG, or JPG. With Infinite layer support, artists can even create as many layers as possible with Photoshop blend modes, perspective guides, selection masks, and clipping masks.
8. Concepts – Android Drawing App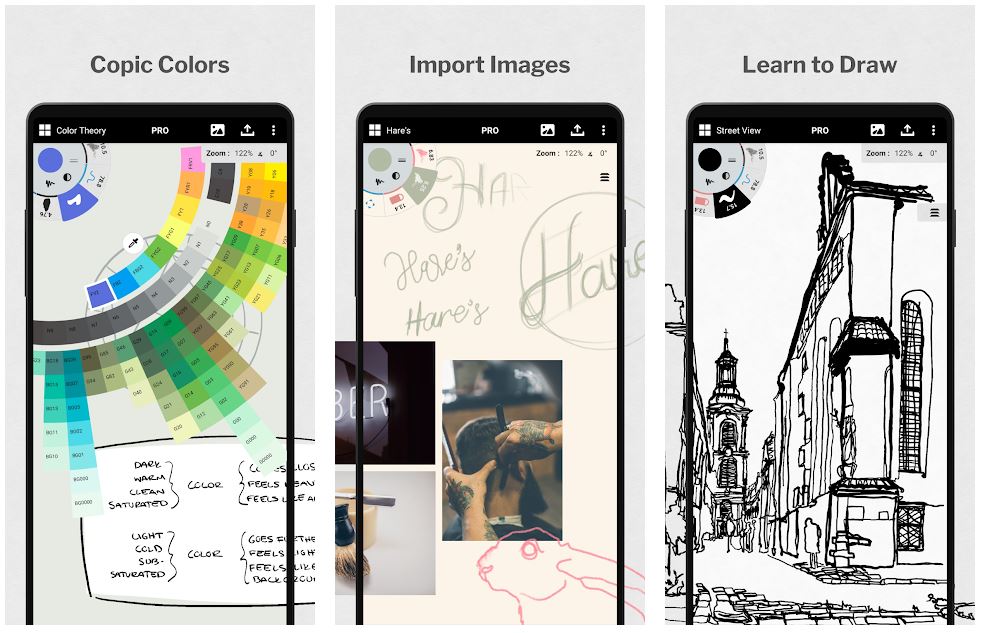 Price: Free / $1.99 – $29.99
Concepts is an excellent vector-based drawing app. It is geared toward more of an advanced user with its variety of tools. Even the free version of the app comes with five-layer support, an infinite canvas, vector brush tools, and support for various Bluetooth active styli from Apple, Adonit, Fifty-Three, and more.
The app's pro version unlocks more advanced features and tools such as CAD-style tools, import and export options, transformation tools, and an object library. The app also lets you customize everything, including your canvas, tools, gestures, presets, etc.
9. Picsart Color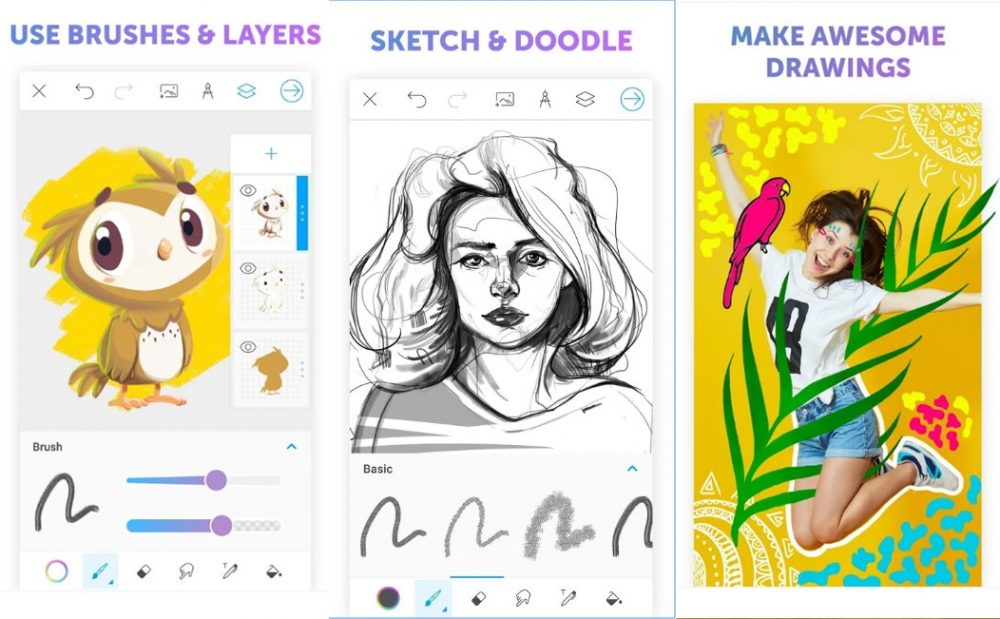 Price: Free / $3.99 – $19.99
Picsart Color is one of the most popular drawing apps for Android that has over 50 million downloads. It brings a fun drawing and photo editing experience to anyone, regardless of their skills.
Along with multiple brushes, pens, and pencils, it offers several stickers to superimpose on your images. You can build advanced sketches with layers, zoom to paint fine details, and backup and sync your drawings to multiple devices. Moreover, this Android drawing app includes options for an eraser, ruler, background selector, undo/redo buttons, export or share images, etc.
It is free to download and contains ads & in-app purchases.
10. Sketch Master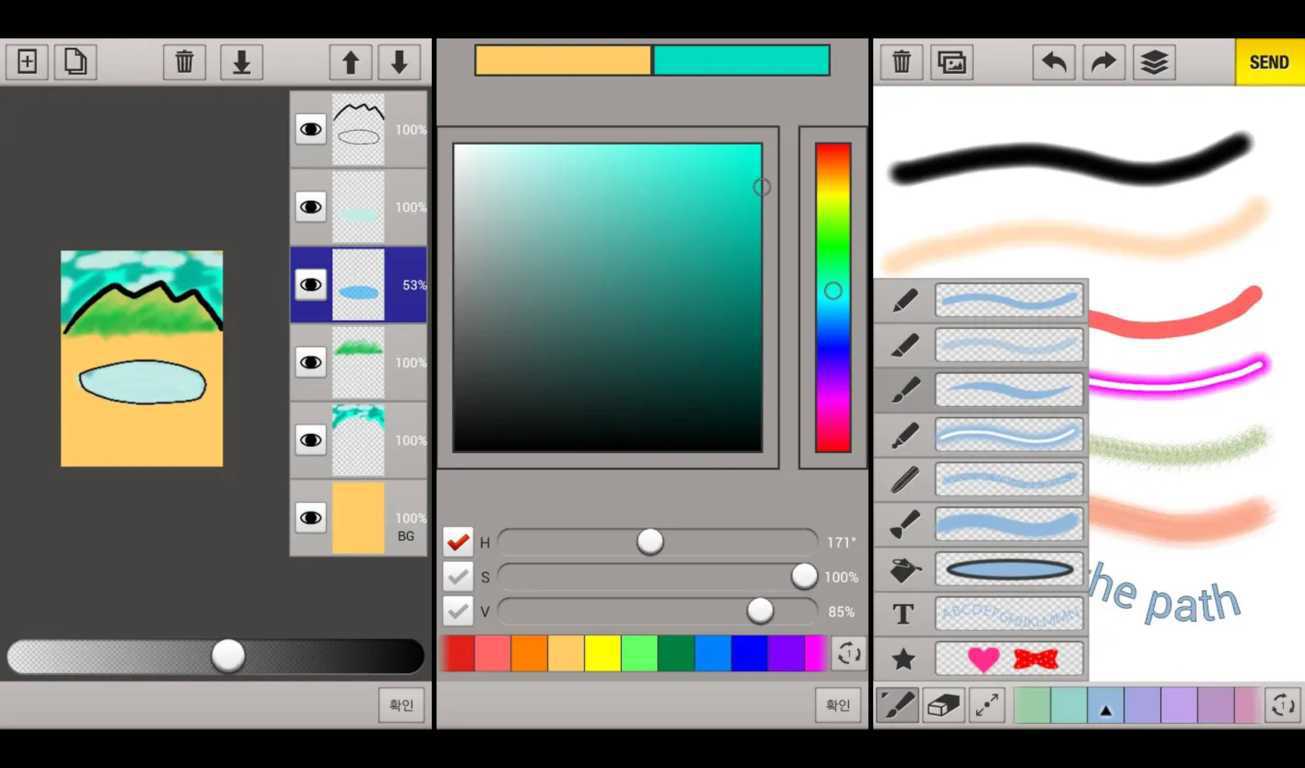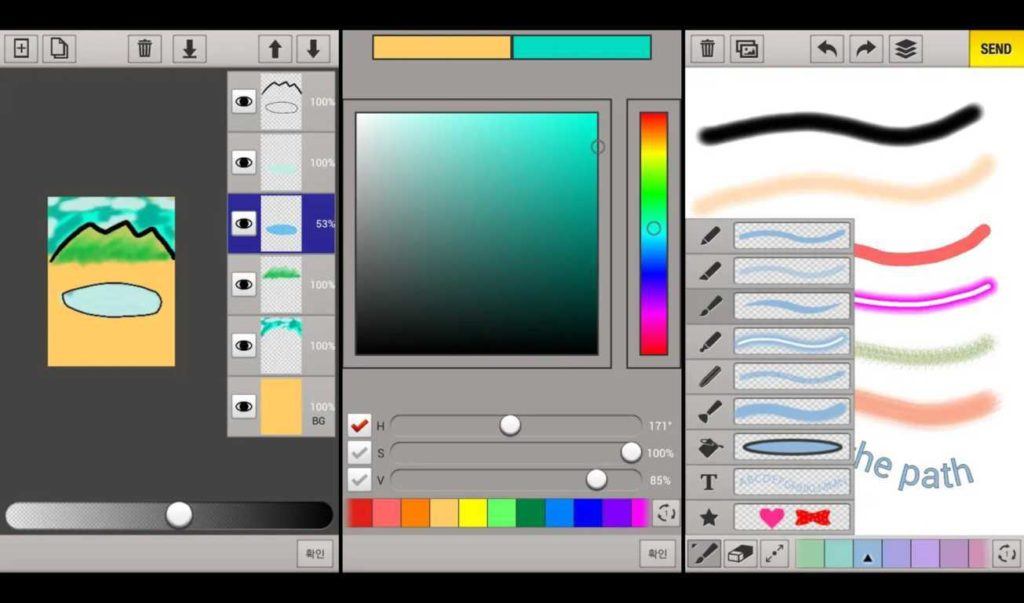 Price: Free
Sketch Master is a lightweight and simple drawing app for Android that is designed for every user. It offers several types of drawing tools and has a simple user interface.
You can get seven different brushes, three different layers, and up to 3000% zoom. Also, you can import images from the photo library and camera and save and share pictures on social networks.
The app offers all the features in the free version itself without any in-app purchases. Sketch Master is ad-supported.
Our Recommendations (Drawing apps for android)
There are many drawing apps out there that might suit your purposes better than those in this list. Adobe has quite a suite of apps for drawings, such as Adobe Illustrator Draw, Photoshop Sketch, and Fresco. If you have an iOS device you can check out our list of the best drawing apps for Android and iOS.
It might be better to look for a completely free app rather than one supported through ads. Even if the app gives you limited access, most users can make do without the advanced features.
Did this list help you to find the best Android drawing app in 2022? Share your reviews in the comments below.