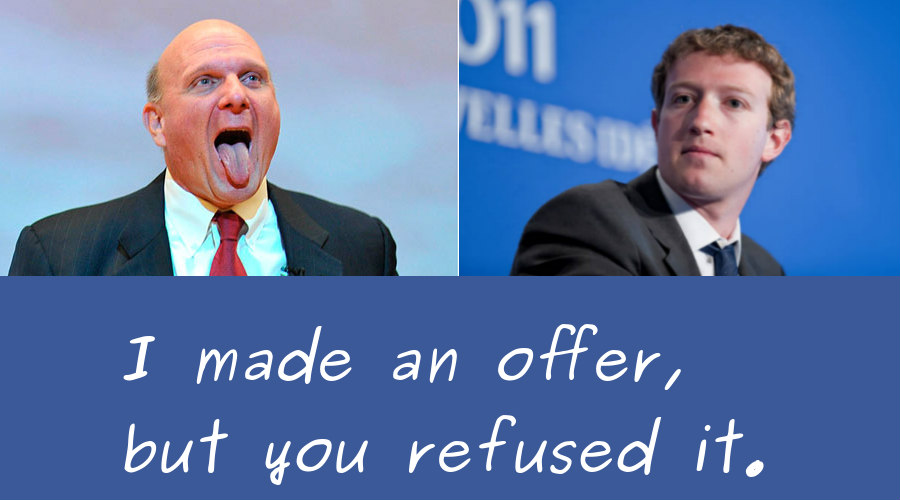 Short Bytes: In an interview with CNBC, Steve Ballmer told that while he was the CEO of Microsoft, he approached Mark Zuckerberg. He made an offer of $24 billion, a lot less than Facebook's current worth. However, Zuckerberg turned down Ballmer's offer.

F
acebook Inc. is sailing peacefully on its boat with a market value of $374 billion. When years ago, it wasn't that big and Steve Ballmer, the then CEO of Microsoft, made a buyout offer to Mark Zuckerberg. He wanted to purchase Facebook when it was an "itsy-bitsy". Ballmer recalled the story on CNBC's Squawk Box.
Mark Zuckerberg turned down Ballmer's $24 billion offer for Facebook to become a Microsoft company. And it appears he made the right decision.
"I respect that," Ballmer told CNBC. "You have to have a willing seller."
According to Forbes' real-time billionaire list, Ballmer is currently the 23rd billionaire with a net worth of $28.3 billion. Credits should be given to his Microsoft stocks. Mark Zuckerberg has a net worth of $56.6 billion and he is at number 5.
Steve Ballmer, now 60, served Microsoft's CEO from 2000 to 2014. He is the owner of the Los Angeles Clippers and has invested in Twitter. Ballmer has also made news for being a potential buyer for Twitter but he said that he never had any plans to buy the company.
Here is an old clip of the owner of Clippers:
https://www.youtube.com/watch?v=pfSvAOnT1CY
Source: CNBC
If you have something to add, tell us in the comments below.
Also Read: How Can Your 'Deleted' Facebook Status Get You Fired In No Time