System76 — one of the most well-known PC manufacturers that build Linux-based Laptops, Desktop, and Servers — has finally launched Pop!_OS 20.04 LTS. And there is no doubt about their claim of Pop OS 20.04 being their biggest OS release so far.
Pop!_OS 20.04 is truly a masterpiece release not just for System76's laptops, but for any normal computer as well. It packs unique features to provide fast navigation, easy workspace organization, and smooth workflow. This is the reason that Pop!_OS is climbing up among the best Ubuntu 20.04-based Linux distros. So, let's get to know what it has to offer more than Ubuntu Linux.
Pop!_OS 20.04: The Best Ubuntu-based Linux Distro
The new long-term v20.04 is a revamped and fully-fledged updated version since the 18.04 release. Before we discuss its new capabilities in detail, here take a look at the brief list of new enhancements:
Automatic window tiling
New Keyboard shortcuts
Flatpak support
Automatic firmware update
OS offline update
GNOME 3.36
Linux Kernel 5.4
Automatic Window Tiling
A major highlight of the v20.04 release is the addition of a new app navigation feature that makes it different from other distros. You may have used many window tiling managers or the best one, i3, but Pop!_shell brings a proper and keyboard-driven auto-tiling feature.
This new auto-tiling in the Pop!_shell works on top of GNOME shell to let you easily navigate applications using a keyboard. This is a new extension especially for Pop!_OS. But, very soon, you will also be able to use it in other distros as a GNOME extension.
The control over auto-tiling is fully compatible with Keyboard shortcuts. You can move, resize, and swap windows to your liking without touching your mouse. To enable or disable auto-tiling, you can toggle on or off from the top right corner of your screen (system menu).
New Keyboard Shortcuts
Pop majorly focused on getting rid of the mouse and taking full advantage of the keyboard. Hence, the new and expanded keyboard shortcuts now give you more control over auto-tiling and workspace switching.

Additionally, instead of using the dock for launching an app, you can even open a new application launcher by using Keyboard shortcut 'Super' + '/'.
Pop!_Shop Flatpak Support
Pop Shop is a software store in Pop OS similar to Android's Play Store or iOS App Store. Here, you can search and install any application with just a click of a button. To further extend the store, Pop 20.04 brings Flatpak support to Pop!_Shop. This means that if you want to download any application, you can pull packages from the Flathub repository along with Pop!_OS and Ubuntu repo.
Flatpak/Flathub is a widely famous universal package management tool and store that contains a number of applications. Hence, you now have access to more packaged applications with high privacy.
Hybrid Graphics
Pop OS offers two ISO images based on Intel/AMD and NVIDIA graphics. Further, you can also switch between them to launch an application. Now in addition to the same, you can choose Hybrid Graphics from the system menu.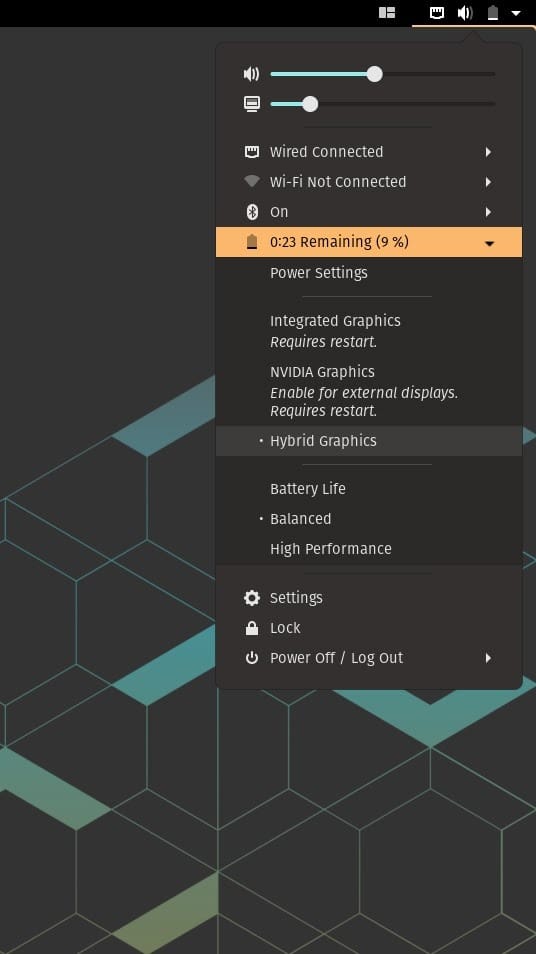 Once you launch your application in Hybrid Graphics mode with a dedicated Graphics card, your laptop runs on the battery-saving Intel GPU and only uses the NVIDIA GPU for applications running.
More And More
Apart from Pop OS's own enhancements, Pop also ships all features that you can enjoy in upstream Ubuntu 20.04. For instance, Linux 5.4 for the latest hardware support and GNOME 3.36 desktop environment that brings redesigned and furnished login and unlocks screen with password peeking toggle.
However, among the theme variants, Pop OS lags behind with only two light and dark themes while Ubuntu offers three variants — light, dark, and mix of both.
Speaking of security, Pop!_OS is the only Linux distribution that enables pre-installed full-disk encryption out of the box. You can also roll in all the latest features and security patches through periodic OS version upgrades. Moreover, you can use the 'Refresh install' feature to reset your operating system while preserving the files in your Home folder.
How To Download And Install Pop!_OS 20.04?
If you're already using Pop!_OS version 18.04 or 19.10, you can directly upgrade your system to the latest v20.04 by running the following command:
sudo pop-upgrade release upgrade systemd -f
However, if you're using Pop!_OS 19.04, you first need to upgrade your system to v19.10 by running the commands one at a time:
sudo pop-upgrade release upgrade systemd
sudo pop-upgrade release upgrade systemd -f
For a fresh installation, you can download from the ISO image of Pop!_OS 20.04 for either Intel/AMD or NVIDIA from the official site here.