A new supercomputer from Japan dubbed Fugaku is now the fastest supercomputer in the world. Fugaku is ARM-based and it has surpassed Summit, America's Linux-powered champion that reigned the Top500 for the past few years.
Interestingly, Fugaku is the first ARM-based system ever to become the world's fastest supercomputer. It has a reported High Performance Linpack (HPL) score of 415.5 petaflops which is 2.8 times Summit's score.
Fugaku is powered by a 48-core A64FX SoC and in single or further reduced precision, its peak performance can touch 1,000 petaflops. Now this performance can be pushed into the exaflop range, which is where the next generation supercomputer battles will be waged.
These are the top 5 supercomputers on the list: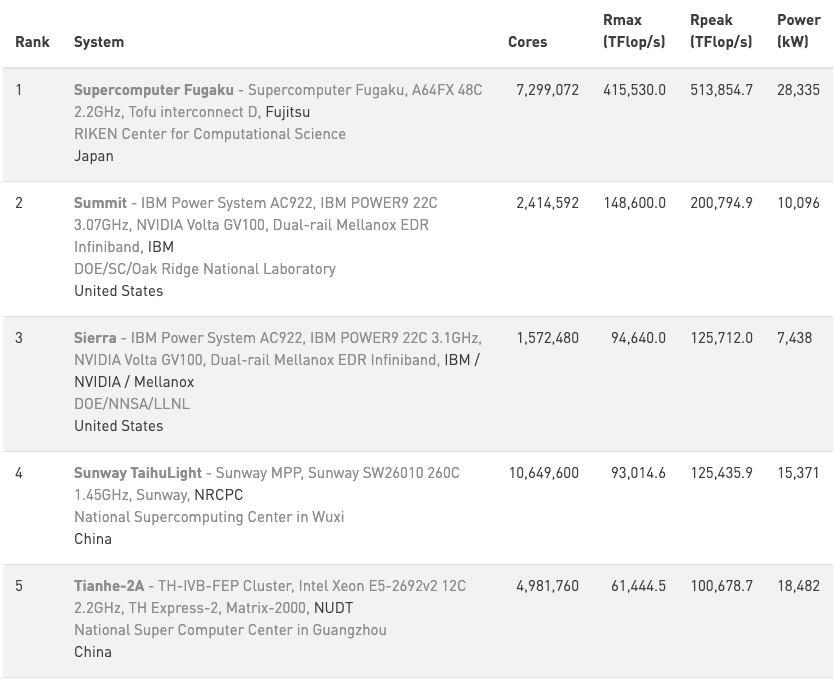 This ARM-based supercomputer has also managed to grab top spots in other rankings that test computers on different workloads, such as Graph 500, HPL-AI, and HPCG. To date, no other supercomputer has ever bagged a place in all four rankings at once.
Based on the recent trends, the fastest supercomputer crown usually goes back and forth between American and Chinese systems. This is the first time in nine years, after Riken's K computer when a Japanese system has ranked first on Top500.
Overall, 226 supercomputers on the list are from China, 114 from America, and 30 from Japan.
But there are chances that Fugaku may not be able to hold the first spot for very long. The exascale revolution is expected to begin next year with the launch of Aurora (with 1 ExaFlop of processing power) by Intel and the US Department of Energy.
There's another 1.5 ExaFlops crunching system, dubbed Frontier, to be launched by Cray and AMD next year.
Nevertheless, Fugaku is expected to be fully operational by April 2021 but it has already started assisting medical research on the novel coronavirus pandemic.