Short Bytes: Google has announced its initiative to help improve the digital economy in Africa. Its initial focus is Nigeria, Kenya, and South Africa. The multinational company aims to train 100,000 people in Africa about mobile developing. Google has also been working on making it more relevant for Africans to use YouTube Go, Search, and Maps. The initiative also includes providing grants to non-profits start-ups to help promote learning in Africa.
A
t Google for Nigeria event held in Lagos, Google announced its progress so far concerning its products and features for the users of Nigeria. Google also announced its initiative related to digital skills training and economic opportunities for African startups and developers.
Africa is expected to have a working-age population of 1.1 billion by 2034; still, per year only 3 to 4 million jobs are created. There is the dire need to create employment opportunities for such large working-age population.
Google is, thereby, planning to provide digital skills to Africa. Considering their last year's aim of equipping one million young people with the digital skills, Google has exceeded its target. The American multinational company is targeting to prepare another 10 million people by extending its previous program.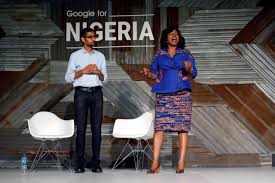 The company's main focus, for now, is to help develop Nigeria, Kenya and South Africa. They also announced the plan to provide mobile developer training to 100,00 people in Africa.
Google.org, the charitable arm of Google, is contributing $20 million to improve lives and conditions of Africa. The company will extend the grants to the non-profit African startups like Gidi Mobile and Siyavula to promote free access to learning in South Africa and Nigeria.
The initiative is expected to provide $3 million to more than 60 African start-ups for 3 years. Specifically paying attention to Africa, the company is sharing news on how it is making YouTube, Search and Maps more useful for Nigerians.
YouTube Go has helped improve the experience of watching videos in offline mode. By the end of the year, Google will expand this for all Nigerian users.
Google has also launched its Lagos on street view feature, covering 10,000 kilometers of the location including streets and roads. Other than that, they have aimed to look for faster Web results. The edited and extended feature will load websites with 90 percent less data, five times faster.
Have anything to add on to the topic? Share your views.