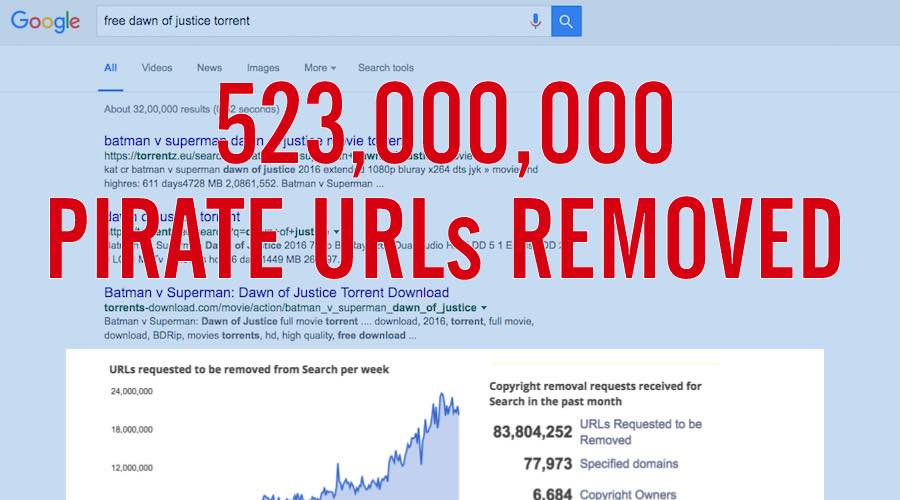 Short Bytes: Copyright holders running after pirates is not a new tune to our ears. Google, the biggest search engine provider on the planet, publishes regular reports of their fight against removing pirated content. They've managed to blank out around 523 million links from Google Search this year and will continue to remove more of them in the coming months.
T
he 2016 version of 'How Google fights Piracy' report throws light on the activities on the copyright-holding pirate hunters around the world. Google publishes the report every year to summarize the operations they've conducted to remove pirate links and other copyrighted material from their database and search results.
Google gets millions of pirate link takedown requests per week. You'll be flabbergasted to know that the takedown requests made per week outnumber the total removal requests Google received between 1998 and 2010. The reason behind this tremendous explosion in the pirate link takedown is the intensifying awareness among copyright holders and that the amount of pirated content on the internet has escalated many folds, burping the potential revenue which has made its way to the bank account of the creators of that content.
Last week, the number of URLs requested to be removed from Google Search were 19,204,517. That's for just a week. What would be the figure for the year passed till now?
TorrentFreak has calculated an approximate value for the number of requests that would have been made this year. It's around 523,000,000 and will continue to skyrocket in the coming months. A staggering figure and 60 percent increase from 2015. This how much Google was asked to remove in the previous year, which was 558,000,000. Google managed to clean 98 percent of the total URL requests made last year.
Google takes URL removal requests through a dedicated online platform and it takes around 6 hours for Google to process a takedown request as per DMCA. However, Google pays attention to the misuse of the DMCA. For example, "A U.S. reporting organization working on behalf of a major movie studio twice requested removal of review of its own movie on a major newspaper website." – reads the report.
This is only for the Google Search, there are other Google platforms as well, namely, YouTube. Hundreds of hours of video content are uploaded to YouTube per minute. A considerable amount of the content contributes to the infringement of copyright of other YouTube creators. The Content ID system created by YouTube has managed to pay more than 2 billion dollars to the partners.
Read the How Google Fights Piracy report to know more about this stuff.
Tell us what do you think about think about piracy in the comments below.
Also Read: UK Proposes 10 Year Prison For Online Pirates Who Illegally Upload/Download Torrents