Recently Microsoft announced it is abandoning the development of EdgeHTML-based web rendering engine and switching to Google's Chromium-based browser. While the decision to adopt the open source alternative was welcomed by many, others raised questions on why Microsoft would switch to a rendering engine which is slower and more battery consuming.
Now an ex-Edge developer named Joshua Bakita has revealed that Microsoft had to ditch EdgeHTML rendering engine because of the regular changes continuously pushed by Google on its sites.
As a former software engineering intern at Microsoft, Bakita worked with the Edge web browser team. While working there, he realized that Google was using its widely used web properties to sabotage Edge. For instance, adding an empty div on YouTube prevented Edge from using hardware acceleration.
Bakita further claims that these changes were implemented to ensure that Edge and other browsers would not properly run Google's sites. Many of his co-workers in Microsoft also believed the same.
Responding to a comment on Hacker News, he wrote: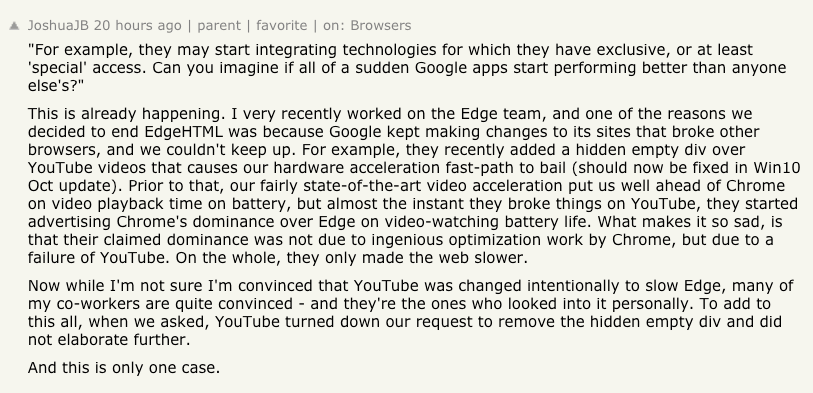 Many Windows 10 users have long suspected some foul play involved in YouTube's performance on various browsers in comparison to Google's Chrome browser.
Those suspicions gained more weight when browser developer Chris Peterson from Firefox explained Google's Polymer design practices.
https://twitter.com/cpeterso/status/1021626510296285185
In any case, Microsoft is now officially on the path to bringing in a Chromium-based browser. Hopefully, it would provide a better default browsing experience on Windows.
As far as Google is concerned, it has the biggest share in the browser market, so other companies need to adapt and release more competitive features.