Artificial intelligence is ubiquitous these days and is helping human beings in every sphere of life. India is slowly progressing in the field of artificial intelligence and education is the latest sector which has seen the rise of AI. Continuing the trend, a Bengaluru-based school has deployed humanoid robots to deliver lectures.
Indus International School in Bengaluru has introduced three humanoid robots for teaching students of class 7,8 and 9 with the ultimate aim of replacing human teachers altogether. These human-looking robots are capable of two-way interaction i.e. they can answer queries of students and respond to their answers similar to how voice-based assistants work.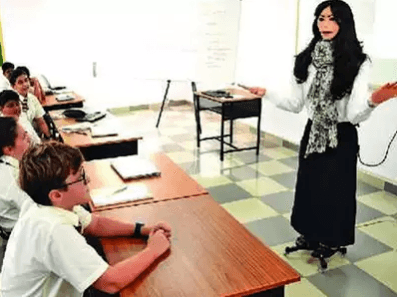 Dubbed Eagle 2.0, these humanoids are developed by an in-house 17-member team comprising IIT alumni, engineers, content developers, and experienced teachers. It took the team 2 years to develop the robots including 3D printing and assembling them. Eagle 2.0 robots are fitted with the same motor used in 'Sophia', the popular social humanoid robot. Each robot costs INR 8 Lakhs.
According to Lt Gen Arjun Ray, CEO of Indus Trust, humanoid robots perform the role of delivering content to students, whereas an actual human teacher can mentor kids and ignite entrepreneurial mindset in them.
The school is also planning a pilot program to test whether these humanoid robots can teach students without being monitored by a human teacher. It also has plans for introducing more child-friendly and interactive robots for teaching the students of primary classes. Indus International School will also improve the existing robots imbued with more human-like features and emotions.