After Apex Legends Mobile's 2020 release was postponed, reports emerged that publisher Electronic Arts would release the game in Q1 2021 (Jan-March).
However, the latest leak suggests the game will arrive at least 7 months later than expected in FY 2022, i.e. October 2021-September 2022.This is hugely disappointing news for fans who have been eagerly waiting to play Apex Legends on Android and iOS.
In case you didn't know, Apex Legends is a first-person shooter battle royale game, from developer Respawn Entertainment, currently available on PC, PS4, and Xbox One. Apex Legends Mobile is the game's mobile adaptation which is under development right now.
According to EA's leaked conference call, Apex Legends Mobile will launch at some point between late 2021 and late 2022. If true, this marks another setback for a game that was originally planned to come out in 2020.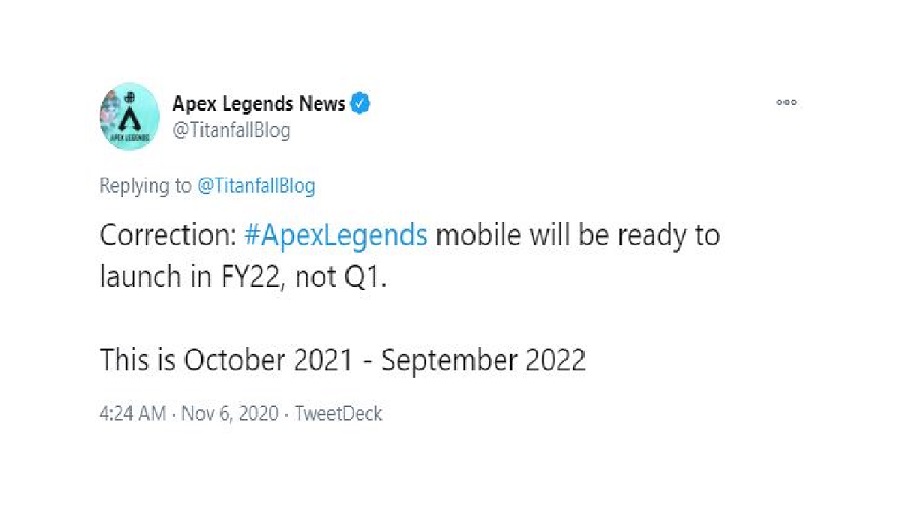 Understandably, the delay scuppers EA's plans to capitalize on the void left on iOS due to the removal of Fortnite app. Another missed opportunity lies in India, where the mobile gaming landscape has been in need of new blood since PUBG Mobile's got banned in the country.
Apart from the mobile version, Apex Legends for Nintendo Switch is also planned for next year. Possibly, the development of two versions of the game at the same time is the reason behind the delay.
Whenever Apex Legends Mobile lands, hopefully the game will not have significant bugs, given the devs have taken ample time.