After the announcement made last week, YouTube is about to start a war against the well-established music streaming services like Apple Music and Spotify. The Google-owned company has started rolling out their new YouTube Music subscription.
Other than videos, many people use YouTube to listen to songs. In the past, YouTube has tried to address the concerns of music lovers by offering background music playback on Android and iOS devices through YouTube Red subscription (you can try the workaround). Now, YouTube Music is a more concrete solution.
Here are some things you should know about YouTube Music streaming service —
How to get the YouTube Music app?
The new music streaming service is first rolling in the US, Mexico, Australia, New Zealand, and South Korea. Users in the other countries will have to wait. You can visit this page to sign up for the service.
If it's available in your country, you can download the YouTube Music app for Android and iOS. The service is also a part of YouTube desktop.
Is YouTube Music free or paid?
What can be better than knowing that the music service offered by YouTube comes for free? Yes, it is — if you don't have any problem with ads and don't need to make your favorite songs offline.
There is also has a paid tier called YouTube Music Premium which strips out the ads and lets users download music. All you need to pay is $9.99/mo.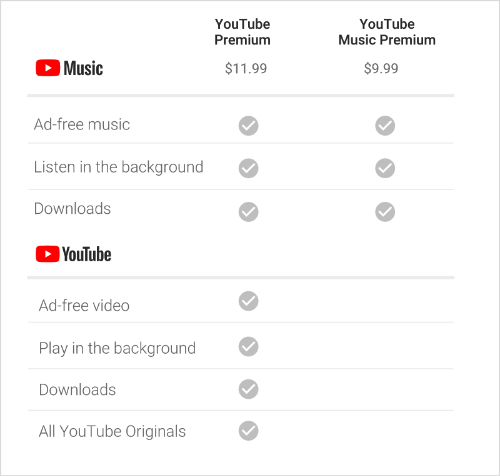 YouTube also added a new paid Premium tier that includes all the goodies of Music Premium. It's intended for regular YouTube; it provides background playback, offline mode, and YouTube Originals. YouTube Premium is meant to replace the paid subscription called YouTube Red.
It offers popular content, what else?
Apart from regular music found on different streaming services, YouTube Music will also give users access to live performances, covers, music videos, etc. Just like Google Play Music, YouTube will help people listen hard to find music by allowing them to upload their songs on their own.
According to YouTube, the home screen of YouTube Music throws personalized music based on what you listen to, your locations and what are you doing.
Smart Search
Being a music service related to Google, it can't go out in the world without a search feature. Using YouTube Music's smart search, inattentive music listeners will be able to find songs without even knowing their name or they can recall the lyrics. For instance, people search "that rap song with flute" and to see Mask Off in the results.
What will happen to Google Play Music?
Many people are seeing a YouTube Music as a replacement to Google Play Music which will happen eventually. The new service will absorb major features of Play Music. And users will be automatically migrated when the YouTube Music is available in their region. There is no word when will Google pull the plug on Play Music service.
About questions regarding Google Play Data including created playlists and songs uploaded by the users, YouTube Music will provide a seamless transition to the ones making the switch.
With all the hype built around the YouTube-powered music streaming service, it looks promising. It remains to be seen how it'll stand against the already popular streaming giants. Apart from a great collection, another important factor is the usability. Let's wait to see where it'll stand.