R
ecently, we heard about Netflix bringing HDR support on Samsung's latest flagship Note 8, LG v30, etc. But the video streaming giant YouTube doesn't seem to have any intentions of leaving their users behind in the technology race.
According to the reports floating on Reddit and SamMobile, YouTube has begun adding HDR video playback support on different high-end devices.
HDR content is already a thing on TVs and devices like Chromecast Ultra. Now, it's the turn for smartphones and tablets. You might not find the term strange as you have already seen this in your camera app.
The tech allows a capable screen to display whites and blacks way better than SDR (Standard Dynamic Range). And with a wider range of colors on the screen, the content looks more realistic.
HDR support for YouTube videos isn't a freshly baked feature; the company launched the feature in November 2016 for TVs.
YouTube HDR support
The first lot of smartphone to receive the High Dynamic Range update include:
Galaxy Note 8
Galaxy S8
Galaxy S8+
Pixel
LG V30
Xperia XZ Premium
If you have the latest version of the YouTube app, you can choose different HDR-enabled options on the screen where you change the video resolution. And for the proud owners of these devices, they can visit a dedicated YouTube channel called The HDR Channel. You can also try Venice Carnival in 4K HDR 60P (UHD) and The Redwoods | Shot on Epic-W with HELIUM 8K S35 Sensor 8K HDR
It can be easily assumed that the list would expand in the coming days. "We'll continue working with partners in mobile industry to bring HDR playback to more devices," YouTube told Fossbytes in an email.
Assumptions are being made that Galaxy Tab S3, having a capable hardware, would get the support soon.
LG G6 is another device with that kind of screen. The ill-fated Galaxy Note 7 was the first smartphone to have an HDR-enabled screen, but it's unclear if YouTube has added the bomb to their list.
SamMobile has reported that HDR videos max out at 1080p 60fps on their device. But a Reddit user DeadmanIncYB shared the screenshot of the change he spotted in the YouTube app. Here, a 1440p 60 option is visible.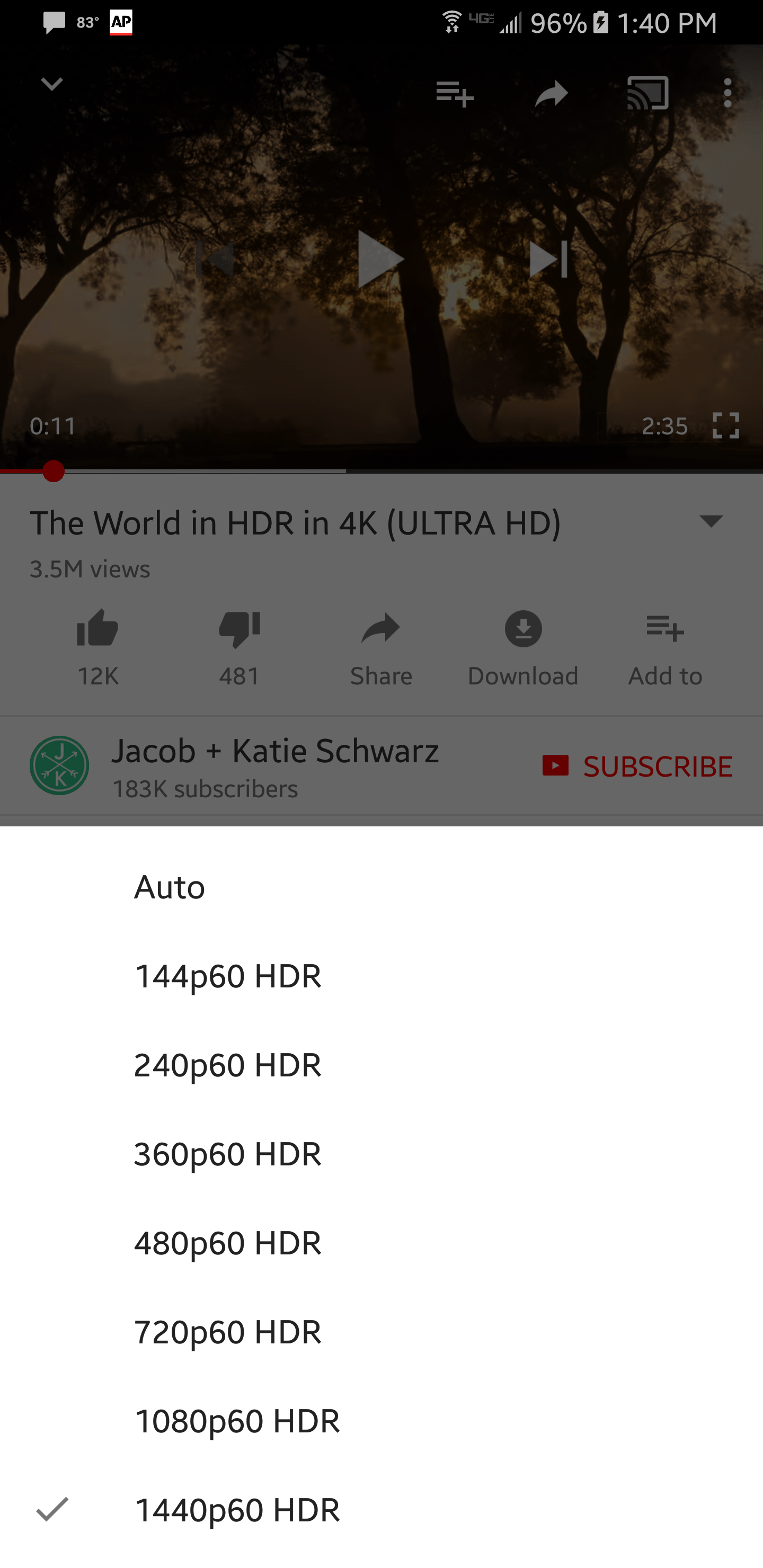 It's not all good with YouTube HDR, and various Redditors complained that HDR-enabled videos couldn't be viewed in full-screen mode. Also, there aren't any non-HDR options on the devices having support for YouTube HDR.
One important thing, YouTube HDR works on capable screens. So, it would be better if you don't keep any false hopes for your device.
The list mentioned in the post isn't all-inclusive, we'll try to add more devices. You can suggest any new additions if you have confirmed YouTube HDR support for them.