Previously, Xiaomi was rumored to unveil a new smartphone with 48-megapixel camera sensors. Now, advancing the plan, another official teaser has been released, throwing light on the launch date for the same.
According to a post on Chinese micro-blogging site Weibo, Xiaomi is expected to convert 'Redmi' into a new independent sub-brand at an event scheduled for January 10 in Beijing, China.
While the teaser image doesn't reveal what exactly is going to be announced, the watermark below the huge 'Redmi' suggests that a smartphone with 48-megapixel camera sensor is going to make its entry.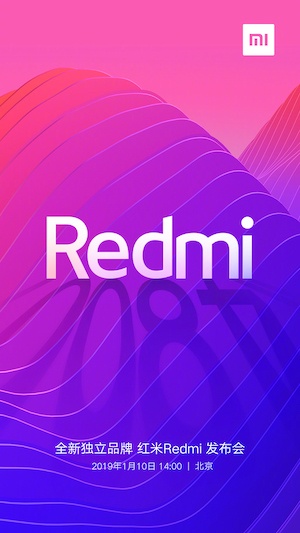 The decision to make Redmi a sub-brand is rather an interesting one as the Redmi series, which mostly includes mid-range smartphones, is largely responsible for the brand's popularity.
While nothing concrete is available regarding the new smartphone, past leaks suggest that the camera department is likely to be equipped with either a Sony IMX586 or a Samsung ISOCELL Bright GM1 sensor or both, for better details.
Furthermore, the device could either be called the Redmi 7 Pro (falling in the Redmi 7 series) or the Redmi 2 Pro.
However, as we don't have concrete details at the time of writing, we suggest you take the aforementioned information with a grain of salt. 
For more information as to what exactly the new Xiaomi brand is like, we will have to wait until the January 10 launch event.
Therefore, stay tuned to this space for a conclusive idea.