A device from Xiaomi named "POCO X2" has been spotted in a Geekbench listing, implying that a successor of Xiaomi Poco F1 might finally be in the making.
According to the Geekbench listing, Xiaomi Poco X2 packs a Qualcomm processor with a base frequency of 1.80GHz. The device's Geekbench scores are 547 and 1767 for single-core and multi-core performance, respectively.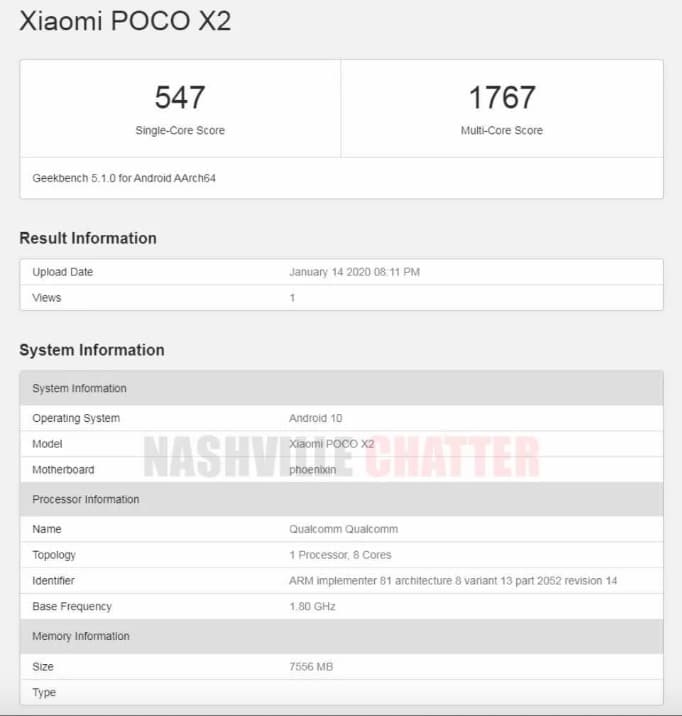 Apart from that, it comes with 8GB of RAM and runs the latest Android update, Android 10.
Conflicting leaks
A few days ago, a Twitter user shared a trademark application of Poco F2 that was filed back in December. While many thought it to be proof of Poco F2's existence, the new leak suggests that one of them might be fake.
Now that there are conflicting leaks, we cannot be sure if the Poco F2 exists in the first place or there will be a Poco X2. As of now, there are no official announcements on the existence of Xiaomi Poco F2.
Nevertheless, we advise you to take smartphone leaks with a grain of salt.
Rebranded Redmi K30 for India?
Back in November last year, XDA spotted a device codenamed "Phoenix" while looking at the MIUI 11 code. With the codename, XDA spotted features including 120Hz screen, a side-facing fingerprint sensor, and the Sony IMX686 sensor. Later, Xiaomi debuted Redmi K30 with the same codename.
In the new Geekbench listing, we see that the Redmi Poco X2 motherboard is codenamed "Phoenixin." Interestingly, the Redmi K20 Pro was codenamed "Raphael"; however, the device was released as "Raphaelin" in India.
If we connect the dots, the Redmi Poco X2 could also be the name of the Indian variant of Redmi K30.
Again, all of this is just mere speculation, and we are yet to hear about the Redmi K30 release in India.