Today, a Xiaomi smartphone with a good camera is not a rare sight. Be it a low-budget or a high-end device, it manages to offer a satisfactory camera setup in all its devices.
We can observe the same in the latest POCO X2, which has been launched for Rs 15,999. It packs a 64MP Sony IMX686 sensor that can capture some stunning images.
Photography enthusiasts are already using their Xiaomi devices up to their full potential. However, not everyone knows about hidden features in Xiaomi's camera app that can amplify the photography experience — even for newbies!
So in this article I will explain how to unlock hidden camera features in a Xiaomi/Redmi device.
Enable Experimental Camera Features In Xiaomi
Open the File Manager in your device.
Go to Internal Storage>DCIM>Camera.
Tap on the menu button and then tap on Create Folder.
Name it "lab_options_visible"
Now, close the Camera App. To do that, long-press on the Camera app on Homescreen and tap on App info. Now, Tap on Force Stop.
Again, open the Camera App. Tap on the menu button — Settings. Here you will find new experimental features in a Xiaomi/Redmi phone.
Best hidden features in Xiaomi's camera app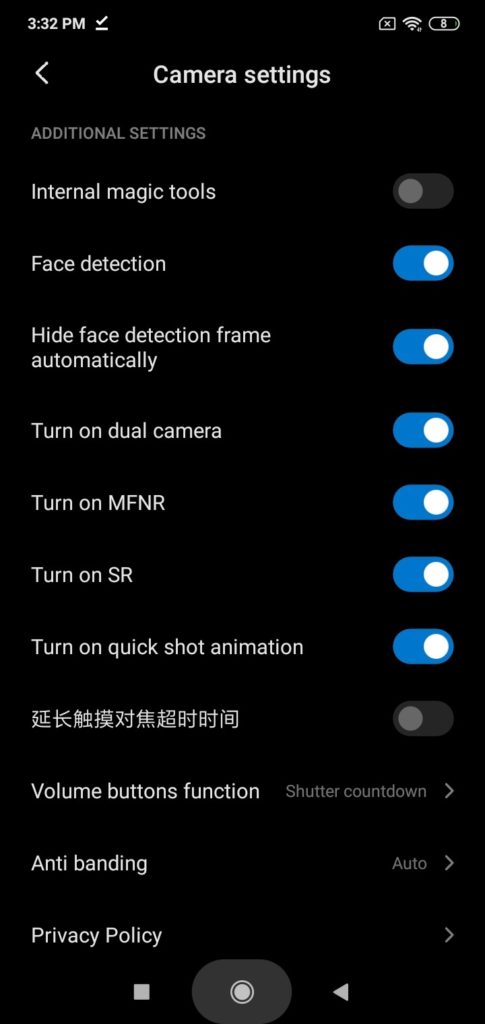 Hide Face detection frame automatically: Turning this off would be a blessing in disguise for users who keep tapping on the screen to get the face detection frame
Scene Detection (SR): Turning it off is helpful for users who are looking for a raw picture
There are many other experimental features. Feel free to explore all of them on your Xiaomi smartphone. Also check out our list of camera apps for android that you can use in 2022.
[Bonus]
Xiaomi users should also try installing GCam (Google Camera) ports for their smartphones. The unofficial ports of the Google camera app allow users to utilize Pixel camera features on their current Android devices. 
Other than the Pixel's iconic portrait mode, the latest port enables users to add Pixel's astrophotography feature on their device.