Yesterday wasn't just about Apple Education Event that launched a shiny, new iPad for education markets. Nvidia CEO Jensen Huang also delivered his keynote at Nvidia's Graphics Technology Conference and made some impressive announcements.
The biggest announcement from the event came in the form of Nvidia's largest graphics card till date — DGX-2.
This new offering from the GPU giant delivers a staggering performance with 2 petaflops processing power, 512GB RAM, and 10 kilowatts power input. It weighs about 350 pounds–it goes without saying that no human can lift it. Compared to its predecessor, DGX-2 is 10x faster.
Just for some perspective, you might also want to know about the existing limits of computing. Currently, the world's fastest computer, which runs Linux, can crunch data at 125 petaflops.
What's more? It has 200 times more bandwidth of the highest network controller interface (NIC). You also get 30 teraflops storage onboard and 2 CPUs for fastest possible data processing.
From the state, Huang said that you can use this GPU to build your personal supercomputer. Sadly, you can't play your high-end games on DGX-2. Also, it costs $400,000. So, that's another downside.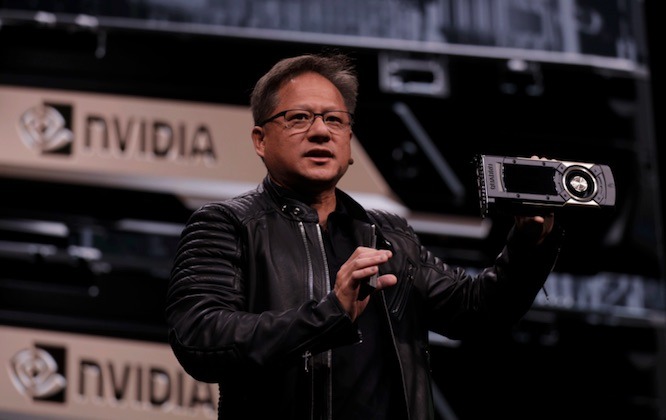 The company also showed off the new Quadro GV100. It's a high-end professional-grade GPU. Again, you can't play games on it but it can excel at deep learning, CGI, data processing, etc.
It's the first workstation GPU based on Nvidia's Volta architecture. With its help, one can render images at 1/5th cost, 1/7th space, and 1/17th power. It's expected price is around $7,000.
Read other interesting announcements other than world's largest GPU from Nvidia's event here.