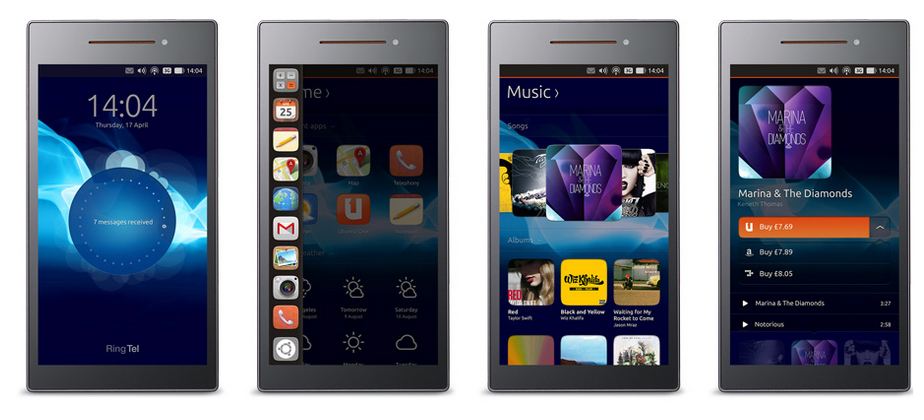 World's First Ubuntu based Smartphone will go on sale for just €170 in Europe via BQ.com through a series of flash sales. Ubuntu announced the plans for Ubuntu smartphone back in early 2014. The deadline for the phone phone was passed in 2014, but Canonical announced yesterday about the very first ubuntu powered Smartphone Aquaris E4.5.
Ubuntu's new UI Scopes focusses on three points:
A brand new mobile experience for people
A smarter and dynamic ecosystem for developers
Multiple opportunities and freedom to manufacturers and mobile carriers
"The launch of the first Ubuntu smartphones is a significant milestone," Canonical CEO Jane Silber said in a statement.
The Specification of the Ubuntu's first smartphone is quite acceptable with respect to its price. The phone is powered by a Quad-core 1.3Ghz Cortex A7 processor running up to 1.3 GHz with 4.5 inch screen, 8 megapixel rear camera and dual sim.
Cristian Parrino, vice president of mobile said that Ubuntu wants to engage the users on a whole different level with their devices and he want the experience to be in the same way the user wants to think about it by delivering a smooth and engaging experience.
Take a quick look at specifications of first Ubuntu Smartphone Aquaris E4.5:
Key Specifications
Operating System
Ubuntu
Processor
Quad-core 1.3Ghz Cortex A7
Display/Resolution
4.5 inch screen
Camera
8-megapixel rear, 5-megapixel front
Storage
4-8GB+ SD
SIM Support
Dual SIM
Price
€170
Details on the sale will be revealed around the start of the next week. The Exact date will be posted on Twitter accounts of BQ and Ubuntu. The detail will also be posted on Ubuntu Facebook as well as Google+ pages.
---
 Are you having high hopes for the first Ubuntu Smartphone Aquaris E4.5?
Tell us in comments below!
---
 Stay tuned for trending and latest technology news from fossBytes.
---