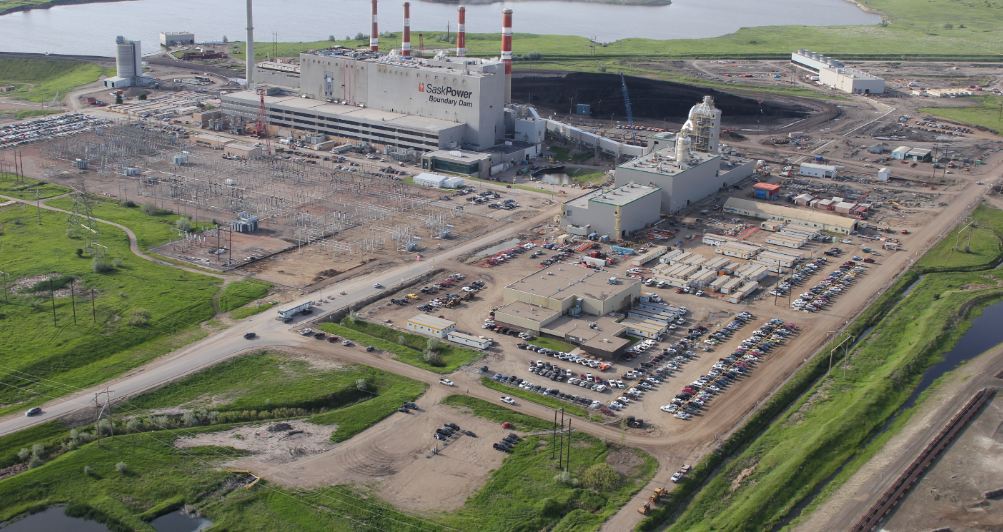 Climate change is one of the biggest challenges faced by the world right now. Each country is struggling with this monster in one way or the other. Some are concerned with their shrinking glaciers and on the other hand rising sea levels is giving nightmares to others. To combat such concerns, one of the major steps being undertaken is developing new and clean ways to use our energy sources.
T
alking about harnessing clean energy on a large scale, the first name which comes to my mind is recent installation of
world's first full scale tidal energy generator
. Yesterday I came across another "world's first" in the same area. This is about world's first 'Clean' Coal Power Plant.
What is the news?
Adding to that list, SaskPower of Saskatchewan province in Canada has opened its Boundary Dam Carbon Capture and Storage Project. SaskPower is owned by the Saskatchewan province itself. This electric corporation is calling Boundary Dam as "the world's first post-combustion carbon capture and storage (CCS) facility attached to a coal-powered plant" or "world's first clean coal power plant."
What is Carbon Capture and Storage(CCS)?
The Carbon Capture and Storage process being implemented at Boundary Dam consists of two stages.
The first stage is that of Carbon capture, which involves the process of capturing carbon dioxide. Carbon dioxide being emitted will be captured and will be stored at some place underground. This prevents entrance of CO2 in atmosphere.
Capture Plant
The second step is that of Enhanced Oil Recovery(EOR). This is a process of gas injection or miscible flooding to introduce the gas into a reservoir of oil. This increases the amount of crude oil which can be extracted from an oil field. Generally gases used include CO2 or natural gas. The gas used most commonly used for this miscible displacement process is CO2 because it reduces the viscosity of oil and it readily available.
How is SCC and EOR implemented at Boundary Dam?
The Boundary Dam officials claim that Carbon Capture and Storage will reduce the emissions by 90% and it will be stored underground. The captured carbon dioxide will be sold to Cenovus Oil Company, where it will be used to extract additional oil from shrinking oil wells using Enhanced Oil Recovery and other techniques. Using the enhanced oil recovery along with CSS improves the overall economics and provides money for operational expenses.
Along with CO2 capture and its sale, SO2 and other byproducts will be captured and sold as sulphuric acid and other chemicals. Fly ash will also be sold for concrete products and applications in cement industry.
CCS Facility Interior
What are the expected outcomes of the project?
Generation of 110MW power.
Reduction of CO2 emissions by 90 per cent.
Reduction of SO2 emissions by 100 per cent.
Capturing 1,000,000 tons of CO2 every year which is equivalent to emission of 250,000 cars
Howard Herzog, a senior research engineer at MIT Energy Initiative says that carbon capture is an old process but this is a first of its kind project on a big level and it makes the Boundary Dam project interesting. He said, "It's an old process, with a lot of new wrinkles, so the risks are fairly minimal. The thing is that it's never been done at scale. As a first-of-its-kind project, there's going to be a lot learning—SaskPower has already said they've learned a lot about how they can make improvements. That makes Boundary Dam very important and worth watching closely."
The project has garnered some bad reviews too from the critics. They say "Carbon capture enhances the usage of fossil fuels." Counter-attacking this argument, John Thompson, director of the Fossil Transition Project for Clean Air Task Force says, "But while eliminating all fossil fuels makes for a great bumper sticker, it's not a real-world solution at this point. The math speaks for itself."
This $1.4 billion project is poised to become world's first and largest commercial-scale CCS project or world's first 'clean' coal power plant and it is expected to suggest a technically viable, environment friendly and economic way for the continued use of coal.
According to the American and Canadian energy experts and environment enthusiasts, this will send a message to other nations like China, which is one of the world's most exhaustive users of coal.
Did we miss anything? Let us know in comments.
For more updates, subscribe to our newsletter. [newsletter_signup_form id=1]