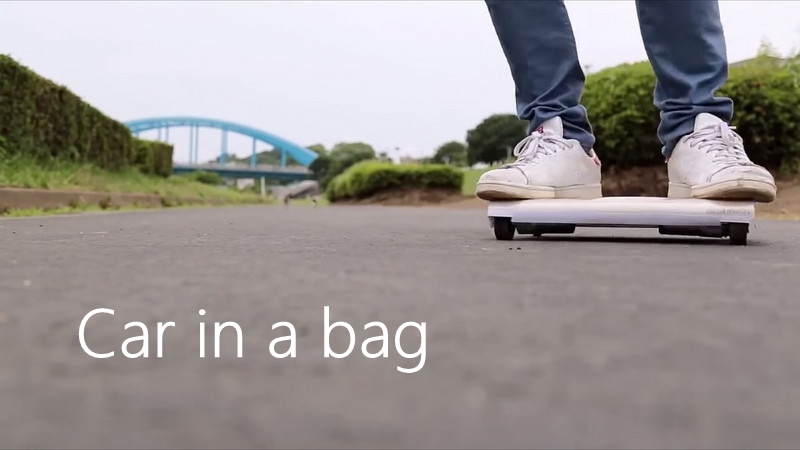 Short Bytes: Japanese engineers have made world's first ultra-portable "car in a bag". This vehicle runs on batteries, could be carried in a bag, and it's being called the WalkCar. 
I
magine walking on the street with your backpack and suddenly you start feeling tired, what would you do? You'll think of unlocking your phone and calling an Uber driver. This might be the present day scenario, but things could change in coming future. Some Japanese engineers have created a laptop-sized personal vehicle weighing less than seven pounds. This device is being called the "WalkCar", or  "Car in a Bag" because it can be easily carried around in a bag.
This car in a bag is created by 26-year old Kuniako Saito and his team Cocoa Motors. This WalkCar transporter is powered by the lithium battery and looks like an amalgam of a laptop and skateboard.
This slim and lightweight WalkCar is made from aluminum and it comes in two versions- indoor and outdoor. Weight of this Car in a Bag varies from 2-3 kilograms (4.4-6.6 pounds) depending upon these versions.
Also read: The Flying Car Dream Coming True: Into Your Homes in 2017
According to the creator Saito, this WalkCar is powerful enough to push a wheelchair and its shiny aluminum board can take loads up to 120kg (265 pounds).
The WalkCar is very simple to ride. It starts running automatically when you step over it, while it stops after stepping off. The task of changing the direction can be easily done by shifting the body weight.
Talking to the Reuters, Saito said that his knowledge in the electric car motor control system gave birth to this new idea. He says, "I thought, "what if we could just carry our transportation in our bags, wouldn't that mean we'd always have our transportation with us to ride on?" and my friend asked me to make one, since I was doing my masters in engineering specifically on electric car motor control systems."
Also read: Meet Ambulance Drone- Your Flying First Aid Doctor Friend
This Car in a Bag can reach speeds up tp 10 km/hr (6.2 mph) and after a complete charging of 3 hours, it can take you to a distance of 11.2 km (7 miles).
The pre-orders for the WalkCar will begin in October via a Kickstarter campaign. Tell your views about the WalkCar in comments.
Check out our homegrown product viralnews.fossbytes.com for hottest tech news on the web. For more updates, subscribe to our newsletter. [newsletter_signup_form id=1]