Short Bytes: Wondershare UniConverter is a multipurpose software that can be used to convert videos, burn DVDs, download videos from YouTube, record desktop screen, and set up a media server. The video converter is available for Windows and MacOS.
H
aving a video converter software is more of a need than an option if we go back around ten years. In the past, our mobile devices weren't capable enough to run video formats other than MP4 and 3GP. Playing a video with a resolution higher than 480p was limited to the dreams of most people. With time our devices became more capable, but it doesn't mean the utility of video converters has decreased in the past.
Your device might be able to run 1080p or even 4K video. But it still falls short on the storage. Also, playing high-quality videos requires extra battery juice. Sadly, our smartphones barely manage to last more than a day. So, to shrink the size and quality of a video is a considerable option.
There are various video conversion applications out there. And Wondershare UniConverter is one such software which you can use to convert video and audio files. Today, I'd like to give you a brief walkthrough of the Wondershare UniConverter for Windows 10.
Wondershare UniConverter Ultimate – Look & Feel
In order to begin with, you can download Wondershare UniConverter Ultimate using the following link:
Get Wondershare UniConverter Ultimate
The Video Converter features a simple interface. It might not be the best-looking video converter, but all the features and tools are neatly arranged in a tabbed view. One doesn't have to initiate a search operation in order to find basic options.
On the first screen itself where the default tab is Convert, you can find the option to add files and folders from your computer or you can directly load files from a DVD or CD. The bottom of the software window displays the Output Folder location which you can change as per your will by clicking the button with the three dots. Clicking the Settings button next to your name on the top of the window explores more options.
Clicking the Settings button next to your name on the top of the window explores more options. You can Check for Updates, open the Support Center, or suggest a feature filling submitting your feedback on their online portal.
Features
As mentioned, Wondershare UniConverter has tabbed view featuring Convert, Burn, Download, and Media Server tabs. I'll describe the functions of each tab one by one.
Convert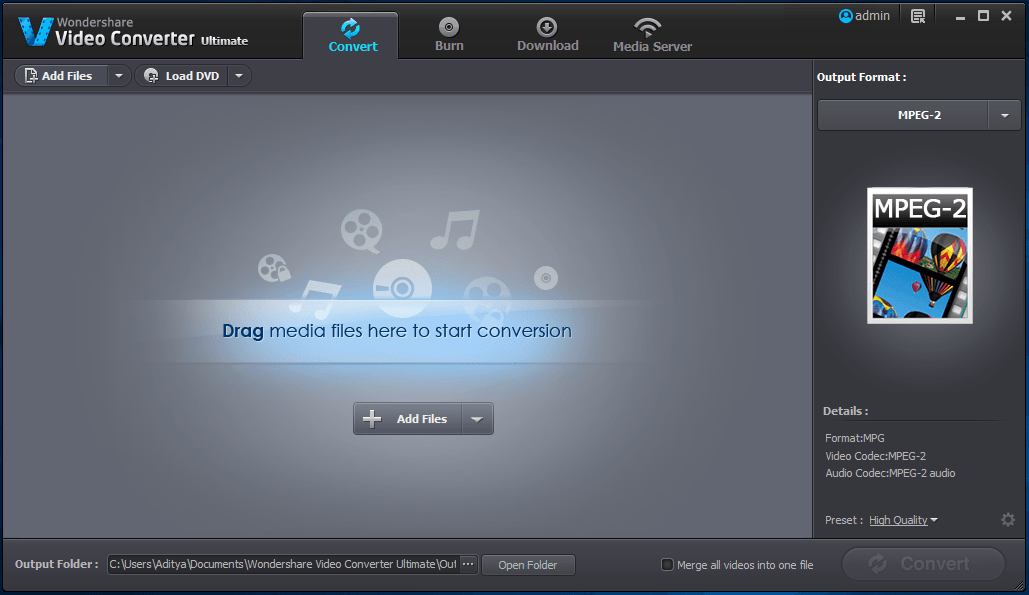 As it's evident from the name itself, the Convert tab includes all the options required to convert videos stored on your computer or in an optical disc. You can load your desired files using the Add Files button. To load a complete folder, click the drop-down next to Add Files.
The software will take a while to list the videos depending on the number of videos you've selected. Various options include editing metadata, embedding subtitles, and video editing options which allow you to modify various aspects of the output video file. You can even convert 360 videos provided the original video is in 360-degree.
Wondershare UniConverter supports a plethora of video formats including MP4, AVI, WMV, MPG, MKV, FLV, 3GP, WEBM, etc. There are video conversion presets for various devices made by Apple, Samsung, and gaming consoles like Xbox and PS4.
You can convert multiple video files using a single go and even merge them into a single file. The video converter also support hardware acceleration if your machine has an external graphics card.
It took around five minutes to convert 1 minute long MP4 1080p clip to a 4K MKV clip. So, the conversion time is pretty decent. The same clip was converted to 1080p AVI in two to three seconds.
One thing to note is that not all the output formats have the option to disable the high-speed conversion. So, in the first case (4K MKV), I initially assumed that hardware acceleration and high-speed conversion was enabled by default for the output formats for which the tick option wasn't there.
Later, I realized that the high-speed conversion option was only available for a few output formats. Similar is the case of GPU acceleration which is present for 4K MP4 but not for 4k MKV. I hope there might be some technical reason behind it.
Burner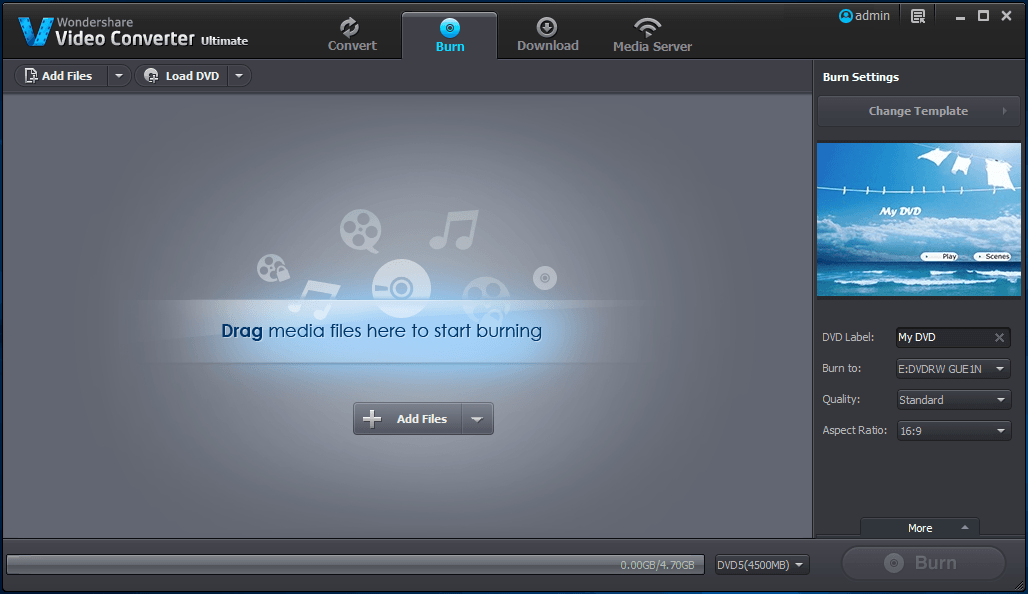 Once you are done converting the video files, you don't have to take the help of another software to burn them to a DVD. There is an inbuilt option for that purpose. Wondershare UniConverter can be used to burn media to both single layer (4.7GB) and dual layer (7.8GB) DVDs.
The DVD Burn tab also allows you to edit the videos before burning them. You can trim and crop the video, change brightness and contrast, add subtitles, etc.
Download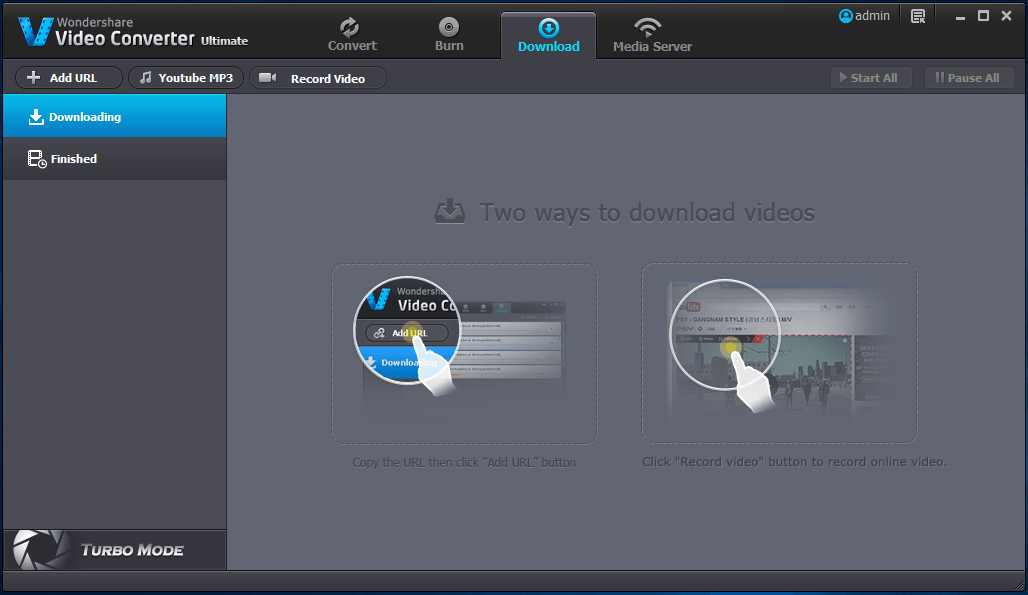 Wondershare UniConverter also allows you to download videos from YouTube and simple download file URL. Moreover, if it's not possible to download the video, the Record Video option can be used to capture a video running on the internet including the audio. For that purpose, the video converter installs a virtual sound card on your computer.
The video recording feature can also be used to record your desktop along with the audio which can be handy at times. However, it won't be wise if you use the feature to record DRM-protected content which is unlawful by nature.
Note: Sometimes, you might not hear audio from your Windows PC. That's because the virtual sound card gets selected. Click on the audio option in the notification area and select your PC's speakers.
Media Server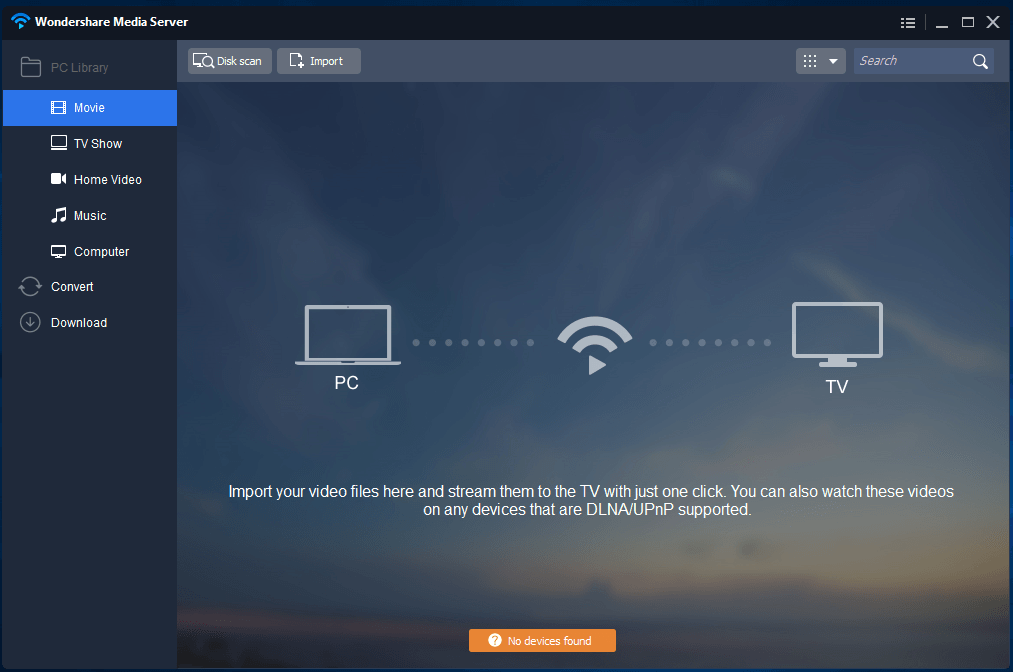 Wondershare Media Server is another utility packed into the video converter software. Clicking on the Media tab will open a new window for the utility.
Media Server has the option to automatically scan for available video files on your computer. There is another option to import the files manually. The task of the media server is simple, it can be used to stream the content from your computer to a device on your network that supports UPnP or DLNA protocol. You can also stream the media devices including Chromecast, Xbox 360, PS3, etc. and they're also accessible to the smartphones and tablets connected to the same network.
Winding Up
The overall experience of the Wondershare UniConverter was fine and it can be a considerable option because of the additional features offered. But there are some cons as well. The software installs an adware plugin on the system called DelayPluginl. However, it didn't have any adverse effect on my system.
The software supports GPU acceleration and high-speed conversion, but these features aren't available for all output formats. Probably due to some technical reasons. Also, if you cancel the video conversion before it's finished, the file still remains in the output folder and you've to delete it manually.
Wondershare Video Converter is available for Windows (XP and above). You can purchase its one-year license for $39.95 and the lifetime license for $59.95. For MacOS, it's available with a price tag of $39.5 (1-year license) and $59 (lifetime). It is also available as a trial version but with limited features.
This post is sponsored by Wondershare.
Note: The product includes tools that can be used to replicate DRM-protected media. Fossbytes bears no responsibility if the software is used to perform unlawful activities.