Among all formats of content that people consume, videos are the most sought ones. This undoubtedly attracts many content creators to make videos on social media platforms like TikTok, Instagram, Facebook, or YouTube. But the biggest challenge in creating interesting videos for any vlogger is editing. An easy-to-use free online video maker like Wondershare VidAir can make your life much easier.
Creating a video from scratch and visualizing the output can become a huge task if you are a beginner. So, if you are worried about getting it done right in one go, Wondershare VidAir is the perfect tool to help you create professional-looking videos. Anyone can use this simple online tool with zero experience for video creating or editing.
Features of Wondershare VidAir
Let's begin by discussing all the key features this free online video maker offers:
1. Hassle-free setup and user-friendly UI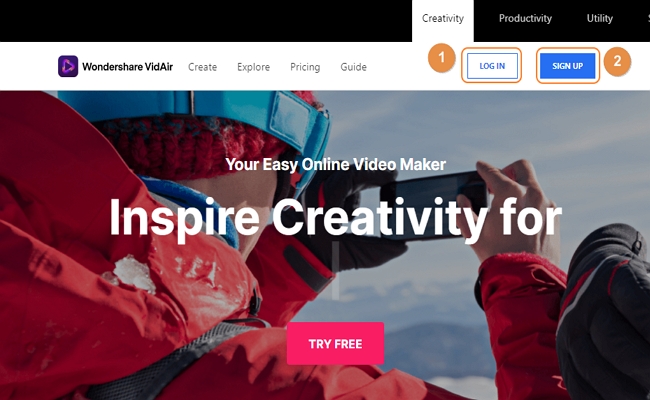 Wondershare VidAir is an online tool that can be run straight from the browser without downloading any software. To create videos online, you simply need to sign-up on the platform, pick a video template and aspect ratio of the video you want to create, and jump straight into the process of creating and editing videos without wasting any time.
2. Creative video templates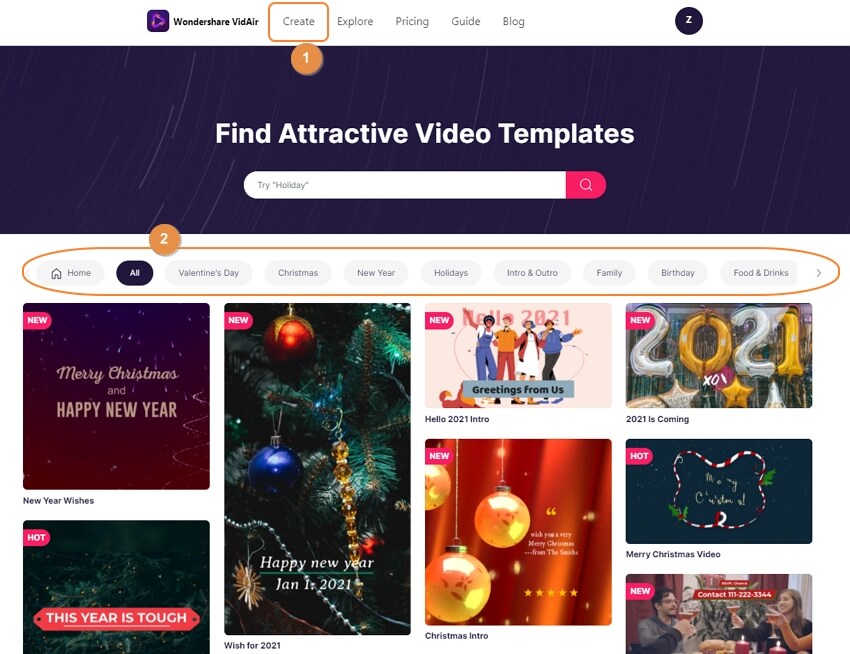 This free online video maker hosts tons of video templates based on several themes like holidays, festivals, birthdays, food & drinks, travel, beauty & fashion, wedding, travel, and so much more. There are some commonly used tags you'd find pinned on top to help you select any category of templates you may need.
In case you have any specific topic or theme in mind, type it on the search bar, and the website will automatically recommend you all the related video templates you can use.
3. Variety of editing options for customizing videos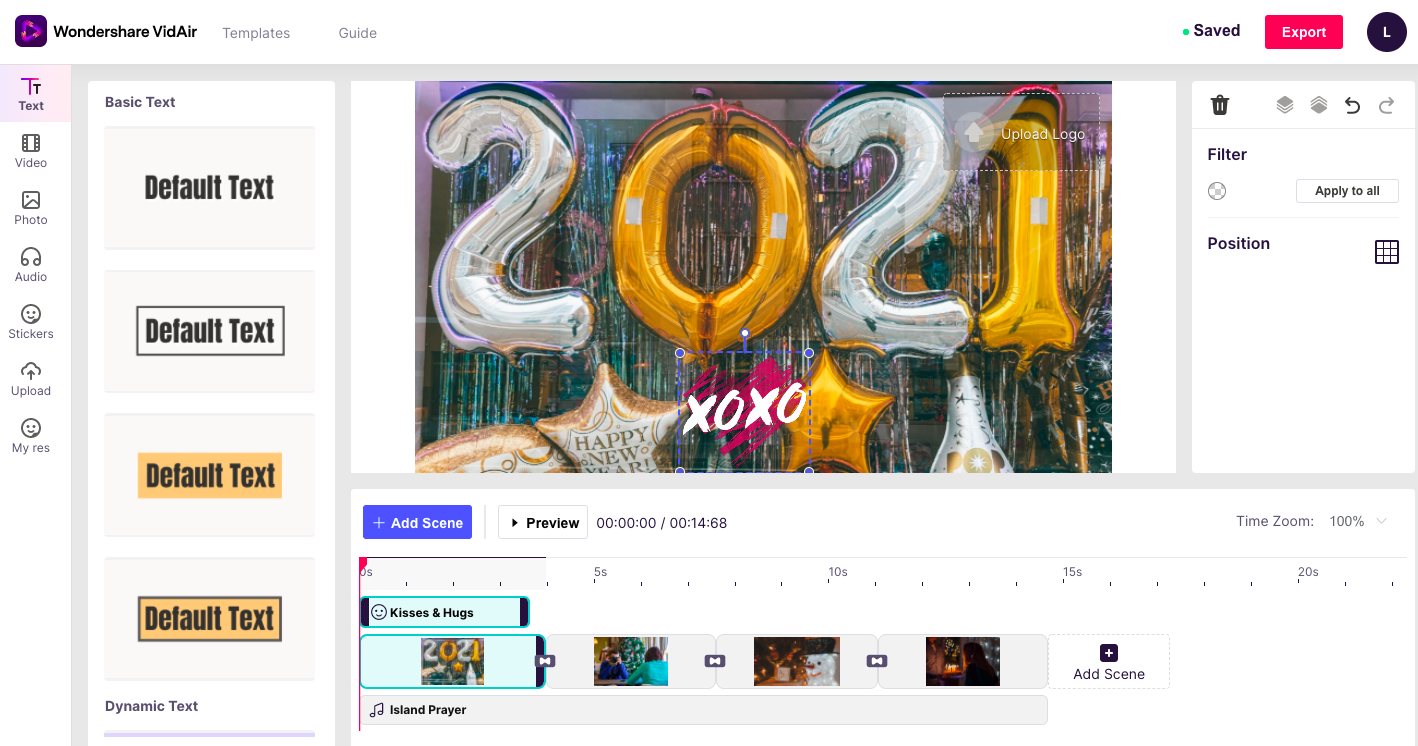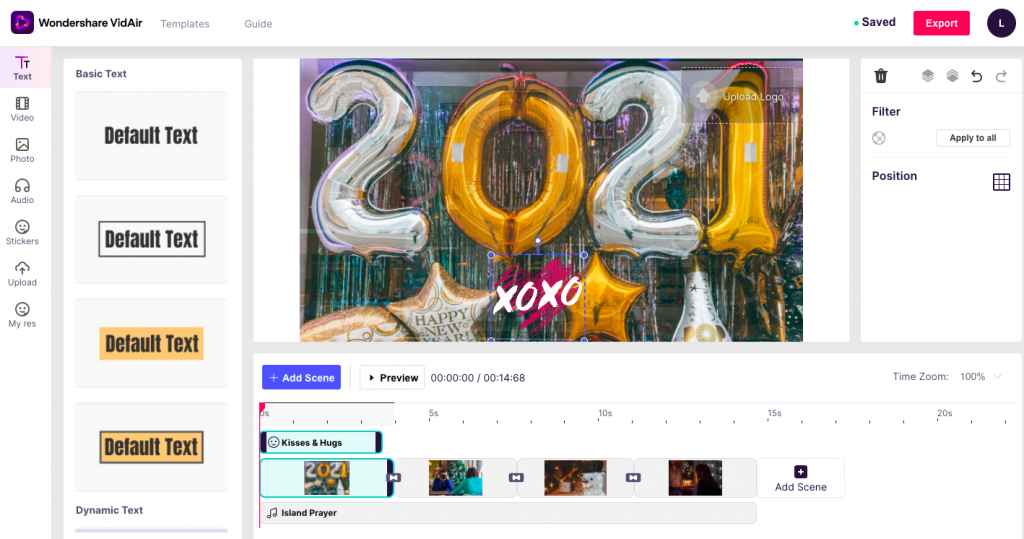 After selecting a template, pick any alignment you want, like wide, square, or vertical, based on which platform or device you are creating the video for. After that, you can try multiple video editing and customization options present in this online video maker.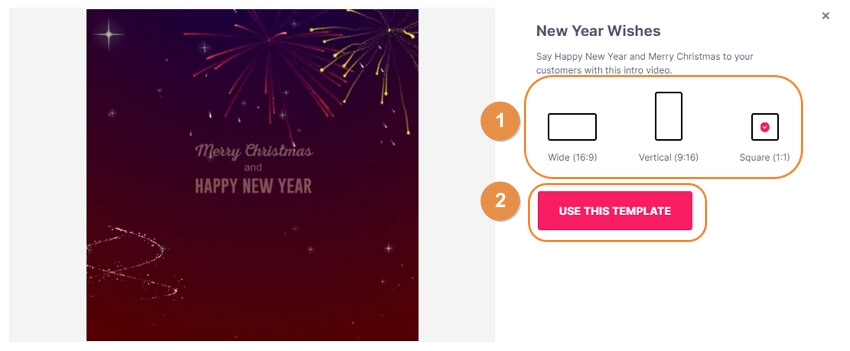 For instance, you can upload your own local files, add background music, text, sticker, filters, special effects, and more to beautify the video. There is a handy preview button right below the video tile, which you can use at any point to view what the final results would look like. If you are working on a long video, you have the option to save your editing progress so far and get back to it later on.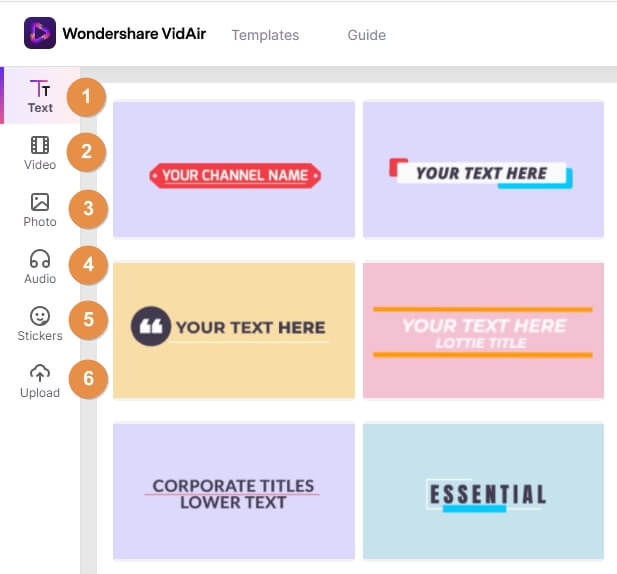 Once you are done with the editing part, just click on Save and Export to instantly download the video. Wondershare VidAir offers video downloading at 720p (free version) and 1080p resolution (paid version). But please note that the free version will export with a watermark.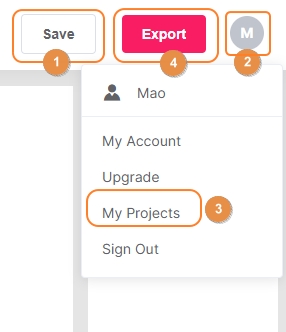 4. Boost your video marketing with Wondershare VidAir
If you are creating video ads to promote your brand or product on big platforms like Instagram, Facebook, YouTube — you definitely have to stick to their preferred formats, timings, and file sizes for a better reach. That's why Wondershare VidAir offers templates and settings specific to each platform.
Wondershare VidAir: Pricing
Wondershare VidAir is a free online video maker, but you can choose to upgrade it to remove the ads and the watermarks from your edited videos. In the paid version, you also get 2GB of cloud storage to store the files and export the videos 1080p resolution compared to 720p resolution in the free version.
To opt for an upgraded licensed version that offers 1080p video export without watermark, you will have to pay $9.99 per month. Alternatively, you can also go for a $5.99 per month annual subscription.
Conclusion
With Wondershare VidAir, you can unleash your imagination to create interesting and professional-looking videos for your business, blogs, sites, and social media platforms. In case you face a creativity block in between, this online video editor will help you out by offering readymade templates and help spark new ideas in your mind. In case you are still two minded about this video editor, I'd recommend that you try out the free version and decided if you'd like to upgrade!