They say that pictures speak louder than words, so it's no wonder that people invest a whole lot of time and effort into creating breathtaking images. From product images to brand advertising and Instagram posts, photo editing has become decidedly mainstream. While it used to be a niche area where professionals dabbled in, with the advent of ubiquitous camera phones and photo editing apps, virtually anyone can easily photos today. Not all photo editing apps are created equal, however, and it is of utmost importance that a well-edited image is able to quickly and properly communicate a message.
Step 1: Upload an Image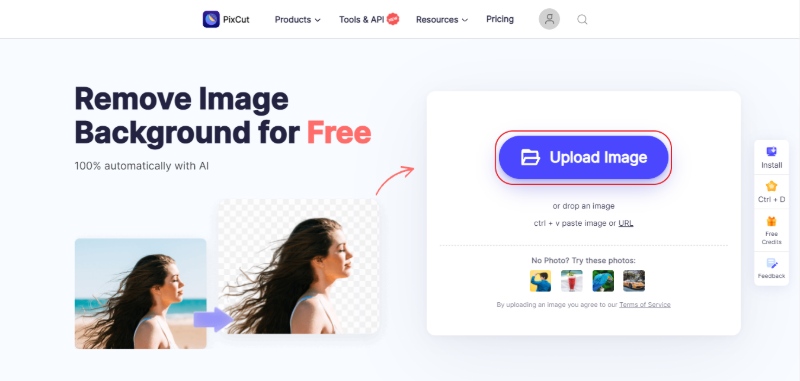 First, launch Wondershare PixCut from your browser. From the interface, upload an image of your choice, drag and drop the file onto the browser, or copy and paste a URL.
Step 2: Process Background Removal
A new window appears with the background image removed successfully. The user can restore the background or change it by going through editing the result image again.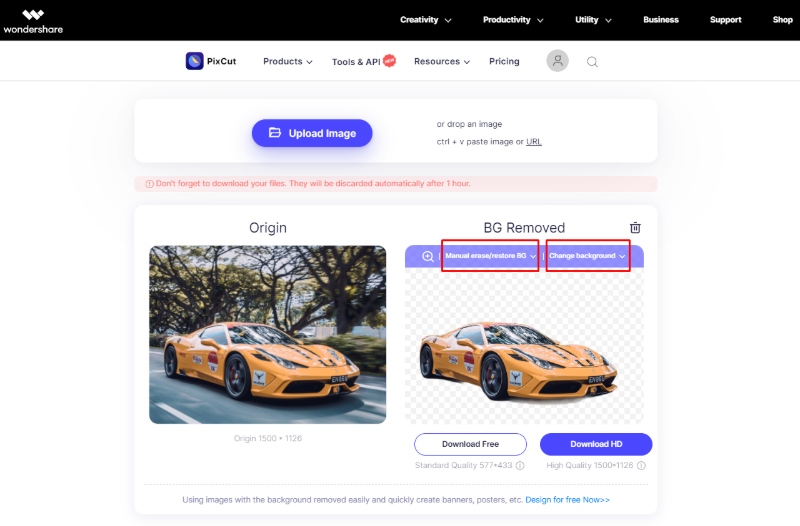 If the final image with the transparent background still contains unwanted items, users can use the erase brush to get rid of them or the restore brush. This gives users more flexibility to obtain the best image result manually.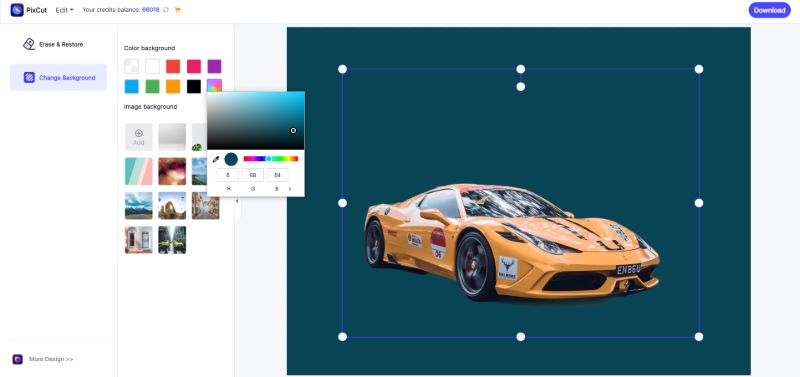 Pixcut features preset colors and a library of images that can be used as new background in their edited image. Otherwise, they can upload their favorite colors or their own background images to PixCut, and adjust the size and angles of the objects with the transparent background. Let your imagination run wild—the sky's the limit!
Step 3: Download the images
PixCut lets the users save the completed edits by clicking "Download Free". This allows you to download the picture in standard quality. In order to download in high definition, users will need to purchase user credits, which allows them to download images in 4000 x 4000 pixels.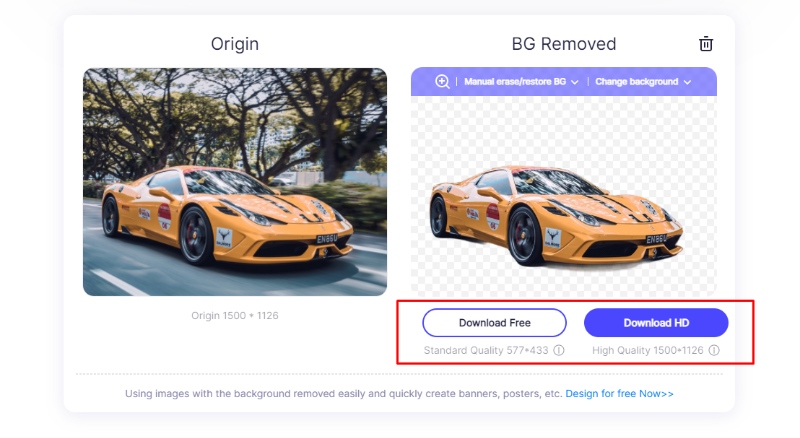 More Exciting Features
The Bulk Background Remover feature allows users to upload a series of similar photos and remove all the backgrounds at the same time. This feature is able to bulk edit up to 30 photos in one go, making the task much more efficient.
The Watermark Remover feature lets users remove words, lines, and other imperfections on the picture. The Brushstroke size can be changed according to users' needs—by selecting specific locations on the photo, PixCut is able to quickly edit and remove these imperfections via the content aware fill.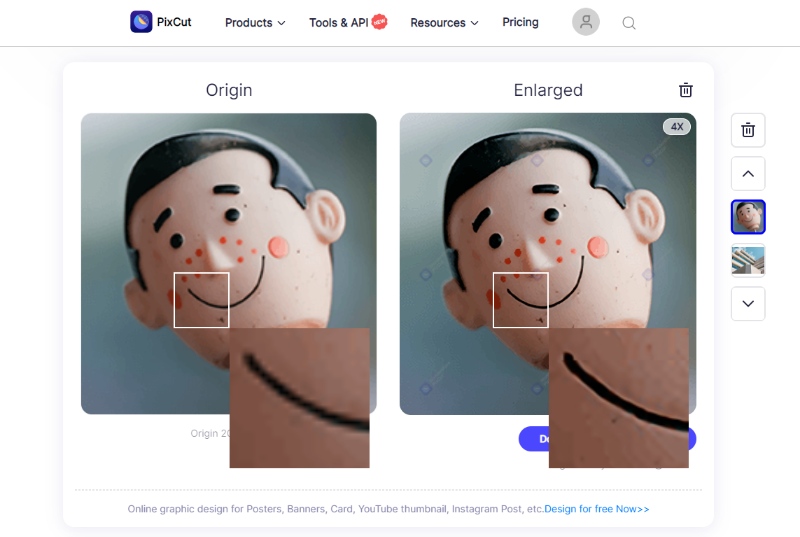 Another useful feature of Wondershare PixCut is the image enlarger, which allows users to enlarge their images up to 4 times the original size while keeping the same image quality.
Additional Features
Windows and macOS Systems
PixCut supports both Windows and Mac operating systems, so millions of users around the world can enjoy the efficiency afforded by this unique product by mass-editing photos.
PixCut offers various solutions, including Android mobile operating systems support, so users can now quickly edit photos by removing backgrounds, adding new ones, and removing imperfections on-the-go with their phones.
1. Figma Plugin
PixCut has now introduced the Figma Plugin which gives the user a platform to edit up to 60 images every month.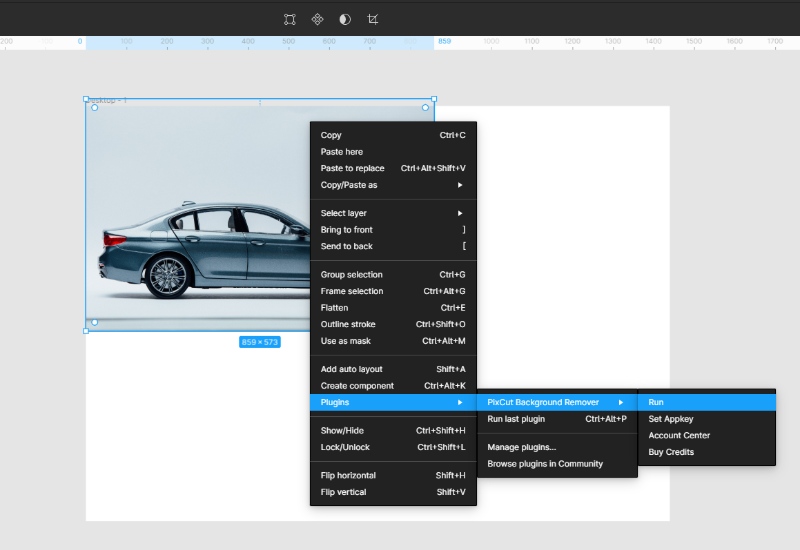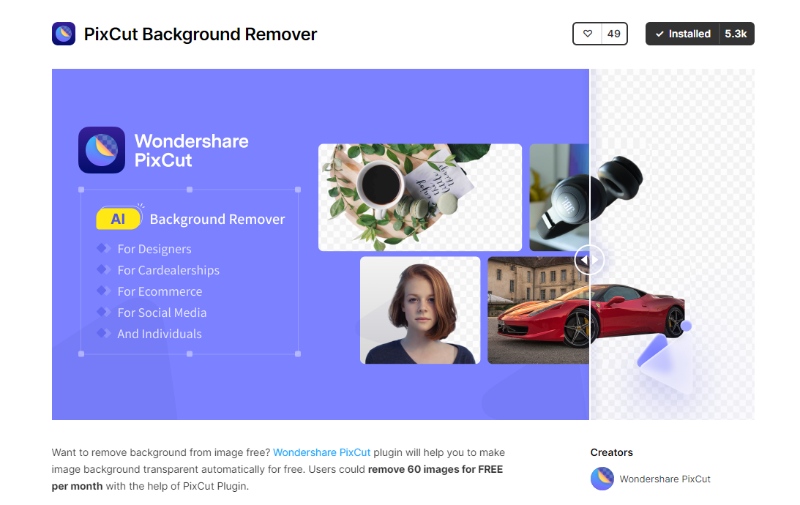 2. Shopify Plugin
The Shopify Plugin is a promising feature that is sure to be incredibly useful for eCommerce entrepreneurs. It helps users quickly and easily change background images of products on Shopify.
3. WordPress Plugin for WooCommerce
The PixCut WordPress plugin is ideal for integration with the world's most popular open-source eCommerce solution, WordPress. Pixcut helps change product backgrounds more eye-catching ones that boost sales. Every WooCommerce account starts with 30 free credits to explore the benefits of the PixCut plugin.
The PixCut API feature integrates the software with users' existing applications. Users are provided with multiple environments such as NODE.JS, Python, and PHP. In addition, it is extremely simple to integrate with any application, its simple HTTP interface provides image files or JSON-encoded data.
With an output resolution of 16 megapixels, users end up with an image through the API with its background removed. PixCut offers a very quick API QPS of 1 query/second. Not only is this efficient, it is also effective in cost. Users are charged with 1 credit per every successful API call.
Wondershare PixCut Pricing
Downloading an HD image or an API call would cost one credit. The monthly subscription plan costs $45.99 for 500 credits. The monthly subscription plan starts at $6.99 per month for a total of 50 credits. The unused credits will be rolled over to next month/year as long as the subscription is still valid.
The "Pay as you go" plan, on the other hand, lets the user purchase any number of credits, starting from 200 credits for $49.99, which is valid for 3 years. All creative professionals are recommended to choose a plan that best suits their business needs. For more plan options, check the pricing structure here or contact the PixCut team directly for high volume usage.
With all the impressive features of PixCut, users are now able to quickly and effectively unwanted backgrounds and replace them with either a chosen background from the PixCut library, or upload their own backgrounds. With a diverse set of functionalities with availability across multiple platforms, PixCut is undoubtedly one of the best options in the market for the aforementioned features.