Black Friday Offer
Hurry Up! Wondershare PDFelement is offering a limited time offer (Up to 50% Off) during Black Friday. You can save $70 and get a full-featured PDF editor.
Adobe released PDF or Portable Document Format almost 26 years ago but its relevance has still not faded and the PDF remains one of the most popular document formats even to this day. One of the reasons why PDF is quite popular and universally accepted is its unified formatting across platforms, small size, and compatibility.
However, editing a PDF is not an easy task as you need special software for it. If you're someone who has to deal with a large number of PDF files on a daily basis, then you would understand the need of a PDF editor software.
There are many online PDF editor software but using online software comes with a dozen of limitations. For instance, you can only open a limited number of files and most online PDF editors are not even safe if your PDF file consists of confidential data and limited tools.
If you are in the market for a professional PDF editing software, PDFelement 7 could be one of the most preferred choices for you.
PDFelement 7 – Powerful, Intuitive & Loaded With Tools
PDFelement 7 by Wondershare carries on the legacy of the suite of PDF editing tools offered by the company. The new tool comes packed with plenty of useful features that you would require while dealing with PDF files. Not only you can edit, annotate PDF files but you can also convert files into other popular formats using a single software.
Here are some of the useful features of PDFelement 7:
Convert PDF Files without losing formatting
You can easily convert your PDF files to a number of different formats including Word, Excel, Text, RTF, ePUB, HTML and Image (PNG, JPEG, GIF, BMP, and TIFF). One of the most interesting things about PDFelement 7 is that it converts your PDF files into different formats without losing its original formatting and fonts.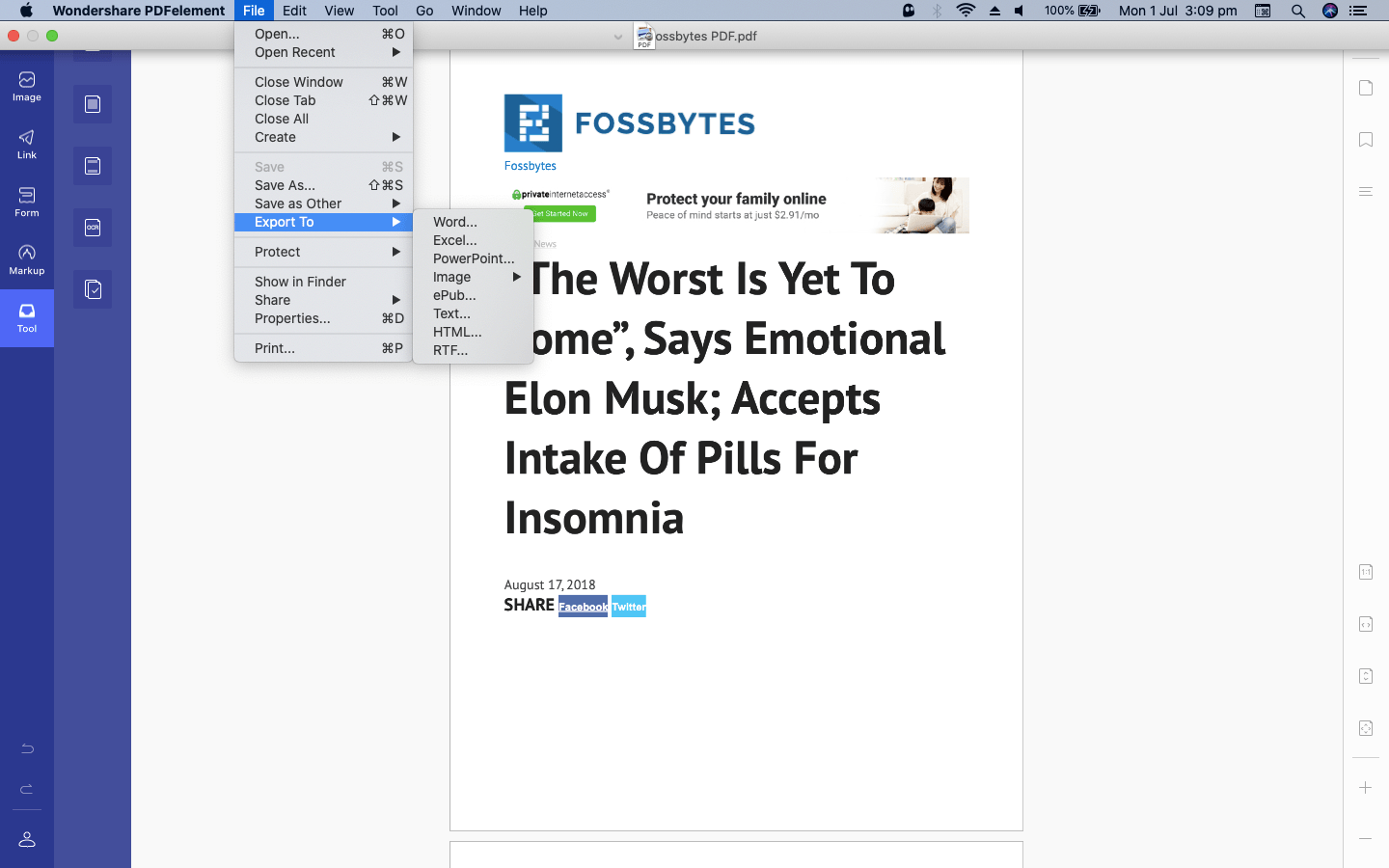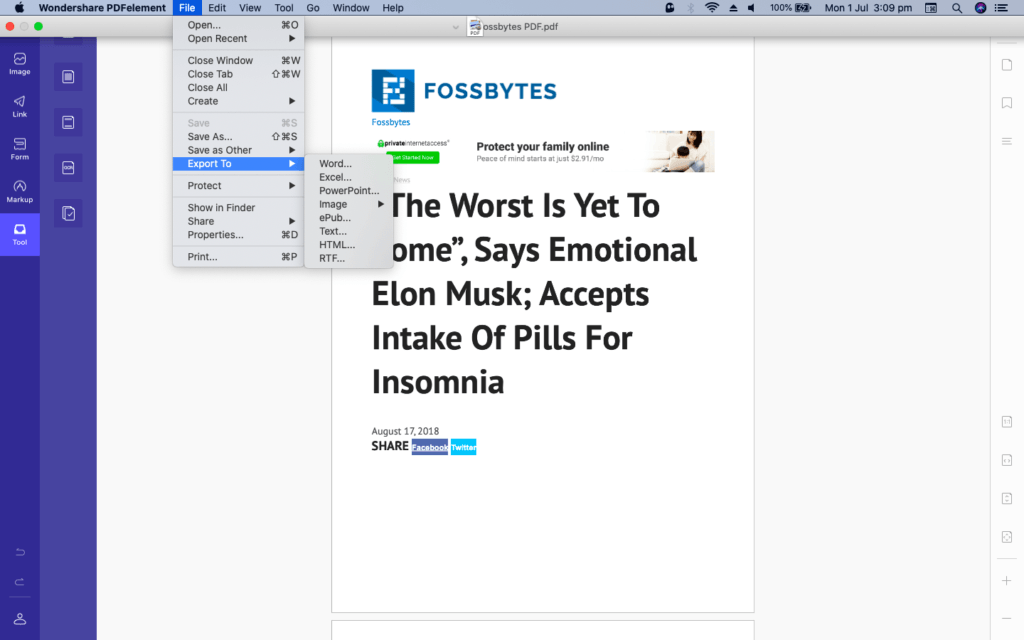 When you use online PDF converters, you lose the formatting at times which defeats the purpose altogether, but Wondershare has ensured that the formatting is intact after converting the document.
Create And Edit Forms
Working with forms in PDF documents is a challenging task as forms created in Word and other word editing tools are not easy to open and edit in PDF documents. With Wondershare PDFelement 7 you can convert a non-fillable form created in Word, Excel or other formats into fillable and editable forms. You can also use the simple drag and drop functions to create PDF or web forms within minutes.
Powerful OCR Capabilities – Supports More Than 25 Languages
A good PDF editor and a powerful OCR reader is a rare combination, but PDFelement 7 combines both in a single tool. The OCR text recognition feature is quite powerful and you can convert paper documents and scanned copies into fully editable, selectable and searchable PDF documents in a hassle-free manner.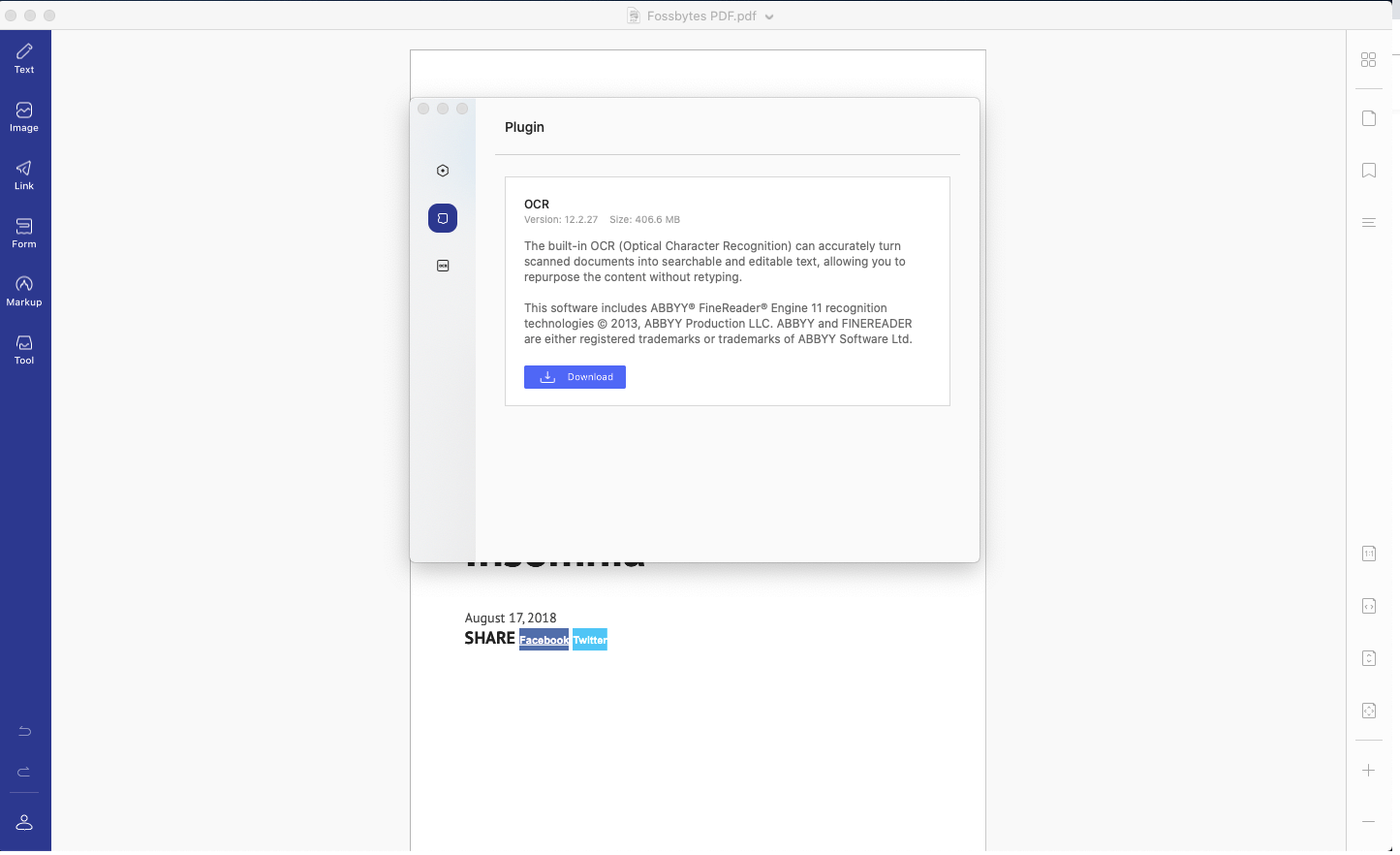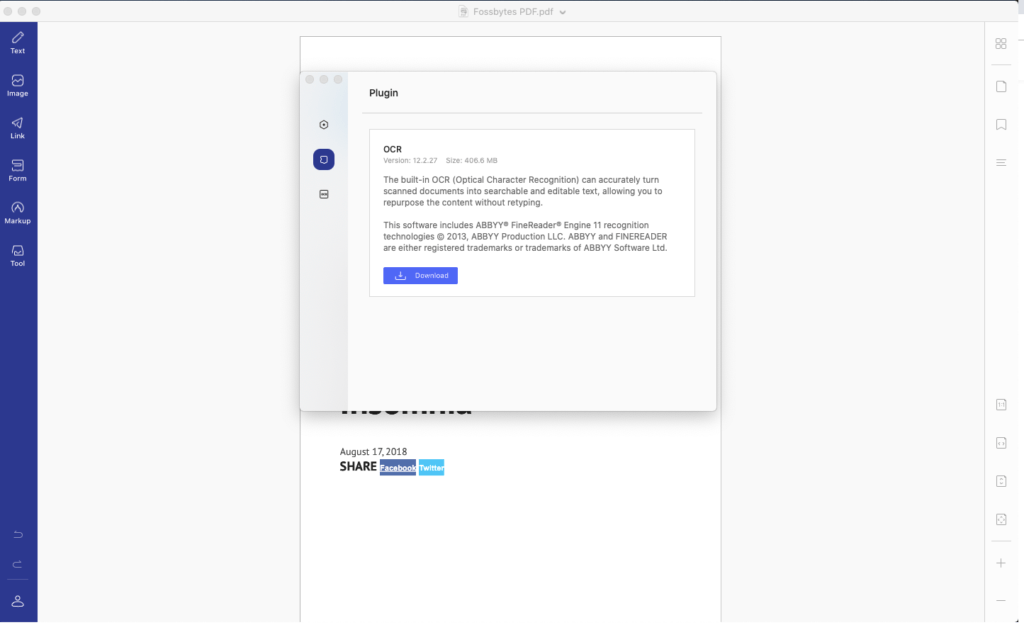 Moreover, PDFelement 7 supports 25 languages and this can be useful in cases where you want to repurpose the content without typing it from scratch. You need to download the OCR component separately.
Batch Encryption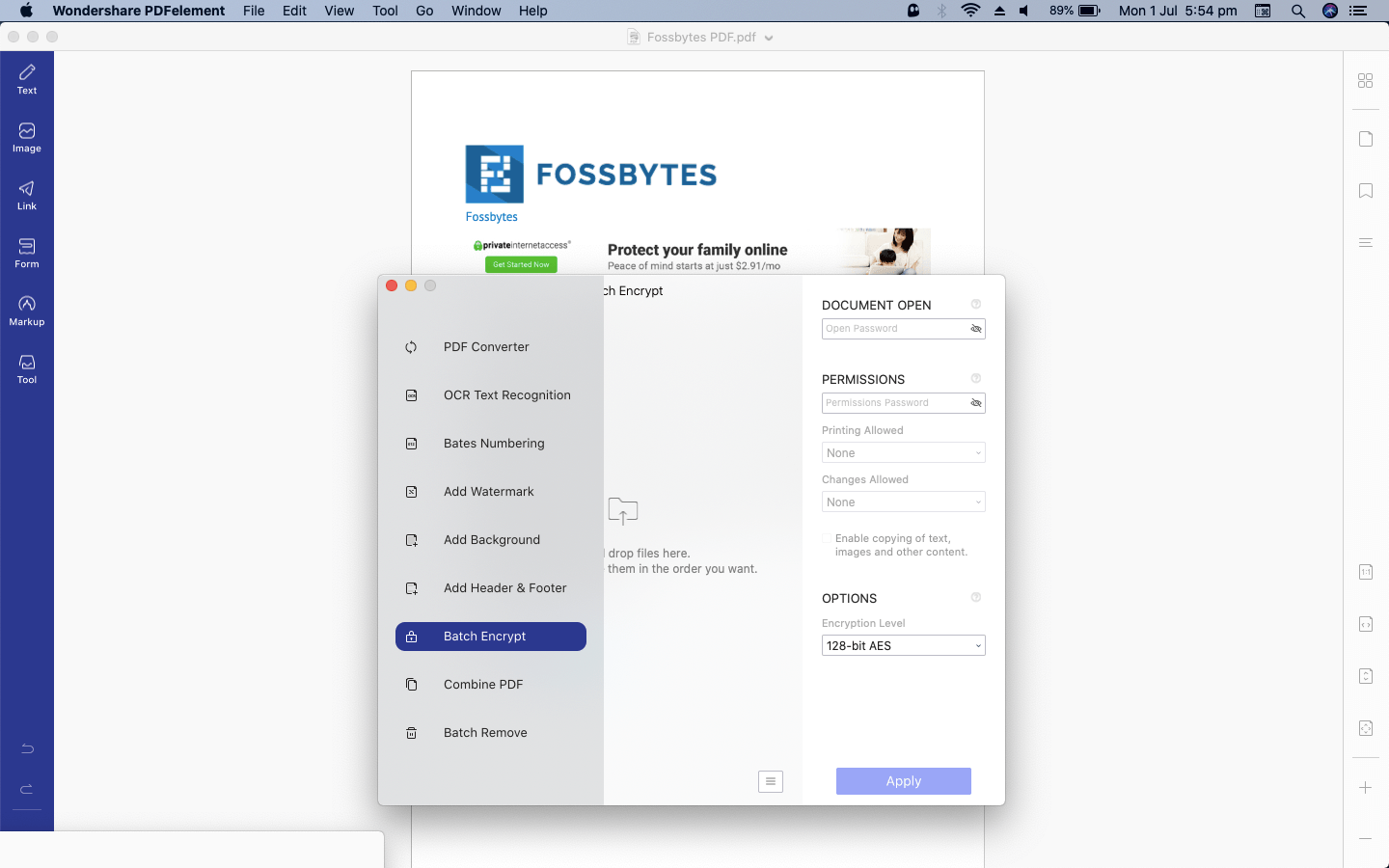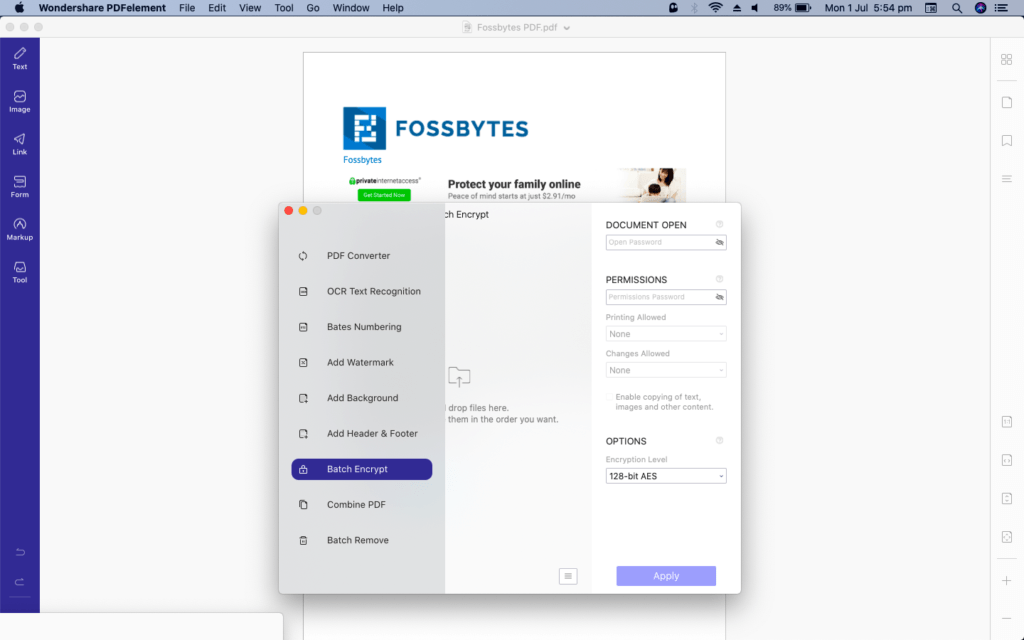 While dealing with sensitive data, it is recommended to encrypt your documents and with PDFelement 7, you can do it with one click. You can encrypt multiple files with a single and apply password or grant permissions to secure your files.
PDF Optimizer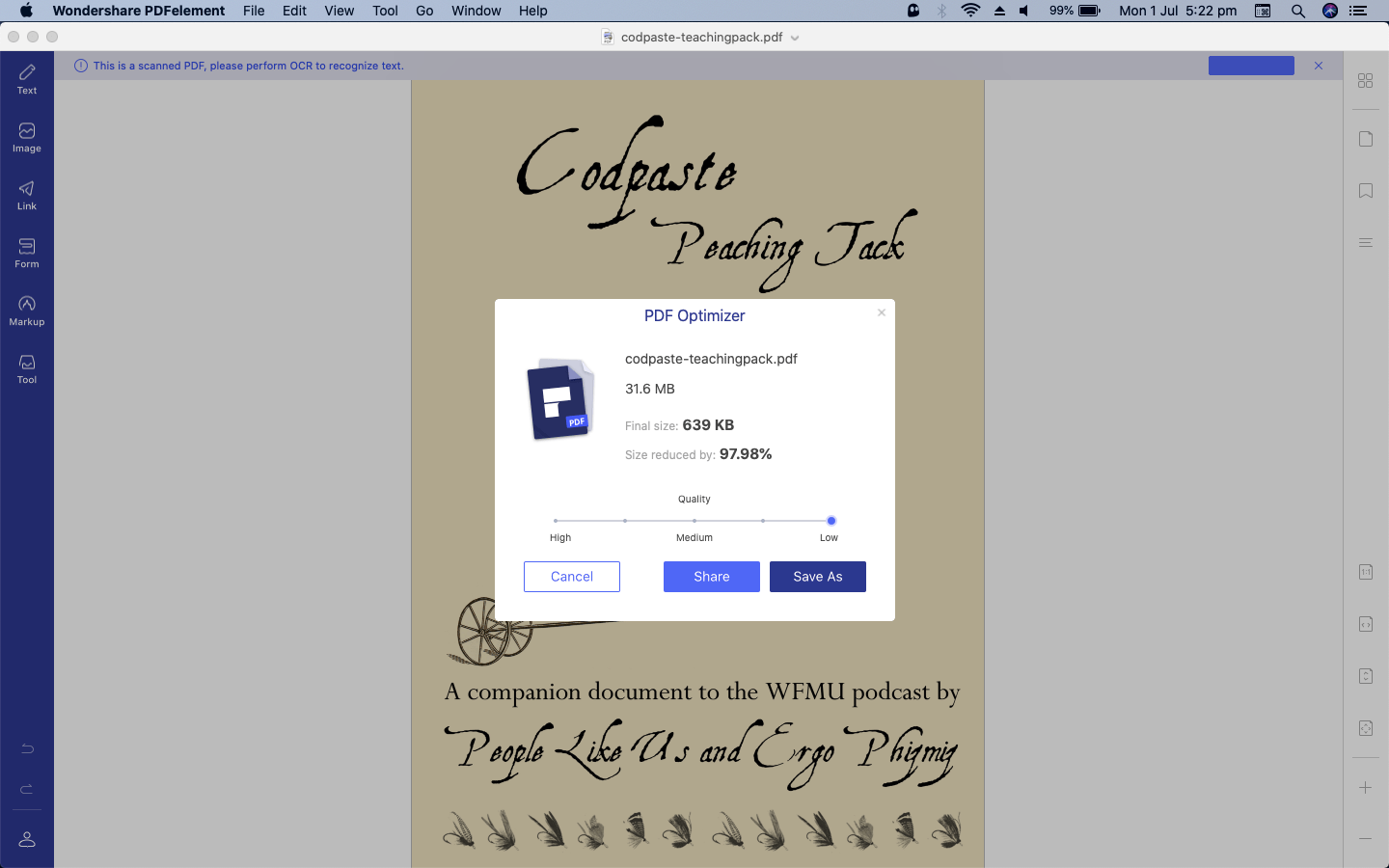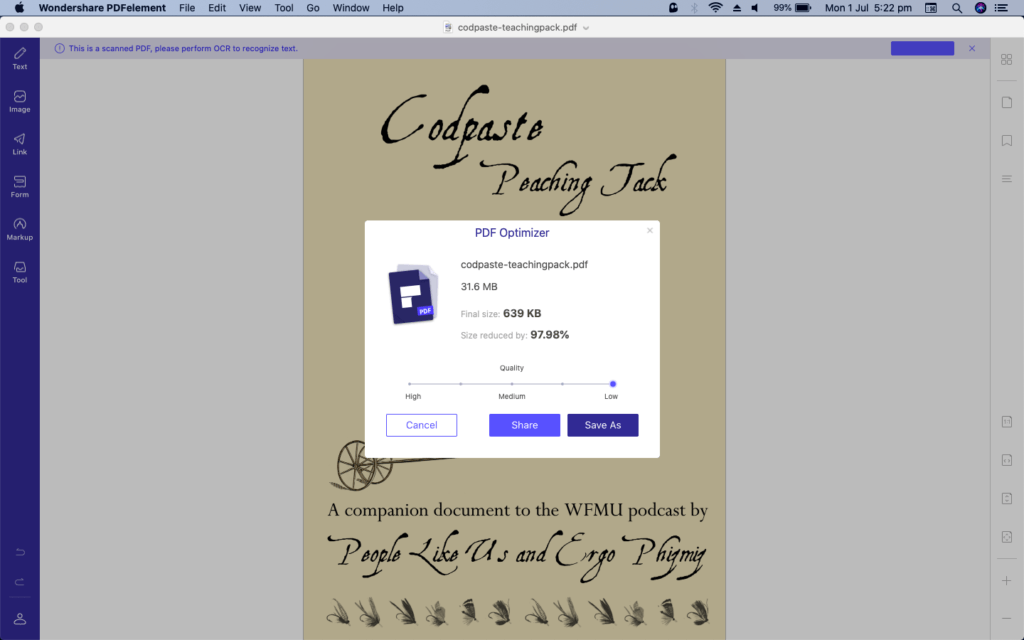 PDF Optimizer is an excellent feature as you can reduce the sizes of bigger PDF files. I tried compressing a PDF file of 31.6 MB and the software's optimizer tool was successful in reducing its size to 3.3 MB in medium quality and down to 639 KB when a low-quality option was selected.
PDFelement 7 Pricing & Plans
PDFelement is available in two different versions – PDFelement and PDFelement Pro. If you want a complete set of features including OCR, optimized PDFs, batch processing and creation and edit of form fields, you need to opt for PDFelement Pro (for Mac) which costs $99 for the yearly plan. If you want a lifetime subscription of the software or what Wondershare likes to call a "Perpetual License," you need to shell $129 plus additional money for software assurance.
In case you want simple PDF conversion and editing tools, you can choose PDFelement which costs $69 for the yearly plan and the perpetual license for the same is available at $79 and additional price for software assurance.
You can also download PDFelement on iOS and Android devices.
Plans are also available for an entire team and educational purposes. Additionally, you can avail PDFelement 7 at 50% off under a limited time sale by clicking on this link.
Conclusion
PDFelement 7 with all its tools, features and an intuitive interface is a complete package for those who work extensively with PDF files. The software makes it easy to create, edit, annotate and convert PDF files with much ease. I feel that the software has been conveniently priced and is a must-have software for a simplified PDF experience.